New Hampshire City Maps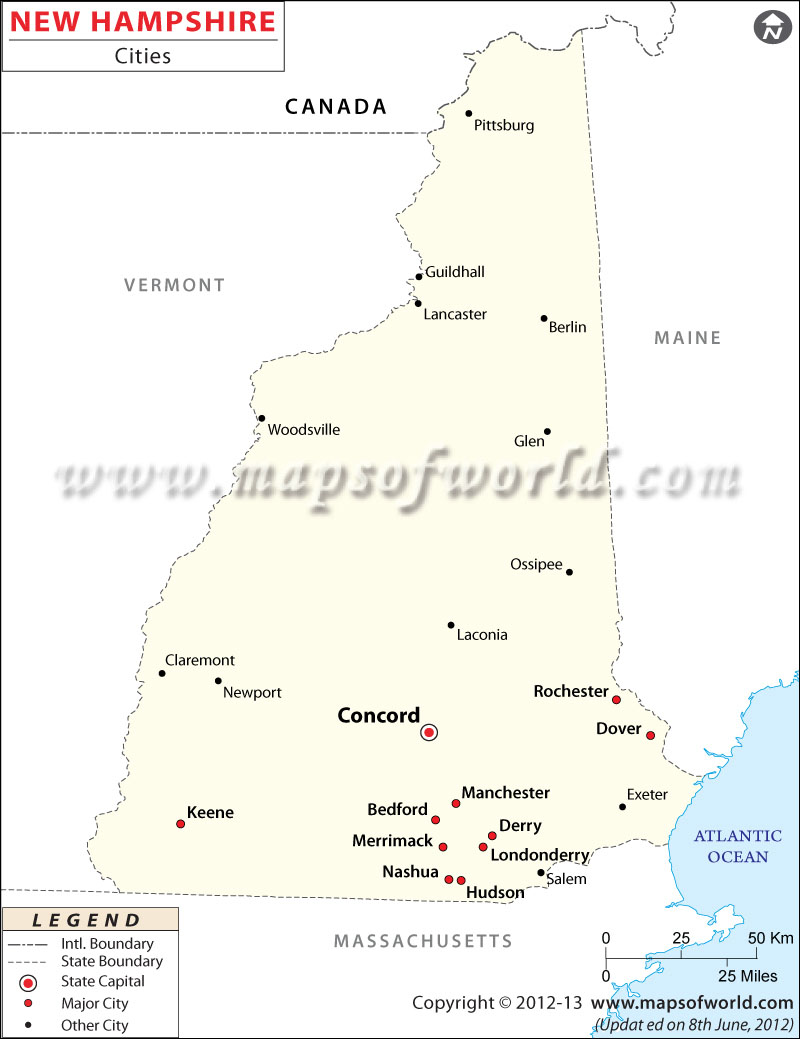 New Hampshire is the 46th largest state in the United States by area. Located in the New England region, New Hampshire is the 41st most populous state in the country. Manchester is the largest city in the state. As of 2016, the city had an estimated population of 110,506 inhabitants. The second-largest city, Nashua had a population of approximately 87,882 people. Concord, which is the capital of New Hampshire, is the third-largest city in the state. The city had a population of around 42,904 people. Located in Carrol County, Hart's Location is the least populated with a population of approximately 41 people.
The state has 10 counties. Concord is the state capital and is home to the University of New Hampshire School of Law. Manchester is the largest city in the state. Derry is the birthplace of Alan Shepard, the first American to travel into space.
Portsmouth is a historic seaport and Hampton is a popular summer tourist destination due to its glorious beach along the Atlantic Ocean.
Nashua, Dover, and Keene are other major cities in New Hampshire.
Getting In and Around
Manchester–Boston Regional Airport (MHT) is the busiest airport in the state.
Amtrak operates Vermonter and Downeaster through the state.
I-93, I-89, and I-89 are primary interstate highways in New Hampshire.
List of Cities in New Hampshire
| City Name | County | Population (2011) |
| --- | --- | --- |
| Allenstown | Merrimack | 4,322 |
| Alton | Belknap | 5,250 |
| Amherst | Hillsborough | 11,201 |
| Atkinson | Rockingham | 6,751 |
| Auburn | Rockingham | 4,953 |
| Barnstead | Belknap | 4,593 |
| Barrington | Strafford | 8,576 |
| Bedford | Hillsborough | 21,203 |
| Belmont | Belknap | 7,356 |
| Berlin | Coös | 10,051 |
| Boscawen | Merrimack | 3,965 |
| Bow | Merrimack | 7,519 |
| Brentwood | Rockingham | 4,486 |
| Bristol | Grafton | 3,054 |
| Brookline | Hillsborough | 4,991 |
| Campton | Grafton | 3,333 |
| Canaan | Grafton | 3,909 |
| Candia | Rockingham | 3,909 |
| Charlestown | Sullivan | 5,114 |
| Chester | Rockingham | 4,768 |
| Chesterfield | Cheshire | 3,604 |
| Claremont | Sullivan | 13,355 |
| Concord | Merrimack | 42,695 |
| Conway | Carroll | 10,115 |
| Danville | Rockingham | 4,387 |
| Deerfield | Rockingham | 4,280 |
| Derry | Rockingham | 33,109 |
| Dover | Strafford | 29,987 |
| Durham | Strafford | 14,638 |
| Enfield | Grafton | 4,582 |
| Epping | Rockingham | 6,411 |
| Epsom | Merrimack | 4,566 |
| Exeter | Rockingham | 14,306 |
| Farmington | Strafford | 6,786 |
| Franklin | Merrimack | 8,477 |
| Fremont | Rockingham | 4,283 |
| Gilford | Belknap | 7,126 |
| Gilmanton | Belknap | 3,777 |
| Goffstown | Hillsborough | 17,651 |
| Greenland | Rockingham | 3,549 |
| Hampstead | Rockingham | 8,523 |
| Hampton | Rockingham | 15,430 |
| Hanover | Grafton | 11,260 |
| Haverhill | Grafton | 4,697 |
| Henniker | Merrimack | 4,836 |
| Hillsborough | Hillsborough | 6,011 |
| Hinsdale | Cheshire | 4,046 |
| Hollis | Hillsborough | 7,684 |
| Hooksett | Merrimack | 13,451 |
| Hopkinton | Merrimack | 5,589 |
| Hudson | Hillsborough | 24,467 |
| Jaffrey | Cheshire | 5,457 |
| Keene | Cheshire | 23,409 |
| Kingston | Rockingham | 6,025 |
| Laconia | Belknap | 15,951 |
| Lancaster | Coös | 3,507 |
| Lebanon | Grafton | 13,151 |
| Lee | Strafford | 4,330 |
| Litchfield | Hillsborough | 8,271 |
| Littleton | Grafton | 5,928 |
| Londonderry | Rockingham | 24,129 |
| Loudon | Merrimack | 5,317 |
| Manchester | Hillsborough | 109,565 |
| Meredith | Belknap | 6,241 |
| Merrimack | Hillsborough | 25,494 |
| Milford | Hillsborough | 15,115 |
| Milton | Strafford | 4,598 |
| Moultonborough | Carroll | 4,044 |
| Nashua | Hillsborough | 86,494 |
| New Boston | Hillsborough | 5,321 |
| New Ipswich | Hillsborough | 5,099 |
| New London | Merrimack | 4,397 |
| Newmarket | Rockingham | 8,936 |
| Newport | Sullivan | 6,507 |
| Newton | Rockingham | 4,603 |
| North Hampton | Rockingham | 4,301 |
| Northfield | Merrimack | 4,829 |
| Northwood | Rockingham | 4,241 |
| Nottingham | Rockingham | 4,785 |
| Ossipee | Carroll | 4,345 |
| Pelham | Hillsborough | 12,897 |
| Pembroke | Merrimack | 7,115 |
| Peterborough | Hillsborough | 6,284 |
| Pittsfield | Merrimack | 4,106 |
| Plaistow | Rockingham | 7,609 |
| Plymouth | Grafton | 6,990 |
| Portsmouth | Rockingham | 20,779 |
| Raymond | Rockingham | 10,138 |
| Rindge | Cheshire | 6,014 |
| Rochester | Strafford | 29,752 |
| Rye | Rockingham | 5,298 |
| Salem | Rockingham | 28,776 |
| Sandown | Rockingham | 5,986 |
| Seabrook | Rockingham | 8,693 |
| Somersworth | Strafford | 11,766 |
| Strafford | Strafford | 3,991 |
| Stratham | Rockingham | 7,255 |
| Sunapee | Sullivan | 3,365 |
| Swanzey | Cheshire | 7,230 |
| Tilton | Belknap | 3,567 |
| Wakefield | Carroll | 5,078 |
| Walpole | Cheshire | 3,734 |
| Weare | Hillsborough | 8,785 |
| Wilton | Hillsborough | 3,677 |
| Winchester | Cheshire | 4,341 |
| Windham | Rockingham | 13,592 |
| Wolfeboro | Carroll | 6,269 |