What countries have won the fencing championship?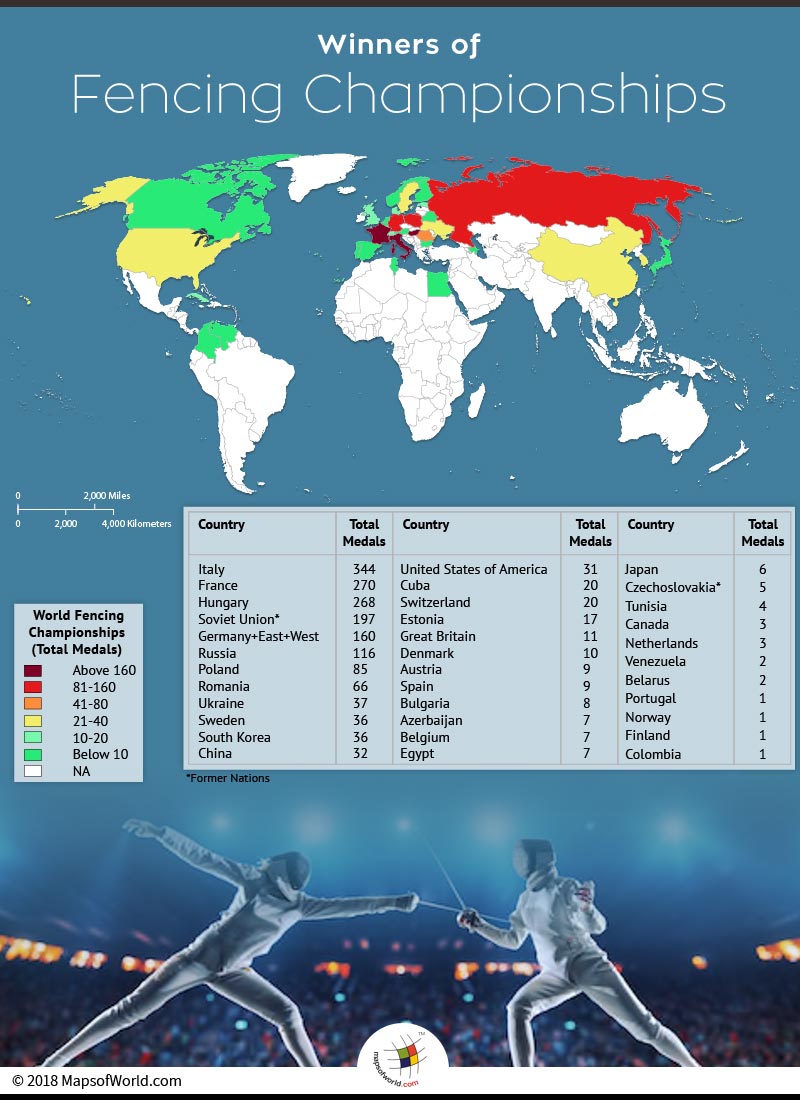 The sport of fencing evolved directly from a duel, that was between two individuals or armies, as a conflict demanded. The settling of conflicts with combat and duels in the medieval ages, as a show of chivalry, were early signs of the sport. Modern day fencing began as a form of the military, since the 15th  century. Both Germany and Italy take credit for the origin of the sport, with the former organizing the most notable guilds called Marxbruder of Frankfurt in 1478. The evolution of fencing as a sport started with the establishment of a fencing academy by Domenico Angelo in London in 1763. It was inspired by the ideals of self-defense and swordsmanship. Initially, the teachings were imparted to the aristocrats, focusing on the health and sporting benefits of the sport, then a tool for killing acts.
The organized sport of fencing includes the use of a sword- Foil, Epee or a Sabre, each differing in the way of its rules and strategies, with a common protective attire. The  Epee  is the heaviest sword and lets the whole body be a valid target. A  Foil  is a light thrusting weapon, with a target area of only the torso. Lastly, the  Sabre  is a light cutting and thrusting weapon that targets the entire body above the waistline. It is newest weapon to be used. Additionally, the protective attire includes a mesh mask and a helmet that covers the head, to minimize the chance of a serious injury. A fencing jacket, pads and a glove are also worn in order to protect the other areas from getting hurt.
Fencing was included in the  Olympic games  in 1896 in Athens, whereas the women's fencing competition entered the Olympics only in 1924, in Paris. The Sabre being the latest weapon used by women in the Olympic program was only added in the year 2004.
The world observes 8th September as the World Fencing Day, as declared by the International Fencing Federation, the governing body of Olympic Federation. The FIE also organizes the World Championships, the World Cup and the Junior World Championships. It also coordinates with the International Olympic Committee in the organization of the fencing events in the Summer Olympics.
The 2018  World Fencing Championship  is the most prominent competition after the Summer Olympics. It is organized by the FIE. The 2018 World Fencing Championship was held in Wuxi, China from the 19th  to the 27th  July. The championship included 12 events with Italy bagging the most gold medals, followed by South Korea and United States.
The latest development in the sport of fencing is the wheelchair fencing for the disabled. Originally introduced by German-born English neurosurgeon, it was modified for the World War II veterans, with spinal cord injuries. It was made part of the  Paralympics Games  in the 1960s.
 Below lying tale depicts countries and the medals earned in the World Fencing Championship, 2018:
| | |
| --- | --- |
| Nation | Total Medal |
| Italy | 344 |
| France | 270 |
| Hungary | 268 |
| Soviet Union | 197 |
| Russia | 116 |
| Germany | 90 |
| Poland | 85 |
| Romania | 66 |
| West Germany | 65 |
| Ukraine | 37 |
| Sweden | 36 |
| South Korea | 36 |
| China | 32 |
| United States of America | 31 |
| Cuba | 20 |
| Switzerland | 20 |
| Estonia | 17 |
| Great Britain | 11 |
| Denmark | 10 |
| Austria | 9 |
| Spain | 9 |
| Bulgaria | 8 |
| Azerbaijan | 7 |
| Belgium | 7 |
| Egypt | 7 |
| Japan | 6 |
| East Germany | 5 |
| Czechoslovakia | 5 |
| Tunisia | 4 |
| Canada | 3 |
| Netherlands | 3 |
| Venezuela | 2 |
| Belarus | 2 |
| Portugal | 1 |
| Norway | 1 |
| Finland | 1 |
| Colombia | 1 |
Know more:
Related maps: