What country records the highest number of migratory birds species?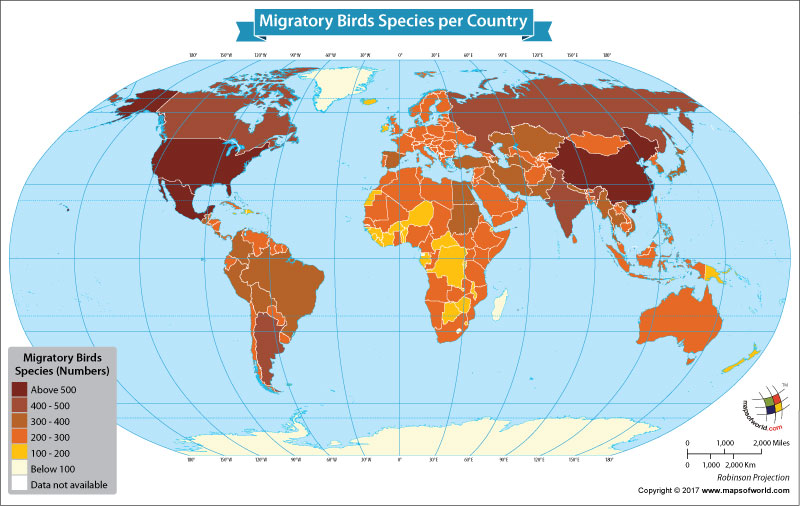 Every year hundreds of birds can be seen flying across distances spanning over hundreds and thousands of kilometers to find favorable habitats for the purpose of feeding as well as breeding. Migration usually takes place when the condition at the place where the bird is currently residing become unfavorable. However, over the years, the population of migratory birds is declining around the world. It has been reported that today less number of migratory birds are returning back to their breeding grounds due to a variety of factors such as poisoning by pesticides, habitat loss that may be due to destructive agriculture and other human-related factors.
According to a data compiled by the Bird Life International, which is a global partnership of conservation organizations, China had the largest number of migratory bird species. According to the data, there were approximately 601 migratory birds species in the country. The United States and Mexico had the second and third largest number of migratory birds species. In these two countries the figure stood at around 573 and 517 respectively.
Countries where the number of migratory birds species stood between 400 and 500 were India, Argentina, Canada, and Russia (Asian). A large number of countries were home to between 200 and 300 species of migratory birds. A few of these nations were Uzbekistan, Italy, Saudi Arabia, North Korea, Bangladesh, South Africa, Algeria, Oman, etc. Iceland, New Zealand, Swaziland, Burundi, Liberia, Central African Republic were some of the prominent nations that were home to between 100 and 200 species of migratory birds.
Meanwhile, the nations and territories where less than 100 species of migratory birds were reported are Andorra, Lesotho, Guam, Greenland, Grenada, Maldives, Seychelles, Marshall Islands, Fiji, etc.
The table below will give you an idea of the approximate number of the species of migratory birds in each nation and territory.
| Country | Number of Migratory birds species |
| --- | --- |
| China (mainland) | 601 |
| USA | 573 |
| Mexico | 517 |
| India | 470 |
| Argentina | 448 |
| Canada | 447 |
| Russia (Asian) | 445 |
| Brazil | 395 |
| Iran, Islamic Republic of | 375 |
| Kazakhstan | 360 |
| Colombia | 360 |
| Japan | 359 |
| Pakistan | 357 |
| Peru | 355 |
| Myanmar | 354 |
| Russia (European) | 348 |
| Nepal | 344 |
| Thailand | 339 |
| Bolivia | 333 |
| Russia (Central Asian) | 329 |
| Vietnam | 328 |
| Turkey | 327 |
| Israel | 317 |
| South Korea | 316 |
| Turkmenistan | 315 |
| Guatemala | 313 |
| Iraq | 312 |
| Costa Rica | 311 |
| Sudan | 306 |
| Spain | 306 |
| Egypt | 300 |
| Azerbaijan | 300 |
| France | 299 |
| Mongolia | 298 |
| Uzbekistan | 298 |
| Italy | 296 |
| Afghanistan | 295 |
| Chile | 295 |
| Venezuela | 294 |
| Greece | 293 |
| Syria | 289 |
| Paraguay | 288 |
| Bulgaria | 287 |
| Saudi Arabia | 287 |
| Ecuador | 286 |
| Honduras | 283 |
| North Korea | 279 |
| Romania | 279 |
| Kenya | 278 |
| Bangladesh | 278 |
| Ukraine | 276 |
| Tajikistan | 274 |
| Ethiopia | 273 |
| Morocco | 273 |
| Macedonia | 272 |
| Jordan | 272 |
| Kyrgyzstan | 271 |
| Uruguay | 271 |
| Indonesia | 270 |
| Panama | 267 |
| Taiwan (China) | 266 |
| Laos | 265 |
| Kuwait | 265 |
| Belize | 264 |
| Germany | 264 |
| Portugal | 264 |
| Tanzania | 263 |
| South Africa | 262 |
| Lebanon | 261 |
| Algeria | 260 |
| Serbia | 260 |
| Austria | 259 |
| Croatia | 259 |
| Montenegro | 259 |
| Oman | 258 |
| Nicaragua | 257 |
| Tunisia | 256 |
| Armenia | 256 |
| Cyprus | 255 |
| United Arab Emirates | 254 |
| Mauritania | 253 |
| Albania | 253 |
| Slovakia | 253 |
| Eritrea | 252 |
| El Salvador | 252 |
| Nigeria | 251 |
| Poland | 251 |
| Hungary | 248 |
| Denmark | 246 |
| Czech Republic | 245 |
| Senegal | 244 |
| Slovenia | 243 |
| Yemen | 240 |
| Malaysia | 238 |
| Cuba | 238 |
| Switzerland | 238 |
| Netherlands | 237 |
| Uganda | 236 |
| Bosnia and Herzegovina | 235 |
| Georgia | 235 |
| Sweden | 233 |
| The Democratic Republic of the Congo | 232 |
| South Sudan | 232 |
| Mali | 230 |
| Australia | 230 |
| United Kingdom | 230 |
| Belgium | 229 |
| Libya | 228 |
| Latvia | 225 |
| Palestinian Authority Territories | 225 |
| Cameroon | 223 |
| Finland | 222 |
| Bahamas | 221 |
| Belarus | 220 |
| Bhutan | 218 |
| Chad | 217 |
| Somalia | 215 |
| Cambodia | 215 |
| Trinidad and Tobago | 214 |
| Estonia | 214 |
| Norway | 212 |
| Bahrain | 211 |
| Qatar | 211 |
| Turks and Caicos Islands (to UK) | 210 |
| Ghana | 209 |
| Mozambique | 209 |
| Guyana | 209 |
| Sri Lanka | 208 |
| Moldova | 208 |
| Namibia | 205 |
| Zambia | 204 |
| French Guiana | 204 |
| Angola | 202 |
| Puerto Rico (to USA) | 202 |
| Philippines | 201 |
| Lithuania | 201 |
| Suriname | 201 |
| Malta | 198 |
| Côte d'Ivoire | 197 |
| Gambia | 197 |
| Guinea | 193 |
| Malawi | 192 |
| Zimbabwe | 190 |
| Ireland | 189 |
| Togo | 188 |
| St Pierre and Miquelon (to France) | 188 |
| Burkina Faso | 184 |
| Haiti | 184 |
| Cayman Islands (to UK) | 183 |
| Niger | 182 |
| Guinea-Bissau | 180 |
| Rwanda | 177 |
| Hong Kong (China) | 177 |
| Sierra Leone | 176 |
| Central African Republic | 173 |
| Benin | 172 |
| Djibouti | 172 |
| Singapore | 172 |
| Liberia | 171 |
| Bonaire, Sint Eustatius and Saba (to Netherlands) | 171 |
| Curaçao (to Netherlands) | 171 |
| Dominican Republic | 171 |
| Botswana | 169 |
| Martinique (to France) | 169 |
| Barbados | 166 |
| Burundi | 164 |
| Antigua and Barbuda | 161 |
| Sint Maarten (to Netherlands) | 161 |
| Dominica | 158 |
| Gabon | 155 |
| St Lucia | 155 |
| St Vincent and the Grenadines | 155 |
| St Kitts and Nevis | 154 |
| Luxembourg | 154 |
| Montserrat (to UK) | 152 |
| Aruba (to Netherlands) | 150 |
| Gibraltar (to UK) | 150 |
| Brunei | 143 |
| Congo | 141 |
| Bermuda (to UK) | 141 |
| Guadeloupe (to France) | 141 |
| Western Sahara | 139 |
| Liechtenstein | 135 |
| Swaziland | 133 |
| Papua New Guinea | 131 |
| Virgin Islands (to UK) | 123 |
| Jamaica | 122 |
| Virgin Islands (to USA) | 122 |
| New Zealand | 120 |
| Faroe Islands (to Denmark) | 115 |
| Timor-Leste | 109 |
| Falkland Islands (Malvinas) | 109 |
| Iceland | 103 |
| Anguilla (to UK) | 102 |
| Equatorial Guinea | 95 |
| Northern Mariana Islands (to USA) | 93 |
| Andorra | 89 |
| Lesotho | 88 |
| Guam (to USA) | 86 |
| Micronesia, Federated States of | 86 |
| Madagascar | 82 |
| St Barthelemy (to France) | 81 |
| Palau | 80 |
| Maldives | 76 |
| Solomon Islands | 76 |
| Grenada | 76 |
| Greenland (to Denmark) | 72 |
| Cape Verde | 71 |
| South Georgia & the South Sandwich Islands | 69 |
| United States Minor Outlying Islands (to USA) | 68 |
| St Martin (to France) | 65 |
| Seychelles | 60 |
| New Caledonia (to France) | 59 |
| Svalbard and Jan Mayen Islands (to Norway) | 52 |
| Marshall Islands | 49 |
| Comoros | 48 |
| Mayotte (to France) | 46 |
| French Southern Territories | 44 |
| St Helena (to UK) | 42 |
| Fiji | 41 |
| French Polynesia | 39 |
| Vanuatu | 36 |
| Mauritius | 34 |
| British Indian Ocean Territory | 34 |
| Macao (China) | 33 |
| Antarctica | 32 |
| Christmas Island (to Australia) | 32 |
| Réunion (to France) | 28 |
| São Tomé e Príncipe | 28 |
| Norfolk Island (to Australia) | 25 |
| Kiribati | 25 |
| Heard Island and McDonald Islands (to Australia) | 24 |
| Tonga | 23 |
| Cocos (Keeling) Islands (to Australia) | 20 |
| Wallis and Futuna Islands (to France) | 20 |
| American Samoa | 19 |
| Monaco | 18 |
| Cook Islands | 18 |
| Niue (to New Zealand) | 15 |
| San Marino | 14 |
| Pitcairn Islands (to UK) | 14 |
| Samoa | 14 |
| Bouvet Island (to Norway) | 12 |
| Nauru | 12 |
| Tuvalu | 12 |
| Tokelau (to New Zealand) | 6 |
| Netherlands Antilles | 1 |
| Åland Islands (to Finland) | 0 |
| Vatican City | 0 |
| Arctic Sea | 0 |
| Atlantic (Antarctic) | 0 |
| Eastern Central Atlantic | 0 |
| Eastern Central Pacific | 0 |
| Eastern Indian Ocean | 0 |
| Indian Ocean (Antarctic) | 0 |
| Mediterranean and Black Sea | 0 |
| Northeast Atlantic | 0 |
| Northeast Pacific | 0 |
| Northwest Atlantic | 0 |
| Northwest Pacific | 0 |
| Pacific (Antarctic) | 0 |
| Southeast Atlantic | 0 |
| Southeast Pacific | 0 |
| Southwest Atlantic | 0 |
| Southwest Pacific | 0 |
| Western Central Atlantic | 0 |
| Western Central Pacific | 0 |
| Western Indian Ocean | 0 |
Know more:
Related maps: