What are the Top Flower Bouquet Exporters in the World?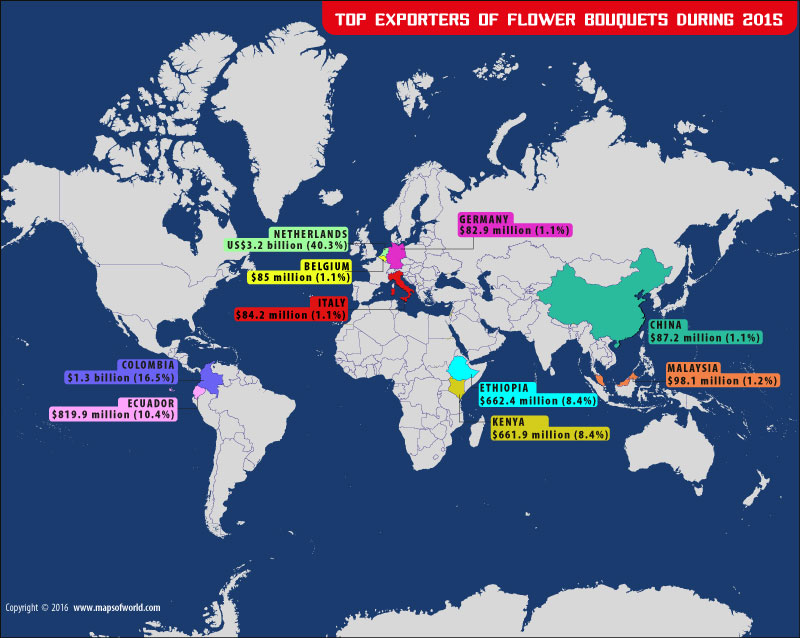 Flowers are a popular gifting item and a wonderful way to express our feelings to our beloved or loved ones. Millions of people around the world still resort to gifting flowers on special occasions. As such the business of exporting flowers is a lucrative one and has enabled countries to earn billions of dollars in revenues.
In the year 2015, flower bouquet exports totaled an amount of US$7.9 billion. Also during the year 2015, Europe accounted for the highest dollar value worth of flower bouquet exports. The European shipments comprised some 46.4 percent (or US$3.6 billion) of global flower exports. At the second place stood Latin America (without Mexico) and Caribbean countries which accounted for 27.8 percent. African exporters followed at the third place with 17.9 percent while at the fourth were Asian suppliers with 6.3 percent. Standing at the bottom of the ladder was North America with just 1.4 percent.
Netherlands was the highest exporter flower bouquets in 2015. The European country accounted for 40.3 percent of the total flower bouquets exports or US$3.2 billion. Coming second was the South American country of Colombia, which accounted for 16.5 or US$1.3billion. At the third place was the northwestern South American country of Ecuador, which accounted for 10.4 percent or US$819.9 million. At the fourth and fifth spot were the African nations of Ethiopia and Kenya with 8.4 percent or US$662.4 million and 8.4 percent or US$661.9 million respectively. The other top countries are the Asian countries of Malaysia and China with US$98.1 million (1.2%) and US$87.2 million (1.1%) and the European countries of Belgium, Italy and Germany with US$85 million (1.1%), US$84.2 million (1.1%) and US$82.9 million (1.1%) respectively.
Know more:
Related maps: