How many projects are run by NGOs around the world?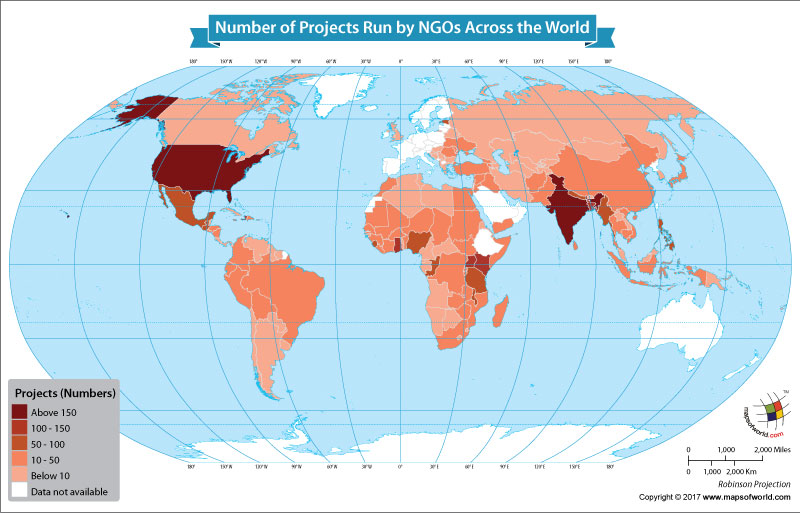 Non-governmental organizations, which are usually referred as NGOs, are a very valuable part of the society. They are humanitarian groups and are independent from states as well as international governmental organizations. NGOs are mainly funded by donations; however, some are run mainly by volunteers.
NGOs aim at bettering the world and uplifting the underprivileged through projects that are run in a variety of fields such as education, health, humanitarian aid, sanitation, shelter and housing, refugee resettlement, animal welfare, among others. Non-governmental organizations are playing a very positive role in improving communities, developing societies and also promoting participation of citizens.
Currently, there are millions of NGOs around the world that are working in a number of projects. These range from the big and influential that are working at the international or national level to those that are small and are mainly focused at the local level.
According to a 2017 data by the NGO Aid Map, NGOs are running the largest number of projects in the United States. The year 2017, till date, has seen some 273 projects being run in the country. With 227 projects being run by NGOs, India came at the second spot in 2017.
Nations where between 100 and 150 projects were being run by NGOs in 2017 were Kenya, Haiti, Bangladesh, Uganda, and Ghana. Nations such as Ethiopia, Nepal, Sierra Leone, Myanmar, Nigeria, Malawi, and a few others saw between 50 and 100 projects being run by NGOs.
There are a significant number of countries where less than 10 projects are being run by NGOs in 2017. Just a few of these nations are Cameroon, Swaziland, Paraguay, Laos, Albania, Greece, Namibia, Fiji, Hungary, Russia, among others.
The table below provides a clear picture of the number of projects being run by NGOs in each of the nation.
| COUNTRY | PROJECTS |
| --- | --- |
| United States | 273 |
| India | 227 |
| Kenya | 127 |
| Haiti | 119 |
| Bangladesh | 117 |
| Uganda | 114 |
| Ghana | 102 |
| Ethiopia | 91 |
| Democratic Republic of the Congo | 79 |
| Mexico | 75 |
| Tanzania | 72 |
| Guatemala | 72 |
| Philippines | 67 |
| Malawi | 57 |
| Nigeria | 57 |
| Myanmar | 54 |
| Sierra Leone | 53 |
| Nepal | 50 |
| Zambia | 49 |
| Liberia | 48 |
| Mali | 47 |
| Senegal | 47 |
| Nicaragua | 42 |
| Cambodia | 41 |
| Somalia | 39 |
| Mozambique | 38 |
| El Salvador | 37 |
| South Sudan | 35 |
| Burkina Faso | 35 |
| Honduras | 35 |
| Zimbabwe | 34 |
| Sri Lanka | 33 |
| Dominican Republic | 33 |
| Pakistan | 32 |
| Peru | 32 |
| Lebanon | 30 |
| Thailand | 30 |
| Niger | 30 |
| Indonesia | 29 |
| Afghanistan | 29 |
| Benin | 29 |
| Jordan | 28 |
| Syria | 28 |
| Cote d'Ivoire | 27 |
| Bolivia | 26 |
| Rwanda | 26 |
| Colombia | 25 |
| West Bank and Gaza | 23 |
| Iraq | 23 |
| Vietnam | 21 |
| South Africa | 20 |
| Brazil | 19 |
| Ecuador | 18 |
| Burundi | 18 |
| Ukraine | 16 |
| Madagascar | 15 |
| Armenia | 14 |
| Chad | 14 |
| Romania | 13 |
| Japan | 13 |
| Jamaica | 12 |
| Mauritania | 12 |
| Georgia | 11 |
| Guinea | 11 |
| China | 11 |
| Sudan | 11 |
| Turkey | 10 |
| Morocco | 10 |
| Egypt | 10 |
| Moldova | 10 |
| Yemen | 10 |
| Congo | 10 |
| Cameroon | 9 |
| Kyrgyzstan | 9 |
| Lesotho | 9 |
| Swaziland | 9 |
| Serbia | 8 |
| Tajikistan | 8 |
| Togo | 8 |
| Paraguay | 8 |
| Angola | 8 |
| Laos | 8 |
| Albania | 8 |
| Timor-Leste | 7 |
| Cuba | 7 |
| Bosnia and Herzegovina | 6 |
| Namibia | 6 |
| Chile | 6 |
| Greece | 6 |
| Malaysia | 5 |
| Costa Rica | 5 |
| Mongolia | 5 |
| Panama | 5 |
| Bhutan | 5 |
| Tunisia | 5 |
| Central African Republic | 5 |
| Puerto Rico | 5 |
| Fiji | 4 |
| Papua New Guinea | 4 |
| Vanuatu | 4 |
| Botswana | 3 |
| Kosovo | 3 |
| Israel | 3 |
| Argentina | 3 |
| Solomon Islands | 3 |
| Hungary | 3 |
| Gabon | 3 |
| Guyana | 2 |
| Belize | 2 |
| Gambia | 2 |
| Russian Federation | 2 |
| Uruguay | 2 |
| Maldives | 2 |
| Kazakhstan | 2 |
| Suriname | 2 |
| Djibouti | 2 |
| Croatia | 2 |
| Azerbaijan | 2 |
| Bulgaria | 2 |
| Algeria | 2 |
| Uzbekistan | 1 |
| Mauritius | 1 |
| Libya | 1 |
| Iran | 1 |
| Guinea-Bissau | 1 |
| Grenada | 1 |
| Eritrea | 1 |
| Saint Vincent and the Grenadines | 1 |
| Sao Tome and Principe | 1 |
| Equatorial Guinea | 1 |
| Dominica | 1 |
| Singapore | 1 |
| South Korea | 1 |
| Comoros | 1 |
| Canada | 1 |
| Brunei Darussalam | 1 |
| Trinidad and Tobago | 1 |
| Belarus | 1 |
| Turkmenistan | 1 |
| Barbados | 1 |
| Bahamas | 1 |
| United Kingdom | 1 |
| Venezuela | 1 |
| Aruba | 1 |
| Antigua and Barbuda | 1 |
| Anguilla | 1 |
Know more:
Related maps: