What countries have the highest cigarette consumers?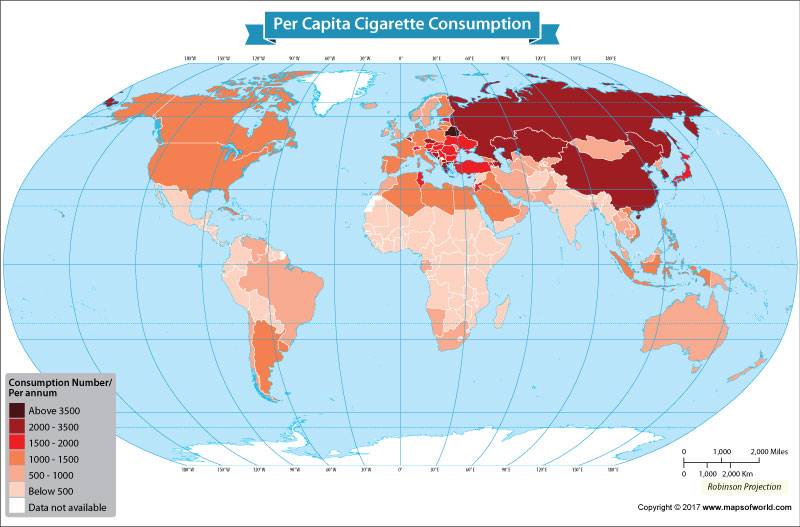 Everyone knows that cigarette smoking is addictive and harmful for health. Thousands of lives are lost every year due to the ill-effects of smoking. Despite this, a significant percentage of the world's population is addicted to cigarettes. In the year 2014, an estimated 5.8 trillion cigarettes were smoked around the world. Of the estimated one billion smokers in 2014, 800 million were men and the rest women.
Meanwhile, a few nations have managed to cut down on the consumption of cigarettes. Nations such as  Australia, the United Kingdom, Brazil, etc., have tight tobacco control laws that have helped in lessening its peoples' reliance on cigarettes. Barring a few such achievements, the overall trend is alarming.
However, there are disparities between nations, with some witnessing massive amounts of cigarette consumption while in others its usage is minimal. People in the European nation of Montenegro love to smoke. According to a data by the Tobacco Atlas, Montenegro ranked at the top of the list among cigarette consuming nations. In 2014, a whopping 4124.53 cigarettes were consumed per adult (per year) in Montenegro.  Belarus, which was at the number two spot, witnessed 3831.62 cigarettes being consumed per person in 2014.
Cigarette smoking per person was also high in countries such as Lebanon, Macedonia, Russia, Slovenia, Belgium, China, Kazakhstan, etc. All these nations saw an upwards of 2000 cigarettes being consumed per person in 2014. The United States witnessed 1083.41 cigarettes consumed per person in 2014.  The  United Kingdom  consumed less cigarettes at 826.13 per adult.
Apart from this, cigarette consumption was low or relatively low in Uganda, Rwanda, Ethiopia, Mozambique, Afghanistan, Tanzania, Somalia, Myanmar,  Syria  and other nations where it was less than 500 per person in 2014.
Meanwhile, the African nation of Guinea earns the laurels for having a population that smokes the least among the countries listed on the Tobacco Atlas data. As per the data, only 14.96 cigarettes were consumed per adult in the country in the year 2014.
For a clear understanding on the number of cigarettes smoked per person in 2014, refer to the table below.
| Country | Number of Cigarettes Consumed (2014) |
| --- | --- |
| Montenegro | 4124.53 |
| Belarus | 3831.62 |
| Lebanon | 3023.15 |
| Macedonia | 2732.23 |
| Russia | 2690.33 |
| Slovenia | 2637.03 |
| Belgium | 2353.28 |
| Luxembourg | 2283.55 |
| China | 2249.79 |
| Bosnia and Herzegovina | 2233.46 |
| Czech Republic | 2194.01 |
| Kazakhstan | 2156.59 |
| Azerbaijan | 2114.33 |
| Greece | 2086.09 |
| Korea, South | 2072.57 |
| Austria | 1987.52 |
| Jordan | 1855.05 |
| Ukraine | 1853.66 |
| Hungary | 1774.6 |
| Estonia | 1758.63 |
| Japan | 1713 |
| Croatia | 1709.3 |
| Serbia | 1687.56 |
| Cyprus | 1643.67 |
| Switzerland | 1633.86 |
| Tunisia | 1628.46 |
| Romania | 1619.82 |
| Slovakia | 1617.59 |
| Turkey | 1580.91 |
| Armenia | 1545.13 |
| Kuwait | 1517.26 |
| Bulgaria | 1504.72 |
| Germany | 1480.04 |
| Italy | 1442.87 |
| Poland | 1396.06 |
| Netherlands | 1395.97 |
| Saudi Arabia | 1395.14 |
| Cuba | 1391.98 |
| Georgia | 1378.45 |
| Denmark | 1378.23 |
| Argentina | 1359.4 |
| Israel | 1346.21 |
| Libya | 1332.77 |
| Indonesia | 1322.3 |
| Philippines | 1291.08 |
| Malta | 1266.14 |
| Spain | 1264.74 |
| Vietnam | 1226.92 |
| Egypt | 1215.3 |
| Iraq | 1187.65 |
| Albania | 1177.42 |
| Canada | 1154.25 |
| Uruguay | 1135.16 |
| Lithuania | 1123.86 |
| Portugal | 1114.11 |
| Moldova | 1112.8 |
| United States of America | 1083.41 |
| Finland | 1082.87 |
| Algeria | 1041.18 |
| Latvia | 1024.09 |
| France | 1022.88 |
| Brunei | 992.81 |
| Bahrain | 968.68 |
| Australia | 957.2 |
| Mongolia | 955.72 |
| Ireland | 953.66 |
| Chile | 929.55 |
| Thailand | 925 |
| Turkmenistan | 895.24 |
| Sweden | 868.89 |
| Iran | 835.51 |
| Laos | 831 |
| Namibia | 827.48 |
| United Kingdom | 826.13 |
| Papua New Guinea | 740.25 |
| United Arab Emirates | 715.01 |
| Qatar | 697.73 |
| Kyrgyzstan | 682.83 |
| Morocco | 679.95 |
| New Zealand | 671.12 |
| Singapore | 664.98 |
| Bangladesh | 651.63 |
| Equatorial Guinea | 649 |
| Cambodia | 644.99 |
| Fiji | 617.69 |
| Jamaica | 609.67 |
| Korea, North | 592.95 |
| Seychelles | 589.66 |
| Malaysia | 583.67 |
| Oman | 576.55 |
| Venezuela | 572.84 |
| Uzbekistan | 565.39 |
| Gabon | 559.05 |
| Norway | 556.04 |
| Iceland | 551.36 |
| South Africa | 537.03 |
| Tajikistan | 533.04 |
| Cape Verde | 514.86 |
| Pakistan | 510.59 |
| Brazil | 503.9 |
| Senegal | 491.78 |
| Honduras | 489.01 |
| Angola | 488.8 |
| Nicaragua | 487.84 |
| Cote D'Ivoire | 477.01 |
| Djibouti | 475.89 |
| Syria | 458.63 |
| Botswana | 448.81 |
| Costa Rica | 432.33 |
| Sudan | 427.75 |
| Swaziland | 427.08 |
| Belize | 400.1 |
| South Sudan | 398.48 |
| Yemen | 388.23 |
| Antigua | 361.63 |
| Barbuda | 361.63 |
| Colombia | 359.39 |
| | 345.32 |
| Saint Vincent and the Grenadines | 338.29 |
| Barbados | 333.09 |
| Mexico | 329.26 |
| Sri Lanka | 322.44 |
| Sierra Leone | 309.58 |
| Bahamas | 301.22 |
| Bolivia | 299.49 |
| Congo (Brazzaville) | 293.84 |
| Comoros | 289.42 |
| El Salvador | 280.35 |
| Mauritius | 261.4 |
| Kenya | 256.57 |
| Togo | 249.85 |
| Dominican Republic | 245.36 |
| Mali | 236.09 |
| Saint Lucia | 231.55 |
| Grenada | 224.33 |
| Panama | 224.27 |
| Maldives | 215.42 |
| Burkina Faso | 213.2 |
| Madagascar | 205.82 |
| Burma | 205.55 |
| Ecuador | 190.98 |
| Guatemala | 189.5 |
| Cameroon | 184.17 |
| Central African Republic | 177.76 |
| Guinea-Bissau | 174.84 |
| Nigeria | 172.68 |
| Paraguay | 166 |
| Gambia, The | 165.93 |
| Zambia | 164.55 |
| Chad | 156.31 |
| Bhutan | 155.09 |
| Mauritania | 134.92 |
| Zimbabwe | 133.53 |
| Benin | 122.1 |
| Ghana | 120.85 |
| Somalia | 116.66 |
| Peru | 116.33 |
| Haiti | 113.93 |
| Eritrea | 113.58 |
| India | 110.93 |
| Sao Tome and Principe | 110.65 |
| Niger | 105.36 |
| Liberia | 104.36 |
| Tanzania | 101.12 |
| Burundi | 97.73 |
| Trinidad and Tobago | 97.03 |
| Lesotho | 87.69 |
| Afghanistan | 83.81 |
| Nepal | 83 |
| Mozambique | 81.71 |
| Tonga | 81.07 |
| Malawi | 80.02 |
| Suriname | 79.24 |
| Guyana | 76.58 |
| Vanuatu | 76.2 |
| Ethiopia | 75.8 |
| Congo (Kinshasa) | 74.39 |
| Samoa | 54.21 |
| Rwanda | 53.24 |
| Uganda | 41.08 |
| Kiribati | 28.03 |
| Solomon Islands | 26.42 |
| Guinea | 14.96 |
Know more:
Related maps: