How do nations score on Economic Freedom Index?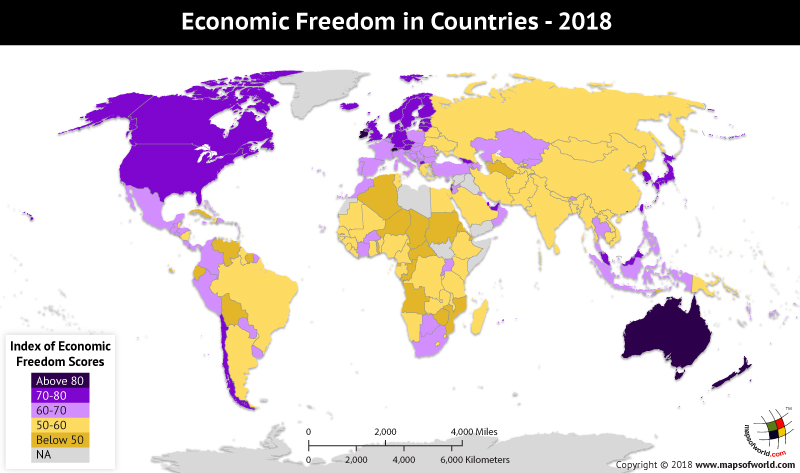 Economic freedom is when a person is liberated to work, consume, invest and produce wherever they want. If a nation is economically abled, then it allows free movement of capital, goods, and labor. The key factor in an economically abled country is 'free trade'. Subsequently, it plays a very vital role in the development of the society and the nation can economically prosper far better than the countries which have restrictions.
Economic freedom serves multiple functions- by allowing the people to work without the interference of government, more job opportunities are created, thereby reducing the unemployment rate in a county. When more people are employed, there will be higher revenue generation, better innovation in the industry, and hence an optimum utilization of resources.
Economic freedom strengthens the foundation of a country. When the people are economically free, they would invest more in education. An educated citizen is better than 10 uneducated ones. When the education levels rise, the economy flourishes.
To measure the degree of economic freedom in the nations around the world, The Heritage Foundation and The Wall Street Journal have been releasing the Index of Economic Freedom since 1995. The index, which is published annually, covers 12 freedoms- property rights, government integrity, judicial effectiveness, tax burden, government spending, fiscal health, business freedom, labor freedom, monetary freedom, trade freedom, investment freedom, and financial freedom. The scores vary between 0 and 100, with 0 for the least free country and 100 for the freest country.
The table below highlights the details of the Economic Freedom Index 2017.
| | | | | | | | | |
| --- | --- | --- | --- | --- | --- | --- | --- | --- |
| Ranking 2018 | Country | Abuse Score | Underlying Situation Score | Global  Score 2018 | Global  Score 2017 | Difference Score 2017 | Ranking 2017 | Difference Ranking 2017 |
| 1 | Norway | 0 | 7.63 | 7.63 | 7.6 | 0.03 | 1 | 0 |
| 2 | Sweden | 0 | 8.31 | 8.31 | 8.27 | 0.04 | 2 | 0 |
| 3 | Netherlands | 0 | 10.01 | 10.01 | 11.28 | -1.27 | 5 | 2 |
| 4 | Finland | 0 | 10.26 | 10.26 | 8.92 | 1.34 | 3 | -1 |
| 5 | Switzerland | 0 | 11.27 | 11.27 | 12.13 | -0.86 | 7 | 2 |
| 6 | Jamaica | 0 | 11.33 | 11.33 | 12.73 | -1.4 | 8 | 2 |
| 7 | Belgium | 0 | 13.16 | 13.16 | 12.75 | 0.41 | 9 | 2 |
| 8 | New Zealand | 0 | 13.62 | 13.62 | 13.98 | -0.36 | 13 | 5 |
| 9 | Denmark | 45 | 6.24 | 13.99 | 10.36 | 3.63 | 4 | -5 |
| 10 | Costa Rica | 0 | 14.01 | 14.01 | 11.93 | 2.08 | 6 | -4 |
| 11 | Austria | 0 | 14.04 | 14.04 | 13.47 | 0.57 | 11 | 0 |
| 12 | Estonia | 0 | 14.08 | 14.08 | 13.55 | 0.53 | 12 | 0 |
| 13 | Iceland | 0 | 14.1 | 14.1 | 13.03 | 1.07 | 10 | -3 |
| 14 | Portugal | 6.9 | 14.17 | 14.17 | 15.77 | -1.6 | 18 | 4 |
| 15 | Germany | 28.3 | 10.9 | 14.39 | 14.97 | -0.58 | 16 | 1 |
| 16 | Ireland | 0 | 14.59 | 14.59 | 14.08 | 0.51 | 14 | -2 |
| 17 | Luxembourg | 0 | 14.72 | 14.72 | 14.72 | 0 | 15 | -2 |
| 18 | Canada | 13.9 | 14.92 | 15.28 | 16.53 | -1.25 | 22 | 4 |
| 19 | Australia | 0 | 15.46 | 15.46 | 16.02 | -0.56 | 19 | 0 |
| 20 | Uruguay | 0 | 15.56 | 15.56 | 17.43 | -1.87 | 25 | 5 |
| 21 | Surinam | 0 | 16.44 | 16.44 | 16.07 | 0.37 | 20 | -1 |
| 22 | Samoa | 0 | 16.69 | 16.69 | 16.41 | 0.28 | 21 | -1 |
| 23 | Ghana | 0 | 18.41 | 18.41 | 17.95 | 0.46 | 26 | 3 |
| 24 | Latvia | 0 | 19.63 | 19.63 | 18.62 | 1.01 | 28 | 4 |
| 25 | Cyprus | 0 | 19.85 | 19.85 | 19.79 | 0.06 | 30 | 5 |
| 26 | Namibia | 0 | 20.24 | 20.24 | 17.08 | 3.16 | 24 | -2 |
| 27 | Slovakia | 0 | 20.26 | 20.26 | 15.51 | 4.75 | 17 | -10 |
| 28 | South Africa | 0 | 20.39 | 20.39 | 20.12 | 0.27 | 31 | 3 |
| 29 | Cabo Verde | 0 | 20.39 | 20.39 | 18.02 | 2.37 | 27 | -2 |
| 30 | Liechtenstein | 0 | 20.49 | 20.49 | 20.31 | 0.18 | 32 | 2 |
| 31 | Spain | 16.1 | 20.11 | 20.51 | 18.69 | 1.82 | 29 | -2 |
| 32 | Slovenia | 0 | 21.69 | 21.69 | 21.7 | -0.01 | 37 | 5 |
| 33 | France | 28.9 | 20.11 | 21.87 | 22.24 | -0.37 | 39 | 6 |
| 34 | Czech Republic | 0 | 21.89 | 21.89 | 16.91 | 4.98 | 23 | -11 |
| 35 | OECS | 0 | 22.11 | 22.11 | 22.1 | 0.01 | 38 | 3 |
| 36 | Lithuania | 0 | 22.2 | 22.2 | 21.37 | 0.83 | 36 | 0 |
| 37 | Andorra | 0 | 22.21 | 22.21 | 21.03 | 1.18 | 35 | -2 |
| 38 | Chile | 0 | 22.69 | 22.69 | 20.53 | 2.16 | 33 | -5 |
| 39 | Trinidad and Tobago | 11 | 22.79 | 22.79 | 20.62 | 2.17 | 34 | -5 |
| 40 | United Kingdom | 0 | 23.25 | 23.25 | 22.26 | 0.99 | 40 | 0 |
| 41 | Burkina Faso | 0 | 23.33 | 23.33 | 23.85 | -0.52 | 42 | 1 |
| 42 | Taiwan | 0 | 23.36 | 23.36 | 24.37 | -1.01 | 45 | 3 |
| 43 | South Korea | 0 | 23.51 | 23.51 | 27.61 | -4.1 | 63 | 20 |
| 44 | Romania | 0 | 23.65 | 23.65 | 24.46 | -0.81 | 46 | 2 |
| 45 | United States | 37.4 | 20.32 | 23.73 | 23.88 | -0.15 | 43 | -2 |
| 46 | Italy | 6.9 | 24.12 | 24.12 | 26.26 | -2.14 | 52 | 6 |
| 47 | Belize | 0 | 24.55 | 24.55 | 23.43 | 1.12 | 41 | -6 |
| 48 | Botswana | 11 | 25.29 | 25.29 | 24.93 | 0.36 | 48 | 0 |
| 49 | Comoros | 0 | 25.3 | 25.3 | 24.33 | 0.97 | 44 | -5 |
| 50 | Senegal | 0 | 25.61 | 25.61 | 26.72 | -1.11 | 58 | 8 |
| 51 | Tonga | 0 | 25.68 | 25.68 | 24.97 | 0.71 | 49 | -2 |
| 52 | Argentina | 40.1 | 22.54 | 26.05 | 25.07 | 0.98 | 50 | -2 |
| 53 | Papua New Guinea | 11 | 26.19 | 26.19 | 25.07 | 1.12 | 51 | -2 |
| 54 | Madagascar | 13.9 | 26.2 | 26.2 | 26.71 | -0.51 | 57 | 3 |
| 55 | Guyana | 0 | 26.25 | 26.25 | 26.8 | -0.55 | 60 | 5 |
| 56 | Mauritius | 0 | 26.45 | 26.45 | 26.67 | -0.22 | 56 | 0 |
| 57 | Fiji | 0 | 26.55 | 26.55 | 28.64 | -2.09 | 67 | 10 |
| 58 | Poland | 0 | 26.59 | 26.59 | 26.47 | 0.12 | 54 | -4 |
| 59 | Dominican Republic | 0 | 26.79 | 26.79 | 26.76 | 0.03 | 59 | 0 |
| 60 | Haïti | 0 | 26.82 | 26.82 | 26.36 | 0.46 | 53 | -7 |
| 61 | Georgia | 0 | 27.34 | 27.34 | 27.76 | -0.42 | 64 | 3 |
| 62 | Bosnia-Herzegovina | 0 | 27.37 | 27.37 | 27.83 | -0.46 | 65 | 3 |
| 63 | Niger | 13.9 | 27.4 | 27.4 | 27.21 | 0.19 | 61 | -2 |
| 64 | Malawi | 0 | 27.43 | 27.43 | 28.97 | -1.54 | 70 | 6 |
| 65 | Malta | 45 | 23.04 | 27.44 | 24.76 | 2.68 | 47 | -18 |
| 66 | El Salvador | 0 | 27.78 | 27.78 | 27.24 | 0.54 | 62 | -4 |
| 67 | Japan | 0 | 28.64 | 28.64 | 29.44 | -0.8 | 72 | 5 |
| 68 | Lesotho | 0 | 28.78 | 28.78 | 28.78 | 0 | 68 | 0 |
| 69 | Croatia | 0 | 28.94 | 28.94 | 29.59 | -0.65 | 74 | 5 |
| 70 | Hong Kong | 6.9 | 29.04 | 29.04 | 29.46 | -0.42 | 73 | 3 |
| 71 | Mongolia | 0 | 29.05 | 29.05 | 28.95 | 0.1 | 69 | -2 |
| 72 | Mauritania | 36.4 | 27.16 | 29.09 | 26.49 | 2.6 | 55 | -17 |
| 73 | Hungary | 0 | 29.11 | 29.11 | 29.01 | 0.1 | 71 | -2 |
| 74 | Greece | 0 | 29.19 | 29.19 | 30.89 | -1.7 | 88 | 14 |
| 75 | Albania | 16.1 | 29.49 | 29.49 | 29.92 | -0.43 | 76 | 1 |
| 76 | Serbia | 0 | 29.58 | 29.58 | 28.05 | 1.53 | 66 | -10 |
| 77 | Northern Cyprus | 0 | 29.59 | 29.59 | 29.88 | -0.29 | 75 | -2 |
| 78 | Kosovo | 6.9 | 29.61 | 29.61 | 30.45 | -0.84 | 82 | 4 |
| 79 | Sierra Leone | 0 | 29.98 | 29.98 | 30.73 | -0.75 | 85 | 6 |
| 80 | Armenia | 0 | 29.99 | 29.99 | 30.38 | -0.39 | 79 | -1 |
| 81 | Moldova | 6.9 | 30.01 | 30.01 | 30.41 | -0.4 | 80 | -1 |
| 82 | Côte d'Ivoire | 20.8 | 29.76 | 30.08 | 30.42 | -0.34 | 81 | -1 |
| 83 | Guinea Bissau | 0 | 30.09 | 30.09 | 30.09 | 0 | 77 | -6 |
| 84 | Benin | 0 | 30.16 | 30.16 | 30.32 | -0.16 | 78 | -6 |
| 85 | Seychelles | 0 | 30.17 | 30.17 | 30.86 | -0.69 | 87 | 2 |
| 86 | Togo | 13.9 | 30.23 | 30.23 | 30.75 | -0.52 | 86 | 0 |
| 87 | Israel | 27.1 | 30.05 | 30.26 | 31.01 | -0.75 | 91 | 4 |
| 88 | Peru | 13.9 | 30.27 | 30.27 | 30.98 | -0.71 | 90 | 2 |
| 89 | Liberia | 0 | 30.33 | 30.33 | 31.12 | -0.79 | 94 | 5 |
| 90 | Nicaragua | 0 | 30.41 | 30.41 | 31.01 | -0.6 | 92 | 2 |
| 91 | Panama | 0 | 30.56 | 30.56 | 32.12 | -1.56 | 96 | 5 |
| 92 | Ecuador | 0 | 30.56 | 30.56 | 33.64 | -3.08 | 105 | 13 |
| 93 | Tanzania | 0 | 30.65 | 30.65 | 30.65 | 0 | 83 | -10 |
| 94 | Bhutan | 0 | 30.73 | 30.73 | 30.73 | 0 | 84 | -10 |
| 95 | East Timor | 0 | 30.81 | 30.81 | 32.82 | -2.01 | 98 | 3 |
| 96 | Kenya | 23 | 30.82 | 30.82 | 31.2 | -0.38 | 95 | -1 |
| 97 | Tunisia | 16.1 | 30.91 | 30.91 | 32.22 | -1.31 | 97 | 0 |
| 98 | Kyrgyzstan | 26.4 | 31 | 31 | 30.92 | 0.08 | 89 | -9 |
| 99 | Mozambique | 0 | 31.12 | 31.12 | 31.05 | 0.07 | 93 | -6 |
| 100 | Lebanon | 23 | 31.08 | 31.15 | 33.01 | -1.86 | 99 | -1 |
| 101 | Ukraine | 35.3 | 30.14 | 31.16 | 33.19 | -2.03 | 102 | 1 |
| 102 | Brazil | 48.9 | 26.78 | 31.2 | 33.58 | -2.38 | 103 | 1 |
| 103 | Montenegro | 0 | 31.21 | 31.21 | 33.65 | -2.44 | 106 | 3 |
| 104 | Guinea | 24.8 | 31.9 | 31.9 | 33.15 | -1.25 | 101 | -3 |
| 105 | Kuwait | 0 | 31.91 | 31.91 | 33.61 | -1.7 | 104 | -1 |
| 106 | Nepal | 23 | 31.96 | 32.05 | 33.02 | -0.97 | 100 | -6 |
| 107 | Paraguay | 11 | 32.32 | 32.32 | 35.64 | -3.32 | 110 | 3 |
| 108 | Gabon | 30.9 | 31.98 | 32.37 | 34.83 | -2.46 | 108 | 0 |
| 109 | Republic of North Macedonia | 13.9 | 32.43 | 32.43 | 35.74 | -3.31 | 111 | 2 |
| 110 | Bolivia | 17.9 | 32.45 | 32.45 | 33.88 | -1.43 | 107 | -3 |
| 111 | Bulgaria | 0 | 35.22 | 35.22 | 35.01 | 0.21 | 109 | -2 |
| 112 | Central African Republic | 11 | 35.25 | 35.25 | 36.12 | -0.87 | 113 | 1 |
| 113 | Zambia | 23 | 35.02 | 35.36 | 36.48 | -1.12 | 114 | 1 |
| 114 | Congo-Brazzaville | 31.4 | 35.42 | 35.42 | 36.73 | -1.31 | 115 | 1 |
| 115 | Mali | 0 | 36.15 | 36.15 | 38.27 | -2.12 | 116 | 1 |
| 116 | Guatemala | 11 | 36.17 | 36.17 | 39.33 | -3.16 | 118 | 2 |
| 117 | Uganda | 35.6 | 36.19 | 36.77 | 35.94 | 0.83 | 112 | -5 |
| 118 | Afghanistan | 68.3 | 29.53 | 37.28 | 39.46 | -2.18 | 120 | 2 |
| 119 | Nigeria | 41.1 | 36.48 | 37.41 | 39.69 | -2.28 | 122 | 3 |
| 120 | Maldives | 45.7 | 35.85 | 37.95 | 39.3 | -1.35 | 117 | -3 |
| 121 | Angola | 0 | 38.35 | 38.35 | 40.42 | -2.07 | 125 | 4 |
| 122 | Gambia | 0 | 38.36 | 38.36 | 46.7 | -8.34 | 143 | 21 |
| 123 | Chad | 28.3 | 38.45 | 38.45 | 39.66 | -1.21 | 121 | -2 |
| 124 | Indonesia | 17.9 | 39.68 | 39.68 | 39.93 | -0.25 | 124 | 0 |
| 125 | Qatar | 0 | 40.16 | 40.16 | 39.83 | 0.33 | 123 | -2 |
| 126 | Zimbabwe | 23 | 40.53 | 40.53 | 41.44 | -0.91 | 128 | 2 |
| 127 | Oman | 34 | 40.67 | 40.67 | 40.46 | 0.21 | 126 | -1 |
| 128 | United Arab Emirates | 40.8 | 40.37 | 40.86 | 39.39 | 1.47 | 119 | -9 |
| 129 | Cameroon | 34.7 | 40.72 | 40.92 | 41.59 | -0.67 | 130 | 1 |
| 130 | Colombia | 46.8 | 39.58 | 41.03 | 41.47 | -0.44 | 129 | -1 |
| 131 | Sri Lanka | 6.9 | 41.37 | 41.37 | 44.34 | -2.97 | 141 | 10 |
| 132 | Jordan | 0 | 41.71 | 41.71 | 43.24 | -1.53 | 138 | 6 |
| 133 | Philippines | 58.9 | 38.43 | 42.53 | 41.08 | 1.45 | 127 | -6 |
| 134 | Palestine | 48.7 | 40.68 | 42.96 | 42.9 | 0.06 | 135 | 1 |
| 135 | Morocco / Western Sahara | 27.1 | 43.13 | 43.13 | 42.42 | 0.71 | 133 | -2 |
| 136 | Algeria | 13.9 | 43.13 | 43.13 | 42.83 | 0.3 | 134 | -2 |
| 137 | Myanmar | 47.4 | 41.66 | 43.15 | 41.82 | 1.33 | 131 | -6 |
| 138 | India | 60.1 | 39.01 | 43.24 | 42.94 | 0.3 | 136 | -2 |
| 139 | Pakistan | 49.7 | 41.63 | 43.24 | 43.55 | -0.31 | 139 | 0 |
| 140 | Thailand | 47.6 | 43.49 | 44.31 | 44.69 | -0.38 | 142 | 2 |
| 141 | Honduras | 46.3 | 44.95 | 45.23 | 43.75 | 1.48 | 140 | -1 |
| 142 | Cambodia | 37.4 | 45.9 | 45.9 | 42.07 | 3.83 | 132 | -10 |
| 143 | Venezuela | 45.6 | 45.56 | 46.03 | 42.94 | 3.09 | 137 | -6 |
| 144 | South Sudan | 46 | 46.88 | 46.88 | 48.16 | -1.28 | 145 | 1 |
| 145 | Malaysia | 0 | 47.41 | 47.41 | 46.89 | 0.52 | 144 | -1 |
| 146 | Bangladesh | 54.3 | 47.2 | 48.62 | 48.36 | 0.26 | 146 | 0 |
| 147 | Mexico | 69.5 | 43.77 | 48.91 | 48.97 | -0.06 | 147 | 0 |
| 148 | Russia | 55.8 | 48.24 | 49.96 | 49.45 | 0.51 | 148 | 0 |
| 149 | Tajikistan | 30 | 50.06 | 50.06 | 50.27 | -0.21 | 149 | 0 |
| 150 | Ethiopia | 65.4 | 46.07 | 50.17 | 50.34 | -0.17 | 150 | 0 |
| 151 | Singapore | 0 | 50.95 | 50.95 | 51.1 | -0.15 | 151 | 0 |
| 152 | Swaziland | 0 | 51.46 | 51.46 | 51.27 | 0.19 | 152 | 0 |
| 153 | Brunei | 0 | 51.48 | 51.48 | 53.72 | -2.24 | 156 | 3 |
| 154 | Democratic Republic of Congo | 44.7 | 51.6 | 51.6 | 52.67 | -1.07 | 154 | 0 |
| 155 | Belarus | 50.2 | 52.28 | 52.59 | 52.43 | 0.16 | 153 | -2 |
| 156 | Rwanda | 13.9 | 52.9 | 52.9 | 54.11 | -1.21 | 159 | 3 |
| 157 | Turkey | 63.7 | 50.96 | 53.5 | 52.98 | 0.52 | 155 | -2 |
| 158 | Kazakhstan | 33 | 54.41 | 54.41 | 54.01 | 0.4 | 157 | -1 |
| 159 | Burundi | 23 | 55.26 | 55.26 | 55.78 | -0.52 | 160 | 1 |
| 160 | Iraq | 68 | 53.71 | 56.56 | 54.03 | 2.53 | 158 | -2 |
| 161 | Egypt | 63.9 | 54.9 | 56.72 | 55.78 | 0.94 | 161 | 0 |
| 162 | Libya | 50.4 | 56.79 | 56.79 | 56.81 | -0.02 | 163 | 1 |
| 163 | Azerbaijan | 59.6 | 57.81 | 59.73 | 56.4 | 3.33 | 162 | -1 |
| 164 | Iran | 67.6 | 59 | 60.71 | 65.12 | -4.41 | 165 | 1 |
| 165 | Uzbekistan | 68.3 | 58.65 | 60.84 | 66.11 | -5.27 | 169 | 4 |
| 166 | Bahrain | 60.8 | 59.72 | 60.85 | 58.88 | 1.97 | 164 | -2 |
| 167 | Yemen | 57.9 | 61.68 | 62.23 | 65.8 | -3.57 | 166 | -1 |
| 168 | Somalia | 60.9 | 61.5 | 63.04 | 65.95 | -2.91 | 167 | -1 |
| 169 | Saudi Arabia | 63.1 | 61.89 | 63.13 | 66.02 | -2.89 | 168 | -1 |
| 170 | Laos | 56 | 66.41 | 66.41 | 66.41 | 0 | 170 | 0 |
| 171 | Equatorial Guinea | 0 | 66.47 | 66.47 | 66.47 | 0 | 171 | 0 |
| 172 | Cuba | 35.6 | 68.9 | 68.9 | 71.75 | -2.85 | 173 | 1 |
| 173 | Djibouti | 0 | 70.77 | 70.77 | 70.54 | 0.23 | 172 | -1 |
| 174 | Sudan | 23 | 71.13 | 71.13 | 73.56 | -2.43 | 174 | 0 |
| 175 | Vietnam | 66 | 75.05 | 75.05 | 73.96 | 1.09 | 175 | 0 |
| 176 | China | 81.7 | 76.5 | 78.29 | 77.66 | 0.63 | 176 | 0 |
| 177 | Syria | 81.6 | 77 | 79.22 | 81.49 | -2.27 | 177 | 0 |
| 178 | Turkmenistan | 34.3 | 84.2 | 84.2 | 84.19 | 0.01 | 178 | 0 |
| 179 | Eritrea | 71.4 | 84.24 | 84.24 | 84.24 | 0 | 179 | 0 |
| 180 | North Korea | 51.9 | 88.87 | 88.87 | 84.98 | 3.89 | 180 | 0 |
Know more:
Related Maps: