What countries have most robots?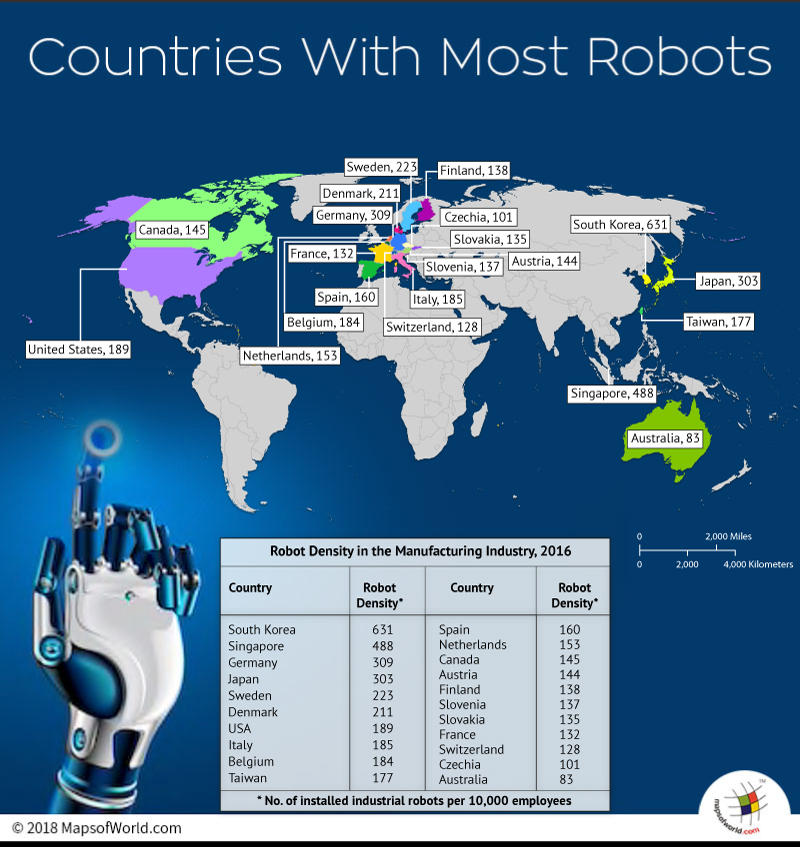 We all have seen robots in Hollywood movies — contextually conceived with the idea of making life easier for humans and eventually taking over the world after developing human intelligence. Well, that particular incidence might be a distinct possibility in the not-so-distant future. As of now, industrial robots are being utilized by many countries to carry out tasks that might be detrimental for humans. These robots are engaged in performing a number of duties in manufacturing such as moving materials, tools, parts and other such stuff. Amazing?
The International Federation of Robotics (IFR) carried out a survey in 2018, which suggested that automation of production is accelerating around the world. There are about 74 robot units per 10,000 employees, on a global average.
The organization has also listed nations in accordance to the highest number of industrial robots per 10,000 people, as of 2016. It is no wonder, that amid the top rankings were the names of countries that are the world's biggest producers. Industrial powerhouses such as Japan, South Korea and Germany were in the top ten. In fact, the IFR put South Korea at the top of the list as the number stood at 631. The country has maintained its top ranking since the year 2010, owing to the high growth rate of automated models.
The renowned financial hub – Singapore stands at the second spot, having 488 robots per 10,000 employees. The country is gradually building its name as a 'robotics innovator.' Germany, one of the most prosperous country in Europe, stands next with 309 industrial robots for every 10,000 people employed in manufacturing, as of 2016.
The table below mentions top 20 countries with high robot density:
| | |
| --- | --- |
| Country | Manufacturing 2016 |
| South Korea | 631 |
| Singapore | 488 |
| Germany | 309 |
| Japan | 303 |
| Sweden | 223 |
| Denmark | 211 |
| United States of America | 189 |
| Italy | 185 |
| Belgium | 184 |
| Taiwan | 177 |
| Spain | 160 |
| Netherlands | 153 |
| Canada | 145 |
| Austria | 144 |
| Finland | 138 |
| Slovenia | 137 |
| Slovakia | 135 |
| France | 132 |
| Switzerland | 128 |
| Czech Republic | 101 |
| Australia | 83 |
(Data sourced from International Federation of Robotics)
Know more:
Related Maps: