What countries are rapidly aging?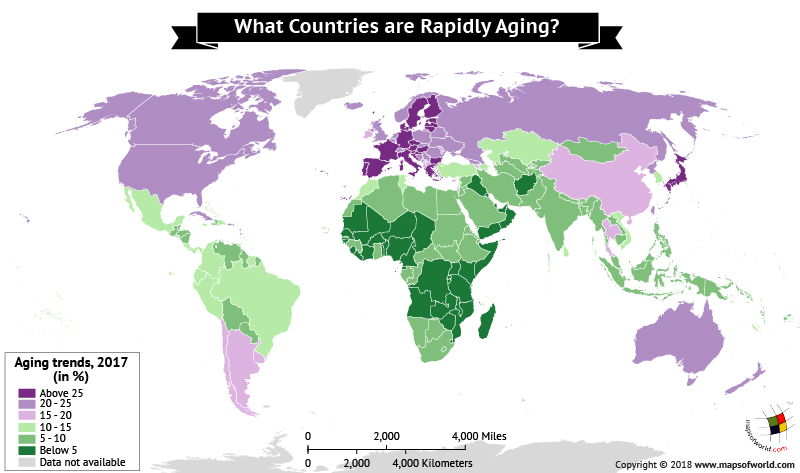 Aging is a global phenomenon and declining fertility and increasing longevity are the key drivers of population aging globally.
The United Nation's Department of Economic and Social Affairs released a World Population Aging report in 2017 that helps to understand the global trends of aging.
According to the United Nation's 2015 World Population Aging report titled, 'World Population Prospects: The 2015 Revision'; in 2000, out of the ten countries that were most aged, nine were in Europe. The report reveals that in 2015, those aged above 60 accounted for a little more than 25 percent in all ten most aged countries.
In 2017, one in eight people worldwide was aged 60 or over. Global population aged 60 years or over numbered 962 million in 2017, more than twice as large as in 1980 when there were 382 million older persons worldwide. The number of older persons is expected to double again by 2050 when it is projected to reach nearly 2.1 billion.
In 2030, older persons are expected to outnumber children under age 10 (1.41 billion versus 1.35 billion). It has been estimated that by 2030, in the countries with largest aged population, those above 60 will constitute around 32 percent of their population. Europe will still be leading the race with seven of the ten most aged countries coming from that continent, while the other three would be from Asia and the Caribbean.
In 2050, projections indicate that there will be older persons aged 60 or over than adolescents and youth at ages 10-24 (2.1 billion versus 2.0 billion). In 2050, older persons are expected to account for 35 percent of the population in Europe, 28 percent in Northern America, 25 percent in Latin America and the Caribbean, 24 percent in Asia, 23 percent in Oceania and 9 percent in Africa.
As the average age of populations continues to rise, Governments should understand the importance of implementing policies to address the needs and interests of older persons, including those related to housing, employment, health care, social protection, and other forms of intergenerational solidarity. By anticipating this demographic shift, countries can proactively enact policies to adapt to an aging population, which will be essential to fulfill the pledge of the 2030 Agenda for Sustainable Development that "no one will be left behind".
The table below provides the aging trends in 2017.
World Population Prospects for the aging trends
Country or area
Population in 2017 aged
60 years or over (in thousands)
Percentage aged
60 years or over
Japan
42,548
33.4
Italy
17,427
29.4
Germany
22,996
28
Portugal
2,880
27.9
Finland
1,535
27.8
Bulgaria
1,961
27.7
Croatia
1,122
26.8
Greece
2,957
26.5
Slovenia
546
26.3
Latvia
512
26.2
Malta
112
26.1
Hungary
2,524
26
Estonia
339
25.9
France
16,719
25.7
Martinique
99
25.7
Czechia
2,714
25.6
Sweden
2,525
25.5
Spain
11,750
25.3
Denmark
1,451
25.3
Lithuania
730
25.3
United States Virgin Islands
27
25.3
Austria
2,189
25.1
Netherlands
4,264
25
Romania
4,892
24.9
Belgium
2,813
24.6
Serbia
2,153
24.5
Channel Islands
41
24.5
Switzerland
2,044
24.1
Poland
9,152
24
United Kingdom
15,849
23.9
Guadeloupe
106
23.6
Canada
8,590
23.5
China, Hong Kong SAR
1,727
23.5
Bosnia and Herzegovina
821
23.4
Ukraine
10,254
23.2
Curaçao
37
22.9
Norway
1,186
22.3
Slovakia
1,189
21.8
United States of America
69,774
21.5
Belarus
2,019
21.3
Montenegro
134
21.3
Russian Federation
30,328
21.1
Australia
5,124
21
Barbados
60
21
New Zealand
981
20.8
Georgia
815
20.8
Puerto Rico
747
20.4
China, Taiwan Province of China
4,763
20.2
Republic of Korea
10,264
20.1
Cuba
2,310
20.1
Iceland
67
20.1
Luxembourg
115
19.6
Singapore
1,115
19.5
Uruguay
675
19.5
TFYR Macedonia
405
19.5
Ireland
909
19.1
Albania
558
19
Cyprus
218
18.5
Republic of Moldova
712
17.6
Thailand
11,691
16.9
Armenia
496
16.9
Mauritius
210
16.6
Réunion
144
16.4
China
228,897
16.2
Israel
1,342
16.1
China, Macao SAR
100
16.1
Chile
2,894
16
Argentina
6,822
15.4
Trinidad and Tobago
206
15
Sri Lanka
3,109
14.9
New Caledonia
39
14.2
Guam
23
14
Saint Lucia
25
13.7
Costa Rica
669
13.6
Jamaica
393
13.6
Dem. People's Rep. of Korea
3,436
13.5
Bahamas
54
13.5
Seychelles
13
13.3
Brazil
26,465
12.6
Tunisia
1,419
12.3
Turkey
9,686
12
Lebanon
730
12
French Polynesia
34
11.9
St. Vincent and the Grenadines
13
11.7
Colombia
5,716
11.6
El Salvador
738
11.6
Panama
466
11.4
Viet Nam
10,616
11.1
Kazakhstan
2,022
11.1
Morocco
3,807
10.7
Ecuador
1,739
10.5
Grenada
11
10.5
Peru
3,350
10.4
Suriname
58
10.4
Dominican Republic
1,101
10.2
Mexico
13,042
10.1
Azerbaijan
992
10.1
Venezuela (Bolivarian Republic of)
3,175
9.9
Fiji
90
9.9
Malaysia
3,074
9.7
Bolivia (Plurinational State of)
1,049
9.5
India
125,693
9.4
Myanmar
5,043
9.4
Algeria
3,869
9.4
Paraguay
643
9.4
Iran (Islamic Republic of)
7,148
8.8
Nepal
2,569
8.8
Indonesia
22,743
8.6
Guyana
67
8.6
Samoa
17
8.5
Tonga
9
8.5
South Africa
4,753
8.4
Nicaragua
521
8.4
French Guiana
24
8.4
Brunei Darussalam
34
8
Micronesia (Fed. States of)
8
8
Egypt
7,676
7.9
Philippines
8,023
7.6
Uzbekistan
2,431
7.6
Kyrgyzstan
459
7.6
Bangladesh
12,036
7.3
Haiti
800
7.3
Turkmenistan
419
7.3
Bhutan
59
7.3
Cambodia
1,129
7.1
Honduras
645
7
Guatemala
1,163
6.9
Cabo Verde
38
6.9
Syrian Arab Republic
1,246
6.8
Pakistan
13,259
6.7
Lesotho
150
6.7
Vanuatu
19
6.7
Libya
423
6.6
Mongolia
203
6.6
Botswana
146
6.4
Gabon
129
6.4
Djibouti
61
6.4
Kiribati
7
6.4
Lao People's Dem. Republic
434
6.3
Maldives
28
6.3
Belize
23
6.2
Papua New Guinea
505
6.1
Tajikistan
520
5.8
Mayotte
15
5.8
Jordan
549
5.7
Saudi Arabia
1,855
5.6
Sudan
2,226
5.5
Central African Republic
255
5.5
Namibia
139
5.5
Timor-Leste
71
5.4
Solomon Islands
33
5.4
Western Sahara
30
5.4
Ethiopia
5,553
5.3
Ghana
1,533
5.3
Eritrea
268
5.3
Guinea
657
5.2
Congo
271
5.2
South Sudan
646
5.1
Iraq
1,920
5
Benin
558
5
Mauritania
222
5
Rwanda
593
4.9
Liberia
232
4.9
Kuwait
201
4.9
Guinea-Bissau
92
4.9
Comoros
40
4.9
Mozambique
1,436
4.8
Madagascar
1,225
4.8
Côte d'Ivoire
1,163
4.8
Cameroon
1,146
4.8
Swaziland
66
4.8
Dem. Republic of the Congo
3,785
4.7
United Republic of Tanzania
2,666
4.7
Senegal
741
4.7
Yemen
1,292
4.6
Togo
357
4.6
State of Palestine
227
4.6
Bahrain
69
4.6
Nigeria
8,568
4.5
Somalia
642
4.4
Burundi
475
4.4
Equatorial Guinea
56
4.4
Kenya
2,117
4.3
Malawi
793
4.3
Sao Tome and Principe
9
4.3
Niger
894
4.2
Zimbabwe
701
4.2
Sierra Leone
314
4.2
Afghanistan
1,462
4.1
Angola
1,195
4
Mali
735
4
Chad
592
4
Oman
185
4
Burkina Faso
741
3.9
Gambia
80
3.8
Zambia
630
3.7
Uganda
1,425
3.3
Qatar
74
2.8
United Arab Emirates
224
2.4
Know more about World health:
Related Maps: