Texas Map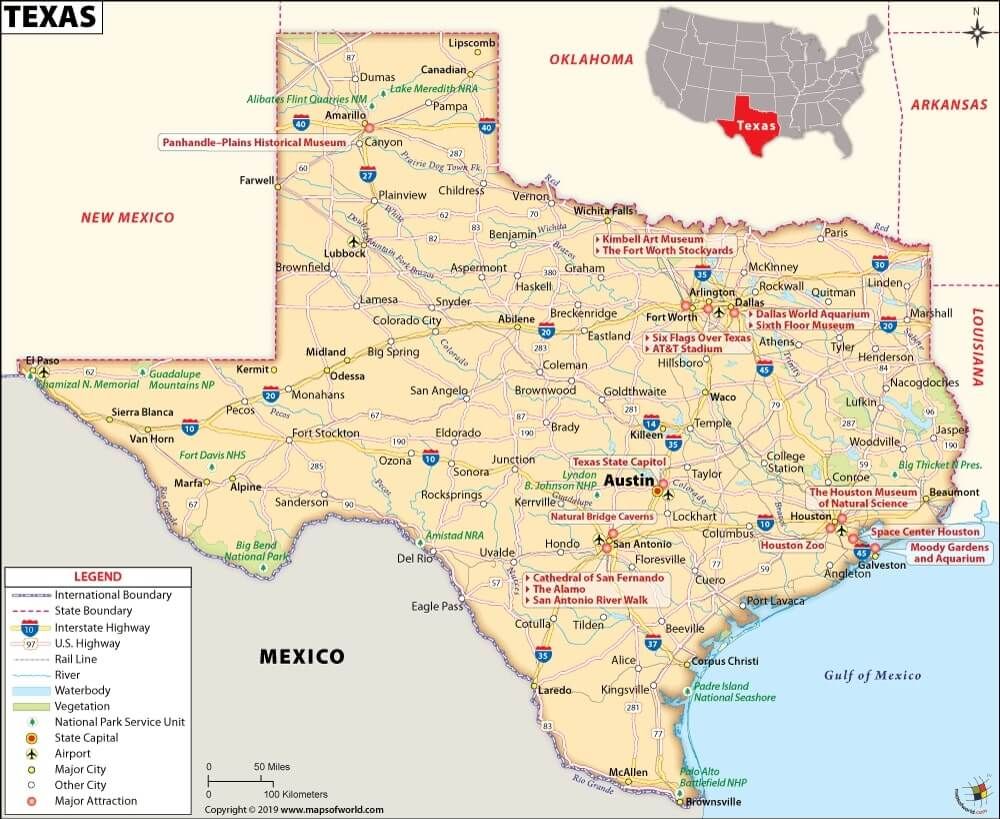 Texas Map shows a graphical representation of the state of Texas, showing its geographical features, cities, towns, highways, and other landmarks. This Texas map can be useful for planning road trips, navigating through the state, or simply learning more about its geography and features.
On January 25, 1839, the official flag of Texas was adopted in Houston during the Republic of Texas' Third Congress. The Texas flag is called the Lone Star Flag. Dr Charles Bellinger Stewart, a delegate of the Texas Constitutional Convention, designed this flag.
It has three colors. A perpendicular stripe of blue color is present near the last section of the flag. Its width is 1/3rd of the flag's entire length. In the center of this section, you'll find a five-point white star. Two horizontal stripes of equal size are there on the flag. Both of them are of equal length and breadth. While the upper horizontal stripe is white-colored, the lower horizontal stripe is red colored. Learn more about the Texas Flag.
About Texas State
Texas is the 28th state of the United States, which was admitted to the union on December 29, 1845. Austin is Texas' capital city. While Houston is the largest city in Texas, Dallas–Fort Worth is the largest metro/urban area. English and Spanish are the predominantly spoken languages. In the US, Texas is the second-largest populous state. While Lone Star State is its nickname, "Texas, Our Texas" is the State Motto. Learn more about this US state from Facts of Texas.

"Great Seal of the State of Texas" is the national seal of Texas. It comprises a live oak and olive branches surrounding a Lone Star. Peter Krag did the rendering of this design. The Congress of the Republic of Texas adopted this seal as a national seal in 1839. In 1846, the national seal of Texas was modified to the Texas state seal. 
The seal's reverse side was designed in 1991. The 72nd Legislature clarified the design. It consists of:
Two mottoes of Texas:

"Remember the Alamo"

"Texas One and Indivisible"

The 6 flags that have flown over Texas

The Alamo

Vince's Bridge

The Battle of Gonzales cannon

A five-pointed star
Texas History
The early history of Texas dates back to 37,000 years back. This is where the West Texas Native Americans' ancestors lived. Europeans entered the interior of Texas in 1528. The Spanish sent over thirty expeditions to Texas by the 1730s. American colonization accelerated in 1803 when the United States bought from France. 
Antonio López de Santa Anna led a coup in Texas as well as Mexico and served presidency in 1833. In 1836, the San Antonio's famous Alamo siege took place from February 23-March 6, 1836. The Mexican-American War started in February 1847 over the dispute regarding the US annexation of Texas and an area of land between the Nueces River and the Rio Grande. 
In 1870, under the new constitution, they readmitted the state of Texas to the union.
Texas Geography
This state is spread across a total area of 268,596 sq mi (695,662 sq km), out of which 261,232 sq mi (676,587 sq km) is land area and 7,365 sq mi (19,075 sq km) is water area. In terms of area, it is the 2nd largest state in the United States. Check this Texas Topographic Map to learn more.
In the Great Plains, Texas is the southernmost region. You'll find 5 major geographical regions in the state. Below are maps of all the regions:
Know about the location of mountain peaks, rivers, lakes, the state capital, state boundary, ocean, and neighbouring states from this Physical Map of Texas.
Texas location map shows the exact location of the US state of Texas on the US map. It also shows the boundaries of different states in the US, neighbouring countries, and oceans all around. 
The state of Texas is situated in the South Central region of the US. It shares its border with Oklahoma (to the north), Arkansas (to the northeast), Louisiana (to the east), 4 Mexican states such as Nuevo León, Coahuila, Chihuahua, and Tamaulipas (to the south and southwest), New Mexico (to the west), and the Gulf of Mexico's coastline (to the southeast). 
Its precise location is 25°50′ N to 36°30′ N Latitude and 93°31′ W to 106°39′ W Longitude. To know more about the location, check Texas Longitude and Latitude Map.
Texas has 254 counties. In terms of area, Brewster County is the largest, and Rockwall County is the smallest county. While Brewster County has a total area of 6,193 sq mi (16,040 sq km), Rockwall County's total area is 149 sq mi (386 sq km). Check out the location and boundaries of different counties in the Texas County Map.
The US State of Texas has 24 area codes: 210, 214, 469, 972, 254, 281, 713, 832, 325, 361, 409, 432, 512, 682, 817, 806, 830, 903, 430, 915, 936, 940, 956, and 979. Some of the most important area codes associated with major cities are 214, 469, 972 (Dallas), 281, 713, 832 (Houston), 210 (San Antonio), 512 (Austin), 682, 817 (Fort Worth, Arlington), 915 (El Paso), and many more. The Texas Area Codes Map helps you locate a particular area code and also shows the area code boundary, county and state boundaries, and state capital. 
There are 1930 active zip codes in Texas. Some of the best zip codes to live in are 
77094, 75024, 75082, 75063, 78701, 75019, 77059, 78733, 77479, 75093, and many more. The Texas Zip Code Map helps you locate the location of a particular zip code and also shows the zip code boundary, state boundary, and state capital. 
Texas Major Cities
Texas cities map helps you learn about the state's major cities and locations. It also showcases the state capital, state boundary, other cities, neighboring oceans, and many more. 
Some of the largest and major cities in Texas are Houston, San Antonio, Dallas, Austin, Fort Worth, El Paso, and many more. Check out this Texas Map with Cities for more details.
Texas Airports
The busiest airports in this US state are Dallas Fort Worth International Airport, George Bush Intercontinental Airport, Dallas Love Field, Austin–Bergstrom International Airport, William P. Hobby Airport, San Antonio International Airport, and El Paso International Airport. Check the location of different airports (both public-use and military) in the state in the Texas Airports Map. This map also shows Texas's state and country boundaries, cities, the state capital, neighboring states, and oceans.
Texas National Park and Trails
Texas has 14 national parks. Around 5,929,330 visitors visit these national parks annually. These national parks are Alibates Flint Quarries (Fritch), Amistad (Del Rio), Big Bend (The big bend of the Rio Grande), Big Thicket (Beaumont), Chamizal (El Paso), El Camino Real de Los Tejas, El Camino Real de Tierra Adentro, Fort Davis (Fort Davis), Guadalupe Mountains (Salt Flat), Lake Meredith (Fritch), Lyndon B Johnson (Johnson City), Padre Island (Corpus Christi), Palo Alto Battlefield (Brownsville), Rio Grande (Southwest Texas), San Antonio Missions (San Antonio), and Waco Mammoth (Waco). 
In Texas, you can enjoy 2,199 recreational trails (hiking, backpacking, mountain biking, and other adventurous trails). Some of the most popular ones are the Guadalupe Peak Texas Highpoint Trail, Lost Mine Trail, Twin Falls, and Sculpture Falls Trail (through Barton Creek Greenbelt Trail), The Window Trail, Riverplace Nature Trail, etc. Check out the locations of different national parks, monuments, preserves, and more details in the National Parks in Texas Map.
Texas Time Zones
The Time zone of most of Texas is UTC−06:00 (Central). In northwestern Culberson counties, Hudspeth, and El Paso, Summer (Daylight Saving Time) time zone is UTC−05:00 (CDT) and UTC−07:00 (Mountain). The Summer (DST) time zone is UTC−06:00 (MDT).
Texas Climate 
The northwest region of Texas (especially where the plateau is located) experiences a continental climate. In the rest of the state, you'll find a subtropical climate. Winters are mild in most parts of the state except in the northwest. However, you may experience short bursts of cold air. 
In northern Texas (around Dallas), plains are situated. Here, you may hardly get snowfalls. In the central-southern region, snowfalls are very rare. In the lowlands, summers remain very hot. Along the Gulf of Mexico and the eastern region, summers remain muggy. As you move towards the west, summers remain dry. In fact, at higher altitudes, summers remain less hot. 
While eastern Texas (including Beaumont and Houston) receives more than 1,200 mm (47 inches) annually, central Texas (including Corpus Christi, San Antonio, Austin, and Dallas) receives 750 to 850 mm (29.5-to-33.5 inches) annually. Western Texas (including El Paso, Lubbock, and Amarillo) is arid.
FAQs on Texas
FAQ #1: How Big is Texas?
Ans: Texas is the second-largest state in the United States in terms of total area. Its total area is 268,596 sq mi (695,662 sq km). While 261,232 sq mi (676,587 sq km) is land area, 7,365 sq mi (19,075 sq km) is water area.
FAQ #2: What is the Capital of Texas?
Ans: Austin is the capital of Texas. 
FAQ #3: How Many People Live in Texas?
Ans: 29,527,941 people lived in Texas in July 2021. The population of Texas is expected to be more than 30 million by 2022. 
FAQ #4: When Did Texas become a State?
Ans: Texas became a state on December 29, 1845. It is the 28th state admitted to the union. Before attaining statehood, Texas was a sovereign state known as the Republic of Texas. 
FAQ #5: What To Do in Austin Texas?
Ans: You can do lots of activities in Austin, Texas, including sightseeing, visiting museums, various attractions, and myriad tours. The most popular places to visit in Austin are Congress Bridge Bats, Austin Duck Adventures, Wonderspaces, Texas State Capitol, famous breweries/restaurants, and many more.
FAQ #6: Does it Snow in Texas?
Ans: Snowfall rarely happens in Texas. However, when it happens, it mainly snows in West Texas and Texas Panhandle.
FAQ #7: Is Alaska Bigger Than Texas?
Ans: Alaska is around two and a half times bigger than Texas in terms of total area. While the total area of Alaska is 663,300 sq mi (1,717,939 sq km), the same for Texas is 268,596 sq mi (695,662 sq km).
FAQ #8: What Region is Texas In?
Ans: Texas is ‌in the south-central USA. 
FAQ #9: What is Texas Known For?
Ans: Texas is known for NASA Space Center (in Houston), Texas Longhorn Cattle, oil & gas, Bluebonnet flowers, production of wool, the Alamo, Amarillo (Helium Capital of the World), Rodeos, Chili (Texas' official state dish), wool production, etc. 
FAQ #10: Who is The Governor Of Texas?
Ans: Greg Abbott from the Republican Party is the current Governor of Texas. He assumed office as the 48th Governor of the state in 2015.