What countries have Arabic as an Official, Co-official, and Minority Language?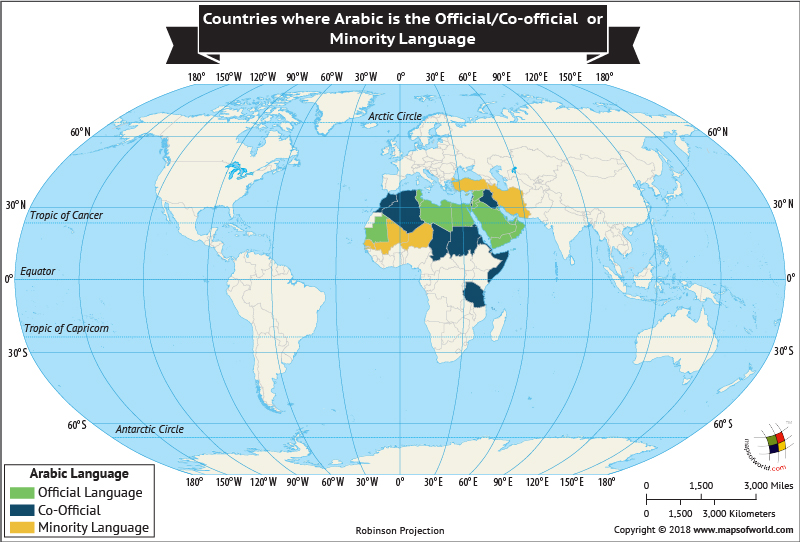 Arabic, which is a Central Semitic language, is a widely spoken language around the world. It is estimated that there are currently approximately 422 million speakers (including both native and non-native) across the globe. Most of them are located in the Arab states in the Middle East and North Africa. It is the fifth most spoken language and the official language of the Arab League, a regional organization of Arab countries. It is also one of the six official languages of the United Nations. Check out our Languages of the World section to learn more about languages.
Arabic's sound system and writing style is different as compared to English, and other European languages. Unlike European languages, which are written from left to right, Arabic is written from right to left. This rich language has left a lasting impression on many other languages, such as Persian, Turkish, Urdu, Kashmiri, Hindi, Kazakh, Indonesian, and others. Some common English words that have Arabic origin are coffee, cotton, magazine, algebra, and candy to name just a few. Similarly, Arabic too has borrowed some words from Persian, Greek, and even French, and English.
There are 14 nations where Arabic is the sole official language. Of these, four are in Africa: Tunisia, Egypt, Mauritania, and Libya. The remaining countries where Arabic is the official language are situated in the Middle East: The United Arab Emirates, Yemen, Qatar, Bahrain, Kuwait, Oman, Syria, Saudi Arabia, and Jordan.
Arabic is the co-official language in 13 nations, also situated in Africa and Middle East. These are; Djibouti, Chad, Eritrea, Israel, Somalia, Sudan, Morocco, Algeria, Iraq, Lebanon, Comoros, and Tanzania. Malta is the only European nation where Arabic is a co-official language.
Arabic also enjoys minority, or national language status, in six nations: Cyprus, Iran, Mali, Niger, Senegal, and Turkey.
Get to know the nations where Arabic is the official, co-official, and minority language by referring to the table below
| Country | Language Status |
| --- | --- |
|  Djibouti | Co-Official |
|  Chad | Co-Official |
|  Eritrea | Co-Official |
|  Israel | Co-Official |
|  Somalia | Co-Official |
|  Sudan | Co-Official |
|  Morocco | Co-Official |
|  Algeria | Co-Official |
|  Iraq | Co-Official |
|  Lebanon | Co-Official |
| Malta | Co-official |
|  Comoros | Co-Official |
| Tanzania | Co-Official |
| Cyprus | Minority Language |
| Iran | Minority Language |
| Mali | Minority Language |
| Niger | Minority Language |
| Senegal | Minority Language |
| Turkey | Minority Language |
|  Palestine | Official Language |
|  United Arab Emirates | Official Language |
|  Yemen | Official Language |
|  Libya | Official Language |
|  Qatar | Official Language |
|  Bahrain | Official Language |
|  Kuwait | Official Language |
|  Oman | Official Language |
|  Mauritania | Official Language |
|  Syria | Official Language |
|  Egypt | Official Language |
|  Saudi Arabia | Official Language |
|  Jordan | Official Language |
|  Tunisia | Official Language |
Learn more about languages:
Related Maps: