What is E-participation Index?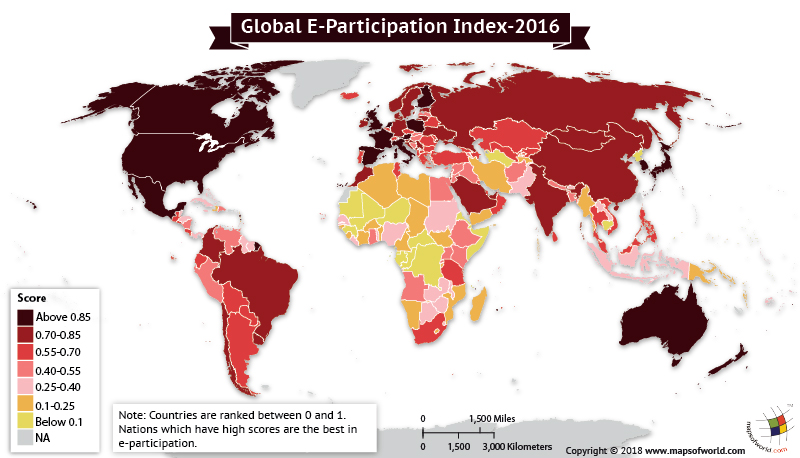 Participation of citizens is essential for the success of governance and democracy. With the advancement of technology, e-participation has gained importance as it is a viable tool for strengthening the collaboration between the government and the citizens. Through Information and Communications Technologies, e-participation fosters civic engagement as well as open, participatory governance. Thus, to promote the well-being of the society, e-participation is important for promoting participation in public decision making and also improving the access of people to information and public services.
To access the level of e-participation of citizens, the United Nations releases the E-Participation Index. E-participation measures e-information, e-consultation, and e-decision making. While e-information relates to the provision of government information on the internet, e-decision is about involving the people of the nation directly in the decision processes. E-consultation is about facilitating public consultations online. Countries are ranked between 0 and 1. Nations which have high scores are the best in e-participation.
The United Kingdom has topped the 2016 E-Participation Index with a score of 1. Australia and Japan have both achieved a score of 0.98. Other top performing nations which have scores of more than 0.85 are South Korea, the Netherlands, New Zealand, Spain, Singapore, Canada, Finland, Italy, the United States, France, Austria, Mexico, and Poland.
Countries which have done fairly well on the 2016 E-Participation Index and have scores between 0.70 and 0.85 are Israel, Morocco, China, Denmark, Malta, Sweden, Germany, India, Russia, Brazil, Saudi, Arabia, Ireland, and some others. Meanwhile, some nations that have performed poorly on the E-Participation Index and have scores of less than 0.1 are Niger, Cambodia, Mali, Somalia, Palau, Eritrea, Congo, and others.
The table below provides information on how each nation has scored on the 2016 E-Participation Index.
| | |
| --- | --- |
| Country | Score |
|  United Kingdom | 1.00 |
|  Australia | 0.98 |
|  Japan | 0.98 |
|  Republic of Korea | 0.97 |
|  Netherlands | 0.95 |
|  New Zealand | 0.95 |
|  Spain | 0.93 |
|  Singapore | 0.92 |
|  Canada | 0.92 |
|  Finland | 0.92 |
|  Italy | 0.92 |
|  United States of America | 0.90 |
|  France | 0.90 |
|  Austria | 0.88 |
|  Mexico | 0.88 |
|  Poland | 0.88 |
|  Serbia | 0.83 |
|  Israel | 0.83 |
|  Lithuania | 0.83 |
|  Montenegro | 0.83 |
|  Morocco | 0.83 |
|  China | 0.81 |
|  Denmark | 0.81 |
|  Estonia | 0.81 |
|  Croatia | 0.78 |
|  Malta | 0.78 |
|  Sweden | 0.76 |
|  Colombia | 0.76 |
|  Germany | 0.76 |
|  India | 0.76 |
|  Norway | 0.76 |
|  Ukraine | 0.75 |
|  United Arab Emirates | 0.75 |
|  Bahrain | 0.75 |
|  Chile | 0.75 |
|  Russian Federation | 0.75 |
|  Slovenia | 0.73 |
|  Brazil | 0.73 |
|  Saudi Arabia | 0.71 |
|  Uruguay | 0.71 |
|  Ireland | 0.71 |
|  Mongolia | 0.71 |
|  Tunisia | 0.69 |
|  Vietnam | 0.69 |
|  Bulgaria | 0.69 |
|  Luxembourg | 0.69 |
|  Uzbekistan | 0.68 |
|  Azerbaijan | 0.68 |
|  Malaysia | 0.68 |
|  Sri Lanka | 0.66 |
|  Iceland | 0.66 |
|  Mauritius | 0.66 |
|  Portugal | 0.66 |
|  Republic of Moldova | 0.66 |
|  Albania | 0.64 |
|  Belgium | 0.64 |
|  Costa Rica | 0.64 |
|  Kuwait | 0.64 |
|  Qatar | 0.64 |
|  Turkey | 0.63 |
|  Argentina | 0.63 |
|  Guatemala | 0.63 |
|  Liechtenstein | 0.63 |
|  Romania | 0.63 |
| Macedonia | 0.61 |
|  Greece | 0.61 |
|  Thailand | 0.59 |
|  United Republic of Tanzania | 0.59 |
|  Kazakhstan | 0.59 |
|  Kyrgyzstan | 0.59 |
|  Philippines | 0.59 |
|  Switzerland | 0.58 |
|  Bolivia | 0.58 |
|  Ecuador | 0.58 |
|  Paraguay | 0.58 |
|  South Africa | 0.56 |
|  Belarus | 0.56 |
|  Czech Republic | 0.56 |
|  El Salvador | 0.56 |
|  Georgia | 0.56 |
|  Oman | 0.56 |
|  Slovakia | 0.54 |
|  Peru | 0.54 |
|  Armenia | 0.53 |
|  Bangladesh | 0.53 |
|  Cyprus | 0.53 |
|  Kenya | 0.53 |
|  Latvia | 0.53 |
|  Bosnia and Herzegovina | 0.51 |
|  Nepal | 0.51 |
|  Rwanda | 0.49 |
|  Uganda | 0.49 |
|  Dominican Republic | 0.49 |
|  Ethiopia | 0.49 |
|  Hungary | 0.49 |
|  Lebanon | 0.49 |
|  Cape Verde | 0.47 |
|  Syrian Arab Republic | 0.46 |
|  Ghana | 0.46 |
|  Jordan | 0.46 |
|  Trinidad and Tobago | 0.44 |
|  Andorra | 0.44 |
|  Angola | 0.44 |
|  Afghanistan | 0.42 |
|  Barbados | 0.42 |
|  Iraq | 0.42 |
|  Seychelles | 0.41 |
|  Venezuela | 0.41 |
|  Egypt | 0.41 |
|  Nicaragua | 0.41 |
|  Senegal | 0.39 |
|  Togo | 0.39 |
|  Honduras | 0.39 |
|  Brunei Darussalam | 0.37 |
|  Indonesia | 0.37 |
|  Pakistan | 0.37 |
|  Panama | 0.37 |
|  Tonga | 0.36 |
|  Zambia | 0.36 |
|  Bhutan | 0.36 |
|  Nigeria | 0.36 |
|  Suriname | 0.34 |
|  Bahamas | 0.34 |
|  Cuba | 0.32 |
|  Grenada | 0.32 |
|  Samoa | 0.31 |
|  Zimbabwe | 0.29 |
|  Botswana | 0.29 |
|  Fiji | 0.29 |
|  Liberia | 0.29 |
|  Malawi | 0.29 |
|  Monaco | 0.29 |
|  Saint Kitts and Nevis | 0.27 |
|  Saint Vincent and the Grenadines | 0.27 |
|  Timor-Leste | 0.27 |
|  Jamaica | 0.27 |
|  Lao People's Democratic Republic | 0.27 |
|  Sudan | 0.25 |
|  Swaziland | 0.25 |
|  Belize | 0.25 |
|  Guyana | 0.25 |
|  Kiribati | 0.25 |
|  Saint Lucia | 0.24 |
|  Burkina Faso | 0.24 |
|  Namibia | 0.24 |
|  Solomon Islands | 0.22 |
|  Maldives | 0.22 |
| Federated States of Micronesia | 0.22 |
|  Tajikistan | 0.20 |
|  Vanuatu | 0.20 |
|  Gambia | 0.20 |
|  Iran | 0.20 |
|  Madagascar | 0.20 |
|  Mozambique | 0.20 |
|  Papua New Guinea | 0.20 |
|  Dominica | 0.19 |
|  Antigua and Barbuda | 0.17 |
|  Benin | 0.17 |
|  Cameroon | 0.17 |
|  Guinea-Bissau | 0.17 |
|  Burundi | 0.15 |
|  Chad | 0.15 |
|  Côte d'Ivoire | 0.15 |
|  San Marino | 0.14 |
|  Yemen | 0.14 |
|  Haiti | 0.14 |
|  Sierra Leone | 0.12 |
|  Algeria | 0.12 |
|  Lesotho | 0.12 |
|  South Sudan | 0.10 |
|  Libya | 0.10 |
|  Myanmar | 0.10 |
|  Congo | 0.08 |
|  Democratic Republic of the Congo | 0.08 |
|  Equatorial Guinea | 0.08 |
|  Guinea | 0.08 |
|  Nauru | 0.08 |
|  Niger | 0.08 |
|  Sao Tome and Principe | 0.07 |
|  Turkmenistan | 0.07 |
|  Cambodia | 0.07 |
|  Gabon | 0.07 |
|  Mali | 0.07 |
|  Marshall Islands | 0.05 |
|  Mauritania | 0.05 |
|  Somalia | 0.03 |
|  Palau | 0.03 |
|  Comoros | 0.02 |
|  Democratic People's Republic of Korea | 0.02 |
|  Eritrea | 0.02 |
|  Tuvalu | 0.00 |
|  Central African Republic | 0.00 |
|  Djibouti | 0.00 |
(Data sourced from the UN)
Know more about the world:
Related Maps: