What are the countries with the highest external debt?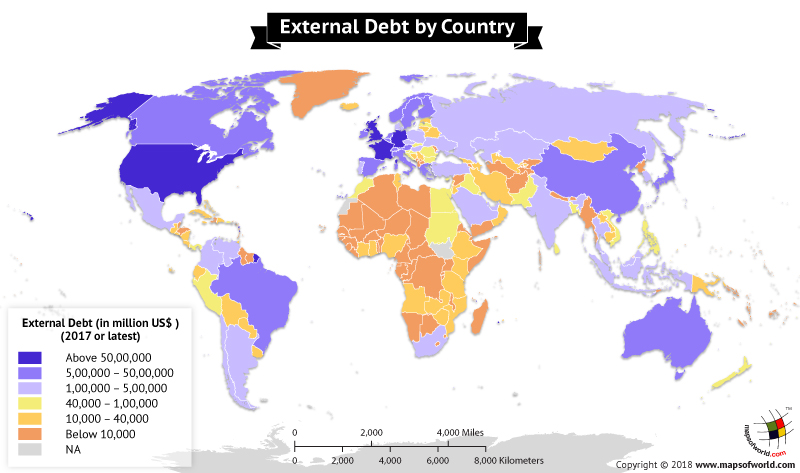 External debt is the part of a country's debt that was borrowed from foreign lenders including commercial banks as well as government or international financial institutions. Total debt stock and other aggregate measures are derived from the summation of loan-level data on stocks and flows after conversion to a common currency.
Data on external obligations are normally reported to the World Bank in the currency of repayment and are converted into a common currency (U.S. dollars) using official exchange rates published by the IMF.
Changes in the stock of debt from one period to the next can be attributed to five factors:
net flow of debt
net change in interest arrears
capitalization of interest
reduction in debt resulting from debt forgiveness or other debt reduction mechanisms
cross-currency valuation effects
| | | |
| --- | --- | --- |
| RANK | COUNTRY | DEBT – EXTERNAL |
| 1 | UNITED STATES | $17,910,000,000,000.00 |
| 3 | UNITED KINGDOM | $8,126,000,000,000.00 |
| 4 | FRANCE | $5,360,000,000,000.00 |
| 5 | GERMANY | $5,326,000,000,000.00 |
| 6 | NETHERLANDS | $4,063,000,000,000.00 |
| 7 | LUXEMBOURG | $3,781,000,000,000.00 |
| 8 | JAPAN | $3,240,000,000,000.00 |
| 9 | IRELAND | $2,470,000,000,000.00 |
| 10 | ITALY | $2,444,000,000,000.00 |
| 11 | SPAIN | $2,094,000,000,000.00 |
| 12 | AUSTRALIA | $1,670,000,000,000.00 |
| 13 | SWITZERLAND | $1,664,000,000,000.00 |
| 14 | CHINA | $1,649,000,000,000.00 |
| 15 | CANADA | $1,608,000,000,000.00 |
| 16 | BELGIUM | $1,281,000,000,000.00 |
| 17 | SWEDEN | $939,900,000,000.00 |
| 18 | AUSTRIA | $689,100,000,000.00 |
| 19 | NORWAY | $642,300,000,000.00 |
| 20 | BRAZIL | $554,500,000,000.00 |
| 21 | FINLAND | $544,700,000,000.00 |
| 22 | GREECE | $506,600,000,000.00 |
| 23 | HONG KONG | $494,500,000,000.00 |
| 24 | DENMARK | $484,800,000,000.00 |
| 25 | INDIA | $483,400,000,000.00 |
| 26 | SINGAPORE | $482,800,000,000.00 |
| 27 | MEXICO | $480,500,000,000.00 |
| 28 | RUSSIA | $451,500,000,000.00 |
| 29 | PORTUGAL | $449,000,000,000.00 |
| 30 | TURKEY | $429,600,000,000.00 |
| 31 | KOREA, SOUTH | $376,900,000,000.00 |
| 32 | POLAND | $362,000,000,000.00 |
| 33 | INDONESIA | $322,600,000,000.00 |
| 34 | UNITED ARAB EMIRATES | $239,700,000,000.00 |
| 35 | MALAYSIA | $213,000,000,000.00 |
| 36 | SAUDI ARABIA | $212,900,000,000.00 |
| 37 | ARGENTINA | $208,600,000,000.00 |
| 38 | TAIWAN | $204,700,000,000.00 |
| 39 | QATAR | $168,000,000,000.00 |
| 40 | CHILE | $167,900,000,000.00 |
| 41 | KAZAKHSTAN | $159,200,000,000.00 |
| 42 | CZECHIA | $145,800,000,000.00 |
| 43 | SOUTH AFRICA | $144,100,000,000.00 |
| 44 | THAILAND | $135,500,000,000.00 |
| 45 | HUNGARY | $131,800,000,000.00 |
| 46 | UKRAINE | $125,300,000,000.00 |
| 47 | COLOMBIA | $120,400,000,000.00 |
| 48 | VENEZUELA | $103,100,000,000.00 |
| 49 | CYPRUS | $95,280,000,000.00 |
| 50 | ROMANIA | $94,170,000,000.00 |
| 51 | ISRAEL | $93,020,000,000.00 |
| 52 | VIETNAM | $91,790,000,000.00 |
| 53 | MALTA | $90,980,000,000.00 |
| 54 | NEW ZEALAND | $88,080,000,000.00 |
| 55 | PANAMA | $86,550,000,000.00 |
| 56 | PHILIPPINES | $80,880,000,000.00 |
| 57 | EGYPT | $76,310,000,000.00 |
| 58 | PAKISTAN | $75,660,000,000.00 |
| 59 | SLOVAKIA | $75,040,000,000.00 |
| 60 | IRAQ | $73,430,000,000.00 |
| 61 | PERU | $70,090,000,000.00 |
| 62 | PUERTO RICO | $56,820,000,000.00 |
| 63 | SUDAN | $53,350,000,000.00 |
| 64 | KUWAIT | $48,910,000,000.00 |
| 65 | SRI LANKA | $47,800,000,000.00 |
| 66 | SLOVENIA | $46,300,000,000.00 |
| 67 | MOROCCO | $45,720,000,000.00 |
| 68 | BANGLADESH | $45,070,000,000.00 |
| 69 | CROATIA | $44,530,000,000.00 |
| 70 | BAHRAIN | $42,390,000,000.00 |
| 71 | LATVIA | $40,020,000,000.00 |
| 72 | BULGARIA | $39,510,000,000.00 |
| 73 | LEBANON | $39,460,000,000.00 |
| 74 | OMAN | $39,170,000,000.00 |
| 75 | BELARUS | $38,750,000,000.00 |
| 76 | ECUADOR | $37,750,000,000.00 |
| 77 | NIGERIA | $35,230,000,000.00 |
| 78 | LITHUANIA | $34,480,000,000.00 |
| 79 | TUNISIA | $31,050,000,000.00 |
| 80 | SERBIA | $30,600,000,000.00 |
| 81 | DOMINICAN REPUBLIC | $29,690,000,000.00 |
| 82 | ETHIOPIA | $29,090,000,000.00 |
| 83 | URUGUAY | $28,270,000,000.00 |
| 84 | JORDAN | $27,720,000,000.00 |
| 85 | ANGOLA | $27,340,000,000.00 |
| 86 | ICELAND | $27,140,000,000.00 |
| 87 | COSTA RICA | $25,830,000,000.00 |
| 88 | KENYA | $24,990,000,000.00 |
| 89 | GUATEMALA | $23,540,000,000.00 |
| 90 | GHANA | $23,100,000,000.00 |
| 91 | MONGOLIA | $22,280,000,000.00 |
| 92 | CUBA | $20,550,000,000.00 |
| 93 | ESTONIA | $19,050,000,000.00 |
| 94 | PALAU | $18,380,000,000.00 |
| 95 | BAHAMAS, THE | $17,560,000,000.00 |
| 96 | PARAGUAY | $17,350,000,000.00 |
| 97 | PAPUA NEW GUINEA | $17,090,000,000.00 |
| 98 | UZBEKISTAN | $16,860,000,000.00 |
| 99 | AZERBAIJAN | $16,620,000,000.00 |
| 100 | EL SALVADOR | $16,290,000,000.00 |
| 101 | TANZANIA | $15,880,000,000.00 |
| 102 | JAMAICA | $14,900,000,000.00 |
| 103 | BOLIVIA | $14,810,000,000.00 |
| 104 | MAURITIUS | $14,670,000,000.00 |
| 105 | GEORGIA | $14,150,000,000.00 |
| 106 | LAOS | $13,640,000,000.00 |
| 107 | COTE D'IVOIRE | $12,380,000,000.00 |
| 108 | NICARAGUA | $11,360,000,000.00 |
| 109 | CAMBODIA | $11,340,000,000.00 |
| 110 | ZIMBABWE | $10,970,000,000.00 |
| 111 | ZAMBIA | $10,790,000,000.00 |
| 112 | IRAN | $10,560,000,000.00 |
| 113 | BOSNIA AND HERZEGOVINA | $10,450,000,000.00 |
| 114 | MOZAMBIQUE | $10,270,000,000.00 |
| 115 | TRINIDAD AND TOBAGO | $10,070,000,000.00 |
| 116 | BURMA | $9,713,000,000.00 |
| 117 | ARMENIA | $9,170,000,000.00 |
| 118 | HONDURAS | $9,025,000,000.00 |
| 119 | KYRGYZSTAN | $8,679,000,000.00 |
| 120 | ALBANIA | $8,579,000,000.00 |
| 121 | CAMEROON | $8,238,000,000.00 |
| 122 | ALGERIA | $8,163,000,000.00 |
| 123 | MACEDONIA | $8,070,000,000.00 |
| 124 | NAMIBIA | $7,489,000,000.00 |
| 125 | YEMEN | $7,252,000,000.00 |
| 126 | UGANDA | $7,163,000,000.00 |
| 127 | SENEGAL | $6,745,000,000.00 |
| 128 | MOLDOVA | $6,503,000,000.00 |
| 129 | NEPAL | $5,948,000,000.00 |
| 130 | TAJIKISTAN | $5,770,000,000.00 |
| 131 | SYRIA | $5,699,000,000.00 |
| 132 | GABON | $5,599,000,000.00 |
| 133 | CONGO, DEMOCRATIC REPUBLIC OF THE | $5,324,000,000.00 |
| 134 | SOMALIA | $5,300,000,000.00 |
| 135 | CONGO, REPUBLIC OF THE | $5,197,000,000.00 |
| 136 | KOREA, NORTH | $5,000,000,000.00 |
| 137 | BARBADOS | $4,490,000,000.00 |
| 138 | MALI | $4,296,000,000.00 |
| 139 | MAURITANIA | $4,117,000,000.00 |
| 140 | MADAGASCAR | $3,914,000,000.00 |
| 141 | NIGER | $3,090,000,000.00 |
| 142 | BURKINA FASO | $3,075,000,000.00 |
| 143 | RWANDA | $2,966,000,000.00 |
| 144 | LIBYA | $2,927,000,000.00 |
| 145 | SEYCHELLES | $2,729,000,000.00 |
| 146 | BENIN | $2,716,000,000.00 |
| 147 | BHUTAN | $2,710,000,000.00 |
| 148 | HAITI | $2,607,000,000.00 |
| 149 | BOTSWANA | $2,461,000,000.00 |
| 150 | BERMUDA | $2,435,000,000.00 |
| 151 | MALAWI | $2,184,000,000.00 |
| 152 | CABO VERDE | $1,808,000,000.00 |
| 153 | GUYANA | $1,726,000,000.00 |
| 154 | SIERRA LEONE | $1,707,000,000.00 |
| 155 | SURINAME | $1,700,000,000.00 |
| 156 | WEST BANK | $1,662,000,000.00 |
| 157 | MONTENEGRO | $1,576,000,000.00 |
| 158 | DJIBOUTI | $1,554,000,000.00 |
| 159 | GUINEA | $1,530,000,000.00 |
| 160 | KOSOVO | $1,400,000,000.00 |
| 161 | TOGO | $1,387,000,000.00 |
| 162 | BELIZE | $1,326,000,000.00 |
| 163 | AFGHANISTAN | $1,280,000,000.00 |
| 164 | CHAD | $1,268,000,000.00 |
| 165 | EQUATORIAL GUINEA | $1,181,000,000.00 |
| 166 | GUINEA-BISSAU | $1,095,000,000.00 |
| 167 | LIBERIA | $1,049,000,000.00 |
| 168 | LESOTHO | $952,500,000.00 |
| 169 | ERITREA | $869,900,000.00 |
| 170 | CENTRAL AFRICAN REPUBLIC | $767,100,000.00 |
| 171 | FIJI | $750,400,000.00 |
| 172 | MALDIVES | $693,700,000.00 |
| 173 | ARUBA | $693,200,000.00 |
| 174 | GRENADA | $679,000,000.00 |
| 175 | BURUNDI | $619,800,000.00 |
| 176 | GAMBIA, THE | $619,700,000.00 |
| 177 | SWAZILAND | $548,200,000.00 |
| 178 | SAINT LUCIA | $523,200,000.00 |
| 179 | SOLOMON ISLANDS | $491,500,000.00 |
| 180 | SAMOA | $447,200,000.00 |
| 181 | TURKMENISTAN | $443,400,000.00 |
| 182 | ANTIGUA AND BARBUDA | $441,200,000.00 |
| 183 | FAROE ISLANDS | $387,600,000.00 |
| 184 | SAO TOME AND PRINCIPE | $343,400,000.00 |
| 185 | SAINT VINCENT AND THE GRENADINES | $324,400,000.00 |
| 186 | TIMOR-LESTE | $311,500,000.00 |
| 187 | DOMINICA | $288,600,000.00 |
| 188 | TONGA | $233,500,000.00 |
| 189 | SAINT KITTS AND NEVIS | $198,000,000.00 |
| 190 | VANUATU | $185,400,000.00 |
| 191 | COOK ISLANDS | $141,000,000.00 |
| 192 | COMOROS | $131,100,000.00 |
| 193 | NEW CALEDONIA | $112,000,000.00 |
| 194 | MARSHALL ISLANDS | $97,960,000.00 |
| 195 | MICRONESIA, FEDERATED STATES OF | $93,600,000.00 |
| 196 | ANGUILLA | $41,040,000.00 |
| 197 | GREENLAND | $36,400,000.00 |
| 198 | BRITISH VIRGIN ISLANDS | $36,100,000.00 |
| 199 | NAURU | $33,300,000.00 |
| 200 | KIRIBATI | $13,600,000.00 |
| 201 | MONTSERRAT | $8,900,000.00 |
| 202 | WALLIS AND FUTUNA | $3,670,000.00 |
| 203 | NIUE | $418,000.00 |
| 204 | BRUNEI | $0.00 |
| 205 | MACAU | $0.00 |
| 206 | LIECHTENSTEIN | $0.00 |
| 207 | ANDORRA | $0.00 |
Know more about the world:
Related Maps: