What are the types of Monarchies around the World?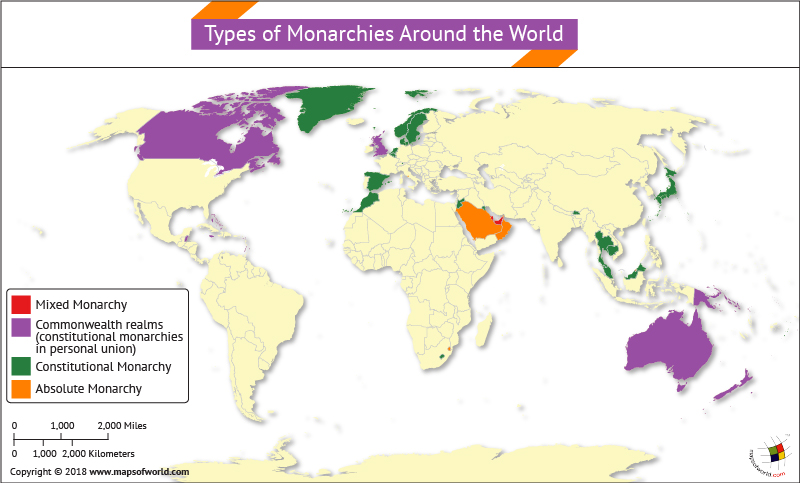 The era when powerful kings and queens ruled the world is long over. Most of the countries have abandoned monarchy today. However, a few monarchies still exist. Among these monarchies there are variants- many absolute monarchies have changed into constitutional monarchies, mixed monarchies etc. But it would be wrong to say that absolute monarchy is dead. A minuscule number of countries still have kings or even queens who are all powerful.
In a constitutional monarchy, the king or queen exercise their authorities in accordance with a written or an unwritten constitution. Here the monarch may have some powers such as dissolving parliament or giving their approval to legislation but this has to be done within the limits set in the written or unwritten constitution and not according to their own personal choices and preferences. In a constitutional monarchy, the political power is vested in the head of the government, who is elected by the people of that country. Countries which have a constitutional form of monarchy are Andorra, Belgium, Bhutan, Cambodia, Denmark, Japan, Kuwait, Luxembourg, Morocco, Norway, Spain, Sweden, and a few other nations.
One of the most renowned monarchies in the world is the British monarchy. The United Kingdom is a constitutional monarchy and a Commonwealth realm with a parliamentary system of government. There was a time when the British Empire was one of the largest in the world. But, in the 20th century most of the countries became free and chose other forms of government. Though fully independent nations, some nations still accept The Queen of England as their head. The Queen of England is currently the monarch of 16 Commonwealth realms.
Bahrain, Qatar, and the United Arab Emirates are mixed monarchies. In a mixed monarchy, though the monarch still retains most of his or her powers but other representative bodies of some sort also exist.
An absolute monarchy is a form of government where absolute power is in the hands of a single person. In ancient and medieval times, absolute monarchy was the form of government in almost every country in the world. Situations changed in the modern era and some nations transformed from absolute monarchies into Constitutional monarchies. However, even today a few countries in the world exercise absolute monarchies. Currently, these five nations have an absolute monarchy- Brunei, Oman, Saudi Arabia, eSwatini, and the Vatican City.
The table below provides information on the form of monarchy prevalent in each nation.
Related Maps and articles: