What are the Countries where Alcohol consumption is banned?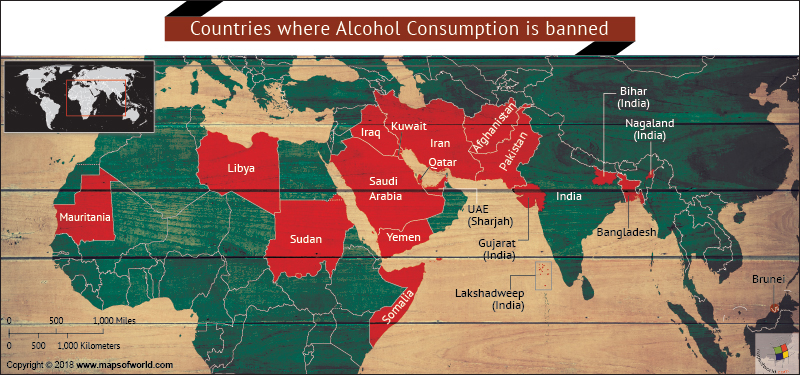 Countries Where Alcohol is Illegal
Alcohol consumption has been one of the favorite social pastimes of people from around the world for thousands of years. Most people enjoy it in moderation, but there are others who become addicted to alcohol and ruin their lives. It is one of the reasons why few countries have imposed a partial or an all-out ban on alcohol.
However, apart from this, most of the "dry countries" practice Islamic Sharia Law, which forbids alcohol. Adhering to strict religious laws and beliefs, even a sip of alcoholic drink can lead to a trip to jail in these Muslim-majority countries.
Afghanistan with its strict laws considers the consumption of alcohol as a crime, especially for its locales. Violation of this law could get you heavily fined, imprisoned, or whipped, i.e., the punishment would be in accordance with the Sharia Law. Though, foreigners can consume alcohol up to a certain limit. On the same note, the oil-rich country of Brunei has a complete booze ban, but foreigners are permitted to bring their own alcohol up to a certain limit. The Islamic Republic of Mauritania follows strict Islamic laws, and only non-Muslims can purchase and consume alcoholic beverages in hotels that have a valid permit.
Yemen is another country that follows Sharia Law and the public consumption of alcohol is outlawed here. Since Yemini law gives permission to consume alcohol in your private home, foreigners can carry a set volume for themselves and consume it in their own personal space. If one is caught here then the punishment is imprisonment, but not torture.
Somalia also practices Islamic law and strict punishment is given to those who don't abide by it. Foreigners can purchase alcohol in licensed hotels and some legalized stores, but they can have it only in their private space and not in a public environment. Similarly, in Libya, alcohol is strictly banned and even tourists are asked to respect the local customs and regulations.
Saudi Arabia, home to the Muslim sacred site of Mecca, practices a complete ban on alcohol, and even tourists are not allowed to bring alcohol within the country. The country implements harsh punishments such as long-term imprisonment and flogging for anyone who is caught making, selling, or consuming alcohol.
In Pakistan and Bangladesh, Muslims cannot indulge in alcohol consumption but legalized licensed shops allow foreigners to purchase alcohol in the country. Non-Muslims need to avail government permits to sell, store, transport, or even drink alcohol.
Sharjah is the only emirate in the UAE which has a complete ban on the sale and purchase of alcohol unless one has an alcohol license from the government. Then also, they can consume it only privately.
In the country of Iran, consumption of alcohol for Muslims is banned by the Islamic Republic government since 1979, and non-alcoholic beer is famous, as the country is against carbonated colas as well. For non-Muslims, manufacturing and consumption under certain terms and conditions are allowed.
In Sudan, liquor has been prohibited since 1983, when the single-party Sudan Socialist Union passed the bill. Since then, alcohol is a complete no-no for Muslim citizens. Surprisingly, some areas manufacture freshly brewed local beer which is consumed mainly by foreigners, but if locals are caught consuming, they will face strict Islamic punishment.
Parliament of Iraq is dominated by Shia Islamist parties, and in 2016 a law forbidding the import, production, or selling of alcoholic beverages was passed. It angered numerous Christians who relied on the business.
According to the law in Qatar, alcohol consumption is banned in public spaces and anyone who is caught creating a public nuisance or driving drunk will face a harsh prison sentence. Import or selling liquor is illegal as well.
Kuwait is one of the few countries which has an alcohol ban beyond just religious beliefs. The government witnessed a high number of drunk-driving accidents, and therefore a ban was legalized. Currently, they have zero-tolerance policies towards drinking and driving for everyone be it a Muslim or non-Muslim.
In India, the ban on the sale and consumption of alcohol is limited to few states, which are: Gujarat, Nagaland, Bihar, and Union Territory of Lakshadweep.
These countries may have banned alcohol but many "sketchy" and illegal businesses still run in most regions. People are always trying to brew beers and other drinks. The chase for the "Forbidden" isn't dead.
Countries where alcohol was banned in the past:
United States – 1920-1933
Canada – 1918-1920
Faroe Island – 1907-1992
Russian Empire and the Soviet Union – 1914-1923
Iceland – 1915-1935
Norway – 1916-1927
Hungarian Soviet Republic – March 21 – August 1, 1919
Finland – 1919-1932
Related Maps: