Vermont Map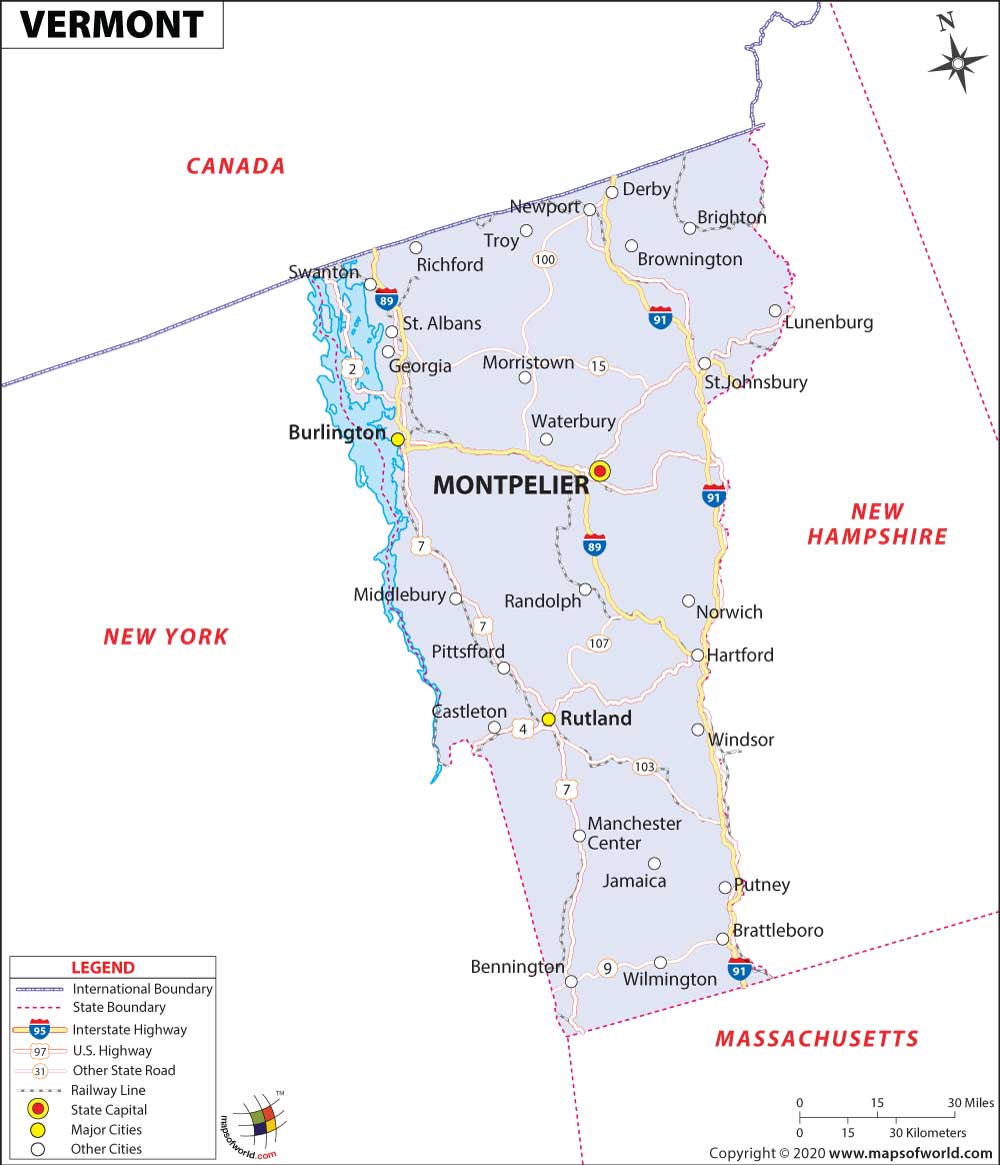 Explore this Vermont Map to know everything you want to know about the fourteenth state of the US. Look at its geography, national parks, trails, time zones, significant cities, name of the capital/most prominent city, history, area/zip codes, flag/seal, frequently asked questions (FAQs), etc.
Vermont is the fourteenth state in the United States. On March 4, 1791, it was admitted to the Union. Montpelier is Vermont's capital city. Burlington is its largest city and also the largest metro-urban area. English is the official language in this state, and 90% of its residents speak this language. In the US, Vermont is the second least populated state. Vermont is nicknamed "The Green Mountain State." Vermont's state motto is "Freedom and Unity." Check Key Facts of Vermont to learn more about this US state.
The Union adopted the Vermont flag on June 1, 1923. The flag has a blue background. The state's coat of arms is situated at the center. Vermont's motto is written at the bottom. On the top is the head of a deer, and on its two flanks are pine branches. The flag is rectangular and was designed by John Stark.
The official emblem of Vermont is the Great Seal of Vermont. Its design consists of many aspects of the state's coat of arms. Ira Allen had designed the Vermont seal, which the General Assembly accepted in 1779. During 1821-1937, the state used a different seal. The current seal adopted the original design of Ira Allen in 1937. 
Design of the Vermont emblem features:
The central focus of the seal is a pine tree. Some believe that it symbolizes freedom from the king of England. 

A row of wooded hills at the center of the emblem. It indicates Vermont's Green Mountains. 

Sheaves and a cow can be seen above the wooded hills. They symbolize agriculture. 

At the seal's top and bottom, wavy lines can be seen. They represent the sky and water. 
Learn more exciting aspects of this state from Vermont Facts & Trivia.
Vermont Location
Vermont Location Map shows the exact location of the US state of Vermont on the United States map. This map provides detailed information on the US state's boundaries, neighboring countries, and oceans.  
The State of Vermont is a tiny northeastern US state part of the New England region. It rests among a forested landscape. It has lots of mountain terrains, skiing slopes, and hiking routes.
Vermont shares its borders with: 
Vermont's coordinates are 42°44′ N to 45°1′ N Latitude and 71°28′ W to 73°26′ W Longitude. Check the Vermont Longitude and Latitude Map to learn more about the state.
Vermont Time Zones
The time zone in Vermont is UTC– 05:00 (Eastern). It is officially in Eastern Daylight Time. Its Summer (DST) is UTC– 04:00 (EDT). 
Vermont is spread across 9,616 sq mi (24,923 sq km). While 9,250 sq mi (23,957.39 sq km) is land area, 382 sq mi (989 sq km) is water area. It is the sixth-smallest state in the United States in terms of area.
The state is also known as the Green Mountain State of the US because the Green Mountain range runs through the center of Vermont. Mountains and forests mainly cover the landscape. Check this Vermont Topographic Map to learn more.
The state of Vermont has six geographical landforms: 
The Northeast Highlands:

You'll find this landform at the state's northeast corner. It features granite mountains having a height of 2,700-3,330 feet (823-1,006 m) above sea level. 

The Western New England Upland:

This terrain is spread mainly across the eastern Vermont region. The Connecticut River Valley's fertile lowlands can be found in this state area. You'll find many lakes in the northern parts of the Western New England Upland. As you move east to west, the land rises to granite hills (especially near Barre). 

The Green Mountains

are primarily located in the central part of Vermont. Mount Mansfield (the highest elevation point in the state, having a height of 4,393 feet or 1,339 m above sea level) is located in this terrain. 

The Vermont Valley:

This is a small strip of land in western Vermont. Walloomsac River and Baton Kill River can be found here. 

The Taconic Mountains:

In southwestern Vermont, the Taconic Mountains cover a narrow strip. This landform features mountains such as Bear Mountain, Mother Myrick Mountain, Little Equinox Mountain, Dorset Peak, and Equinox Mountain. Other features of this terrain include beautiful lakes and swift streams.

 
The Champlain Valley:

Lake Champlain borders this valley. This landform has come up as fertile farmland in Vermont. Wheat, oats, hay, corn, and apples are produced in large amounts here. Dairy farms can also be found here. The largest city in the state, Burlington, is situated in the Champlain Valley. 
Learn about the location of mountains, rivers, lakes, the state capital, state boundary, ocean, and neighboring states from this Physical Map of Vermont.
Vermont History
The geologic history of Vermont goes back to 450 million years ago. The history of human beings in Native America can be grouped under the hunter-gatherer Archaic Period, between c. 7000 and 1000 BC, and the sedentary Woodland Period, between c. 1000 BC and 1600 AD.
Native Americans lived in Vermont and spent their time hunting and gathering. The period between 1000 BC and 1600 AD was the Woodland Period. Villages and trade links were set up during this time. Glass, bows, and arrows are used. Different tribes inhabited the state's western part. While the Sokoki's inhabited modern southern Vermont, the Cowasucks lived in northeastern Vermont.
From 1534 to 1609, the Iroquois Mohawks chased the minor native tribes out of the Champlain Valley. Samuel de Champlain, a French explorer, took over present-day Lake Champlain and began to call it Verd Mont or Green Mountain. Later, English settlers began to use this name, converting it into Vermont around 1760.
France took over Vermont as part of New France and established Fort Sainte Anne on Isle La Motte in 1666. Thus began the first European colony in Vermont.
From 1650 onwards, non-French people came to Vermont and its adjoining areas. In 1690, Dutch-British settlers from Albany led by Captain Jacobus de Warm set up the De Warm Stockade at Chimney Point.
Vermont got admitted to the Union as the 14th state in 1790. Before that, it was an independent republic for 14 years. Vermont got its name from" Montagne Verte," French for green mountain. Altercations between the English in the south and French in the north were commonplace during this time. Hence, Vermont was a disturbed area.  
Much later in the 19th century, Vermont's railroads grew significantly. Agricultural output and export surged exponentially, and income went up steeply. But Vermont also suffered financial setbacks, particularly in 1873, when many people left the region.
The rights of citizens as an issue first raised its head in 1854 via the Vermont Senate report on slavery. Soon, Abraham Lincoln's Gettysburg Address changed how citizens viewed civil rights and stoked the movement for women's suffrage.
On December 18, 1880, women were first allowed to vote. It started with town elections and then moved to state legislative contests.
Vermont has fourteen counties. Windsor County is the largest county, having a total area of 976.8 sq mi (2,530 sq km). Grand Isle County is the smallest county, having a total area of 194.9 sq mi (505 sq km). Check the Vermont County Map to learn more about the counties. 
Vermont Area Codes
Vermont has only one area code. It is among twelve US states with just one area code. The US State of Vermont has only one area code currently, and that is:
The Vermont Area Codes Map helps you locate details of the area code. You can also use this area code map to learn more about the area code boundary, county and state boundaries, and state capital.
Vermont Zip Codes
There are 254 active zip codes in Vermont. Some of the best zip codes where you can live are 05055, 05403, 05482, and many more. Use this Vermont Zip Codes Map to locate the location of any zip code, the boundary of all zip codes, the state boundary, and the state capital.
Vermont Major Cities
Learn about the major cities in the state from this Vermont Cities Map. It will also help you know the exact location of state/neighboring states, the state capital, other cities, oceans, and many more.
Vermont's most prominent cities are Burlington, Essex, South Burlington, Colchester, Rutland City, and many others. Check out the Vermont Cities Map for more details.
Vermont Airports
The busiest airport in Vermont is the Burlington International Airport, a very convenient airport. The other airports are Basin Harbor (B06), Caledonia County (CDA), Deerfield Valley (4V8), E.F. Knapp (MPV), Franklin County (FSO), Hartness (VSF), and John H. Boylan (5B1) 
Check the location of other small private airports in the state on the Vermont Airports Map. This map also shows Vermont's state and country boundaries, cities, the state capital, neighboring states, and oceans. 
Vermont National Park and Trails
Vermont does not have any National Park. But it has two National Park Service Units– Appalachian National Scenic Trail and Marsh-Billings-Rockefeller National Historical Park.
Check out the National Parks in Vermont Map to get a clear idea about the locations of different national parks, monuments, preserves, etc.
Look at the US National Parks Map for a clearer picture of the locations of different national parks, monuments, preserves, etc. 
Vermont Climate
Vermont has a rainy continental climate. Winters are cool while summers are hot. There is precipitation all through the year, which is evenly distributed. Snow falls during the winter, and the temperature plummets in the higher lands. The state has four distinct seasons:
Fall:

Early September to mid-October is the Fall season in Vermont. This is the best time to see Fall colors and indulge in sightseeing and adventures. Fall temperatures in Vermont hover around:

September: 46-69 °F (7.78 °Cto 20.56 °C) 

October: 35-58 °F (1.67 °C to 14.44 °C)

November: 27-46 °F (-2.78 °C to 7.78 °C)

Spring:

May and June are the spring months in Vermont. However, it does not become fully green until early May. It is swampy, wet, and rainy till this time. Spring temperatures in Vermont hover around:

April: 32-56 °F (0 °C to 13.33 °C)

May: 43-68 °F (6.11 °C to 20 °C)

Summer:

Summers are hot and wet in Vermont. The hottest month during summertime is July. It is relaxed, and the temperature never reaches more than 79 °F (26.1 °C). 

Winter:

During

winter, Vermont's mean temperature is 22 °F (-6 °C), with average lows of 2 °F (-16 °C). It is one of the states in the US with the highest snowfall. Yearly snowfall is in the vicinity of 89.25 inches.
FAQs On Vermont
FAQ #1: What Time Zone Is Vermont?
Ans: The time zone in Vermont is GMT-4. It is officially in Eastern Daylight Time.
FAQ #2: Where is Vermont?
Ans: Vermont is in the northeastern United States.
FAQ #3: Is Vermont A Red State?
Ans: No, Vermont is a Blue state. The Democrats won the state convincingly in 2020 by 66.1% votes.
FAQ #4: What Is Vermont Known For?
Ans: Vermont has fantastic landscapes and beautiful spots to explore. It also has excellent food, secure cities, good schools, and humble people.
FAQ #5: What Is The Capital Of Vermont?
Ans: Montpelier is the capital of Vermont.
FAQ #6: What Planting Zone Is Vermont?
Ans: In Vermont, the planting zones are 3b, 4a, 4b, 5a, and 5b 
FAQ #7: Are there Any Beaches In Vermont?
Ans: Yes, Vermont has many beaches and lakes.
FAQ #8: What Is The Population Of Vermont?
Ans: The population of Vermont in 2022 is estimated to be 0.6 million.
FAQ #9: Who Is The Governor Of Vermont?
Ans: Republican Phil Scott is the current governor of Vermont. He is Vermont's 82nd governor. He assumed office on January 5, 2017.
FAQ #10: Do You Have To Pay State Tax in Vermont?
Ans: Yes, you will have to pay state and local taxes in Vermont.