How many people died from Malaria in each country?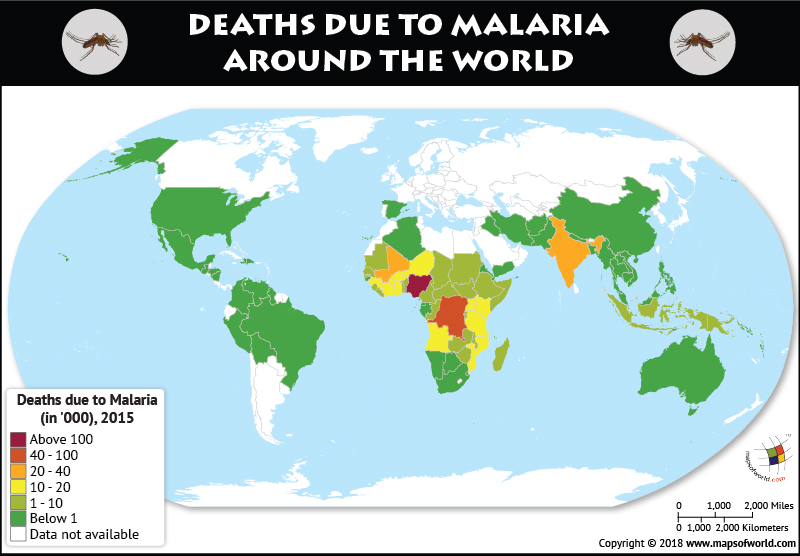 In today's world, malaria is one of the most life-threatening blood disease that occurs due to a bite of Anopheles mosquito. The parasite which is then inflicted into person, multiplies itself and destroys red blood cells. However, it often takes about ten to fifteen days to identify the symptoms of malaria, after the person is bitten.
Prominent symptoms that persist with Malaria are headache, fever, vomiting and tiredness. In adverse cases, malaria leads to coma, yellow skin, seizures and even death. Asia, Sub-Saharan Africa, and Latin America are the three regions where the disease is spread widely. According to the "World Health Statistics" report released in 2018 by WHO 2018 estimations by World Health Organization suggest that in year 2016, 216 million cases of malaria occurred globally, and approximately 445,000 people lost their lives.
The rate at which malaria is affecting people is decreasing, but the basic problem that persists is lack of sustainable funding. Other reasons why malaria is impending in nations is anomalous climate patterns and the resistance of mosquitoes to disinfectant insecticides which are sprayed into the air.
The 2015 statistics was the last update by World Health Organization, regarding deaths due to Malaria. Nigeria was the worst affected country, as over 112,400 people died in the country because of the disease. The Democratic Republic of the Congo was the second most affected as over malaria claimed about 43,300 deaths in the country. India was the third most affected as 23,700 people died due to malaria during 2015.
Meanwhile, there are a few countries where Malaria did not have adverse effects. Pakistan, Afghanistan, South Africa, Brazil, Venezuela, Myanmar, Cambodia, the Philippines and a few others, witnessed less than 1000 deaths due to the disease. However, many countries have exceled in eliminating the disease and witnessed no deaths from Malaria in 2015. A few of these nations are Vietnam, Bangladesh, China, Australia, Iran, eSwatini, United States of America, Mexico, Iraq, and other countries.
If precautions are taken, malaria can be prevented to great extent. The risk of Malaria can largely be lessened if certain steps are undertaken such as draining standing water, using insect repellents, mosquito nets and spraying insecticides.
For a better understanding on how many people have died from Malaria in each nation, refer to the table below.
| | |
| --- | --- |
| Country | Deaths ('000) |
| Nigeria | 112.4 |
| Democratic Republic of the Congo | 43.3 |
| India | 23.7 |
| Mali | 20.6 |
| United Republic of Tanzania | 17.0 |
| Mozambique | 16.7 |
| Burkina Faso | 14.6 |
| Angola | 14.4 |
| Côte d'Ivoire | 14.1 |
| Ghana | 13.4 |
| Uganda | 12.5 |
| Guinea | 11.9 |
| Kenya | 11.9 |
| Niger | 10.6 |
| Cameroon | 9.2 |
| Chad | 7.5 |
| Malawi | 7.5 |
| Madagascar | 7.4 |
| Zambia | 7.2 |
| Sierra Leone | 7.1 |
| Benin | 6.0 |
| Burundi | 5.2 |
| Ethiopia | 4.9 |
| Senegal | 4.4 |
| Togo | 4.2 |
| Central African Republic | 3.6 |
| Sudan | 3.5 |
| Rwanda | 2.9 |
| South Sudan | 2.9 |
| Zimbabwe | 2.5 |
| Liberia | 2.3 |
| Somalia | 2.2 |
| Indonesia | 1.9 |
| Congo | 1.7 |
| Papua New Guinea | 1.3 |
| Mauritania | 1.2 |
| Yemen | 0.8 |
| Pakistan | 0.7 |
| Guinea-Bissau | 0.7 |
| Gambia | 0.6 |
| Myanmar | 0.5 |
| Gabon | 0.4 |
| Equatorial Guinea | 0.3 |
| Venezuela (Bolivarian Republic of) | 0.2 |
| Afghanistan | 0.2 |
| Haiti | 0.2 |
| South Africa | 0.2 |
| Eritrea | 0.1 |
| Cambodia | 0.1 |
| Sao Tome and Principe | 0.1 |
| Philippines | 0.1 |
| Namibia | 0.1 |
| Solomon Islands | 0.1 |
| Brazil | 0.1 |
| Lao People's Democratic Republic | 0.1 |
| Thailand | 0.0 |
| Colombia | 0.0 |
| Djibouti | 0.0 |
| Guyana | 0.0 |
| Vietnam | 0.0 |
| Bangladesh | 0.0 |
| Nepal | 0.0 |
| Guatemala | 0.0 |
| Malaysia | 0.0 |
| Honduras | 0.0 |
| Comoros | 0.0 |
| Bolivia (Plurinational State of) | 0.0 |
| Peru | 0.0 |
| China | 0.0 |
| Nicaragua | 0.0 |
| Dominican Republic | 0.0 |
| Botswana | 0.0 |
| Algeria | 0.0 |
| Iran (Islamic Republic of) | 0.0 |
| Australia | 0.0 |
| Vanuatu | 0.0 |
| Swaziland | 0.0 |
| United States of America | 0.0 |
| Spain | 0.0 |
| Timor-Leste | 0.0 |
| Mexico | 0.0 |
| Iraq | 0.0 |
Data sourced from the World Health Organization
Know more:
Related Maps: