What is Global Talent Competitiveness Index?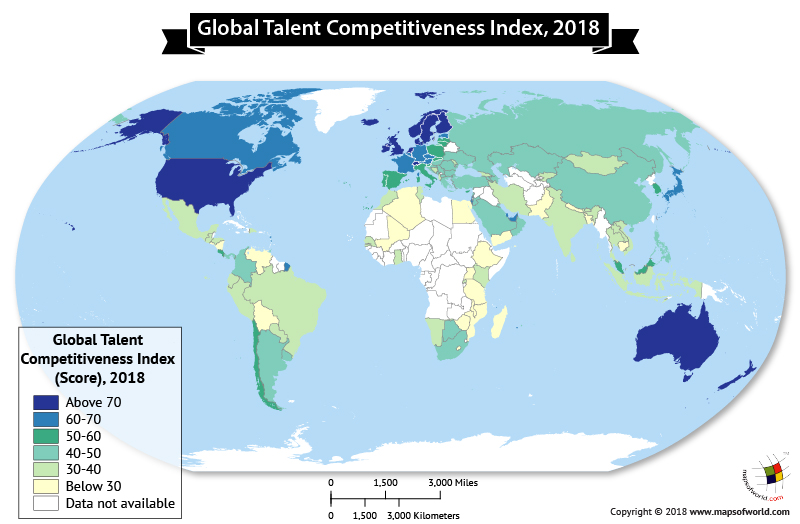 The Global Talent Competitiveness Index is a report released by INSEAD in partnership with Human Capital Leadership Institute of Singapore and the Adecco Group. The report measures a nations' ability to compete for talent. The report also measures, how nations around the world grow, attract as well as retain talent. Countries that occupy the top slots in the table have certain characteristics in common. These are employment policies that support flexibility, good educational standards, mobility and entrepreneurship, among others.
The 2018 Global Talent Competitiveness Index, which is the fifth edition, places Switzerland again at the top of the table with a score of 79.9. Singapore occupies the second spot with a score of 78.42. However, this time around the United States emerged in third place, with a score of 75.34.
Last year, The United Kingdom was in third, but it fell down to ninth with a score of 73.11. Other countries that scored more than 70 are; Norway, Sweden, Finland, Australia, New Zealand, Ireland, Iceland, Netherlands, Luxembourg and Denmark. These countries stand in the high-income group.
The countries that scored between 60 and 70, either belong to Europe or the Middle-East, and all of them are high-income economies as well. The only country which belongs to Asia is Japan, having a score of 62.63.
BRICS, which are five major emerging national economies, do not fare that well on the 2018 Global Talent Competitiveness Index. They all have score between 30 and 50. The five nations; China, Russia, South Africa, Brazil and India occupy 44, 54, 64, 74, and 82 ranks, with scores of 48.01, 44.22, 41.22, 38.86 and 36.78, respectively.
Portugal, Chile, Italy, and many others have scores between 50 and 60. Barring Costa Rica and Malaysia, which are upper-middle income countries, the rest belong to the high-income category. In comparison to last edition, Hungary and Saudi Arabia dropped to a score of 44.25 and 49.61, respectively.
At the bottom of the scale and with scores of less than 30, are the countries; Ethiopia, Pakistan, Mali, Bangladesh, Tanzania, Mozambique, Zimbabwe, and Madagascar among many others. The majority of these nations fall under lower-middle income and low- income category, except Venezuela, Paraguay and Algeria, which are under upper-middle income category.
For a better understanding of the Global Talent Competitiveness score and rank of each nation, refer to the table below.
| | | | |
| --- | --- | --- | --- |
| COUNTRY | SCORE | OVERALL RANK | INCOME GROUP |
| Switzerland | 79.9 | 1 | High income |
| Singapore | 78.42 | 2 | High income |
| United States of America | 75.34 | 3 | High income |
| Norway | 74.56 | 4 | High income |
| Sweden | 74.32 | 5 | High income |
| Finland | 73.95 | 6 | High income |
| Denmark | 73.79 | 7 | High income |
| United Kingdom | 73.11 | 8 | High income |
| Netherlands | 72.56 | 9 | High income |
| Luxembourg | 71.64 | 10 | High income |
| Australia | 71.61 | 11 | High income |
| New Zealand | 71.52 | 12 | High income |
| Ireland | 71.38 | 13 | High income |
| Iceland | 70.48 | 14 | High income |
| Canada | 69.63 | 15 | High income |
| Belgium | 69.56 | 16 | High income |
| United Arab Emirates | 68.88 | 17 | High income |
| Austria | 68.63 | 18 | High income |
| Germany | 67.77 | 19 | High income |
| Japan | 62.63 | 20 | High income |
| France | 62.61 | 21 | High income |
| Estonia | 61.93 | 22 | High income |
| Qatar | 61.9 | 23 | High income |
| Israel | 61.79 | 24 | High income |
| Czech Republic | 60.02 | 25 | High income |
| Malta | 58.77 | 26 | High income |
| Malaysia | 58.51 | 27 | Upper-midle income |
| Slovenia | 55.77 | 28 | High income |
| Portugal | 55.75 | 29 | High income |
| Korea, Rep. | 55.57 | 30 | High income |
| Spain | 54.91 | 31 | High income |
| Lithuania | 53.31 | 32 | High income |
| Chile | 52.95 | 33 | High income |
| Latvia | 52.27 | 34 | High income |
| Costa Rica | 51.38 | 35 | Upper-midle income |
| Italy | 50.55 | 36 | High income |
| Cyprus | 50.29 | 37 | High income |
| Bahrain | 50.16 | 38 | High income |
| Poland | 50.06 | 39 | High income |
| Slovakia | 50.02 | 40 | High income |
| Saudi Arabia | 49.61 | 41 | High income |
| Greece | 48.21 | 42 | High income |
| China | 48.01 | 43 | Upper-middle income |
| Uruguay | 47.67 | 44 | High income |
| Panama | 46.88 | 45 | Upper-middle income |
| Mauritius | 46.79 | 46 | Upper-middle income |
| Bulgaria | 45.72 | 47 | Upper-middle income |
| Croatia | 45.42 | 48 | High income |
| Argentina | 44.92 | 49 | Upper-middle income |
| Jordan | 44.7 | 50 | Upper-middle income |
| Kazakhstan | 44.44 | 51 | Upper-middle income |
| Hungary | 44.25 | 52 | High income |
| Russian Federation | 44.22 | 53 | Upper-middle income |
| Philippines | 44.17 | 54 | Lower-middle income |
| Trinidad and Tobago | 44.02 | 55 | High income |
| Oman | 43.93 | 56 | High income |
| Azerbaijan | 43.63 | 57 | Upper-middle income |
| Montenegro | 43.47 | 58 | Upper-middle income |
| Macedonia, FYR | 43.08 | 59 | Upper-middle income |
| Lebanon | 41.91 | 60 | Upper-middle income |
| Ukraine | 41.5 | 61 | Lower-middle income |
| Botswana | 41.27 | 62 | Upper-middle income |
| South Africa | 41.22 | 63 | Upper-middle income |
| Romania | 41.13 | 64 | Upper-middle income |
| Kuwait | 40.85 | 65 | High income |
| Armenia | 40.76 | 66 | Lower-middle income |
| Colombia | 40.57 | 67 | Upper-middle income |
| Turkey | 40.45 | 68 | Upper-middle income |
| Serbia | 40.05 | 69 | Upper-middle income |
| Thailand | 39.96 | 70 | Upper-middle income |
| Mexico | 39.08 | 71 | Upper-middle income |
| Georgia | 38.89 | 72 | Upper-middle income |
| Brazil | 38.86 | 73 | Upper-middle income |
| Peru | 38.51 | 74 | Upper-middle income |
| Mongolia | 38.29 | 75 | Lower-middle income |
| Rwanda | 38.07 | 76 | Low income |
| Indonesia | 38.04 | 77 | Lower-middle income |
| Albania | 37.47 | 78 | Upper-middle income |
| Dominican Republic | 37.25 | 79 | Upper-middle income |
| Namibia | 37 | 80 | Upper-middle income |
| India | 36.78 | 81 | Lower-middle income |
| Sri Lanka | 36.75 | 82 | Lower-middle income |
| Tunisia | 36.4 | 83 | Lower-middle income |
| Guatemala | 36.18 | 84 | Lower-middle income |
| Ecuador | 36.03 | 85 | Upper-middle income |
| Moldova, Rep. | 35.78 | 86 | Lower-middle income |
| Viet Nam | 35.55 | 87 | Lower-middle income |
| Kenya | 34.87 | 88 | Lower-middle income |
| Bosnia and Herzegovina | 34.15 | 89 | Upper-middle income |
| Ghana | 33.58 | 90 | Lower-middle income |
| Bhutan | 33.54 | 91 | Lower-middle income |
| Honduras | 33.26 | 92 | Lower-middle income |
| Kyrgyzstan | 33.2 | 93 | Lower-middle income |
| Iran, Islamic Rep. | 32.57 | 94 | Upper-middle income |
| Lao PDR | 32.38 | 95 | Lower-middle income |
| Gambia | 32 | 96 | Low income |
| Senegal | 31.98 | 97 | Low income |
| Morocco | 31.86 | 98 | Lower-middle income |
| Paraguay | 31.83 | 99 | Upper-middle income |
| El Salvador | 29.56 | 100 | Lower-middle income |
| Algeria | 29.45 | 101 | Upper-middle income |
| Bolivia, Plurinational St. | 29.44 | 102 | Lower-middle income |
| Uganda | 29.09 | 103 | Low income |
| Egypt | 28.42 | 104 | Lower-middle income |
| Venezuela, Bolivarian Rep. | 28.13 | 105 | Upper-middle income |
| Lesotho | 27.88 | 106 | Lower-middle income |
| Tanzania, United Rep. | 27.66 | 107 | Low income |
| Cambodia | 27.02 | 108 | Lower-middle income |
| Pakistan | 26.94 | 109 | Lower-middle income |
| Malawi | 26.24 | 110 | Low income |
| Nicaragua | 26.1 | 111 | Lower-middle income |
| Ethiopia | 25.34 | 112 | Low income |
| Mali | 24.66 | 113 | Low income |
| Bangladesh | 24.5 | 114 | Lower-middle income |
| Zimbabwe | 24.33 | 115 | Low income |
| Nepal | 24.05 | 116 | Low income |
| Mozambique | 22.85 | 117 | Low income |
| Madagascar | 22.76 | 118 | Low income |
| Yemen | 16.1 | 119 | Lower-middle income |
Know more Global Rankings:
Related Maps: