What are the countries with the maximum AIDS patients?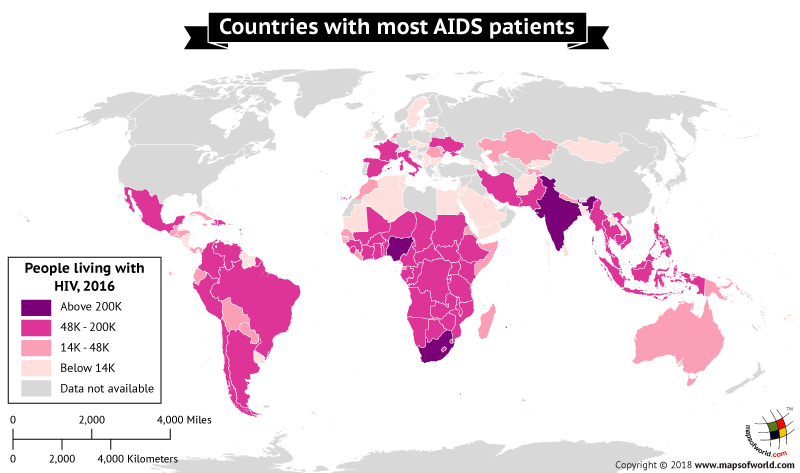 AIDS (Acquired immune deficiency syndrome or acquired immunodeficiency syndrome) is a set of symptoms caused by a virus called HIV (Human Immunodeficiency Virus). Unprotected sex a primary cause of AIDS, along with contaminated blood transfusions, hypodermic needles, and the transfer from mother to child during pregnancy, delivery, or breastfeeding.
If AIDS is detected at an early stage, there is a good chance of stopping the disease.
AIDS occurs in three stages
The first stage (Acute primary infection) begins around one to four weeks after being infected, and is similar to the flu, with symptoms including fever, body rash, sore throat, swollen glands, and muscle pain.
In the second stage (Asymptomatic stage) a person feels better as the virus does not trouble the body but is still active. In some cases, the virus may not reveal symptoms for up to 10 years, depending on the age or the overall health of a person. It does cause a lot of damage to the immune system in the long run.
As a person reaches the third stage, the immune system is badly damaged and the body is incapable of fighting infections and is more prone to serious bacterial or fungal infections. The symptoms at this stage include weight loss, chronic diarrhea, night sweats, persistent cough, and skin problems.
Millions of people across the globe die because of ignorance and the lack of knowledge about the causes, symptoms, and treatment of AIDS.
Reports reveal that people living in African countries are among the top sufferers of AIDS.
Here is a Report by UNAIDS revealing the countries with the maximum number of patients.
| | |
| --- | --- |
| Country | 2016 Sufferers |
| Global | 36,700,000 |
| South Africa | 7,100,000 |
| Nigeria | 3,200,000 |
| India | 2,100,000 |
| Mozambique | 1,800,000 |
| Kenya | 1,600,000 |
| Uganda | 1,400,000 |
| United Republic of Tanzania | 1,400,000 |
| Zimbabwe | 1,300,000 |
| Zambia | 1,200,000 |
| Malawi | 1,000,000 |
| Brazil | 830,000 |
| Ethiopia | 710,000 |
| Indonesia | 620,000 |
| Cameroon | 560,000 |
| Côte d'Ivoire | 460,000 |
| Thailand | 450,000 |
| Democratic Republic of the Congo | 370,000 |
| Botswana | 360,000 |
| Lesotho | 330,000 |
| Ghana | 290,000 |
| Angola | 280,000 |
| Viet Nam | 250,000 |
| Ukraine | 240,000 |
| Myanmar | 230,000 |
| Namibia | 230,000 |
| Mexico | 220,000 |
| Rwanda | 220,000 |
| Swaziland | 220,000 |
| South Sudan | 200,000 |
| France | 180,000 |
| Haiti | 150,000 |
| Spain | 140,000 |
| Central African Republic | 130,000 |
| Italy | 130,000 |
| Pakistan | 130,000 |
| Argentina | 120,000 |
| Colombia | 120,000 |
| Guinea | 120,000 |
| Venezuela (Bolivarian Republic of) | 120,000 |
| Chad | 110,000 |
| Mali | 110,000 |
| Togo | 100,000 |
| Malaysia | 97,000 |
| Burkina Faso | 95,000 |
| Congo | 91,000 |
| Burundi | 84,000 |
| Cambodia | 71,000 |
| Peru | 70,000 |
| Benin | 67,000 |
| Dominican Republic | 67,000 |
| Sierra Leone | 67,000 |
| Iran (Islamic Republic of) | 66,000 |
| Chile | 61,000 |
| Philippines | 56,000 |
| Sudan | 56,000 |
| Gabon | 48,000 |
| Niger | 48,000 |
| Guatemala | 46,000 |
| Papua New Guinea | 46,000 |
| Liberia | 43,000 |
| Senegal | 41,000 |
| Guinea-Bissau | 36,000 |
| Equatorial Guinea | 35,000 |
| Ecuador | 33,000 |
| Nepal | 32,000 |
| Madagascar | 31,000 |
| Jamaica | 30,000 |
| Kazakhstan | 26,000 |
| Australia | 25,000 |
| Cuba | 25,000 |
| El Salvador | 24,000 |
| Somalia | 24,000 |
| Netherlands | 23,000 |
| Morocco | 22,000 |
| Honduras | 21,000 |
| Panama | 21,000 |
| Gambia | 20,000 |
| Bolivia (Plurinational State of) | 19,000 |
| Paraguay | 19,000 |
| Romania | 16,000 |
| Eritrea | 15,000 |
| Republic of Moldova | 15,000 |
| Tajikistan | 14,000 |
| Algeria | 13,000 |
| Costa Rica | 13,000 |
| Bangladesh | 12,000 |
| Georgia | 12,000 |
| Uruguay | 12,000 |
| Egypt | 11,000 |
| Lao People's Democratic Republic | 11,000 |
| Mauritania | 11,000 |
| Sweden | 11,000 |
| Trinidad and Tobago | 11,000 |
| Yemen | 9,900 |
| Azerbaijan | 9,200 |
| Nicaragua | 8,900 |
| Djibouti | 8,600 |
| Guyana | 8,500 |
| Kyrgyzstan | 8,500 |
| Bahamas | 8,200 |
| Saudi Arabia | 8,200 |
| Afghanistan | 7,500 |
| Latvia | 6,600 |
| Ireland | 6,200 |
| Suriname | 4,900 |
| Belize | 4,300 |
| Sri Lanka | 4,000 |
| Bulgaria | 3,500 |
| Czech Republic | 3,400 |
| Armenia | 3,300 |
| Lithuania | 2,900 |
| Tunisia | 2,900 |
| Cabo Verde | 2,800 |
| Serbia | 2,700 |
| Barbados | 2,600 |
| Lebanon | 2,200 |
| Albania | 1,700 |
| Croatia | 1,500 |
| Bahrain | <500 |
| Jordan | <500 |
| Kuwait | <500 |
| Malta | <500 |
| Mongolia | <500 |
| Montenegro | <500 |
| The former Yugoslav Republic of Macedonia | <500 |
| Comoros | <200 |
| Fiji | <1000 |
| Slovakia | <1000 |
| Slovenia | <1000 |
| Qatar | <100 |
| Austria | NA |
| Belarus | NA |
| Belgium | NA |
| Bhutan | NA |
| Bosnia and Herzegovina | NA |
| Brunei Darussalam | NA |
| Canada | NA |
| China | NA |
| Cyprus | NA |
| Democratic People's Republic of Korea | NA |
| Denmark | NA |
| Estonia | NA |
| Finland | NA |
| Germany | NA |
| Greece | NA |
| Hungary | NA |
| Iceland | NA |
| Israel | NA |
| Japan | NA |
| Luxembourg | NA |
| Maldives | NA |
| New Zealand | NA |
| Norway | NA |
| Oman | NA |
| Poland | NA |
| Portugal | NA |
| Republic of Korea | NA |
| Russian Federation | NA |
| Singapore | NA |
| Switzerland | NA |
| Syrian Arab Republic | NA |
| Timor-Leste | NA |
| Turkey | NA |
| Turkmenistan | NA |
| United Arab Emirates | NA |
| United Kingdom | NA |
| United States | NA |
| Uzbekistan | NA |
Know more about World health:
Related maps: