What are the countries with most commercial banks?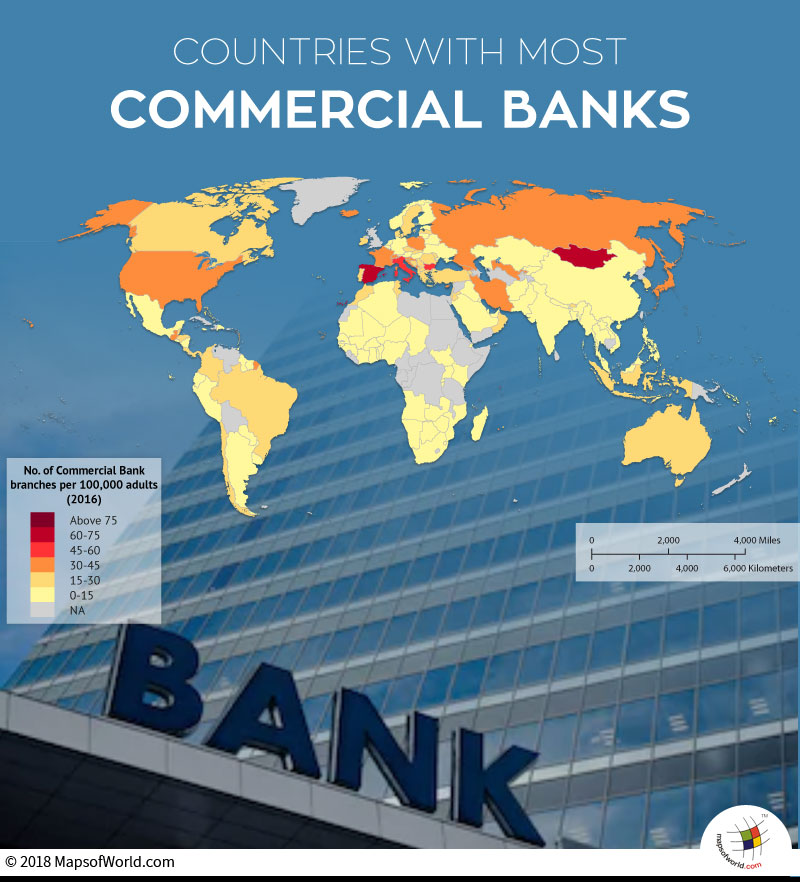 The transition from an informal system of moneylending to the formal system of banking is a prerequisite for economic development. Commercial banks have thus formed the backbone of a stable economy and sustained economic functioning. A commercial bank is a financial institution that traditionally performs three basic functions: Accepting deposits, advancing loans and enabling customers to make payments. A commercial bank branch is physically separated from the main office but is not organized as a legally separate subsidiary.
What Banks Do?
The depository function of a bank enables customers to make deposits in return of a small administration fee. The banks allure the depositors with interest rates, to make deposits of three types. The current account deposits, ordinarily for business purposes, does not yield interest and can be withdrawn at any point of time. The saving account types of deposits, offered by the banks are primarily for small savers who can withdraw a limited amount, by writing a check. Lastly, the fixed deposits also called certificate of deposits, are the deposits that cannot be withdrawn prior to the maturity date. These render the highest rate of interest to the depositors.
The second function of the bank, is advancing credit; this is the primary process banks make revenue. The difference between the rate of interest charged from the borrowers and the interest rate offered to the depositors, is the way of drawing revenue for the bank. Factors like the financial status, business profile, and the ability to repay the loan are considered before financing out these loans.
The third basic function of a bank is to enable its customers to make payments. The banks act as agents of payments and providers of money transmitting services.
The main clash between the banks motive, is to provide profitability to its shareholders and maintain enough liquidity to meet the customers demand. Through the mechanism of credit creation, the banks act as a main agent in the functioning of a stable economy. In a globally integrated world the ability of a bank to reduce transaction cost by aggregate settlement of payment and easy access to capital allowing business debt, is only being pronounced.
According to the International Monetary fund, Financial Access Survey, European countries like San Marino, Luxembourg, Spain and Italy, have the largest number of commercial bank branches per 100,000 adults. Cross country studies have shown relationship between the financial volume and regional growth. A single banking system and financial integration, points towards the higher number of commercial branches in these nations.
On the other hand, Ukraine, Belarus, South Sudan and Afghanistan have the fewest number of bank branches per 100,000 adults. A significant boost in lending is yet to catch pace in these countries. They face the common concern of low asset quality and balance sheet troubles.
Below lying is a table depicting the number of commercial banks per 100,00 adults.
Country

Commercial Banks
per 100,000 adults (2016)

Country

Commercial Banks
per 100,000 adults (2016)

San Marino

223.81

Kuwait

14.27

Luxembourg

76.14

Mexico

14.15

Mongolia

70.37

Maldives

14.08

Spain

61.88

India

14.06

Seychelles

52.83

Germany

13.46

Bulgaria

48.39

Lithuania

13.43

Italy

47.65

Argentina

13.37

Montenegro

44.20

Trinidad and Tobago

12.94

Switzerland

42.46

Austria

12.63

St. Kitts and Nevis

41.21

Dominican Republic

12.60

Macao

37.47

Netherlands

12.46

France

37.06

United Arab Emirates

12.42

Uzbekistan

36.14

Thailand

12.38

Malta

35.83

Fiji

11.84

Iceland

35.60

Palestinian

11.83

Cyprus

34.34

Qatar

11.75

Japan

34.10

Malaysia

11.49

Cabo Verde

33.41

Uruguay

11.43

Guatemala

33.35

Suriname

11.24

Croatia

32.86

Nicaragua

11.12

Georgia

32.67

Ecuador

11.03

United States

32.67

Estonia

10.42

Iran

31.23

Pakistan

10.36

Poland

31.03

Angola

10.29

Slovenia

30.65

South Africa

10.18

Russia

30.14

Paraguay

10.13

Serbia

29.72

Nepal

9.58

Portugal

29.61

El Salvador

9.52

Bahamas

29.58

Singapore

8.98

Bosnia and Herzegovina

28.94

Philippines

8.87

Slovakia

28.27

China

8.78

Romania

27.98

Saudi Arabia

8.58

Australia

27.80

Bangladesh

8.44

Antigua and Barbuda

27.45

Guyana

8.43

Moldova

27.22

Kyrgyzstan

8.38

Sao Tome and Principe

25.53

Botswana

8.32

Grenada

25.31

Mauritania

8.31

Macedonia

25.00

Gambia

8.11

Greece

24.68

Peru

7.96

Morocco

24.67

Ghana

7.13

Lebanon

24.09

Belgium

6.69

Denmark

24.04

Norway

6.16

Panama

23.40

Rwanda

6.16

Armenia

23.10

Mali

6.07

Canada

22.99

Swaziland

5.95

Samoa

22.73

Djibouti

5.89

Czech Republic

22.37

Togo

5.58

Costa Rica

21.79

Finland

5.44

Ireland

21.51

Kenya

5.43

Albania

21.51

Nigeria

5.36

Hong Kong

21.43

Zimbabwe

5.26

Tunisia

20.46

Algeria

5.23

Belize

20.42

Cote d'Ivoire

5.09

Brazil

20.40

Jamaica

5.09

Mauritius

20.40

Timor-Leste

5.04

Marshall Islands

20.26

Senegal

4.96

Kosovo

19.97

Zambia

4.68

Aruba

19.84

Mozambique

4.20

Honduras

19.64

Solomon Islands

4.12

Brunei Darussalam

19.43

Iraq

4.08

Israel

18.86

Vietnam

3.87

Turkey

18.14

Benin

3.62

Sweden

17.58

Myanmar

3.41

Indonesia

17.39

Burundi

3.17

Dominica

17.37

Comoros

3.14

Latvia

17.09

Guinea-Bissau

3.11

Barbados

16.50

Laos

3.04

Oman

16.35

Kazakhstan

2.96

South Korea

16.26

Burkina Faso

2.89

Chile

16.19

Uganda

2.77

St. Lucia

16.01

Guinea

2.64

Colombia

15.76

Madagascar

2.20

Bhutan

15.27

Afghanistan

2.14

Jordan

15.08

Niger

1.62

Hungary

14.70

South Sudan

1.45

Namibia

14.70

Chad

1.01

St. Vincent and the Grenadines

14.42

Belarus

0.86

Federated States of Micronesia

14.34

Ukraine

0.50
Know more:
Related maps and info: