Left or right, why is our drive not universal?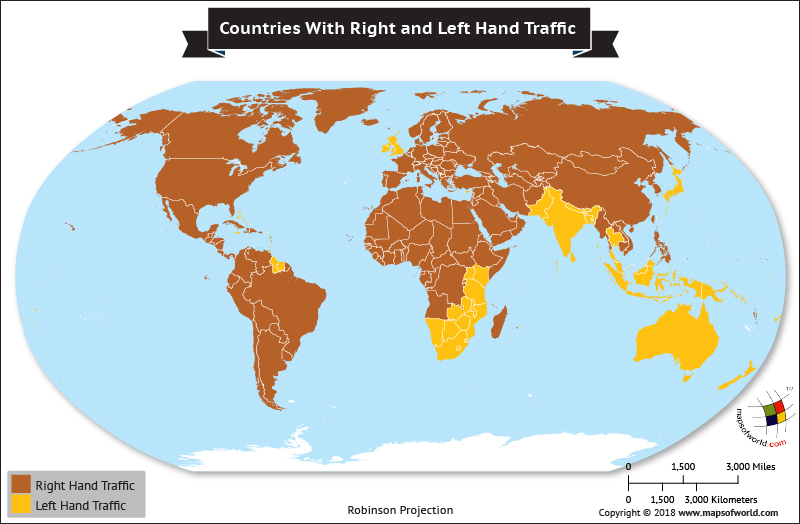 Most of the countries of the world drive on the right-hand side of the road. According to estimates, currently 163 nations and territories are driving on the right-hand side, while 76 countries and territories are using left hand traffic. In fact, only nations which were once under the British rule drive on the left side.
There are no concrete reasons as to why there is a difference in the driving patterns across the countries. It began during the days of the Roman Empire when the soldiers rode on the left side.  They kept their swords on the left side and drew it out from the right hand, conveniently attacking the enemy coming from the opposite direction. The trend prevailed during the late 17th century when huge horse wagons dominated the roads of US. It helped drivers to lash the horses with the right hand while they balanced other things with the left hand.
However, the trend to follow right-hand drive was followed by the French people, primarily because of their opposition to the British. They did not want to do anything like the British. With the coming of Napoleon to power, who was left-handed, the same system continued in all the territories he conquered. This was not the case with England as it was never conquered by Napoleon and thus they continued following the classic left-hand driving.
With the expansion of the British Empire, all the countries colonized or ruled by the Brits conformed to the left-hand driving rule of the British. The nations of the Indian sub-continent, which include; India, Pakistan, Nepal, Sri Lanka, Bangladesh, Bhutan, and Maldives drive on the left-hand side. Meanwhile, there are just four nations in Europe that drive on the left-hand side, these are; Malta, Ireland, the United Kingdom, and Cyprus. Other nations that drive on the left side are; Namibia, Zimbabwe, Botswana, Grenada, Malaysia, Mauritius, Singapore, Tanzania, Australia, New Zealand, Japan, South Africa, and some others.
Europe primarily drives on the right hand. Some prominent European countries using RHT are; Austria, Finland, France, Iceland, Italy, the Netherlands, Poland, Spain, Belgium, Germany, and many other nations. The North American nations of Canada, the United States, and Mexico drive on the right-hand side.
Many Asian countries also drive on the right such as China, Kazakhstan, Kuwait, Laos, Mongolia, Qatar, Saudi Arabia, and others. African countries that fall in this category are Tunisia, Togo, Sudan, Senegal, Niger, Mali, and Madagascar, to name a few.
A tabular form to depict the countries that drive on the left or right side would simplify it.
| | |
| --- | --- |
| Country | Road traffic |
|  Barbados | LHT |
|  East Timor | LHT |
|  Fiji | LHT |
|  Namibia | LHT |
|  Saint Kitts and Nevis | LHT |
|  Saint Lucia | LHT |
|  Saint Vincent and the Grenadines | LHT |
|  Samoa | LHT |
|  United Kingdom | LHT |
|  Zimbabwe | LHT |
|  Antigua and Barbuda | LHT |
|  Bahamas | LHT |
|  Bangladesh | LHT |
|  Bhutan | LHT |
|  Botswana | LHT |
|  Brunei | LHT |
|  Cyprus | LHT |
|  Dominica | LHT |
|  Grenada | LHT |
|  Guyana | LHT |
|  India | LHT |
|  Ireland | LHT |
|  Jamaica | LHT |
|  Kiribati | LHT |
|  Lesotho | LHT |
|  Malawi | LHT |
|  Malaysia | LHT |
|  Maldives | LHT |
|  Malta | LHT |
|  Mauritius | LHT |
|  Nauru | LHT |
|  Pakistan | LHT |
|  Papua New Guinea | LHT |
|  Seychelles | LHT |
|  Singapore | LHT |
|  Solomon Islands | LHT |
|  Sri Lanka | LHT |
|  Suriname | LHT |
|  Swaziland | LHT |
|  Tanzania | LHT |
|  Tonga | LHT |
|  Tuvalu | LHT |
|  Uganda | LHT |
|  Zambia | LHT |
|  Australia | LHT |
|  Indonesia | LHT |
|  New Zealand | LHT |
|  Thailand | LHT |
|  Japan | LHT |
|  Kenya | LHT |
|  Mozambique | LHT |
|  Nepal | LHT |
|  South Africa | LHT |
|  Trinidad and Tobago | LHT |
|  Afghanistan | RHT |
|  Argentina | RHT |
|  Austria | RHT |
|  Bahrain | RHT |
|  Belize | RHT |
|  Brazil | RHT |
|  Burundi | RHT |
|  Cambodia | RHT |
|  Canada | RHT |
|  Denmark | RHT |
|  Finland | RHT |
|  France | RHT |
|  Ghana | RHT |
|  Iceland | RHT |
|  Italy | RHT |
|  North Korea and  South Korea | RHT |
|  Kyrgyzstan | RHT |
|  Mauritania | RHT |
|  Myanmar | RHT |
|  Netherlands | RHT |
|  Nigeria | RHT |
|  Oman | RHT |
|  Panama | RHT |
|  Paraguay | RHT |
|  Philippines | RHT |
|  Poland | RHT |
|  Sierra Leone | RHT |
|  Somalia | RHT |
|  South Sudan | RHT |
|  Spain | RHT |
|  Taiwan | RHT |
|  Ukraine | RHT |
|  United States | RHT |
|  Yemen | RHT |
|  Gambia | RHT |
|  Micronesia | RHT |
|  China | RHT |
|  Vanuatu | RHT |
|  Albania | RHT |
|  Algeria | RHT |
|  Andorra | RHT |
|  Angola | RHT |
|  Armenia | RHT |
|  Azerbaijan | RHT |
|  Belgium | RHT |
|  Belarus | RHT |
|  Benin | RHT |
|  Bolivia | RHT |
|  Bosnia and Herzegovina | RHT |
|  Bulgaria | RHT |
|  Burkina Faso | RHT |
|  Cameroon | RHT |
|  Cape Verde | RHT |
|  Central African Republic | RHT |
|  Chad | RHT |
|  Chile | RHT |
|  Colombia | RHT |
|  Comoros | RHT |
|  Congo | RHT |
|  Democratic Republic of Congo | RHT |
|  Costa Rica | RHT |
|  Côte d'Ivoire | RHT |
|  Croatia | RHT |
|  Cuba | RHT |
|  Czech Republic | RHT |
|  Djibouti | RHT |
|  Dominican Republic | RHT |
|  Ecuador | RHT |
|  Egypt | RHT |
|  El Salvador | RHT |
|  Equatorial Guinea | RHT |
|  Eritrea | RHT |
|  Estonia | RHT |
|  Ethiopia | RHT |
|  Gabon | RHT |
|  Georgia | RHT |
|  Greece | RHT |
|  Guatemala | RHT |
|  Guinea | RHT |
|  Guinea-Bissau | RHT |
|  Haiti | RHT |
|  Honduras | RHT |
|  Hungary | RHT |
|  Iran | RHT |
|  Iraq | RHT |
|  Israel | RHT |
|  Jordan | RHT |
|  Kazakhstan | RHT |
|  Kuwait | RHT |
|  Laos | RHT |
|  Latvia | RHT |
|  Lebanon | RHT |
|  Liberia | RHT |
|  Libya | RHT |
|  Liechtenstein | RHT |
|  Lithuania | RHT |
|  Luxembourg | RHT |
|  Macedonia | RHT |
|  Madagascar | RHT |
|  Mali | RHT |
|  Marshall Islands | RHT |
|  Mexico | RHT |
|  Moldova | RHT |
|  Monaco | RHT |
|  Mongolia | RHT |
|  Montenegro | RHT |
|  Morocco | RHT |
|  Nicaragua | RHT |
|  Niger | RHT |
|  Norway | RHT |
|  Palau | RHT |
|  Palestine | RHT |
|  Peru | RHT |
|  Qatar | RHT |
|  Romania | RHT |
|  Russia | RHT |
|  San Marino | RHT |
|  São Tomé and Príncipe | RHT |
|  Saudi Arabia | RHT |
|  Senegal | RHT |
|  Serbia | RHT |
|  Slovakia | RHT |
|  Slovenia | RHT |
|  Sudan | RHT |
|  Sweden | RHT |
|   Switzerland | RHT |
|  Syria | RHT |
|  Tajikistan | RHT |
|  Togo | RHT |
|  Tunisia | RHT |
|  Turkey | RHT |
|  Turkmenistan | RHT |
|  United Arab Emirates | RHT |
|  Uzbekistan | RHT |
|  Venezuela | RHT |
|  Vietnam | RHT |
|  Portugal | RHT |
|  Rwanda | RHT |
|  Germany | RHT |
|  Uruguay | RHT |
Related Maps: