How strong are the Property Rights of people in different countries?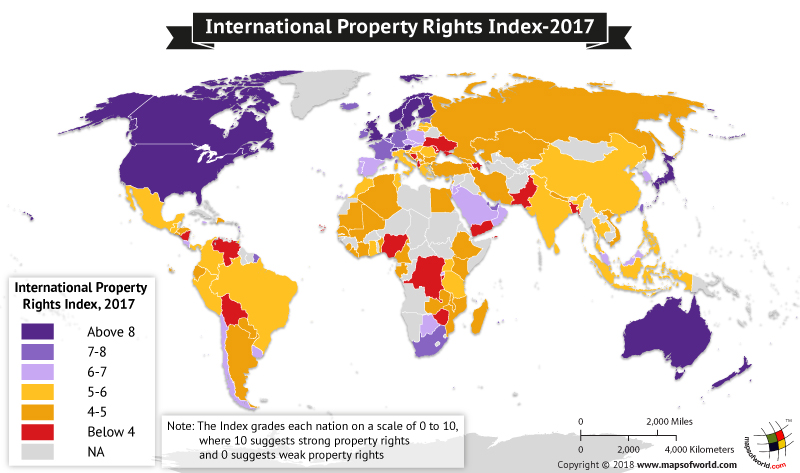 Property rights are vital for establishing an environment of freedom within nations as well as for their economic prosperity. The nations that have strong property rights usually have sound economies. Meanwhile, nations where property rights are weak usually lack in robust and innovative economic markets. Thus establishing a robust property rights system is of prime importance for ushering in economic growth.
To assess the state of property rights in each nation, Washington, D.C. based Property Rights Alliance publishes the International Property Rights Index. The index measures the three main components of a sound property rights system: Legal and Political Environment, Physical Property Rights, and Intellectual Property Rights. The nations are scored according to the strength of their international property rights.
According to the 2017 International Property Rights Index, New Zealand has the strongest property rights. The nation has topped the list with a score of 8.63. The three European nations Finland, Sweden, and Switzerland come next in the list, being quite close to each other with scores of 8.62, 8.60 and 8.561, respectively.
Many other nations including the USA, UK, Canada, and Japan have scored above 8. Middle Eastern countries Qatar and the United Arab Emirates have both scored between 7 and 8.
Meanwhile, there are several countries that have weak property rights and stand at the bottom of the table. These are Zimbabwe, Bangladesh, Pakistan, Ukraine, Burundi, Nigeria etc., having scores less than 4. Yemen stands at the last position with a score of 2.72.
The table below provides score and rank of countries in International Property Rights Index 2017.
| Name | Score | Global Rank |
| --- | --- | --- |
|  New Zealand | 8.633 | 1 |
|  Finland | 8.626 | 2 |
|  Sweden | 8.608 | 3 |
|  Switzerland | 8.561 | 4 |
|  Norway | 8.533 | 5 |
|  Luxemburg | 8.459 | 6 |
|  Singapore | 8.358 | 7 |
|  Japan | 8.327 | 8 |
|  Netherlands | 8.296 | 9 |
|  Australia | 8.244 | 10 |
|  Canada | 8.179 | 11 |
|  Denmark | 8.158 | 12 |
|  United Kingdom (UK) | 8.129 | 13 |
|  United States (USA) | 8.074 | 14 |
|  Austria | 8.012 | 15 |
|  Germany | 7.959 | 16 |
|  Ireland | 7.872 | 17 |
|  Belgium | 7.839 | 18 |
|  Hong Kong | 7.786 | 19 |
|  Iceland | 7.7 | 20 |
|  United Arab Emirates | 7.483 | 21 |
|  Qatar | 7.348 | 22 |
|  France | 7.336 | 23 |
|  Taiwan | 7.268 | 24 |
|  Estonia | 7.199 | 25 |
|  South Africa | 7 | 26 |
|  Israel | 6.974 | 27 |
|  Chile | 6.926 | 28 |
|  Malta | 6.881 | 29 |
|  Czech Republic | 6.86 | 30 |
|  Portugal | 6.848 | 31 |
|  Malaysia | 6.61 | 32 |
|  Rwanda | 6.508 | 33 |
|  Korea, Rep | 6.495 | 34 |
|  Spain | 6.422 | 35 |
|  Uruguay | 6.412 | 36 |
|  Slovakia | 6.396 | 37 |
|  Mauritius | 6.315 | 38 |
|  Oman | 6.28 | 39 |
|  Jordan | 6.266 | 40 |
|  Poland | 6.253 | 41 |
|  Bahrain | 6.157 | 42 |
|  Saudi Arabia | 6.133 | 43 |
|  Botswana | 6.126 | 44 |
|  Costa Rica | 6.06 | 45 |
|  Jamaica | 6.01 | 46 |
|  Slovenia | 5.994 | 47 |
|  Hungary | 5.992 | 48 |
|  Italy | 5.979 | 49 |
|  Lithuania | 5.918 | 50 |
|  Panama | 5.798 | 51 |
|  China | 5.712 | 52 |
|  Ghana | 5.646 | 53 |
|  India | 5.564 | 54 |
|  Trinidad And Tobago | 5.503 | 55 |
|  Morocco | 5.5 | 56 |
|  Cyprus | 5.447 | 57 |
|  Brazil | 5.434 | 58 |
|  Sri Lanka | 5.39 | 59 |
|  Greece | 5.389 | 60 |
|  Kuwait | 5.38 | 61 |
|  Colombia | 5.354 | 62 |
|  Latvia | 5.341 | 63 |
|  Philippines | 5.331 | 64 |
|  Peru | 5.217 | 65 |
|  Thailand | 5.215 | 66 |
|  Mexico | 5.194 | 67 |
|  Indonesia | 5.167 | 68 |
|  Uganda | 5.102 | 69 |
|  Tunisia | 5.081 | 70 |
|  Guatemala | 5.077 | 71 |
|  Tanzania | 5.051 | 72 |
|  Romania | 5.042 | 73 |
|  El Salvador | 4.945 | 74 |
|  Senegal | 4.942 | 75 |
|  Nepal | 4.941 | 76 |
|  Vietnam | 4.93 | 77 |
|  Turkey | 4.925 | 78 |
|  Zambia | 4.917 | 79 |
|  Honduras | 4.902 | 80 |
|  Liberia | 4.893 | 81 |
|  Kenya | 4.856 | 82 |
|  Dominican Republic | 4.823 | 83 |
|  Mali | 4.814 | 84 |
|  Bulgaria | 4.813 | 85 |
|  Croatia | 4.754 | 86 |
|  Ethiopia | 4.718 | 87 |
|  Georgia | 4.707 | 88 |
|  Gabon | 4.694 | 89 |
|  Malawi | 4.67 | 90 |
|  Macedonia | 4.655 | 91 |
|  Brunei | 4.632 | 92 |
|  Ecuador | 4.627 | 93 |
|  Mozambique | 4.625 | 94 |
|  Cote D'ivoire | 4.587 | 95 |
|  Benin | 4.583 | 96 |
|  Argentina | 4.568 | 97 |
|  Sierra Leone | 4.523 | 98 |
|  Iran | 4.521 | 99 |
|  Paraguay | 4.478 | 100 |
|  Egypt | 4.433 | 101 |
|  Kazakhstan | 4.432 | 102 |
|  Lebanon | 4.331 | 103 |
|  Cameroon | 4.294 | 104 |
|  Montenegro | 4.192 | 105 |
|  Algeria | 4.16 | 106 |
|  Armenia | 4.126 | 107 |
|  Mauritania | 4.091 | 108 |
|  Madagascar | 4.064 | 109 |
|  Serbia | 4.044 | 110 |
|  Russia | 4.043 | 111 |
|  Nicaragua | 3.99 | 112 |
|  Bolivia | 3.971 | 113 |
|  Nigeria | 3.95 | 114 |
|  Azerbaijan | 3.946 | 115 |
|  Bosnia And Herzegovina | 3.917 | 116 |
|  Chad | 3.891 | 117 |
|  Albania | 3.822 | 118 |
| Democratic Republic of Congo | 3.818 | 119 |
|  Zimbabwe | 3.76 | 120 |
|  Pakistan | 3.474 | 121 |
|  Burundi | 3.43 | 122 |
|  Ukraine | 3.424 | 123 |
|  Moldova | 3.178 | 124 |
|  Bangladesh | 3.117 | 125 |
|  Venezuela | 3.057 | 126 |
|  Yemen | 2.728 | 127 |
Know more:
Related Maps: