Global Gender Gap Report- How equal is the world for women?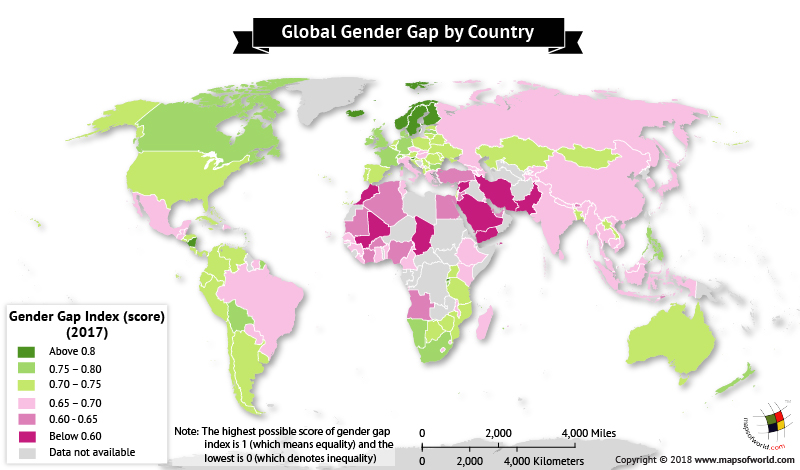 Equality between the sexes has been a topic in vogue since time immemorial. One should understand that in order to realize the full potential of an economy, it is necessary that equal opportunities are available for both men and women.
Instead of relying on the subjective judgments and beliefs of the society, the status of the sexes should be determined by an authentic source. The World Economic Forum is one such source whose reports are accepted worldwide. More than equality, the report measures women's disadvantage compared to men.
The Index was developed in part to address the need for a consistent and comprehensive measure of gender equality that can track a country's progress over time. The Index ranks countries calculating gender gap between women and men in four key areas to gauge the state of gender equality in a country. They are-
• Health
• Education
• Economy
• Politics
The highest possible score of gender gap index is 1 (which means equality) and the lowest possible score is 0 (which denotes inequality). According to the report, the most challenging gender gaps remain in the economic and health spheres. However, within the next thirteen years, the education-based gender gap can be reduced significantly.
| | | |
| --- | --- | --- |
| Rank | Country | 2017 score |
| 1 |  Iceland | 0.878 |
| 2 |  Norway | 0.83 |
| 3 |  Finland | 0.823 |
| 4 |  Rwanda | 0.822 |
| 5 |  Sweden | 0.816 |
| 6 |  Nicaragua | 0.814 |
| 7 |  Slovenia | 0.805 |
| 8 |  Ireland | 0.794 |
| 9 |  New Zealand | 0.791 |
| 10 |  Philippines | 0.79 |
| 11 |  France | 0.778 |
| 12 |  Germany | 0.778 |
| 13 |  Namibia | 0.777 |
| 14 |  Denmark | 0.776 |
| 15 |  United Kingdom | 0.77 |
| 16 |  Canada | 0.769 |
| 17 |  Bolivia | 0.758 |
| 18 |  Bulgaria | 0.756 |
| 19 |  Latvia | 0.756 |
| 20 |  South Africa | 0.756 |
| 21 |  Burundi | 0.755 |
| 22 |   Switzerland | 0.755 |
| 23 |  Barbados | 0.75 |
| 24 |  Spain | 0.746 |
| 25 |  Cuba | 0.745 |
| 26 |  Belarus | 0.744 |
| 27 |  Bahamas | 0.743 |
| 28 |  Lithuania | 0.742 |
| 29 |  Mozambique | 0.741 |
| 30 |  Moldova | 0.74 |
| 31 |  Belgium | 0.739 |
| 32 |  Netherlands | 0.737 |
| 33 |  Portugal | 0.734 |
| 34 |  Argentina | 0.732 |
| 35 |  Australia | 0.731 |
| 36 |  Colombia | 0.731 |
| 37 |  Estonia | 0.731 |
| 38 |  Albania | 0.728 |
| 39 |  Poland | 0.728 |
| 40 |  Costa Rica | 0.727 |
| 41 |  Serbia | 0.727 |
| 42 |  Ecuador | 0.724 |
| 43 |  Panama | 0.722 |
| 44 |  Israel | 0.721 |
| 45 |  Uganda | 0.721 |
| 46 |  Botswana | 0.72 |
| 47 |  Bangladesh | 0.719 |
| 48 |  Peru | 0.719 |
| 49 |  United States | 0.718 |
| 50 |  Jamaica | 0.717 |
| 51 |  Zimbabwe | 0.717 |
| 52 |  Kazakhstan | 0.713 |
| 53 |  Mongolia | 0.713 |
| 54 |  Croatia | 0.711 |
| 55 |  Honduras | 0.711 |
| 56 |  Uruguay | 0.71 |
| 57 |  Austria | 0.709 |
| 58 |  Romania | 0.708 |
| 59 |  Luxembourg | 0.706 |
| 60 |  Venezuela | 0.706 |
| 61 |  El Salvador | 0.705 |
| 62 |  Ukraine | 0.705 |
| 63 |  Chile | 0.704 |
| 64 |  Laos | 0.703 |
| 65 |  Macedonia | 0.702 |
| 66 |  Singapore | 0.702 |
| 67 |  Tanzania | 0.7 |
| 68 |  Vietnam | 0.698 |
| 69 |  Dominican Republic | 0.697 |
| 70 |  Russian Federation | 0.696 |
| 71 |  Ghana | 0.695 |
| 72 |  Lesotho | 0.695 |
| 73 |  Kenya | 0.694 |
| 74 |  Slovakia | 0.694 |
| 75 |  Thailand | 0.694 |
| 76 |  Montenegro | 0.693 |
| 77 |  Belize | 0.692 |
| 78 |  Greece | 0.692 |
| 79 |  Italy | 0.692 |
| 80 |  Madagascar | 0.692 |
| 81 |  Mexico | 0.692 |
| 82 |  Indonesia | 0.691 |
| 83 |  Kyrgyz Republic | 0.691 |
| 84 |  Myanmar | 0.691 |
| 85 |  Cameroon | 0.689 |
| 86 |  Suriname | 0.689 |
| 87 |  Czech Republic | 0.688 |
| 88 |  Cape Verde | 0.686 |
| 89 |  Brazil | 0.684 |
| 90 |  Cyprus | 0.684 |
| 91 |  Senegal | 0.684 |
| 92 |  Malta | 0.682 |
| 93 |  Georgia | 0.679 |
| 94 |  Kuwait | 0.679 |
| 95 |  Paraguay | 0.678 |
| 96 |  Tajikistan | 0.678 |
| 97 |  Armenia | 0.677 |
| 98 |  Azerbaijan | 0.676 |
| 99 |  Cambodia | 0.676 |
| 100 |  China | 0.674 |
| 101 |  Malawi | 0.672 |
| 102 |  Brunei Darussalam | 0.671 |
| 103 |  Hungary | 0.67 |
| 104 |  Malaysia | 0.67 |
| 105 |  Swaziland | 0.67 |
| 106 |  India | 0.669 |
| 107 |  Liberia | 0.669 |
| 108 |  Maldives | 0.669 |
| 109 |  Sri Lanka | 0.669 |
| 110 |  Guatemala | 0.667 |
| 111 |  Mauritius | 0.664 |
| 112 |    Nepal | 0.664 |
| 113 |  Guinea | 0.659 |
| 114 |  Japan | 0.657 |
| 115 |  Ethiopia | 0.656 |
| 116 |  Benin | 0.652 |
| 117 |  Tunisia | 0.651 |
| 118 |  Korea, Rep. | 0.65 |
| 119 |  Gambia, The | 0.649 |
| 120 |  United Arab Emirates | 0.649 |
| 121 |  Burkina Faso | 0.646 |
| 122 |  Nigeria | 0.641 |
| 123 |  Angola | 0.64 |
| 124 |  Bhutan | 0.638 |
| 125 |  Bahrain | 0.632 |
| 126 |  Algeria | 0.629 |
| 127 |  Timor-Leste | 0.628 |
| 128 |  Qatar | 0.626 |
| 129 |  Turkey | 0.625 |
| 130 |  Mauritania | 0.614 |
| 131 |  Côte d'Ivoire | 0.611 |
| 132 |  Egypt | 0.608 |
| 133 |  Jordan | 0.604 |
| 134 |  Morocco | 0.598 |
| 135 |  Lebanon | 0.596 |
| 136 |  Saudi Arabia | 0.584 |
| 137 |  Iran, Islamic Rep. | 0.583 |
| 138 |  Mali | 0.583 |
| 139 |  Chad | 0.575 |
| 140 |  Syria | 0.568 |
| 141 |  Pakistan | 0.546 |
| 142 |  Yemen | 0.516 |
| 143 |  Fiji | N/A |
| 144 |  Guyana | N/A |
| 145 |  Oman | N/A |
| 146 |  Trinidad and Tobago | N/A |
| 147 |  Zambia | N/A |
Know more about the world:
Related Maps: