What countries have highest Food Security?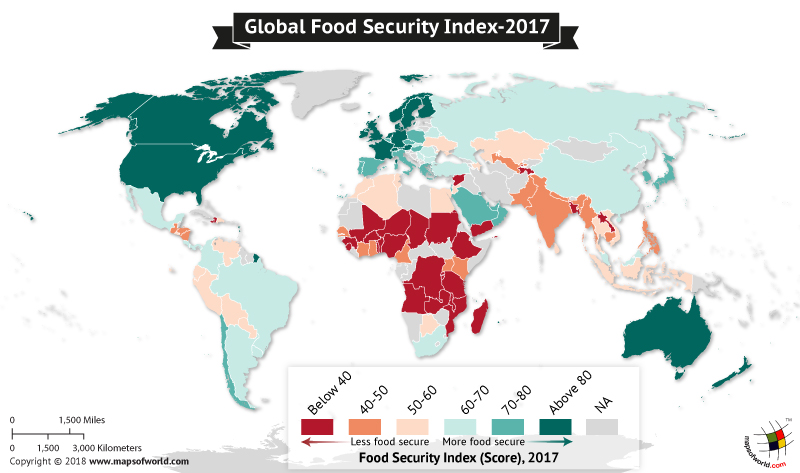 Food is the most essential component that sustains all forms of life. Though some nations have an abundance of food, others face severe shortages. When a nation has high food security, specifically access to food that is both sufficient and nutritious, this enables the people to lead a healthy lifestyle.
The Economist Intelligence Unit regularly releases the Global Food Security Index which analyzes food security in most of the nations around the world. The index considers the issues of availability, affordability as well as quality and safety among the nation.
According to the 2017 Global Food Security Index, Ireland is the most food secure country in the world, with a score of 85.6. Coming at the second spot was United States with a score of 84.6. The United Kingdom comes close and ranks third, with a score of 84.2.
European countries are well placed on the index with scores above 70. In Asia, countries like India, China, Sri Lanka and Thailand, to name a few, stood on an average with score between 40 to 60.
Meanwhile, there are several countries which face serious issues regarding food availability and thus, rank quite low in the global index. Countries having a score below 40 are Nigeria, Bangladesh, Syria, Ethiopia, Sudan, Yemen, Mozambique, etc. The African nation of Burundi is the least food secure of all the countries that were mentioned in the list. The nation stood right at the bottom, with a score of just 25.1
The table below provides information on how nations score of the 2017 Global Food Security Index.
| | | |
| --- | --- | --- |
| Rank | Country | Score |
| 1st | Ireland | 85.6 |
| 2nd | United States | 84.6 |
| 3rd | United Kingdom | 84.2 |
| 4th | Singapore | 84 |
| 5th | Australia | 83.3 |
| 6th | Netherlands | 82.8 |
| 7th | Germany | 82.5 |
| 8th | France | 82.3 |
| 9th | Canada | 82.2 |
| 10th | Sweden | 81.7 |
| 11th | Austria | 81.6 |
| 11th | Switzerland | 81.6 |
| 13th | Norway | 81.4 |
| 14th | Finland | 81 |
| 14th | New Zealand | 81 |
| 16th | Denmark | 80.3 |
| 17th | Belgium | 79.8 |
| 18th | Japan | 79.5 |
| 19th | Israel | 79.2 |
| 20th | Portugal | 79 |
| 21st | Spain | 78.1 |
| 22nd | Italy | 75.9 |
| 23rd | Czech Republic | 75.8 |
| 24th | Chile | 74.7 |
| 24th | South Korea | 74.7 |
| 26th | Kuwait | 74.6 |
| 27th | Poland | 74.1 |
| 28th | Oman | 73.9 |
| 29th | Qatar | 73.3 |
| 30th | Hungary | 72.2 |
| 31st | Greece | 71.9 |
| 32nd | Saudi Arabia | 71 |
| 33rd | United Arab Emirates | 70.9 |
| 34th | Slovakia | 70 |
| 35th | Uruguay | 69.7 |
| 36th | Costa Rica | 69.3 |
| 37th | Bahrain | 68.6 |
| 38th | Brazil | 67.7 |
| 38th | Romania | 67.7 |
| 40th | Argentina | 67.3 |
| 41st | Malaysia | 66.2 |
| 41st | Russia | 66.2 |
| 43rd | Mexico | 65.8 |
| 44th | South Africa | 64 |
| 45th | China | 63.7 |
| 46th | Belarus | 63 |
| 47th | Bulgaria | 62.9 |
| 48th | Panama | 62.5 |
| 49th | Turkey | 61.1 |
| 50th | Serbia | 60.6 |
| 51st | Colombia | 60.1 |
| 52nd | Botswana | 59.4 |
| 53rd | Peru | 59.2 |
| 54th | Tunisia | 58.8 |
| 55th | Jordan | 58.3 |
| 55th | Thailand | 58.3 |
| 57th | Azerbaijan | 57.8 |
| 58th | Egypt | 56.6 |
| 59th | Paraguay | 56.5 |
| 60th | Kazakhstan | 56 |
| 61st | Ecuador | 55.2 |
| 62nd | Dominican Republic | 54.8 |
| 63rd | Ukraine | 54.1 |
| 64th | Vietnam | 54 |
| 65th | El Salvador | 53.1 |
| 66th | Sri Lanka | 53 |
| 67th | Morocco | 52.8 |
| 68th | Algeria | 51.5 |
| 69th | Bolivia | 51.3 |
| 69th | Indonesia | 51.3 |
| 71st | Venezuela | 50.2 |
| 72nd | Nicaragua | 50 |
| 73rd | Guatemala | 49.6 |
| 74th | India | 48.9 |
| 75th | Honduras | 48.6 |
| 76th | Ghana | 47.9 |
| 77th | Pakistan | 47.8 |
| 78th | Uzbekistan | 47.5 |
| 79th | Philippines | 47.3 |
| 80th | Myanmar | 44.8 |
| 81st | Nepal | 44.5 |
| 82nd | Senegal | 44.2 |
| 83rd | Cambodia | 43.3 |
| 83rd | Uganda | 43.3 |
| 85th | Cote d'Ivoire | 42.5 |
| 86th | Kenya | 42.2 |
| 87th | Cameroon | 41.6 |
| 88th | Rwanda | 39.8 |
| 89th | Bangladesh | 39.7 |
| 90th | Benin | 39.6 |
| 91st | Mali | 39.4 |
| 92nd | Nigeria | 38.4 |
| 93rd | Togo | 37.2 |
| 94th | Tajikistan | 35.9 |
| 95th | Tanzania | 35.4 |
| 96th | Sudan | 34.8 |
| 97th | Guinea | 34 |
| 98th | Mozambique | 33.7 |
| 99th | Ethiopia | 33.3 |
| 99th | Syria | 33.3 |
| 101st | Angola | 33.2 |
| 102nd | Burkina Faso | 33.1 |
| 102nd | Laos | 33.1 |
| 104th | Zambia | 32.4 |
| 105th | Malawi | 31.3 |
| 106th | Niger | 29.5 |
| 107th | Haiti | 29.1 |
| 108th | Yemen | 28.8 |
| 109th | Sierra Leone | 28.7 |
| 110th | Chad | 28.3 |
| 111th | Madagascar | 27.2 |
| 112th | Democratic Republic of Congo | 25.5 |
| 113th | Burundi | 25.1 |
Know more:
Related Maps :