How much does a haircut cost around the world?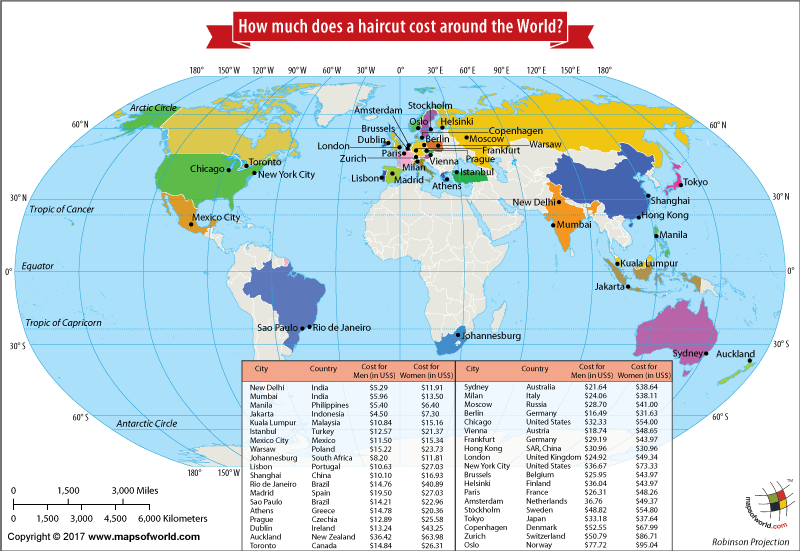 Today, a haircut is one of the most common forms of grooming services that are performed on a regular basis. But have you ever wondered what a haircut costs in different cities around the world? And what determines the cost?
The answer to this is based on an analysis made by the financial services company UBS, which determined a pattern between the prices of different services and local wages. Cities with higher gross salaries such as Zurich, Oslo, Copenhagen, and San Francisco, displayed a higher cost for haircuts for men and women.
The cost varies also on the fact of personal choice, where cost versus benefit comes into play….for example, if one gets a haircut, at a cost of less than $20, but needs to get this done more than 5 or 6 times a year, as compared to a haircut which costs above $80, but is only done once a year, then the price variation would be calculated on terms of the benefits one gets.
While analyzing this benefit, another important key point was highlighted; women pay much more (nearly three times more) for a haircut than men.
What can be deduced from this analysis is, women, end up paying much more for a haircut in a 'cheap city,' than a man needing the same service in a relatively expensive city. For example, a man can get nearly 20 haircuts in Manila, Philippines, or in Mumbai, India, as compared to a woman who could get a single haircut in Oslo, or Zurich, for the same amount. This imbalance is seen across the globe, with women's haircuts costing on average 40% more than men's.
The reason for this imbalance is ambiguous, as most salons justify this imbalance on the basis of the fact that a women's haircut is more complex, uses more products than a men's haircut, and takes longer. The ambiguous justification for this imbalance could be that a woman's satisfaction and expectation from a haircut are much higher than that of a man.
| City | Cost for Men | Cost for Women |
| --- | --- | --- |
| New Delhi, India | $5.29 | $11.91 |
| Mumbai, India | $5.96 | $13.50 |
| Manila, Philippines | $5.40 | $6.40 |
| Jakarta, Indonesia | $4.50 | $7.30 |
| Kuala Lumpur, Malaysia | $10.84 | $15.16 |
| Istanbul, Turkey | $12.57 | $21.37 |
| Mexico City, Mexico | $11.50 | $15.34 |
| Warsaw, Poland | $15.22 | $23.73 |
| Johannesburg, South Africa | $8.20 | $11.81 |
| Lisbon, Portugal | $10.63 | $27.03 |
| Shanghai, China | $10.10 | $16.93 |
| Rio De Janeiro, Brazil | $14.76 | $40.89 |
| Madrid, Spain | $19.50 | $27.03 |
| Sao Paulo, Brazil | $14.21 | $22.96 |
| Athens, Greece | $14.78 | $20.36 |
| Prague, Czech Republic | $12.89 | $25.58 |
| Dublin, Ireland | $13.24 | $43.25 |
| Auckland, New Zealand | $36.42 | $63.98 |
| Toronto, Canada | $14.84 | $26.31 |
| Sydney, Australia | $21.64 | $38.64 |
| Milan, Italy | $24.06 | $38.11 |
| Moscow, Russia | $28.70 | $41.00 |
| Berlin, Germany | $16.49 | $31.63 |
| Chicago, US | $32.33 | $54.00 |
| Vienna, Austria | $18.74 | $48.65 |
| Frankfurt, Germany | $29.19 | $43.97 |
| Hong Kong, China (SAR) | $30.96 | $30.96 |
| London, UK | $24.92 | $49.34 |
| New York City, US | $36.67 | $73.33 |
| Brussels, Belgium | $25.95 | $43.97 |
| Helsinki, Finland | $36.04 | $43.97 |
| Paris, France | $26.31 | $48.26 |
| Amsterdam, Netherlands | $36.76 | $49.37 |
| Stockholm, Sweden | $48.82 | $54.80 |
| Tokyo, Japan | $33.18 | $37.64 |
| Copenhagen, Denmark | $52.55 | $67.99 |
| Zurich, Switzerland | $50.79 | $86.71 |
| Oslo, Norway | $77.72 | $95.04 |
Know more:
Related maps: