What countries have witnessed most environmental protests?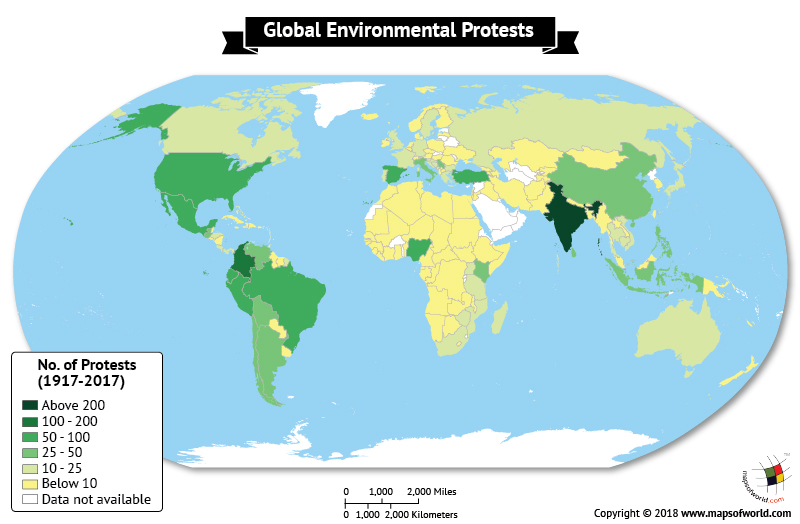 Protests are a platform for people to voice their grievances against their respective governments, or organizations. Often protests are organized by people taking a stand against projects that are harmful for the well-being of the environment. These protests may range from being peaceful to the protests that have seen governments suppress them, due to hostility, agitation, or Governments afraid of the truth.
According to the Environmental Justice Atlas, there have been more than 2,000 protests across the world in the past 100 years (1917 to 2017). There have been protests against the governments or organizations, in the fields of nuclear, mineral ores, waste management, fossil fuel & climate justice, industrial & utilities conflicts, biomass & land conflicts, water management, infrastructure, tourism recreation, and biodiversity conservation conflicts.
Of all the countries listed in the Environmental Justice Atlas data, India has witnessed the largest number of protests. In this 100-year time period, India witnessed 244 protests. Colombia witnessed 122 protests in the last 100 years, which placed it at the second spot on the list. Earning the third spot was Brazil, which saw 81 protests.
Other nations that have had between 50 and 100 protests in the past 100 years are: The United States, Peru, Nigeria, Spain, Ecuador, Mexico, and Turkey. China, Chile, Argentina, Bolivia, the Philippines, Indonesia, Venezuela, and a few others, witnessed between 25 and 50 protests.
The number of protests in nations like Bangladesh, Egypt, Romania, Kazakhstan, South Sudan, Hungary, Pakistan, Belgium, Switzerland, and others was relatively low, with these nations witnessing less than 10 protests in the past 100 years.
However, the data said that Cuba, Afghanistan, Czech Republic, Central African Republic, Venezuela, the Netherlands, and a few others did not see a single protest in the last 100 years.
The data provides information on the number of environmental protests witnessed by each nation.
| | |
| --- | --- |
| Country | Number of Protests (1917 to 2017) |
| India | 244 |
| Colombia | 122 |
| Brazil | 81 |
| United States of America | 77 |
| Peru | 75 |
| Nigeria | 73 |
| Spain | 70 |
| Ecuador | 61 |
| Mexico | 55 |
| Turkey | 51 |
| China | 48 |
| Chile | 46 |
| Argentina | 42 |
| Bolivia | 40 |
| Philippines | 39 |
| Indonesia | 32 |
| Venezuela | 32 |
| Sri Lanka | 29 |
| Kenya | 27 |
| Guatemala | 26 |
| Serbia | 26 |
| Italy | 25 |
| Canada | 22 |
| Germany | 21 |
| Japan | 21 |
| Cambodia | 20 |
| South Africa | 20 |
| Mozambique | 19 |
| Vietnam | 19 |
| Honduras | 19 |
| Croatia | 18 |
| Portugal | 17 |
| Madagascar | 16 |
| France | 16 |
| Bulgaria | 16 |
| Costa Rica | 15 |
| Panama | 15 |
| Zimbabwe | 14 |
| Greece | 14 |
| Tanzania | 14 |
| Australia | 14 |
| Thailand | 13 |
| United Kingdom | 13 |
| Sweden | 13 |
| Russia | 12 |
| Montenegro | 12 |
| Bosnia and Herzegovina | 11 |
| Slovenia | 10 |
| Uganda | 10 |
| Bangladesh | 9 |
| Egypt | 9 |
| Nicaragua | 9 |
| South Korea | 9 |
| Morocco | 9 |
| Liberia | 7 |
| Ghana | 7 |
| Ethiopia | 7 |
| Malaysia | 7 |
| Democratic Republic of Congo | 7 |
| Romania | 6 |
| Kazakhstan | 6 |
| Lebanon | 6 |
| El Salvador | 6 |
| Mali | 6 |
| Macedonia | 6 |
| Palestine | 6 |
| Sierra Leone | 6 |
| South Sudan | 5 |
| Paraguay | 5 |
| Belgium | 5 |
| The Dominican Republic | 5 |
| Laos | 5 |
| Hungary | 5 |
| Niger | 5 |
| Myanmar | 4 |
| Papua New Guinea | 4 |
| Pakistan | 4 |
| Poland | 4 |
| Austria | 4 |
| Namibia | 4 |
| Gabon | 4 |
| Finland | 4 |
| Tunisia | 4 |
| Belize | 4 |
| Zambia | 3 |
| Uruguay | 3 |
| Sudan | 3 |
| Senegal | 3 |
| Iceland | 3 |
| Algeria | 3 |
| Malawi | 3 |
| Ireland | 3 |
| Georgia | 3 |
| Cameroon | 3 |
| Taiwan | 3 |
| Jamaica | 2 |
| New Zealand | 2 |
| Norway | 2 |
| Nepal | 2 |
| Guinea | 2 |
| Chad | 2 |
| Kyrgyz Republic | 2 |
| Denmark | 2 |
| Mongolia | 2 |
| Somalia | 2 |
| Albania | 2 |
| Iraq | 2 |
| Switzerland | 1 |
| Ivory Coast | 1 |
| Trinidad and Tobago | 1 |
| Suriname | 1 |
| Libya | 1 |
| Haiti | 1 |
| Puerto Rico | 1 |
| Botswana | 1 |
| Angola | 1 |
| Iran, Islamic Rep. | 1 |
| Sao Tome and Principe | 1 |
| Malta | 1 |
| Armenia | 1 |
| Guyana | 1 |
| Benin | 1 |
| Congo, Rep. | 1 |
| Israel | 1 |
| Mauritania | 1 |
| Guinea-Bissau | 1 |
| Maldives | 1 |
| Mozambique | 1 |
| Lesotho | 1 |
| Equatorial Guinea | 1 |
| Kosovo | 1 |
| New Caledonia | 1 |
| Ukraine | 1 |
| Tajikistan | 1 |
| Azerbaijan | 0 |
| Netherlands | 0 |
| Venezuela, RB | 0 |
| Czech Republic | 0 |
| Central African Republic | 0 |
| Latvia | 0 |
| Cuba | 0 |
| Afghanistan | 0 |
| Bhutan | 0 |
| Bahamas | 0 |
| Andorra | 0 |
| Jordan | 0 |
Know more:
Related Maps: