How much is the merchandise trade (in percentage of GDP) around the world?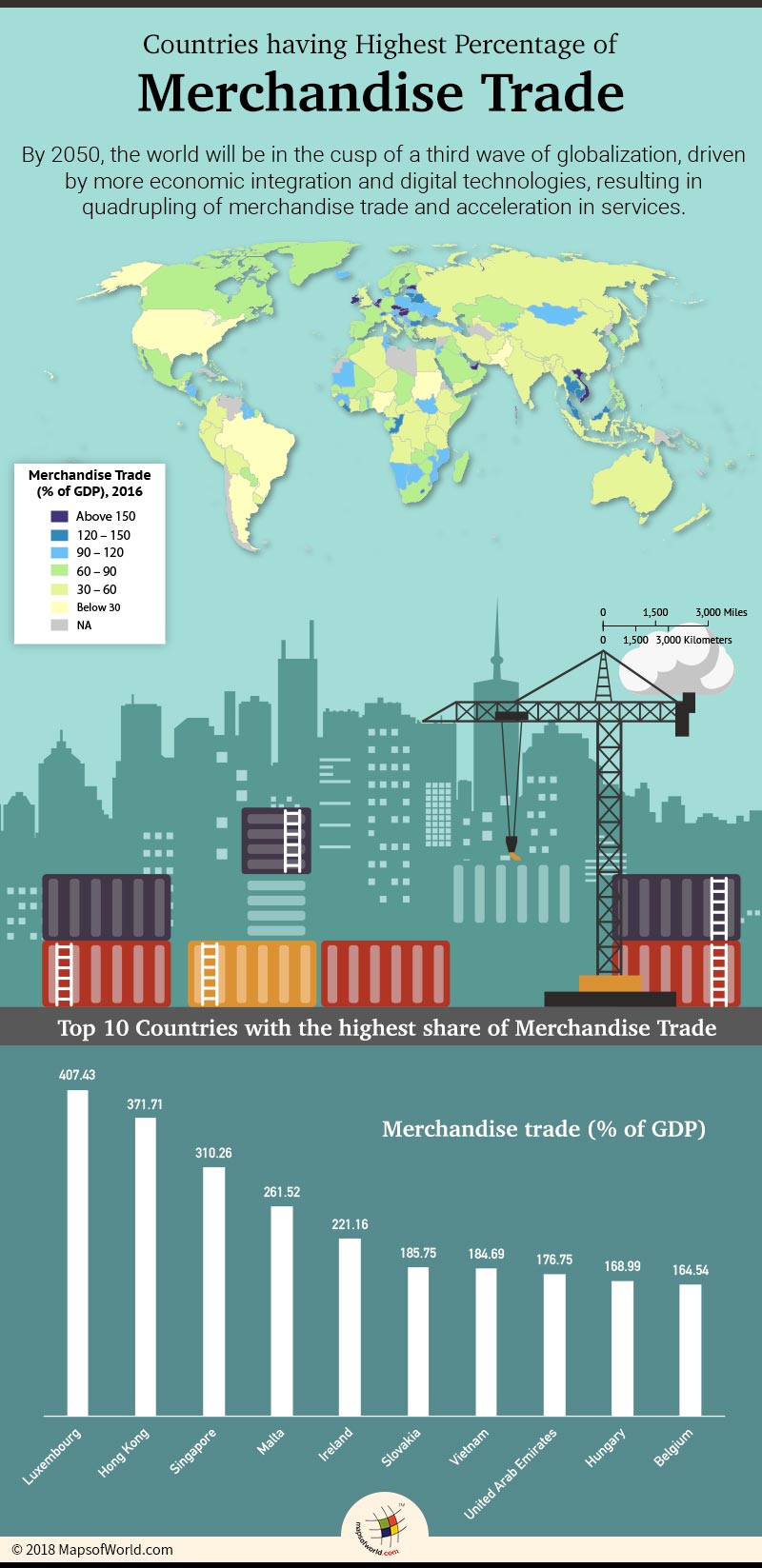 The 'Trade Winds' report produced by Oxford Economics on behalf of HSBC Bank, gives insight in the future global trends; "By 2050, the world will be on the cusp of a third wave of globalization, driven by more economic integration and digital technologies, resulting in quadrupling of merchandise trade and acceleration in services."
The merchandise trade is the international transactions of goods that are tangible and movable. This differs from the international trade as the latter includes imports and exports of both goods and services. The World Trade Organization, anticipates the world merchandise trade volume growth, of 4.4%, as a measure of the average of exports and imports. In the face of a globalized economy, this expansion is also determined by the government fiscal, monetary and trade policies.
The cyclic factors of investment and consumption have resulted in an exceptional surge during the six years leading up to 2017. Contributing elements to the balance of trade are: factors of production, trade policy, exchange rates, foreign currency reserves, inflation and demand. Factors such as land, labor & capital, and the difference in availability in a country defines trade patterns. Whereas barriers to trade and restrictive trade policies affect the relative price of the merchandise.
The appreciation of currency can hurt exports, thus negatively impacting exports of a nation. Additionally, in order to produce globally competitive products, a country should have enough Forex reserves to afford the leading technologies. Hence these factors shape the global trade of merchandise positively or negatively.
The Balance of Trade is a key indicator of an economy's health. The varying impacts of international merchandise trade on the global economy are the opening of global markets to the consumers offering price and product options on one hand and efficient production leading to specialization to the producers on the other. The economies thus have a comparative advantage: each country specializes in producing what they are more efficient in producing.
The world's top traded merchandise includes crude oil, pharmaceuticals, automobiles, iron ore and smartphones. Countries like Luxembourg, Hong Kong and Singapore account for the highest merchandise trade. Luxembourg, a landlocked western European nation surrounded by economic powerhouses, is a leading exporter of machinery, iron and steel and plastic articles. This has fostered the economic growth in this nation. In case of Hong Kong, the recovery from the global economic crisis and trade supporting services from Chinese mainland, has hiked the offshore sale of goods.
Countries like Nigeria, Brazil and Pakistan, on the other hand, account for the lowest share of merchandise trade (% of GDP). Nigeria shows an increase in the merchandise trade in the fourth quarter of 2017, but is still the lowest trading economy. In case of Pakistan, the country's trade deficit hit an ever low in 2017. A decline in exports accompanied with inefficient policies of import substitution led the country into a lower trading practice.
Below lying table depicts the countries and their share of merchandise trade (% of GDP)-:
Country Name

2016 (Merchandise
Trade % of GDP)

Country Name

2016 (Merchandise
Trade % of GDP)

Luxembourg

407.43

Sierra Leone

79.42

Hong Kong

371.71

Samoa

79.19

Singapore

310.26

Portugal

79.14

Malta

261.52

Fiji

77.99

Ireland

221.16

Malawi

77.91

Slovakia

185.75

South Korea

77.71

Vietnam

184.69

Somalia

77.35

United Arab Emirates

176.75

Oman

76.81

Hungary

168.99

Jamaica

76.30

Belgium

164.54

Mexico

76.22

American Samoa

158.51

Armenia

75.92

Estonia

154.10

Laos

75.09

Netherlands

153.89

Albania

74.67

Czech Republic

151.60

Palestinian

74.54

Nauru

150.55

Kosovo

74.20

Maldives

150.27

Zambia

73.96

Lithuania

147.61

Bahamas

73.49

Slovenia

146.15

Iraq

73.42

Northern Mariana Islands

145.49

Haiti

73.34

Bahrain

139.55

Senegal

72.91

Republic of the Congo

136.52

Finland

72.81

Cyprus

130.20

Lebanon

72.61

Malaysia

128.64

El Salvador

71.96

Cambodia

126.95

Benin

71.31

Palau

126.21

Gabon

71.16

Lesotho

125.38

Guam

70.57

Belarus

125.21

Madagascar

69.26

Bulgaria

123.64

Chad

67.86

Central Europe and the Baltics

123.60

Norway

67.41

Liberia

121.69

Philippines

64.90

Thailand

121.66

Gambia, The

64.88

Switzerland

120.40

Costa Rica

64.76

Latvia

119.19

Canada

64.35

South Sudan

116.70

Zimbabwe

63.33

Macedonia

114.68

Spain

62.88

Moldova

114.60

Mali

62.41

St. Kitts and Nevis

113.51

Burkina Faso

62.02

Marshall Islands

111.45

Saudi Arabia

61.86

Guinea

110.97

Greece

61.64

Mozambique

110.82

France

61.13

Macao

110.59

South Africa

60.79

Belize

110.20

Kazakhstan

60.31

Puerto Rico

109.66

Comoros

59.69

Grenada

108.47

Democratic Republic of the Congo

59.59

Serbia

107.50

Angola

59.43

Kiribati

106.71

United Kingdom

58.58

Kyrgyzstan

105.82

Israel

58.45

Togo

105.63

Guinea-Bissau

57.81

Namibia

105.10

Bolivia

56.40

Ukraine

104.81

Italy

56.35

Suriname

104.10

Algeria

56.27

Montenegro

103.38

Tajikistan

56.05

Georgia

102.93

Afghanistan

55.92

Dominica

102.33

Dominican Republic

53.84

Swaziland

102.20

Sub-Saharan Africa

52.58

Austria

101.17

New Zealand

51.32

Denmark

100.97

Sri Lanka

50.01

Mauritania

100.53

Cote d'Ivoire

49.52

Honduras

100.49

Niger

49.37

Poland

100.47

Nepal

48.88

Guyana

100.33

Rwanda

48.03

Federated States of Micronesia

99.02

Uganda

47.22

Mauritius

98.43

Guatemala

47.00

Cabo Verde

97.96

Turkey

46.82

Botswana

97.13

Russia

46.23

Mongolia

95.64

Peru

45.25

Croatia

95.21

Iran

43.21

Nicaragua

95.10

Central African Republic

42.75

Kuwait

94.66

Tanzania

42.33

Equatorial Guinea

92.50

Cameroon

42.00

Tunisia

91.44

Uruguay

41.31

St. Vincent and the Grenadines

91.34

Australia

40.77

Jordan

91.32

India

40.35

Iceland

90.42

Uzbekistan

39.62

Azerbaijan

90.08

Timor-Leste

39.28

Tonga

89.43

Myanmar

39.06

Ghana

89.34

Ecuador

38.83

Qatar

89.11

Burundi

38.16

Antigua and Barbuda

88.73

Bangladesh

37.95

Bosnia and Herzegovina

87.70

Indonesia

37.44

Brunei Darussalam

87.32

China

37.03

Panama

87.28

Kenya

36.75

Pacific island small states

85.77

Colombia

36.47

Greenland

84.92

Ethiopia

35.51

Djibouti

84.65

Yemen

33.53

Euro area

84.27

Japan

31.27

Germany

84.27

Egypt

30.02

Sweden

83.71

North America

30.01

Romania

83.57

United States of America

26.58

European Union

82.87

Argentina

26.12

Bhutan

82.81

Pakistan

25.31

Barbados

82.62

Brazil

24.57

Arab World

81.96

Sudan

22.36

Paraguay

81.27

Nigeria

20.72

Morocco

80.42
Know more:
Related maps: