What are the Busiest Domestic Air Routes in the World?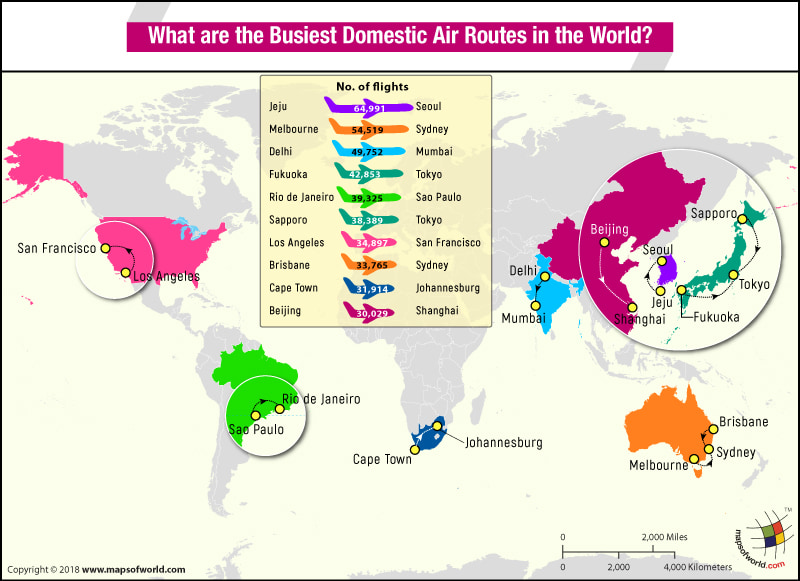 In recent years, rail and road transport has faced increasing competition from domestic air routes, which is providing convenient travel at competitive rates and is saving flyers a great deal of time. The past few years have witnessed a rise in the number of domestic flyers as well as an increase in air routes. Below is a list of the world's top ten busiest domestic air routes in 2017. This figure, which has been compiled by an OAG Aviation Worldwide Ltd data, is based on the number of scheduled flights in both directions.
The Jeju to Seoul Gimpo in South Korea is the world's busiest air route, as of 2017. During the year, the route witnessed a total of 64,991 flights served by Jeju Air, Asiana Airlines, and Korean Air. The second position went to the Melbourne-Sydney route with 54,519 flights. Top airlines flying on this route are Qantas, Tigerair Australia, Jetstar Airways, and Virgin Australia.
Following at number three is the Delhi-Mumbai route recording 49,752 flights in 2017. Apart from the national carrier Air India, other airlines flying on this route are SpiceJet, GoAir, Vistara, Jet Airways, and IndiGo. With 42,853 flights in 2017, the Fukuoka-Tokyo Haneda was the fourth busiest route. Airlines serving on this route included Japan Airlines, All Nippon Airways, and Skymark Airlines.
39,325 flights were served on the fifth busiest route of the year – Rio de Janeiro-Sao Paulo during the year. Avianca Brazil and Gol Airlines were the two airlines that operated on this route. Sapporo-Tokyo Haneda was the sixth busiest route, while Los Angeles-San Francisco was the seventh. While the former witnessed 38,389 flights in 2017, the latter had 34,897 flights.
The eighth, ninth and tenth positions went to Brisbane-Sydney, Cape Town-Johannesburg, and Beijing-Shanghai with 33,765, 31,914, and 30,029 flights, respectively.
Related Maps: