What Country has the Most Time Zones in the World?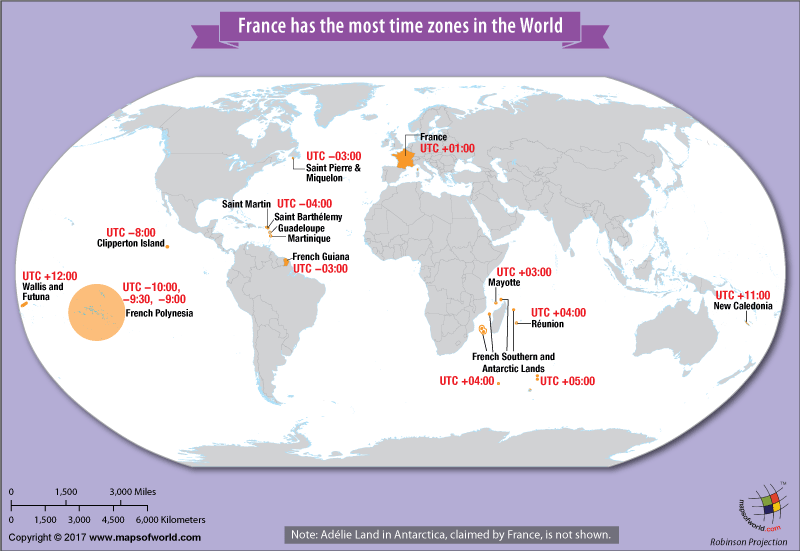 France has the most time zones in the world. There are currently 12 time-zones in France. Time zones are important tools that help in measuring time across different regions of the world or even in large countries. For social, legal, or commercial purposes, the world is divided into different time zones. Large countries such as Russia and the United States observe more than one time-zone.
Though France is a relatively small country, covering an area of 247,368 square miles, it observes 12 time-zones. France has the largest number of time zones in the world because its territories are spread across the globe. Metropolitan France, which is located in Europe and comprises Corsica along with nearby islands in the Mediterranean Sea, Atlantic Ocean, and the English Channel, observes a single time-zone. The rest of the 11 time-zones are observed in the overseas territories of the country.
In Metropolitan France, the Daylight-Saving time is observed between last Sunday of March and the last Sunday of October. Metropolitan France also uses the Central European Time and the Central European Summer Time. Prior to 1891, the time of every city and town was based on the local solar time. To avoid railway complications, the times of all the cities were unified. In 1911, GMT+0 was adopted as the official time of France and in 1940, the northern part of the country switched to GMT+2. But, since 1945, the country is observing GMT+1
The overseas territories that use different time zones are French Guiana, French Polynesia, Guadeloupe, Martinique, Mayotte, New Caledonia, Reunion, Saint Barthélemy, Saint Martin, Saint Pierre and Miquelon, Wallis and Futuna, French Southern and Antarctic Lands, and Clipperton.
Related Maps: