What countries contribute to the international student mobility?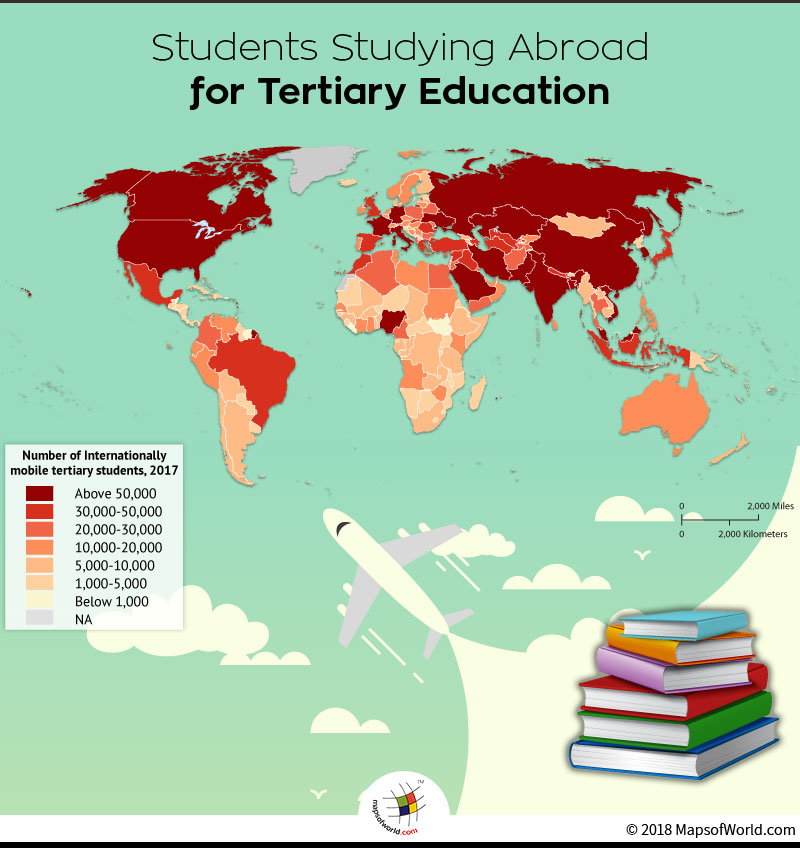 International student mobility  has become a major component of the global  tertiary education landscape. Accounting for over 4.1 million international mobile students in 2013, the six major countries for inbound international student mobility are United States, the United Kingdom, Australia, France, Germany and Russia. While there are overlapping definitions of 'international students',  UNESCO  defines  them as "an international mobile student to be an individual who has physically crossed an international border between two countries, with the objective to participate in educational activities in a destination country, where the destination country is different from his or her country of origin." This includes the  foreign students, that include visa-holding international students and other non-citizens holding permanent citizenship. It also differs than the exchange students, who remain enrolled in their home country, while receiving a small number of credits from foreign institutions.
The era of globalization is witnessing knowledge as a commodity that moves between countries. The worldwide evolution of education marketing is the direct result of these trends of globalization. However, changing patterns in tertiary education has affected the pathways of international student mobility. This was encouraged since international students brought cultural interaction and international diversity. Hence, this type of international migration is considered favorable by all nations.
An examination of the economic trends reveals, that the economies with a high  Gross National Income  per capita, are the ones driving growth in the outbound student mobility. Countries like  China and India, are the world's two most promising market with the highest outbound international student mobility. Additionally, China is also an emerging hub absorbing the high mobility rates of international students. According to the MoE statement of the nation, the total number of Chinese students who finished their studies abroad and retuned home was 80%.
On the other hand, countries like  United States, the United Kingdom and Australia, have absorbed the inbound international student mobility, with approximately 45% of the total foreign students studying in these destination countries. These  English-speaking  countries have managed to establish a diversified market with strong growth potential including world-class facilities, financial incentives, amendments to immigration requirements and procedures. These benefits are done with the sound awareness of the contributions made by the students to the host nation economies.
The countries have also adopted innovative strategies to meet the growing number of players in the international market. On the supply end, the factors like geographic proximity and cultural affinities, play a major determinant in deciding the host nation. A strong consumer demand and partnerships with the government and foreign universities are currently the prime drivers of the international enrolment growth, whereas tighter government regulations hinder the mobility.
There is evidence that the international student mobility is ever-evolving. The marketing of higher education is also a cause of this change in trend, with globalization being the main stimulus.
Below lying table mentions the countries with the highest outbound international student mobility:
| Country | Internationally mobile tertiary students no. (2017) |
| --- | --- |
| China | 847,259 |
| India | 278,383 |
| Germany | 117,921 |
| South Korea | 108,608 |
| Nigeria | 95,619 |
| France | 90,708 |
| Kazakhstan | 89,660 |
| Saudi Arabia | 85,277 |
| Ukraine | 76,181 |
| Vietnam | 70,328 |
| United States of America | 68,580 |
| Italy | 62,180 |
| Malaysia | 61,655 |
| Bangladesh | 60,390 |
| Russia | 56,915 |
| Pakistan | 51,894 |
| Iran | 51,082 |
| Canada | 50,506 |
| Turkmenistan | 47,878 |
| Indonesia | 46,232 |
| Morocco | 45,986 |
| Turkey | 45,331 |
| Nepal | 44,255 |
| Brazil | 43,438 |
| Azerbaijan | 41,762 |
| Syria | 41,642 |
| Greece | 37,484 |
| Hong Kong | 37,007 |
| Spain | 35,348 |
| Romania | 33,235 |
| United Kingdom | 33,109 |
| Iraq | 32,638 |
| Slovakia | 32,427 |
| Uzbekistan | 32,245 |
| Japan | 30,850 |
| Mexico | 30,646 |
| Thailand | 29,768 |
| Egypt | 29,455 |
| Colombia | 28,761 |
| Afghanistan | 27,866 |
| Palestine | 27,641 |
| Belarus | 25,701 |
| Yemen | 25,234 |
| Cyprus | 25,158 |
| Singapore | 25,057 |
| Cameroon | 24,972 |
| Bulgaria | 24,687 |
| Albania | 24,543 |
| Jordan | 24,202 |
| Poland | 24,135 |
| Kuwait | 20,997 |
| Algeria | 20,713 |
| Tajikistan | 20,623 |
| Moldova | 20,276 |
| Tunisia | 19,451 |
| Norway | 19,035 |
| Sri Lanka | 18,521 |
| Sweden | 17,567 |
| Austria | 17,501 |
| Zimbabwe | 17,431 |
| Philippines | 16,308 |
| Ecuador | 16,241 |
| Venezuela | 15,907 |
| Peru | 15,587 |
| Netherlands | 15,538 |
| Lebanon | 15,510 |
| Oman | 15,421 |
| Ireland | 15,249 |
| Serbia | 14,692 |
| Israel | 14,296 |
| Kenya | 14,017 |
| Belgium | 13,588 |
| Czechia | 13,360 |
| Sudan | 13,122 |
| Switzerland | 12,951 |
| Angola | 12,634 |
| Ghana | 12,399 |
| Portugal | 12,335 |
| Australia | 12,330 |
| Senegal | 12,302 |
| Libya | 12,193 |
| Bosnia and Herzegovina | 12,018 |
| Côte d'Ivoire | 11,517 |
| Kyrgyzstan | 11,357 |
| United Arab Emirates | 11,249 |
| Hungary | 11,130 |
| Lithuania | 11,126 |
| Luxembourg | 10,087 |
| Mongolia | 9,874 |
| Haiti | 9,852 |
| Congo | 9,849 |
| Finland | 9,616 |
| Bolivia | 9,448 |
| Chile | 9,372 |
| Democratic Republic of the Congo | 9,312 |
| Georgia | 9,084 |
| Croatia | 8,950 |
| Guinea | 8,409 |
| Mali | 8,369 |
| Argentina | 8,082 |
| Armenia | 7,906 |
| Myanmar | 7,582 |
| South Africa | 7,544 |
| Gabon | 6,785 |
| Mauritius | 6,628 |
| Tanzania | 6,545 |
| Ethiopia | 6,354 |
| Laos | 6,129 |
| Comoros | 6,094 |
| Chad | 6,083 |
| Togo | 5,997 |
| Bahrain | 5,770 |
| Latvia | 5,737 |
| Benin | 5,711 |
| Qatar | 5,627 |
| Rwanda | 5,602 |
| Cambodia | 5,561 |
| Zambia | 5,456 |
| New Zealand | 5,397 |
| Burkina Faso | 5,374 |
| Somalia | 5,351 |
| Denmark | 5,205 |
| Macedonia | 4,960 |
| Namibia | 4,845 |
| Montenegro | 4,763 |
| Uganda | 4,751 |
| Jamaica | 4,449 |
| Madagascar | 4,424 |
| Mauritania | 4,423 |
| Niger | 4,416 |
| Bhutan | 4,376 |
| Honduras | 4,192 |
| Estonia | 4,121 |
| El Salvador | 3,886 |
| Dominican Republic | 3,845 |
| Timor-Leste | 3,792 |
| Brunei Darussalam | 3,698 |
| Trinidad and Tobago | 3,693 |
| Cabo Verde | 3,380 |
| Paraguay | 3,290 |
| Guatemala | 3,250 |
| Solomon Islands | 3,247 |
| Botswana | 3,203 |
| Bahamas | 3,140 |
| Panama | 3,134 |
| Maldives | 2,947 |
| Lesotho | 2,820 |
| Slovenia | 2,819 |
| Guinea-Bissau | 2,719 |
| Iceland | 2,683 |
| Eswatini | 2,612 |
| Mozambique | 2,573 |
| Costa Rica | 2,553 |
| Nicaragua | 2,528 |
| Macao | 2,514 |
| Uruguay | 2,411 |
| Djibouti | 2,293 |
| Malawi | 2,271 |
| Burundi | 2,268 |
| Cuba | 2,019 |
| Eritrea | 1,974 |
| Vanuatu | 1,783 |
| Bermuda | 1,759 |
| Gambia | 1,710 |
| Central African Republic | 1,646 |
| Papua New Guinea | 1,604 |
| North Korea | 1,535 |
| Guyana | 1,492 |
| Equatorial Guinea | 1,472 |
| Andorra | 1,320 |
| Tonga | 1,213 |
| Barbados | 1,200 |
| Fiji | 1,198 |
| Sierra Leone | 1,189 |
| Malta | 1,168 |
| Kiribati | 1,061 |
| Saint Lucia | 1,028 |
| Liechtenstein | 1,017 |
| Suriname | 920 |
| Liberia | 834 |
| Belize | 829 |
| Gibraltar | 818 |
| Puerto Rico | 813 |
| San Marino | 802 |
| Sao Tome and Principe | 782 |
| Samoa | 758 |
| Saint Vincent and the Grenadines | 704 |
| Dominica | 700 |
| Antigua and Barbuda | 557 |
| Cayman Islands | 490 |
| Seychelles | 486 |
| Grenada | 478 |
| Saint Kitts and Nevis | 466 |
| Tuvalu | 459 |
| South Sudan | 389 |
| Monaco | 374 |
| Federated States of Micronesia | 369 |
| British Virgin Islands | 353 |
| Cook Islands | 211 |
| Nauru | 209 |
| Marshall Islands | 169 |
| Curaçao | 161 |
| Turks and Caicos Islands | 157 |
| Vatican City | 100 |
| Sint Maarten | 99 |
| Aruba | 89 |
| Anguilla | 87 |
| Tokelau | 68 |
| Niue | 38 |
| Palau | 29 |
| Montserrat | 23 |
Know more:
Related maps: