What country's population ranks high on body mass index?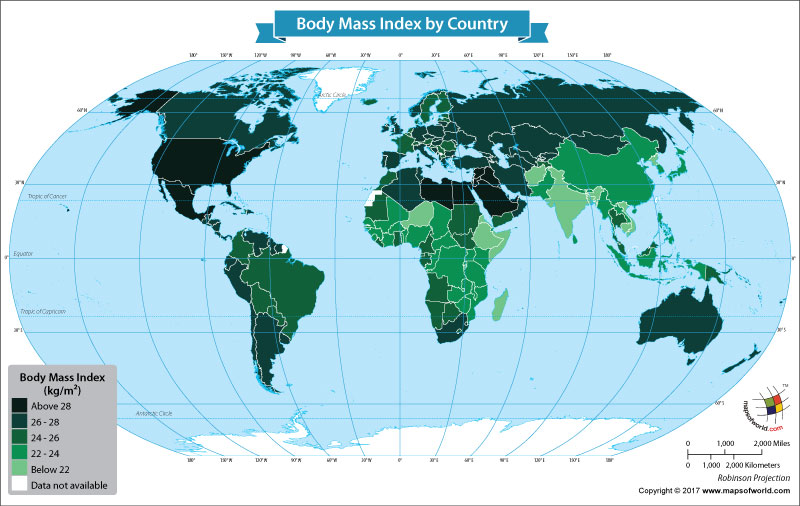 The Body Mass Index is an important indicator which measures the overall health of the person. The body mass index can be defined as the measure of body fat based on weight and height. The body mass index is applicable for both men and women. Both high and low body mass index is detrimental for the health of a person. A high body mass indicates that the person is obese, while a low body mass means that he or she is underweight or malnourished. Thus it is imperative that proper care is taken to ensure that the body mass index is normal, which means that the person is healthy.
It is commonly accepted that people who have a body mass index of 25 kg/m² and above are overweight, while those with 30 kg/m² and above are considered to be obese. Meanwhile, people at the other end of the spectrum, i.e. below 18 kg/m² are considered underweight. People who have a body mass index between 18.5 to 25, are normally considered to be healthy. However, there is still some debate as to where the dividing lines should be placed.
Nauru is the most obese country in the world. According to a World Health Organization data, in 2014, the body mass index in the nation stood at 32.5 kg/m², the highest among all nations mentioned on the list. Coming at the second spot were Cook Islands and Niue which both had a Body Mass Index of 32.3 kg/m². Some other nations where the body mass index was an upward of 28 kg/m² were Egypt, Qatar, United Arab Emirates, the United States of America, Mexico, Saudi Arabia, and a few other countries.
In nations such as Greece, Ireland, the United Kingdom, Australia, Canada, Oman, Grenada, Tunisia, Russia, Mongolia, Italy, Germany and some other nations the body mass index ranged between 26 and 28. Meanwhile people were slightly better off in countries such as Iceland, Serbia, the Netherlands, France, Switzerland, South Sudan, Namibia, Denmark etc. Here the body mass index ranged between 24 and 26.
Some countries with body mass index ranging between 22 and 24 were Japan, Sri Lanka, Nigeria, Pakistan, Singapore, Bhutan, Indonesia etc. Meanwhile countries that stood at the bottom of the scale and had a body mass index of less than 22 were India, Afghanistan, Vietnam, Bangladesh, Ethiopia, and a few other nations.
Get to know what is the body mass index in your country by referring to the table below:
| Countries | BMI (kg/m²) |
| --- | --- |
| Nauru | 32.5 |
| Cook Islands | 32.3 |
| Niue | 32.3 |
| Tonga | 31.9 |
| Samoa | 31.7 |
| Kuwait | 30 |
| Saint Kitts and Nevis | 29.7 |
| Kiribati | 29.6 |
| Saint Lucia | 29.6 |
| Micronesia (Federated States of) | 29.4 |
| Palau | 29.4 |
| Tuvalu | 29.3 |
| Egypt | 29.2 |
| Marshall Islands | 29.2 |
| Qatar | 29.2 |
| United Arab Emirates | 29 |
| Belize | 28.9 |
| Jordan | 28.9 |
| Bahamas | 28.8 |
| United States of America | 28.8 |
| Barbados | 28.7 |
| Trinidad and Tobago | 28.7 |
| Saudi Arabia | 28.5 |
| Antigua and Barbuda | 28.4 |
| Libya | 28.4 |
| Bahrain | 28.2 |
| Mexico | 28.1 |
| Syrian Arab Republic | 28.1 |
| Iraq | 28 |
| New Zealand | 27.9 |
| Chile | 27.8 |
| Lebanon | 27.8 |
| Turkey | 27.8 |
| Argentina | 27.7 |
| Andorra | 27.5 |
| Ireland | 27.5 |
| Azerbaijan | 27.4 |
| El Salvador | 27.4 |
| Jamaica | 27.4 |
| Kazakhstan | 27.4 |
| Suriname | 27.4 |
| Greece | 27.3 |
| Saint Vincent and the Grenadines | 27.3 |
| South Africa | 27.3 |
| United Kingdom | 27.3 |
| Australia | 27.2 |
| Canada | 27.2 |
| Fiji | 27.2 |
| Georgia | 27.2 |
| Malta | 27.2 |
| Venezuela (Bolivarian Republic of) | 27.2 |
| Panama | 27.1 |
| Cyprus | 27 |
| Dominica | 27 |
| Ecuador | 27 |
| Grenada | 27 |
| Costa Rica | 26.9 |
| Czech Republic | 26.9 |
| Nicaragua | 26.9 |
| Oman | 26.9 |
| Slovenia | 26.9 |
| Seychelles | 26.8 |
| Tunisia | 26.8 |
| Uruguay | 26.8 |
| Armenia | 26.7 |
| Dominican Republic | 26.7 |
| Republic of Moldova | 26.7 |
| Spain | 26.7 |
| Belarus | 26.6 |
| Lithuania | 26.6 |
| Guatemala | 26.5 |
| Luxembourg | 26.5 |
| Russian Federation | 26.5 |
| Slovakia | 26.5 |
| Swaziland | 26.5 |
| Honduras | 26.4 |
| Poland | 26.4 |
| Turkmenistan | 26.4 |
| Germany | 26.3 |
| Guyana | 26.3 |
| Hungary | 26.3 |
| Israel | 26.3 |
| Peru | 26.3 |
| Algeria | 26.2 |
| Brunei Darussalam | 26.2 |
| Cuba | 26.2 |
| Iran (Islamic Republic of) | 26.2 |
| Kyrgyzstan | 26.2 |
| Portugal | 26.2 |
| Vanuatu | 26.2 |
| Albania | 26.1 |
| Bosnia and Herzegovina | 26.1 |
| Uzbekistan | 26.1 |
| Bulgaria | 26 |
| Italy | 26 |
| Mongolia | 26 |
| Montenegro | 26 |
| Norway | 26 |
| Ukraine | 26 |
| Bolivia (Plurinational State of) | 25.9 |
| Brazil | 25.9 |
| Colombia | 25.9 |
| Finland | 25.9 |
| Iceland | 25.9 |
| Latvia | 25.8 |
| Paraguay | 25.8 |
| Serbia | 25.8 |
| Sweden | 25.8 |
| the former Yugoslav Republic of Macedonia | 25.8 |
| Yemen | 25.8 |
| Equatorial Guinea | 25.6 |
| Mauritius | 25.6 |
| Morocco | 25.6 |
| Belgium | 25.5 |
| Croatia | 25.5 |
| Estonia | 25.5 |
| Gabon | 25.5 |
| Solomon Islands | 25.5 |
| Austria | 25.4 |
| Netherlands | 25.4 |
| Tajikistan | 25.4 |
| Denmark | 25.3 |
| France | 25.3 |
| Malaysia | 25.3 |
| Papua New Guinea | 25.3 |
| Romania | 25.3 |
| Switzerland | 25.3 |
| South Sudan | 25.2 |
| Sudan | 25.2 |
| Maldives | 25.1 |
| Lesotho | 24.9 |
| Mauritania | 24.8 |
| Sao Tome and Principe | 24.8 |
| Botswana | 24.7 |
| Cabo Verde | 24.7 |
| Cameroon | 24.4 |
| Namibia | 24.3 |
| Ghana | 24.2 |
| Angola | 24.1 |
| Comoros | 24.1 |
| Haiti | 24.1 |
| Thailand | 24.1 |
| Gambia | 24 |
| Liberia | 24 |
| China | 23.9 |
| Republic of Korea | 23.9 |
| Bhutan | 23.8 |
| Pakistan | 23.8 |
| Singapore | 23.7 |
| Côte d'Ivoire | 23.6 |
| Benin | 23.4 |
| Nigeria | 23.4 |
| Zimbabwe | 23.4 |
| Congo | 23.3 |
| Djibouti | 23.3 |
| Philippines | 23.2 |
| Togo | 23.2 |
| Guinea-Bissau | 23.1 |
| United Republic of Tanzania | 23.1 |
| Kenya | 23 |
| Senegal | 23 |
| Sri Lanka | 23 |
| Indonesia | 22.9 |
| Malawi | 22.8 |
| Mali | 22.8 |
| Sierra Leone | 22.8 |
| Guinea | 22.7 |
| Japan | 22.6 |
| Lao People's Democratic Republic | 22.6 |
| Myanmar | 22.6 |
| Zambia | 22.6 |
| Central African Republic | 22.4 |
| Chad | 22.3 |
| Mozambique | 22.3 |
| Democratic Republic of the Congo | 22.2 |
| Nepal | 22.2 |
| Burkina Faso | 22.1 |
| Rwanda | 22 |
| Uganda | 22 |
| Cambodia | 21.9 |
| India | 21.9 |
| Somalia | 21.9 |
| Democratic People's Republic of Korea | 21.8 |
| Niger | 21.7 |
| Afghanistan | 21.6 |
| Vietnam | 21.6 |
| Timor-Leste | 21.2 |
| Madagascar | 21.1 |
| Bangladesh | 21 |
| Burundi | 20.9 |
| Ethiopia | 20.6 |
| Eritrea | 20.5 |
Know more:
Related maps: