What countries have won FIBA Basketball World Cup?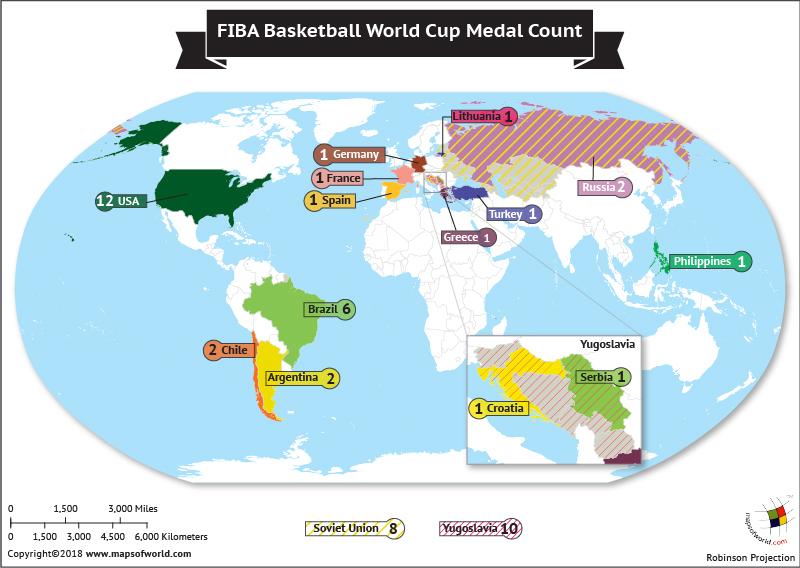 Sports is one of the biggest forms of entertainment around the world. However, it is tough to say what the most popular sport is, as popularity varies from country to country. While some nations have football as the most popular sport, others have tennis or rugby or even cricket. In colder regions, skiing or ice hockey appeals more to the people.
Among the plethora of sports played across the globe, basketball has an exalted position. This exciting and adrenaline pumping game is widely played and watched in most of the world's countries. Basketball rates among the most popular sports in USA as well.
Every year, several basketball tournaments are held around the world and the FIBA Basketball World Cup is one of the most prestigious international basketball competition. It is organized by the International Basketball Federation and is held every four years.
When it was founded in 1950, the host of the inaugural tournament was Argentina. Incidentally, the country also emerged victorious in the championship defeating the United States. Nevertheless, barring the initial defeat, the United States has been the most successful team in the FIBA Basketball World Cup, winning a total of 12 medals, which includes gold, silver and bronze.
Despite the break-up of Yugoslavia, it second place as the most successful nation, as it won a total of 10 medals. The Soviet Union, which existed from 1922 to 1991, is the third most successful team to date, with a total of eight medals. The South American nation of Brazil has total six medals.
Argentina, Chile, and Russia have won two medals each. Nations which have won just one medal at the FIBA Basketball World Cup include; Spain, Greece, Turkey, Serbia, the Philippines, Croatia, Germany, and France. Of the post-Soviet states, Russia and Lithuania have bagged medals at the World Cup. After the breakup of Yugoslavia, six republics were formed and out of them, only Serbia and Croatia have been able to win a medal at the tournament.
The last FIBA tournament was held in 2014 in Madrid, Spain. The United States had again won the championship by defeating Serbia. The next FIBA Basketball World Cup would be held in 2019 in Beijing, China.
Know more about World sports:
Related Maps: