What are the Top Ten Winners of the Karate World Championships?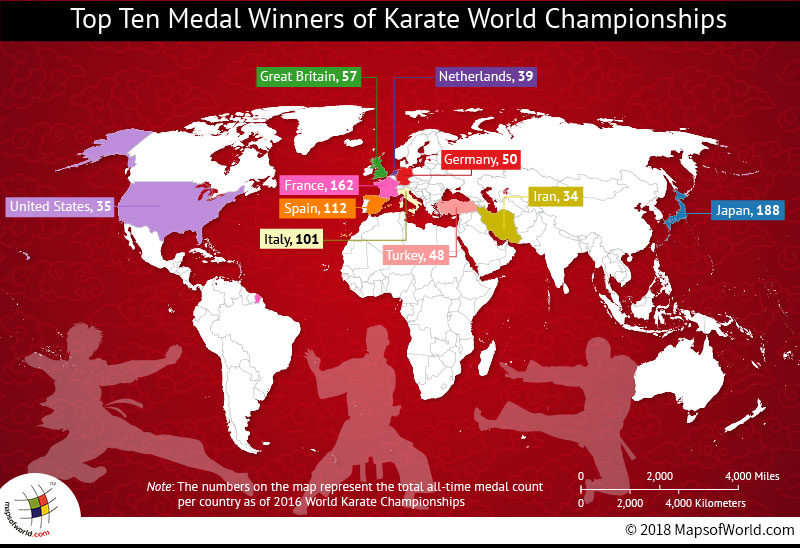 People like to learn Martial Arts so they can defend themselves from sudden attack or violent crimes. Bruce Lee, has been quite an inspiration worldwide regarding the sport, and karate – is one of the most famous form of martial arts. It involves the use of punches, elbow strikes, knee strikes and open hand techniques. Its popularity is growing and more people around the world are learning karate. Movies like 'The Karate Kid' have been a hit, and have helped increasing the influence of martial arts around the world. Bruce Lee
With time, karate has become a popular sport to watch and there are numerous karate championships held around the world, with the Karate World Championships being the most significant tournament. This event is organized by the World Karate Federation and is held every two years.
The country which has dominated the Karate World Championships is Japan. After all, karate was introduced by a Japanese man, Gichin Funakoshi. He later popularized this martial art form on the main islands of Japan itself. Among the top ten nations, Japan has won the most medals, including gold and silver. Since the very beginning of the championship, which was held in 1970 in Tokyo, Japan has won 188 medals, including 86 medals in Gold and 48 in Silver.
At the second position is France, which has won 162 medals in the tournament till date, including 53 Gold medals. The third place is acquired by Spain, as the team has won 112 medals. However, it is the nation, Great Britain which has won third most number of Gold medals, with the number being 24.
The next World Karate Championship will be held in Madrid, Spain in September 2018.
The table below provides more information regarding the Top Ten Karate Champions.
| | | | | | |
| --- | --- | --- | --- | --- | --- |
| Rank | Nation | Gold | Silver | Bronze | Total |
| 1 |  Japan | 86 | 48 | 54 | 188 |
| 2 |  France | 53 | 45 | 67 | 162 |
| 4 |  Spain | 20 | 23 | 69 | 112 |
| 5 |  Italy | 18 | 32 | 51 | 101 |
| 3 |  Great Britain | 24 | 18 | 15 | 57 |
| 9 |  Germany | 7 | 11 | 32 | 50 |
| 6 |  Turkey | 12 | 8 | 28 | 48 |
| 7 |  Netherlands | 10 | 11 | 18 | 39 |
| 10 |  United States | 6 | 11 | 18 | 35 |
| 8 |  Iran | 8 | 7 | 19 | 34 |
Know more:
Related Maps: