What are the cities with over 10 million residents?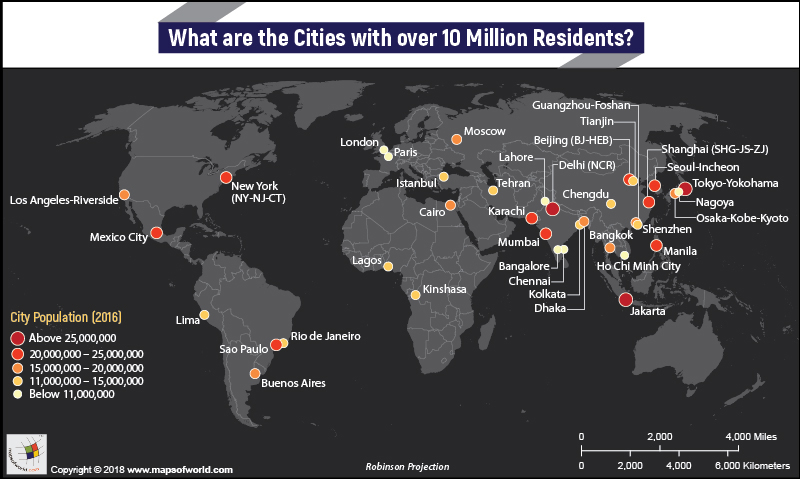 Mega cities are continuing to grow at a rapid pace with people migrating towards magnet cities with higher earning potential. The challenge is the limited space available and lack of supporting infrastructure. In cities where land is available on the outskirts, they are expanding horizontally. Where land is limited, cities are expanding vertically. Tokyo, Shanghai, and Mumbai are good examples of the latter.
In most cities, income is not keeping pace with the rising cost of living. As a result, the quality of life is under greater strain as the density of population per mile is increasing, without a corresponding improvement in infrastructure and related services. This is visible in cities like Dhaka, Mumbai, Karachi, Lima, and Lahore.
Mega cities with a population of over 10 million are (2016):
| | | | |
| --- | --- | --- | --- |
| City | Country | Population | Population density (per mile) |
|  Tokyo-Yokohama |  Japan |  37,900,000 | 11,500 |
|  Jakarta |  Indonesia |  31,760,000 | 24,900 |
|  Delhi (NCR) |  India |  26,495,000 | 31,200 |
|  Manila |  Philippines |  24,245,000 | 35,100 |
|  Seoul-Incheon |  South Korea |  24,105,000 | 22,700 |
|  Karachi |  Pakistan |  23,545,000 | 60,400 |
|  Shanghai (SHG-JS-ZJ) |  China |  23,390,000 | 15,600 |
|  Mumbai |  India |  22,885,000 | 67,300 |
|  New York (NY-NJ-CT) |  USA |  21,445,000 | 4,500 |
|  Sao Paulo |  Brazil |  20,850,000 | 17,700 |
|  Beijing (BJ-HEB) |  China |  20,415,000 | 12,800 |
|  Mexico City |  Mexico |  20,400,000 | 22,300 |
|  Guangzhou-Foshan |  China |  19,075,000 | 12,900 |
|  Osaka-Kobe-Kyoto |  Japan |  17,075,000 | 13,800 |
|  Dhaka |  Bangladesh |  16,820,000 | 118,500 |
|  Moscow |  Russia |  16,710,000 | 7,600 |
|  Cairo |  Egypt |  16,225,000 | 21,900 |
|  Bangkok |  Thailand |  15,645,000 | 13,300 |
|  Los Angeles-Riverside |  USA |  15,500,000 | 6,000 |
|  Buenos Aires |  Argentina |  15,355,000 | 12,400 |
|  Kolkata |  India |  14,950,000 | 28,800 |
|  Tehran |  Iran |  13,805,000 | 20,500 |
|  Istanbul |  Turkey |  13,755,000 | 26,200 |
|  Lagos |  Nigeria |  13,360,000 | 24,300 |
|  Tianjin |  China |  13,245,000 | 12,400 |
|  Shenzhen |  China |  12,775,000 | 18,900 |
|  Rio de Janeiro |  Brazil |  11,900,000 | 15,300 |
|  Kinshasa |  DR Congo |  11,855,000 | 52,700 |
|  Lima |  Peru |  11,150,000 | 32,300 |
|  Chengdu |  China |  11,050,000 | 16,500 |
|  Paris |  France | 10,950,000 | 9,600 |
|  Lahore |  Pakistan |  10,665,000 | 32,800 |
|  Bangalore |  India |  10,535,000 | 23,400 |
|  London |  United Kingdom |  10,470,000 | 14,600 |
|  Ho Chi Minh City |  Vietnam |  10,380,000 | 17,000 |
|  Chennai |  India |  10,265,000 | 25,700 |
|  Nagoya |  Japan |  10,070,000 | 6,700 |
Visit the following to learn more about World Cities:
Related Maps: