What countries have the best education systems?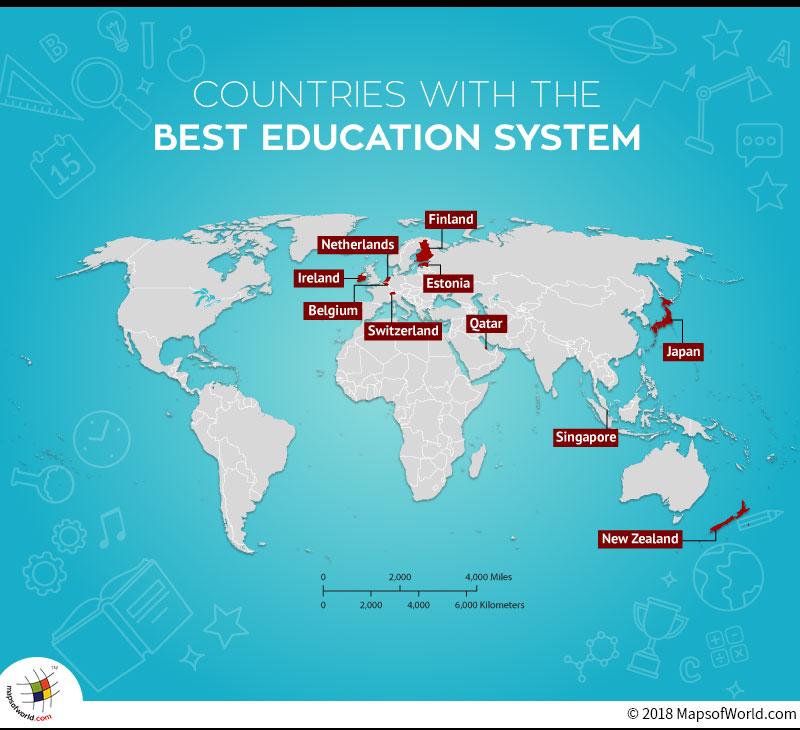 "Education is the most powerful weapon which you can use to change the world." – Nelson Mandela
While the value of education is universally recognized not all countries have invested the necessary finances, infrastructure, and values in building up a high-quality education system. Let us take a look at the countries that are universally recognized as providing the best quality school education to their children.
Finland
The Finnish school education system has been repeatedly lauded as the best in the world in many global studies. The country has no private schools and all children irrespective of their abilities and background attend public schools. Cooperation rather than competition is stressed upon and standardized tests avoided. The students are prepared to take on a single standardized test at the age of 16. Very little homework is given and students are encouraged to research and learn from experiments. Teachers are paid to stay updated on the best pedagogical studies.
Switzerland
The Swiss model of school education is also one that has been praised consistently. 9 to 11 years of school is compulsory in the country and home schooling is rare. About 95 percent of the children study in public schools. Most schools provide free education but parents are required to pay high taxes to fund the education system. Some skill-based segregation is done after the primary level but high-quality education is provided to all. Depending on the canton (region), education is imparted in German, French or Italian.
Belgium
Preschool education is not compulsory in Belgium but an overwhelming majority of children are enrolled in preschool. Education is compulsory for children between the ages of 6 and 18 and education is either free of cost or subsidized depending on the school. The classrooms introduce children to cultural and diversity. Study of the languages, sciences, and history are mandatory. Education receives a large share of the regions' budgets.
Singapore
Singapore's school education system has a good reputation for flexibility of choice and for academic excellence. The education system focuses on developing the child's own skills by allowing the students to pick a career path as early as the secondary school level. Early education focuses on skills development, social development, and physical education. Students are often given a choice at the secondary school level that will lead them to a university degree program, or a technical college.
Netherlands
The Dutch education system offers a great number of opportunities for the students and choices for the parents as well. There are about twice as many private schools as public schools and all of these receive government funding. education is compulsory for children between the ages of 5 and 18 (including 12 years of full time education). Schools affiliated to religious groups are also equally supported by the government if they meet the requisite standards of education. Skills based segregation is done at the age of 12.
Qatar
Public education system in Qatar has come a long way since its establishment in 1952. Education in public schools is free for Qatari nationals and foreign nationals prefer to educate their children in private schools supported by the Ministry of Education (MOE). Numerous reforms were implemented since 2001 and the Qatari education system has undergone a major overhaul. The government is keen on implementing universal and high-quality education by 2030.
Ireland
The Irish education system is also regarded to be among the best in the world. Education in Ireland is compulsory for children between the ages of 6 and 16. Most schools are privately managed but funded by the government. State examination is held at the end of high school and the main focus of education is to orient the students towards higher education or vocational training leading up to a job.
Estonia
This small European nation is among the best when it comes to school education. The country has a very dedicated approach and spends close to 4 percent of its GDP on education. Children are encouraged to achieve high grades by parents and teachers and unlike other countries the homework burden is rather high. The education system also aims at instilling values and social responsibilities while developing the child's skills.
New Zealand
School education system of New Zealand provides students of 13-year levels of study and schooling is deemed compulsory for children between the ages of 6 and 16. School education is also free for New Zealand nationals and permanent residents. New Zealand has state schools, private schools and state integrated schools. Apart from working to get their National Certificate of Educational Achievement (NCEA), high school students are encouraged to take up vocational training in subjects such as tourism and computing.
Japan
In recent times much has been said and written about the Japanese system of school education and its stress on life skills. Education in japan is compulsory for the children of Japanese nationals. This includes 6 years at elementary school and 3 years at junior high school. Although high school study is not compulsory, about 98 percent students enrol at the high school level. The performance of Japanese students in math and the sciences in international tests is commendable.
Know more:
Related maps: