What countries have hosted World Polo Championship?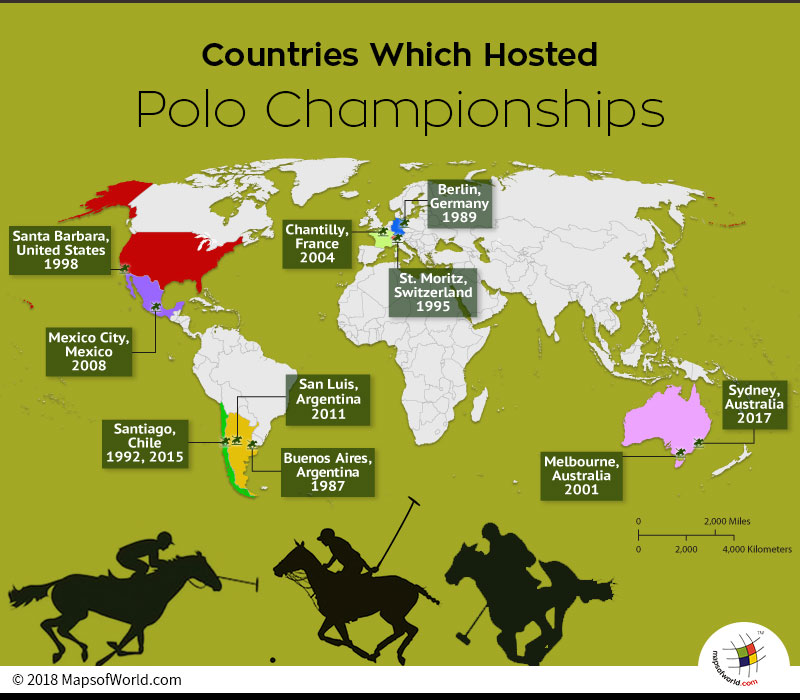 Played on a horseback, polo is much like hockey where the players move the ball towards the goal of the opposing teams. The sport originated in Persia (now Iran) in the 6th century BC.
It had become a national sport in Persia, played by both men and women. It gradually became popular in other Arabian nations, and was brought into India by Muslim invaders in the 13th century. The British tea planters in Assam picked it up and years later in 1859, first European Polo Club was formed. Eventually, the love for the Polo spread around the world.
Today, Polo, which requires both speed and agility, is a popular sport. Countries from six continents take part in the numerous polo championships that are held throughout the year. The World Polo Championship is one of the famous global competition and the Federation of International Polo is the governing body which organizes the event.
The first World Polo Championship (FIP) was inaugurated in year 1987 in Argentina, by Marcos Uranga, then President of the Argentine Polo Association, in a bid to widen the scope of international polo. The game underwent numerous changes as the years passed by. For example, in the very beginning of the championship, organizers decided to invalidate the factor of horses. Thus, element of luck was added and each team was allotted matched strings of 28 horses by draw. Argentina, the host nation, itself had won the first championship.
At present, there are 8 teams which compete in the tournament, and the last championship was held in Sydney, Australia. It was also won by the Argentina. In fact, Argentina is the Champion of Polo as it has won the crown a record number five times.
Find here the list of nations who have hosted the much interesting World Polo Championship:
| | |
| --- | --- |
| Year | City and Country |
| 1987 | Buenos Aires,  Argentina |
| 1989 | Berlin,  Germany |
| 1992 | Santiago,  Chile |
| 1995 | Sankt Moritz,   Switzerland |
| 1998 | Santa Barbara,  United States |
| 2001 | Melbourne,  Australia |
| 2004 | Chantilly,  France |
| 2008 | Mexico City,  Mexico |
| 2011 | Estancia Grande,  Argentina |
| 2015 | Santiago,  Chile |
| 2017 | Sydney,  Australia |
Related info: