California City Maps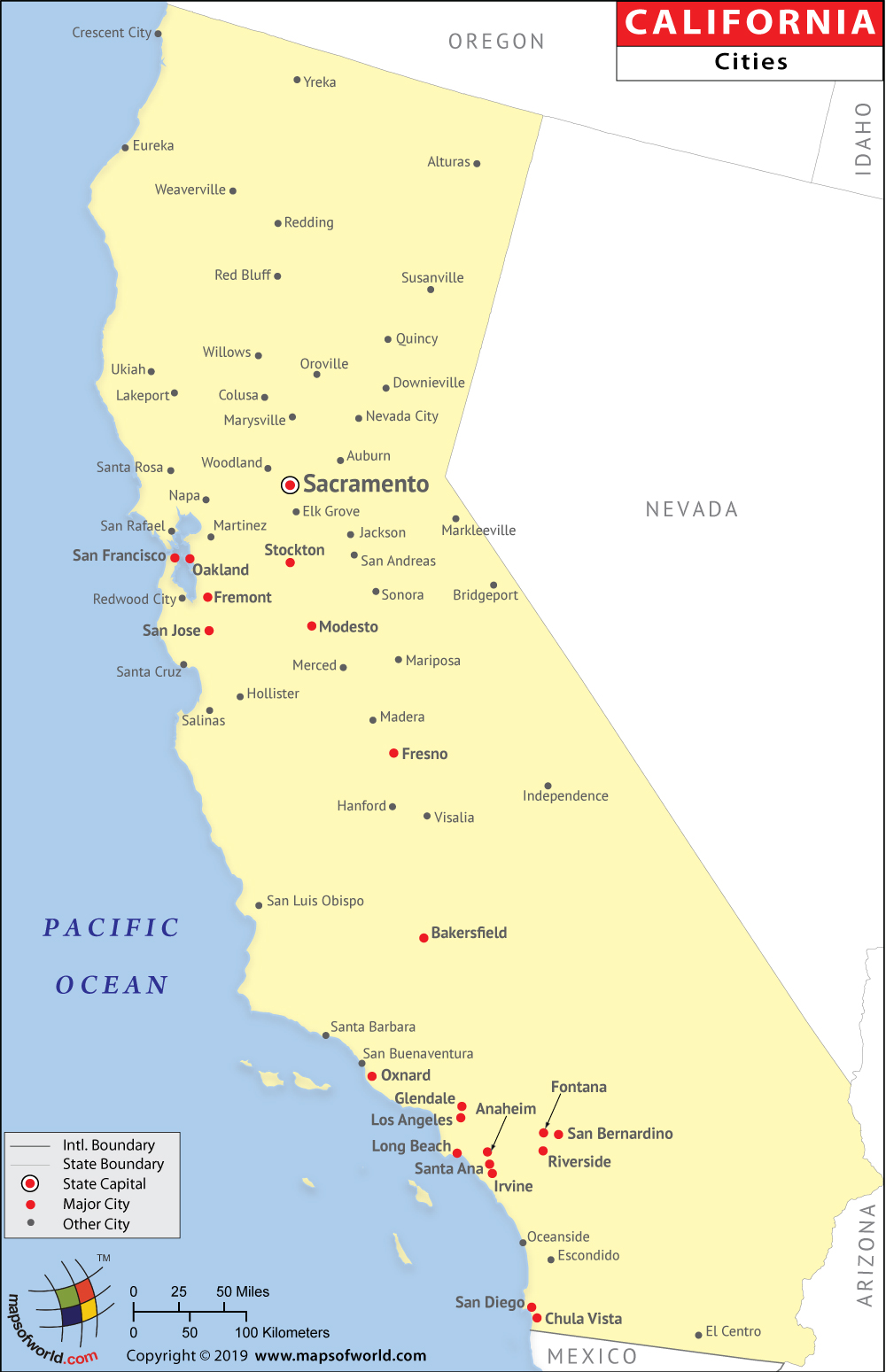 California, the third largest state in the United States by area, comprises 482 municipalities. Sacramento is the capital of California. It became the first incorporated city of the state in 1850. With a population of 493,025 inhabitants, Sacramento is the 6th largest city in California and the 35th largest in the country. Los Angeles is the largest city in California and is home to Hollywood, the most significant film industry in the world. Jurupa Valley is the most recent city and was incorporated on July 1, 2011. Vernon, home to just 112 people, is the smallest city by population. Amador City is the smallest by area, covering 0.31 square miles. The total population in California, as per the US Bureau estimate of 2018, is 39,557,045.
From the hubbub of Hollywood to the natural grandeur of Yosemite,' The Golden State' is a treasure worth exploring. The state is split into 58 counties. While San Bernardino County is the largest county by area in the contiguous US, Los Angeles County is the most populous county. Sacramento is the state capital and California's fourth largest city.
Los Angeles, the kernel of the entertainment industry, is the second largest city in the US behind New York. The Getty Center, Griffith Park and Observatory, Hollywood Sign, Venice Beach Boardwalk, Sunset Boulevard, and Malibu Beach are popular places to visit in Los Angeles.
San Francisco, also known as "The City by the Bay," is home to the emblematic Golden Gate Bridge, Alcatraz Island, Coit Tower, and the largest Chinatown in North America. Nicknamed "America's Finest City," San Diego is the second largest city in the state. Located within the San Francisco Bay Area, San Jose (also called the "Capital of Silicon Valley") is the largest city in Northern California. Fresno, Oakland, Bakersfield, Anaheim, Santa Ana, Modesto, and Pasadena are other major cities in California.
Getting In and Around
Los Angeles International Airport (LAX), San Francisco International Airport (SFO), and San Diego International Airport (SAN) are the busiest airports in California.
Amtrak operates Coast Starlight, Southwest Chief, Sunset Limited, Texas Eagle, Pacific Surfliner, San Joaquin, California Zephyr, and Capitol Corridor through the state.
I-5, I-8, I-10, I-15, I-40, and I-80 are primary interstate highways in California. U.S. Route 101 and State Route 1 run along most of the Pacific coastline of California.
List of Cities in California
| S.No. | City | County | Population estimate 2015 |
| --- | --- | --- | --- |
| 1 | Los Angeles | Los Angeles | 39,71,883 |
| 2 | San Diego | San Diego | 13,94,928 |
| 3 | San Jose | Santa Clara | 10,26,908 |
| 4 | San Francisco | San Francisco | 8,84,521 |
| 5 | Fresno | Fresno | 5,27,438 |
| 6 | Sacramento | Sacramento | 4,90,712 |
| 7 | Long Beach | Los Angeles | 4,74,140 |
| 8 | Oakland | Alameda | 4,17,870 |
| 9 | Bakersfield | Kern | 3,73,640 |
| 10 | Anaheim | Orange | 3,50,742 |
| 11 | Santa Ana | Orange | 3,34,909 |
| 12 | Riverside | Riverside | 3,22,424 |
| 13 | Stockton | San Joaquin | 3,05,658 |
| 14 | Chula Vista | San Diego | 2,65,757 |
| 15 | Irvine | Orange | 2,56,927 |
| 16 | Fremont | Alameda | 2,32,206 |
| 17 | San Bernardino | San Bernardino | 2,16,108 |
| 18 | Modesto | Stanislaus | 2,11,266 |
| 19 | Fontana | San Bernardino | 2,07,460 |
| 20 | Oxnard | Ventura | 2,07,254 |
| 21 | Moreno Valley | Riverside | 2,04,198 |
| 22 | Huntington Beach | Orange | 2,01,899 |
| 23 | Glendale | Los Angeles | 2,01,020 |
| 24 | Santa Clarita | Los Angeles | 1,82,371 |
| 25 | Oceanside | San Diego | 1,75,691 |
| 26 | Garden Grove | Orange | 1,75,393 |
| 27 | Rancho Cucamonga | San Bernardino | 1,75,236 |
| 28 | Santa Rosa | Sonoma | 1,75,155 |
| 29 | Ontario | San Bernardino | 1,71,214 |
| 30 | Elk Grove | Sacramento | 1,66,913 |
| 31 | Corona | Riverside | 1,64,226 |
| 32 | Lancaster | Los Angeles | 1,61,103 |
| 33 | Palmdale | Los Angeles | 1,58,351 |
| 34 | Hayward | Alameda | 1,58,289 |
| 35 | Salinas | Monterey | 1,57,380 |
| 36 | Pomona | Los Angeles | 1,53,266 |
| 37 | Sunnyvale | Santa Clara | 1,51,754 |
| 38 | Escondido | San Diego | 1,51,451 |
| 39 | Torrance | Los Angeles | 1,48,475 |
| 40 | Pasadena | Los Angeles | 1,42,250 |
| 41 | Orange | Orange | 1,40,992 |
| 42 | Fullerton | Orange | 1,40,847 |
| 43 | Roseville | Placer | 1,30,269 |
| 44 | Visalia | Tulare | 1,30,104 |
| 45 | Thousand Oaks | Ventura | 1,29,339 |
| 46 | Concord | Contra Costa | 1,28,667 |
| 47 | Simi Valley | Ventura | 1,26,788 |
| 48 | Santa Clara | Santa Clara | 1,26,215 |
| 49 | Victorville | San Bernardino | 1,22,225 |
| 50 | Vallejo | Solano | 1,21,253 |
| 51 | Berkeley | Alameda | 1,20,972 |
| 52 | El Monte | Los Angeles | 1,16,732 |
| 53 | Downey | Los Angeles | 1,14,219 |
| 54 | Carlsbad | San Diego | 1,13,453 |
| 55 | Costa Mesa | Orange | 1,13,204 |
| 56 | Fairfield | Solano | 1,12,970 |
| 57 | Temecula | Riverside | 1,12,011 |
| 58 | Inglewood | Los Angeles | 1,11,666 |
| 59 | Antioch | Contra Costa | 1,10,542 |
| 60 | Murrieta | Riverside | 1,09,830 |
| 61 | Richmond | Contra Costa | 1,09,708 |
| 62 | Ventura | Ventura | 1,09,708 |
| 63 | West Covina | Los Angeles | 1,08,484 |
| 64 | Norwalk | Los Angeles | 1,07,140 |
| 65 | Daly City | San Mateo | 1,06,562 |
| 66 | Burbank | Los Angeles | 1,05,319 |
| 67 | Santa Maria | Santa Barbara | 1,05,093 |
| 68 | Clovis | Fresno | 1,04,180 |
| 69 | El Cajon | San Diego | 1,03,679 |
| 70 | San Mateo | San Mateo | 1,03,536 |
| 71 | Rialto | San Bernardino | 1,03,132 |
| 72 | Vista | San Diego | 1,00,890 |
| 73 | Jurupa Valley | Riverside | 1,00,314 |
| 74 | Compton | Los Angeles | 98,462 |
| 75 | Mission Viejo | Orange | 97,156 |
| 76 | Vacaville | Solano | 96,803 |
| 77 | South Gate | Los Angeles | 96,401 |
| 78 | Hesperia | San Bernardino | 93,295 |
| 79 | Carson | Los Angeles | 93,281 |
| 80 | Santa Monica | Los Angeles | 93,220 |
| 81 | San Marcos | San Diego | 92,931 |
| 82 | Westminster | Orange | 92,114 |
| 83 | Santa Barbara | Santa Barbara | 91,842 |
| 84 | Redding | Shasta | 91,582 |
| 85 | San Leandro | Alameda | 90,712 |
| 86 | Chico | Butte | 90,316 |
| 87 | Hawthorne | Los Angeles | 88,451 |
| 88 | Livermore | Alameda | 88,126 |
| 89 | Indio | Riverside | 87,533 |
| 90 | Whittier | Los Angeles | 87,438 |
| 91 | Menifee | Riverside | 87,174 |
| 92 | Newport Beach | Orange | 87,127 |
| 93 | Tracy | San Joaquin | 87,075 |
| 94 | Citrus Heights | Sacramento | 87,056 |
| 95 | Chino | San Bernardino | 85,595 |
| 96 | Alhambra | Los Angeles | 85,551 |
| 97 | Redwood City | San Mateo | 85,288 |
| 98 | Hemet | Riverside | 83,861 |
| 99 | Buena Park | Orange | 83,270 |
| 100 | Lake Forest | Orange | 82,492 |