California Map with Cities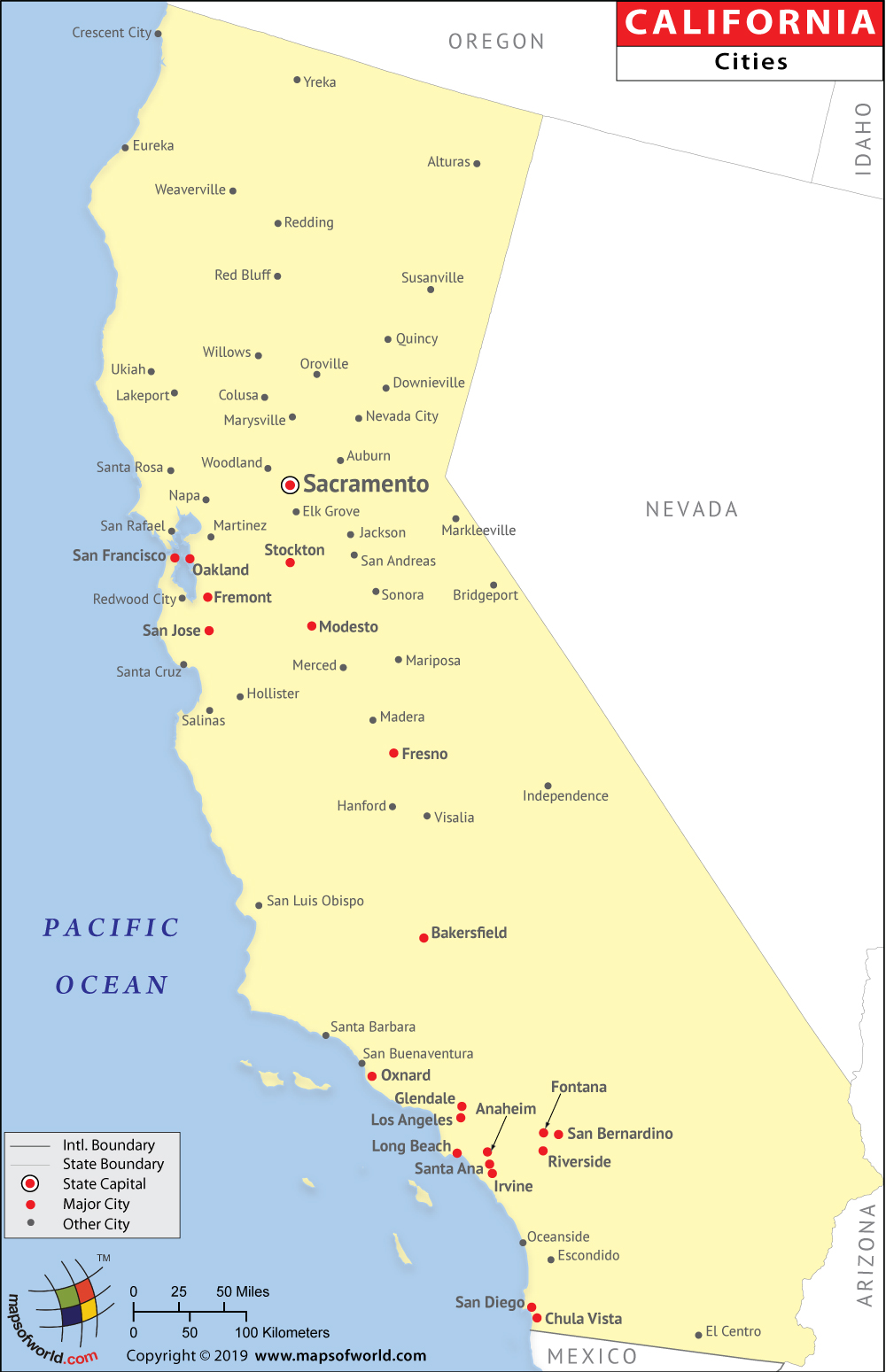 Map of California Cities
Map of California Cities provides you a comprehensive overview of the cities across California, allowing you to navigate, discover, and gather information about each city's location.
Cities in California
California has many different cities, and each one has its own unique character and things to offer. Some cities are big and busy, while others are quiet and near the coast. California's cities represent the state's diverse culture, economy, and geography. Whether you want to visit exciting city centers, enjoy beautiful beaches, or experience nature, you'll find something for everyone in California.
How Many Cities are in California
With 482 municipalities, California boasts a large number of cities. The state's expansive geography accommodates a wide range of urban centers, each contributing to the vibrant tapestry of California's landscape. Our California Map with Cities helps you visualize the sheer number and distribution of cities across the state, showcasing the extensive opportunities for exploration and discovery.
Biggest Cities in California
The biggest cities in California are the ones with the largest populations. These cities are home to many people and offer a wide range of opportunities and attractions. Some of the biggest cities in California include Los Angeles, San Diego, San Jose, San Francisco, and Fresno. You can see all these cities marked on the California Map with cities above. These cities have bustling streets, tall buildings, and plenty of things to see and do. You can find famous landmarks, cultural events, and a vibrant city life in these big cities.
Safest Cities in California
When it comes to safety, some cities in California stand out for their secure environments. These cities prioritize the well-being and security of their residents and visitors. The safest cities in California include communities such as Irvine, Sunnyvale, Thousand Oaks, Murrieta, and Santa Clara. These cities have lower crime rates and take proactive measures to ensure the safety of their residents. By focusing on creating secure neighborhoods and implementing effective law enforcement strategies, these cities provide peace of mind to those who live or visit there.
Best Cities to Live in California
California is home to several cities that offer a high quality of life and a range of amenities, making them some of the best places to live in the state. These cities provide residents with excellent opportunities for work, education, and recreation. Some of the best cities to live in California include San Francisco, San Diego, Sacramento, Irvine, and San Jose. These cities boast thriving economies, top-notch schools, beautiful parks, and a variety of cultural and entertainment options.
List of Cities in California
| S.No. | City | County | Population estimate 2021 |
| --- | --- | --- | --- |
| 1 | Los Angeles | Los Angeles | 3,898,747 |
| 2 | San Diego | San Diego | 1,437,725 |
| 3 | San Jose | Santa Clara | 1,037,529 |
| 4 | San Francisco | San Francisco | 896,047 |
| 5 | Fresno | Fresno | 537,195 |
| 6 | Sacramento | Sacramento | 545,776 |
| 7 | Long Beach | Los Angeles | 472,150 |
| 8 | Oakland | Alameda | 440,646 |
| 9 | Bakersfield | Kern | 409,725 |
| 10 | Anaheim | Orange | 359,339 |
| 11 | Santa Ana | Orange | 334,217 |
| 12 | Riverside | Riverside | 334,099 |
| 13 | Stockton | San Joaquin | 313,948 |
| 14 | Chula Vista | San Diego | 284,240 |
| 15 | Irvine | Orange | 287,401 |
| 16 | Fremont | Alameda | 239,532 |
| 17 | San Bernardino | San Bernardino | 233,120 |
| 18 | Modesto | Stanislaus | 218,454 |
| 19 | Fontana | San Bernardino | 221,451 |
| 20 | Oxnard | Ventura | 216,239 |
| 21 | Moreno Valley | Riverside | 220,560 |
| 22 | Huntington Beach | Orange | 205,295 |
| 23 | Glendale | Los Angeles | 203,796 |
| 24 | Santa Clarita | Los Angeles | 210,888 |
| 25 | Oceanside | San Diego | 176,193 |
| 26 | Garden Grove | Orange | 181,402 |
| 27 | Rancho Cucamonga | San Bernardino | 179,815 |
| 28 | Santa Rosa | Sonoma | 177,586 |
| 29 | Ontario | San Bernardino | 193,221 |
| 30 | Elk Grove | Sacramento | 183,652 |
| 31 | Corona | Riverside | 172,363 |
| 32 | Lancaster | Los Angeles | 166,324 |
| 33 | Palmdale | Los Angeles | 166,610 |
| 34 | Hayward | Alameda | 168,103 |
| 35 | Salinas | Monterey | 163,316 |
| 36 | Pomona | Los Angeles | 154,745 |
| 37 | Sunnyvale | Santa Clara | 157,924 |
| 38 | Escondido | San Diego | 155,060 |
| 39 | Torrance | Los Angeles | 144,710 |
| 40 | Pasadena | Los Angeles | 142,647 |
| 41 | Orange | Orange | 140,729 |
| 42 | Fullerton | Orange | 141,977 |
| 43 | Roseville | Placer | 141,500 |
| 44 | Visalia | Tulare | 139,254 |
| 45 | Thousand Oaks | Ventura | 127,690 |
| 46 | Concord | Contra Costa | 131,950 |
| 47 | Simi Valley | Ventura | 127,766 |
| 48 | Santa Clara | Santa Clara | 128,739 |
| 49 | Victorville | San Bernardino | 123,441 |
| 50 | Vallejo | Solano | 122,105 |
| 51 | Berkeley | Alameda | 122,532 |
| 52 | El Monte | Los Angeles | 116,724 |
| 53 | Downey | Los Angeles | 113,520 |
| 54 | Carlsbad | San Diego | 116,335 |
| 55 | Costa Mesa | Orange | 114,707 |
| 56 | Fairfield | Solano | 118,950 |
| 57 | Temecula | Riverside | 118,059 |
| 58 | Inglewood | Los Angeles | 109,503 |
| 59 | Antioch | Contra Costa | 114,433 |
| 60 | Murrieta | Riverside | 117,040 |
| 61 | Richmond | Contra Costa | 114,118 |
| 62 | Ventura | Ventura | 112,654 |
| 63 | West Covina | Los Angeles | 109,422 |
| 64 | Norwalk | Los Angeles | 109,291 |
| 65 | Daly City | San Mateo | 108,863 |
| 66 | Burbank | Los Angeles | 108,036 |
| 67 | Santa Maria | Santa Barbara | 107,476 |
| 68 | Clovis | Fresno | 108,443 |
| 69 | El Cajon | San Diego | 104,089 |
| 70 | San Mateo | San Mateo | 104,079 |
| 71 | Rialto | San Bernardino | 104,080 |
| 72 | Vista | San Diego | 102,878 |
| 73 | Jurupa Valley | Riverside | 105,580 |
| 74 | Compton | Los Angeles | 95,665 |
| 75 | Mission Viejo | Orange | 95,985 |
| 76 | Vacaville | Solano | 100,643 |
| 77 | South Gate | Los Angeles | 97,362 |
| 78 | Hesperia | San Bernardino | 96,089 |
| 79 | Carson | Los Angeles | 94,824 |
| 80 | Santa Monica | Los Angeles | 92,593 |
| 81 | San Marcos | San Diego | 92,670 |
| 82 | Westminster | Orange | 92,045 |
| 83 | Santa Barbara | Santa Barbara | 91,443 |
| 84 | Redding | Shasta | 91,607 |
| 85 | San Leandro | Alameda | 88,757 |
| 86 | Chico | Butte | 90,524 |
| 87 | Hawthorne | Los Angeles | 88,352 |
| 88 | Livermore | Alameda | 89,291 |
| 89 | Indio | Riverside | 92,176 |
| 90 | Whittier | Los Angeles | 87,898 |
| 91 | Menifee | Riverside | 87,905 |
| 92 | Newport Beach | Orange | 85,964 |
| 93 | Tracy | San Joaquin | 88,264 |
| 94 | Citrus Heights | Sacramento | 85,113 |
| 95 | Chino | San Bernardino | 85,872 |
| 96 | Alhambra | Los Angeles | 84,140 |
| 97 | Redwood City | San Mateo | 85,925 |
| 98 | Hemet | Riverside | 86,104 |
| 99 | Buena Park | Orange | 83,529 |
| 100 | Lake Forest | Orange | 85,402 |