France Map: Explore the Geography and Regions of France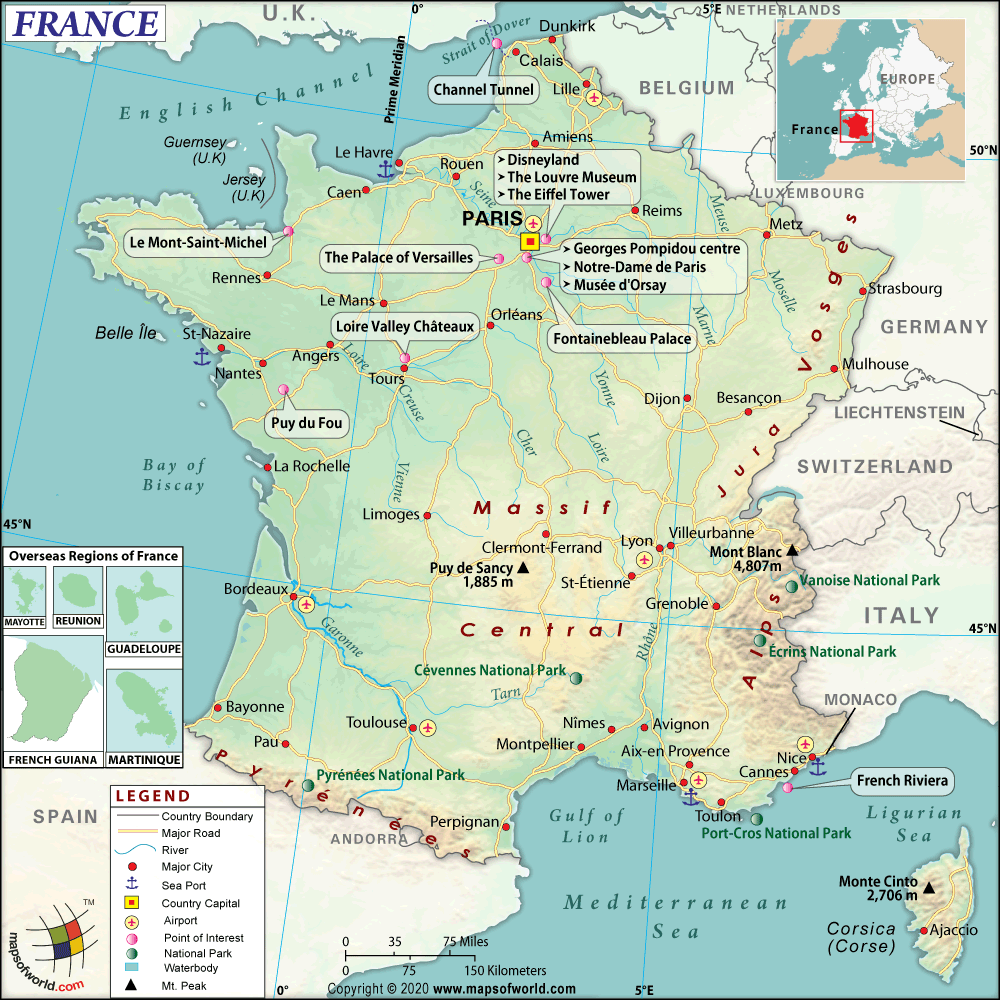 Explore France with our Map
Welcome to MapsOfWorld's France Map page! Discover the beauty and charm of France, a captivating country located in Western Europe. Use our map to navigate through its regions, cities, and landmarks, and embark on a virtual journey through this enchanting destination.
France is bordered by several countries, including Spain to the southwest, Belgium and Luxembourg to the northeast, Germany and Switzerland to the east, and Italy to the southeast. It is also surrounded by the Mediterranean Sea to the south, the Atlantic Ocean to the west, and the English Channel to the northwest.
The country has a diverse geography that encompasses a wide range of landscapes. From the snow-capped peaks of the French Alps to the rolling hills of the French countryside, France offers breathtaking natural beauty. The famous French Riviera along the Mediterranean coast is known for its stunning beaches and glamorous resorts, while the rugged coastline of Brittany and Normandy is dotted with picturesque cliffs and charming seaside towns.
The central part of France is dominated by the Massif Central, a mountainous region with volcanic peaks and deep valleys. The Loire Valley, located in the central part of the country, is renowned for its picturesque vineyards and historic castles.
France is also home to several major rivers, including the Seine, the Rhine, the Loire, and the Garonne, which contribute to the country's fertile plains and agricultural productivity.
Discover Iconic Landmarks and Attractions of France
From the magnificent Eiffel Tower in Paris to the sun-soaked beaches of the French Riviera, France is renowned for its iconic landmarks. Immerse yourself in the charming streets of Paris, indulge in exquisite French cuisine, or venture out to the picturesque countryside dotted with vineyards and medieval castles.
Experience the Rich Cultural Heritage
France boasts a rich cultural heritage that spans centuries. Explore the world-famous Louvre Museum, home to masterpieces like the Mona Lisa, and marvel at the intricate architecture of Notre-Dame Cathedral. Delve into the world of high fashion in Paris, and immerse yourself in the literary and artistic traditions that have shaped France's cultural identity.
Indulge in Gastronomic Delights
France is a gastronomic paradise, renowned for its culinary delights. Indulge in freshly baked pastries, savor the flavors of regional specialties like bouillabaisse and coq au vin, and experience the joy of sipping fine wines from renowned vineyards in regions like Bordeaux and Burgundy.
France is a country of diverse landscapes and regions, each with its own unique characteristics. From the glamorous French Riviera to the picturesque countryside of Provence, each region offers a distinct experience and a glimpse into the country's rich heritage.
We hope you find this page useful in your exploration of France. Don't forget to check out our other pages about Europe and other countries around the world!