How Much Wine does California Produce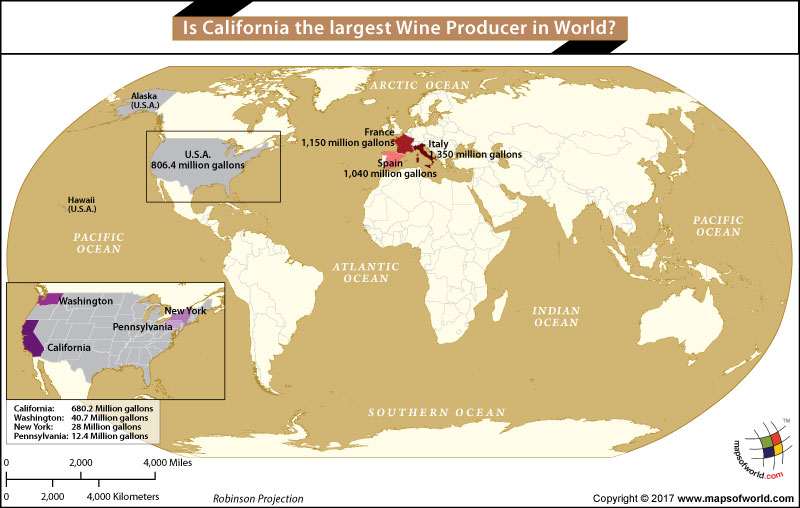 About 85 percent of the wine produced in the United States comes from the state of California. Despite this, California (or even the entire US) is not among the top 3 wine producers in the world. As of 2016, Italy (1.35 billion gallons), France (1.15 billion gallons), and Spain (1.04 billion gallons) are the largest wine producers of the world. In 2016, the US produced some 806.4 million gallons to retain the fourth spot among wine producing countries of the world.
According to a data from the International Organisation of Vine and Wine, over 6.84 billion gallons of wine was produced across the world in the year 2016. Wine consumption of the world (2016) was pegged at about 6.34 billion gallons. The Wine Institute of California says that an average American consumes about 2.83 gallons of wine a year and the total consumption of the country is 913 million gallons (roughly about 34 million hectoliters). Most of this wine comes from California's excellent wineries.
California has over 427,000 acres of vineyards stretching all the way from Mendocino County to Riverside County. The state is home to 107 American Viticulture Areas (AVAs). The North Coast AVA includes some very famous wine regions such as the Napa Valley and the Sonoma Valley. These are part of the premium wine producing region that has come to be known as Wine Country (North California). Some of the wines produced here are among the finest in the world and are comparable with premium French wines. There are about 4,300 wineries in the state of California and over 10,800 in all the 50 states together.
California produced approximately 680.2 million gallons of wine in 2016. Washington state is the second largest wine producing state in the US producing over 40.7 million gallons. This is about 5 percent of the total wine produced in the country. New York and Pennsylvania produce about 28 million and 12.4 million gallons respectively and rank third and fourth among all US states.
In 2014, the Grape and Wine Research and Development Corporation commissioned a research study of 1,271 varieties of grapes from 521 wine regions (covering 44 countries). The top three varietals that dominate worldwide markets are –
Cabernet Sauvignon (country of origin: France) – 6.3 percent market share
Merlot (country of origin: France) – 5.81 percent market share
Airen (country of origin: Spain) – 5.48 percent market share
Related Maps: