Asia Map
The Earth has seven continents, and Asia is the largest, both in terms of area and population. Europe and Africa are located to the West of Asia. Oceania is situated to its South, and North America to its East. Asia consists of 48 countries. Because Asia's borders are not finite, some countries that are located on the continent's western border are, sometimes included in Asia, and other times in Europe. These include Armenia, Azerbaijan, and Georgia. Russia and Turkey are located in both Europe and Asia. The continent comprises diverse climatic conditions ranging from tropical in southern India and Southeast Asia, to arctic and sub-arctic in Siberia.


Map of Asia - Click on any Country for its Map and Information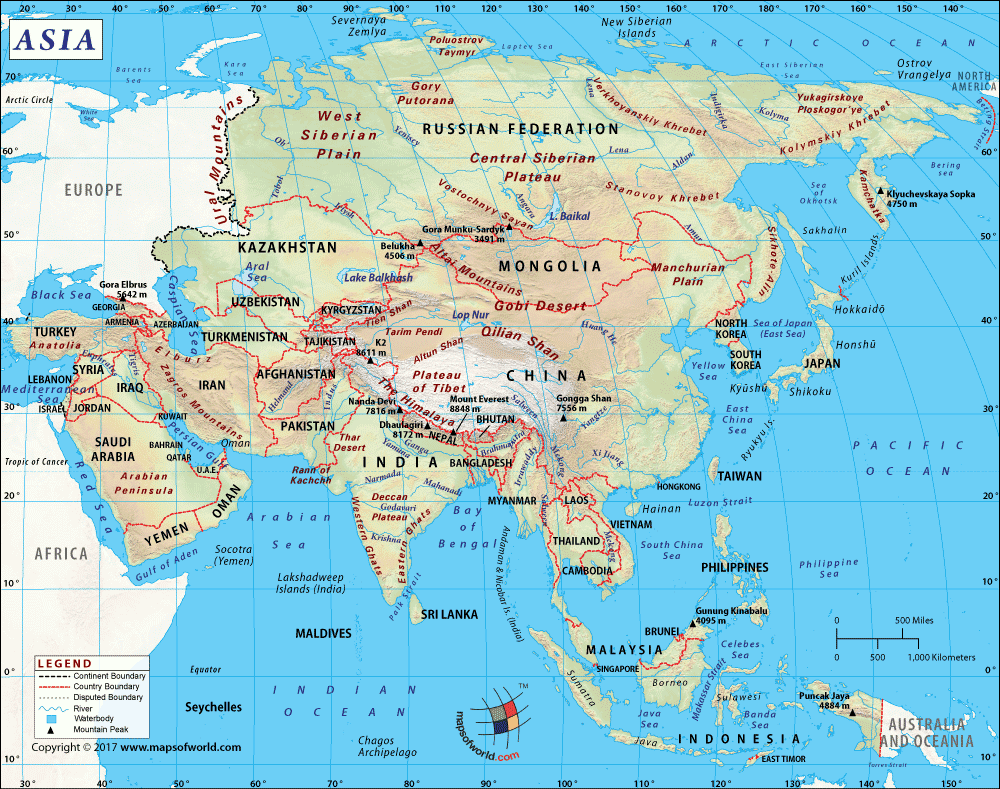 ×
Disclaimer : All efforts have been made to make this image accurate. However Compare Infobase Limited, its directors and employees do not own any responsibility for the correctness or authenticity of the same.
Asia Map Description: This map of Asia shows the clear demarcation of country boundaries of the continent. Disputed boundaries are also shown on the map. The map is a physical view of the major landforms in Asia, including the Himalayas, the Gobi Desert, the Siberian plain, the Central Siberian Plateau, the Manchurian Plain, the Arabian Peninsula, the Qilian Shan, the Zagras Mountains, and the many islands in the south. This map also notes the highest peaks of the continent, including Mt Everest, Gongga Shan, K2, Belukha, Klyuchevskaya Sopka, Gora Elbrus, Nanda Devi, and Dhaulagiri.


Asia Continent
Asia is the largest continent of all the seven continents, both in size and population. Asia covers an area of 17,212,000 sq. miles, with a population of 4.4 billion, which is 62% of the world's population. Asia consists of a total of 48 countries, including; China, India, Kazakhstan, Pakistan, Myanmar, Cambodia, Japan, North Korea, South Korea, Thailand, Philippines, Vietnam, Taiwan, Malaysia, Singapore, Bangladesh, Indonesia, Nepal, Bhutan, Afghanistan, Sri Lanka, Mongolia, Turkmenistan, Kyrgyzstan, Tajikistan, Uzbekistan, and the Middle Eastern Nations of; Oman, Yemen, Saudi Arabia, Israel, Jordon, Lebanon, and Iran. Turkey and Russia span across both Europe and Asia. The average literacy rate of Asia is 65.5%, while the principal languages spoken in this region are Chinese, Hindi, Japanese, Bengali, Urdu, Punjabi, Javanese, and Korean. The primary major religions are; Islam, Christianity, Hinduism, Buddhism, Shintoism, Taoism, and Zoroastrianism.
| | |
| --- | --- |
| Largest Urban Area | Tokyo-Yokohama, Japan (37.8 million people) |
| Highest Elevation | Mount Everest, Nepal: 8,848 meters/29,029 feet |
| Largest Watershed | Ob River (3 million square kilometers/1.15 million square miles) |
| Population Density | 225 people per square mile |
| Largest desert in Asia | Gobi desert |
| Longest river in Asia | Yangtze (3,915 miles) |
Know Geography facts
Last Updated on: August 17th, 2018