World Atlas Map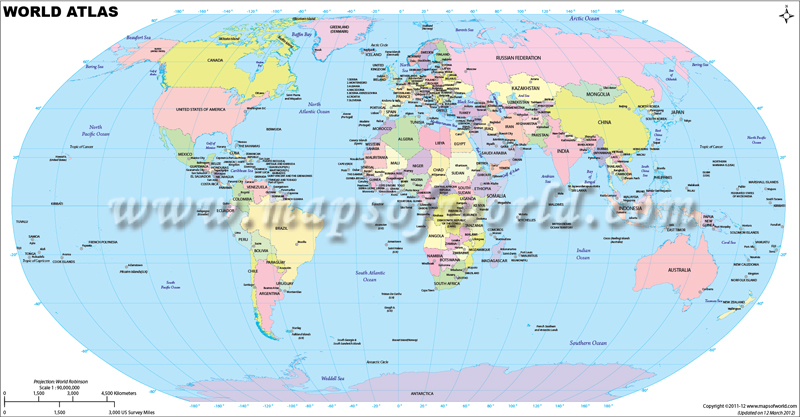 World Atlas Map shows all countries, their capitals, international boundaries, oceans, and latitude & longitude. This colored globe world atlas map helps you find any country you want and know their location in different hemispheres. Currently, there are 195 total countries across the globe. All the countries are labeled in different colors. Besides showcasing the geographic features and political boundaries of different countries, World Atlas provides information on geopolitical aspects, economic statistics, religious and social aspects, and others. Whether you are looking for a printable or customized world atlas map with countries, international boundaries, and country names, you'll find everything at MapOfWorld.com.
Atlas Map of World
This is a colored Atlas map of world in Robinson Projection. This is the best atlas map for exploring countries with international boundaries, seven continents, five oceans, islands, different territories, and latitudes & longitude. Find the exact location of the country you are searching for. You can also search the library of different globe world atlas maps at MapsofWorld.com to know different physical, geographic, and political aspects at a glance.
According to the United Nations, there are 195 countries, out of which 193 are UN member states and two non-member states (The Vatican or Holy See and the State of Palestine). Most of the countries (54) are located in Africa. Forty-eight countries are situated in Asia, 44 countries in Europe, 33 countries in Latin America and the Caribbean, 14 in Oceania, and two in Northern America.
Besides these 195 countries, there are 39 dependent/disputed territories:
Taiwan
Hong Kong
Puerto Rico
Réunion
Macao
Western Sahara
Guadeloupe
Martinique
French Guiana
New Caledonia
French Polynesia
Mayotte
Channel Islands
Guam
Curaçao
Aruba
U.S. Virgin Islands
Isle of Man
Cayman Islands
Bermuda
Northern Mariana Islands
Greenland
American Samoa
Faeroe Islands
Sint Maarten
Turks and Caicos
Gibraltar
British Virgin Islands
Caribbean Netherlands
Cook Islands
Anguilla
Wallis & Futuna
Saint Barthelemy
Saint Helena
Saint Pierre & Miquelon
Montserrat
Falkland Islands
Niue
Tokelau
In terms of land area, the most prominent countries are Russia (16,376,870 sq km or 6,323,145 sq mi), China (9,388,211 sq km or 3,624,809 sq mi), the United States of America (9,147,420 sq km or 3,531,839 sq mi), Canada (9,093,510 sq km or 3,511,024 sq mi), and Brazil (8,358,140 sq km or 3,227,096 sq mi).
However, in terms of population, China is the largest country with a population of 1,439,323,776 (2020 estimates), which is 18.5% of the world's total population. India is the 2nd largest country with a population of 1,380,004,385, 17.7% of the world population. Other countries having the largest populations are the USA, Indonesia, Pakistan, Brazil, and many more.
The most developed countries in terms of the Human Development Index (HDI), according to the United Nations Human Development Report 2020, are Norway, Ireland, Switzerland, Iceland, Hong Kong, China, Germany, Sweden, Australia, Netherlands, and others.
The wealthiest countries in the world with the highest nominal GDPs at current US Dollar exchange rates are the United States of America (US$21.43 trillion), China (US$14.34 trillion), Japan (US$5.08 trillion), Germany (US$3.86 trillion), India (US$2.87 trillion), and many more.
In terms of GDP per Capita (2020), the leading economies are Luxembourg (US$118,359.5), Singapore (US$98,526), Ireland (US$93,612.2), Qatar (US$89,948.6), Bermuda (US$85,263.8), and others.
Explore all the countries in the world atlas to get a clear view of the location of continents, countries, oceans, seas, and latitude & longitude. Know the list of countries in the world that are situated on different continents.