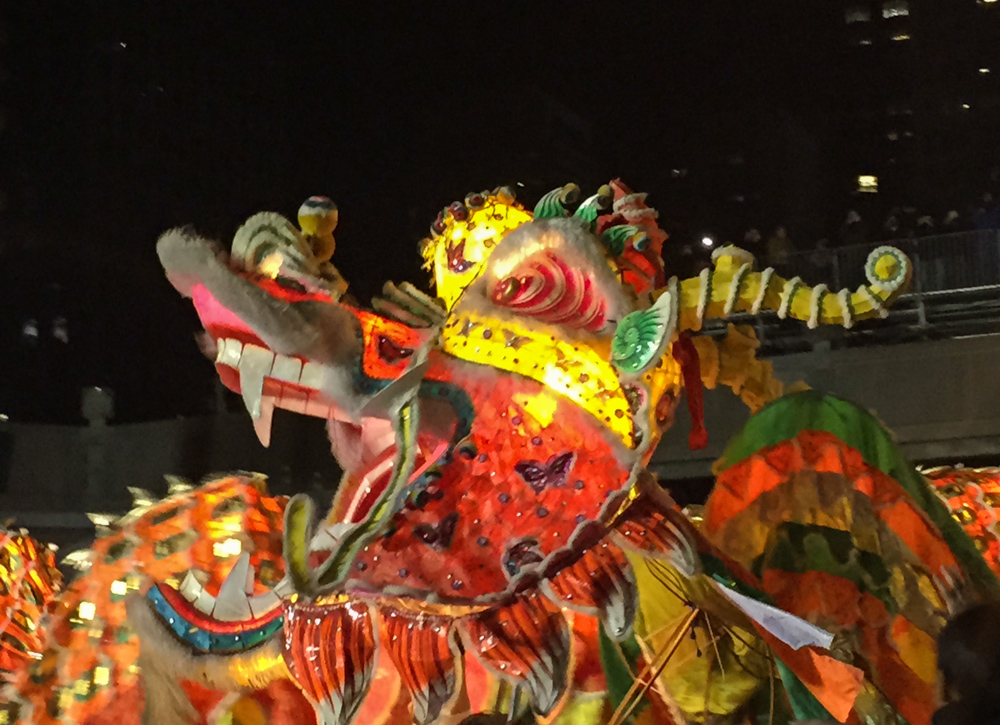 Chinatown's Chinese New Year Parade
Each year, in late January or February, San Francisco's Chinatown is engulfed in Lunar New Year celebrations. From the Flower Fair to the Miss Chinatown pageant and the Community Street Fair on the day of the parade, festivities flood the streets with a vibrant cultural experience.

The Dragon
The Chinese New Year parade is the culmination of weeks of Lunar New Year celebrations in Chinatown to wave goodbye to the Year of the Horse and ring in the Year of the Ram – or sheep, or goat, depending on who you ask. (The translation is ambiguous, so the animal of the zodiac varies according to region. Though goat was traditional in ancient China, most of what I saw in Chinatown were rams, with a few sheep, probably because they're the cutest option. I can't recall seeing any goats.)
In 2016, the Lunar New Year officially began on Monday, February 8, and the parade took place on Saturday, February 20. Held in San Francisco's Chinatown since the 1860s, the parade has served as a way to connect Chinese immigrants to their community as well as share Chinese traditions with others outside the community. As the largest Chinatown outside of Asia, the San Francisco neighborhood hosts one of the top Chinese New Year parades in the world with over 100 groups participating and hundreds of thousands in attendance.
Early in the day was the community street festival, featuring food stands and merchandise booths typical of Chinatown street festivals. The unusual part was the number of corporate booths, with sponsors like McDonalds and Nielsen, mostly offering some type of free giveaway, like a reusable shopping bag. Though there were many people, it was surprisingly well organized (especially for Chinatown), with festival workers managing the lines.
Traditional musicians and other performers entertained on the stage and the streets throughout the day as we found out places to watch the parade. The parade began around the corner of Market and Second, wound its way past Union Square on Post to Powell, and headed down Sutter to finish off where Kearny meets Columbus. The long route meant plenty of places to watch the parade go by.
While the parade itself was free to watch, there was an option to purchase seats on the bleachers at one of a few locations, including right in front of the Hilton and just past it on the final stretch of the parade route. I wouldn't normally advocate paying for something that you can just easily experience for free, but in this case, it might not be a bad idea. Some of these bleacher seats included service offering coffee and hot chocolate, and those with passes could get up and leave to grab food or find a restroom, so it might be worth it the premium.
I ended up next to a couple who came well prepared with comfy chairs and some food. They knew what was up and advised us that the parade could last about 4 hours and gave us an overview of what to expect.
In the parade there were firetrucks and police on motorcycles and on foot, local dignitaries and politicians in cool cars, bands, and many groups from local schools. There were dancers in traditional costumes with fans or ribbons, dancing on stilts or wearing masks, or waving flags.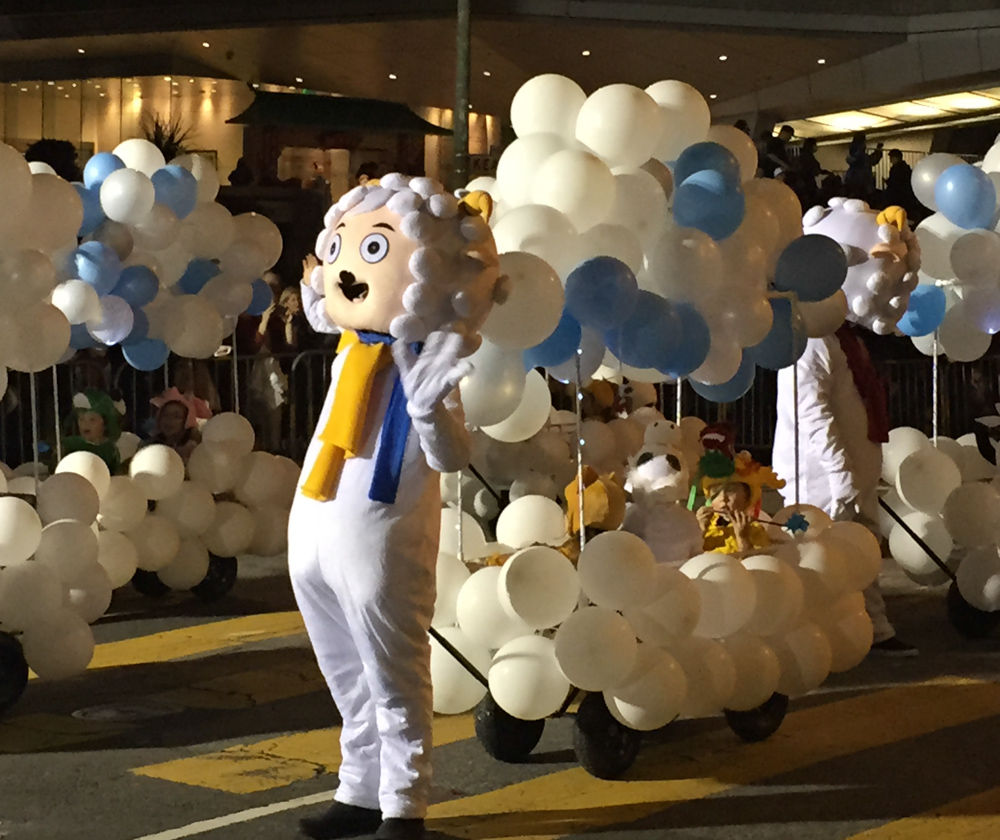 Interesting Parade Groups
There were floats, and again, a surprising number of them were from corporate sponsors. Though several of those sponsors made an effort to make their floats fit in with the rest of the parade (like Cathay Pacific's golden ram and Coca-Cola's glittery creation), others like Southwest, who sponsored enough of the event to have it renamed "the Southwest Airlines Chinese New Year Parade" had banners that stuck out like a sore thumb. They seem to have made little effort to disguise their ads into something more culturally appropriate than their corporate logo on banners.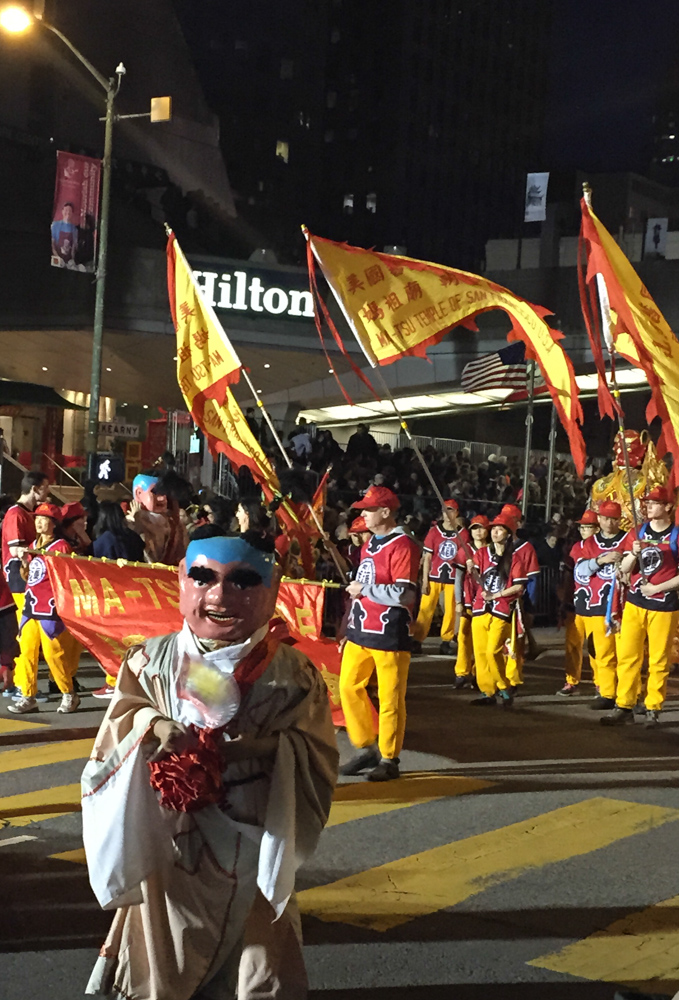 This guy
Fortunately, there were enough other groups in the parade that it didn't feel commercialized and felt more like the community event it should have been. Marching bands from organizations all around the Bay Area and groups of children from local schools – my favorite were the small children dressed as lambs. Local news teams rode by on cable car buses. The winner and other contestants in the Miss Chinatown pageant rode by smiling and waving atop various floats. There were rams everywhere, as well as images of the other animals of the Chinese zodiac, featured on banners and floats.
Most importantly, there were the lion dancers and dragons – the longest of which was 268 feet long and carried by 100 people. There were so many dancing dragons but I never got tired of watching them pass.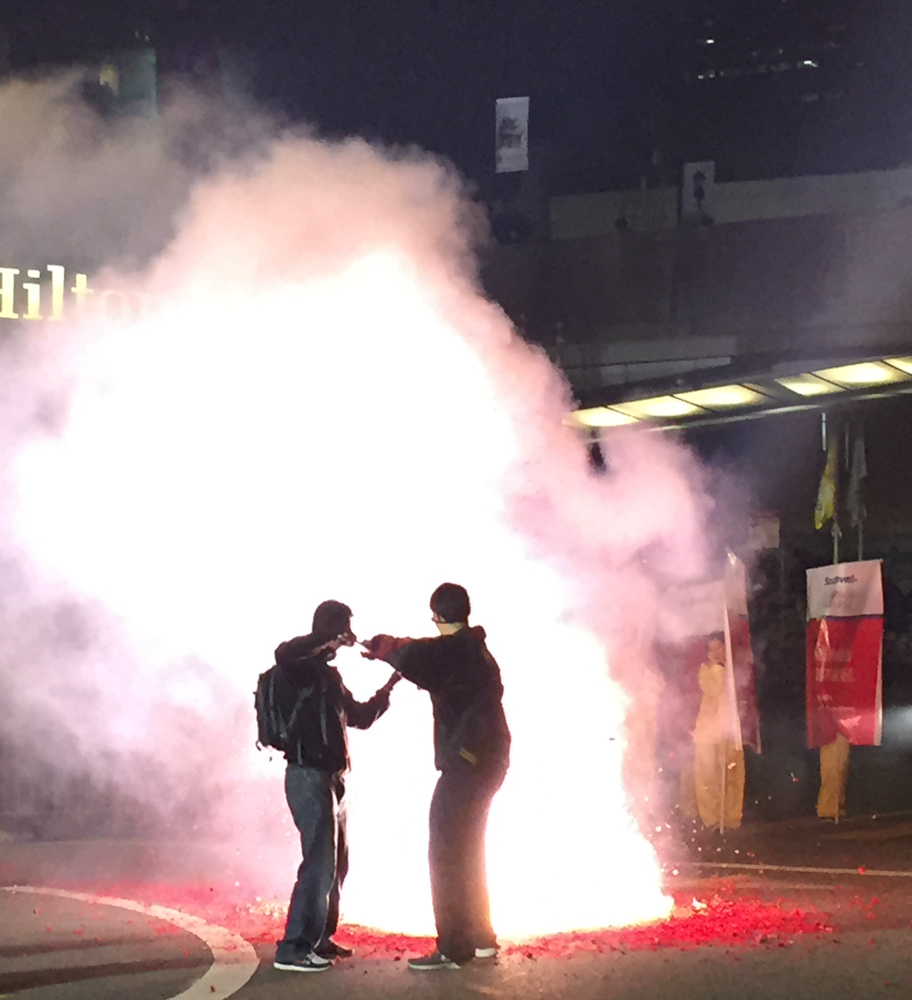 Explosions in the street
Another highlight were the firecrackers. We watched as a few guys set up a tall wire cage, holding what looked like a fishing pole with its line tied up with small red packets. The small boy nearby knew what was coming as soon as he saw the cage, and covered his ears with his hands before burying his head inside the back of his grandmother's shirt. He wasn't exaggerating – it was loud and we were grateful for his warning. At the very end of the parade, another string of explosives was set off directly in front of us, when fortunately for him, the little boy had already gone home. The loud cracks and pops were enough that even I had to cover my ears, and I spent the rest of the evening picking small pieces of red paper that had rained down on us out of my hair.
When the parade ended, the streets of Chinatown were even more chaotic than usual, if you can believe it. None of those many police officers who had participated in the parade seemed to have stuck around to patrol the streets. It felt like a war zone at times, though some people were certainly having fun, with the explosions and smoke coming from the numerous illegal fireworks going off all around us, making it hard to breathe. By night, it was like everyday Chinatown on steroids, with its noisy disorder, but all day was an entertaining cultural event that everyone should experience.
Address: 233 Sansome state 1100, San Francisco, CA 94104
Contact no: 415-391-9680
Website: http://www.chineseparade.com/
Published On:
Tuesday, January 10th, 2017