2016 US Election Results Map
US Presidential Election Results 2016
The 58th U.S. presidential elections are scheduled to be held Tuesday, November 8, 2016. Some 200 million registered voters of the oldest democracy of the world go to vote from 6 A.M. in the morning till 8 P.M. at night (exact timings vary from state to state).
Voters will choose their presidential electors, who in turn will vote for a new president and vice president, through the Electoral College on the basis of the results in their jurisdiction.According to the U.S. constitution, an incumbent president cannot be re-elected more than once. This prevents the incumbent president and Democratic Party member Barack Obama from being elected for a third term. The 2016 presidential elections will determine the 45th President and 48th Vice President of United States of America.
Democrat nominee Hillary Clinton and Republican nominee Donald Trump are the two presidential candidates in the fray this time. They got elected through the presidential primaries held between February and June 2016. Business tycoon Donald Trump emerged the Republican Party's nominee after defeating Senator Ted Cruz, Ohio Governor John Kasich, Senator Marco Rubio and other candidates in the party. Former U.S. Secretary of State and Senator Hillary Clinton became the Democratic Party's nominee after defeating Senator Bernie Sanders. This year's election is going to be really close and also historic irrespective of who wins. If Trump emerges the winner, he will be the oldest president to take office and if it's Clinton, the U.S. will have its first female president. Watch this space for live updates as the election unfolds.
US Presidential Election Results 2012 by State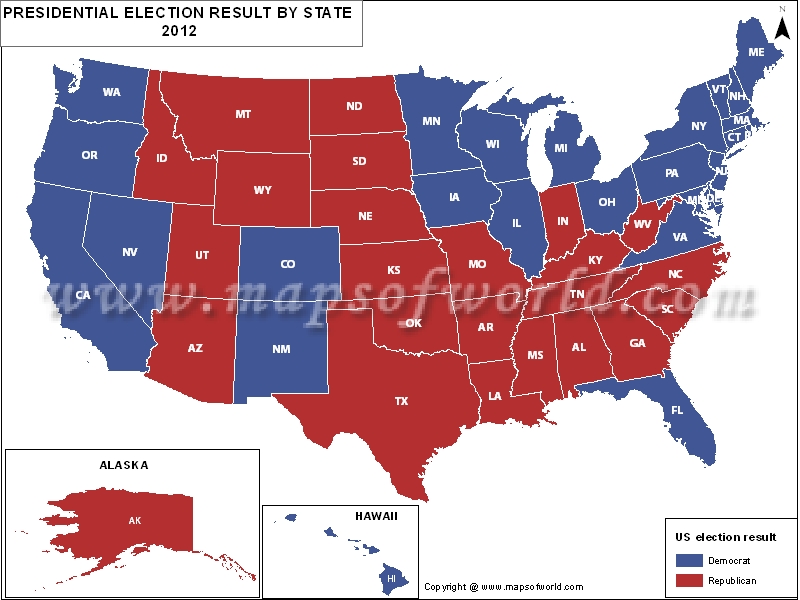 Description : US Presidential election results – The map on winning candidates shows Republicans in red and Democrats in blue in the USA Election 2012.