Greece Election Results Sept 2015
Party
Vote
Seats
Votes
 %
±pp
Won
+/−
Coalition of the Radical Left (SYRIZA)
1.920.538
35.47
0.87
145
4
New Democracy (ND)
1.521.062
28.09
0.28
75
1
Popular Association-Golden Dawn (ΧΑ)
378.682
6.99
0.71
18
1
Democratic Coalition (PASOK-DIMAR)[a]
340.089
6.28
1.12
17
4
Communist Party of Greece (KKE)
300.403
5.55
0.08
15
±0
The River (Potami)
221.324
4.09
1.96
11
6
Independent Greeks-National Patriotic Alliance (ANEL)
199.747
3.69
1.06
10
3
Union of Centrists (EK)
185.917
3.43
1.64
9
9
Popular Unity (LAE)
154.691
2.86
New
0
±0
Greek Anticapitalist Left-Workers Revolutionary Party (ANTARSYA-EEK)
45.934
0.85
0.17
0
±0
United Popular Front (EPAM)
41.503
0.77
New
0
±0
Society (Koinonia)
35.515
0.66
New
0
±0
Recreate Greece (DX)
28.846
0.53
New
0
±0
Democrats-Society of Values-Pirate Party of Greece (D-KA-KPE)
15.225
0.28
New
0
±0
Marxist–Leninist Communist Parties of Greece (KKE (m-l)/M-L KKE)
8.931
0.16
0.03
0
±0
Patriotic Union-Greek Popular Gathering (ELAS)
6.252
0.12
0.04
0
±0
Greek People's Democratic Liberation (ELLADA)
4.422
0.08
0.05
0
±0
Organisation of Communist Internationalists of Greece (OKDE)
2.367
0.04
0.01
0
±0
Organisation for the Reconstruction of the KKE (OAKKE)
2.257
0.04
New
0
±0
Independent candidates
1.139
0.02
±0.00
0
±0
Total
100
300
Parliamentary Election: 2015
On January 25, 2015 Greece voted to elect members to the 300 seat Hellenic Parliament.
Election snapshot:
Total seats: 300
Leading party: SYRIZIA ; Seats: 149
Coalition Partner: ANEL ; Seats: 13
Registered voters: 9,911,495
Votes cast: 6,330,786
Valid votes: 6,181,274
Invalid ballots: 114,703
Blank ballots: 34,809
Abstentions: 3,580,709
The 2015 election was unique on account of several reasons. 134 out of 300 Members of Parliament were voted in for the first time. This Parliament has 68 women Members of Parliament, the highest representation of women in parliament, till date. For the first time, Members were given the option to take a civil oath instead of a religious one and most decided to opt for the civil oath.
For the first time, the Left-wing party SYRIZIA emerged as the leading party with 149 seats. The constitution mandates a minimum of 151 seats for a party/coalition to form the government, therefore the Alexis Tsipras-led SYRIZIA reached out to Panos Kammenos-led ANEL in a coalition agreement to form the government. On January 26, 2015 Alexis Tsipras was sworn in as Prime Minister.
SYRIZIA's remarkable performance comes in the backdrop of serious financial crisis being faced by Greece, with the strong discontent and opposition from the people to further austerity measures being implemented on pressure from the European Union (EU), International Monetary Fund (IMF) and European Central Bank (ECB).
People discontent can be gauged by the fact that the earlier leading party, the Antonis Samaras-led New Democracy (ND) was down to just 76 seats from 129, won in last elections held in 2012. Evangelos Venizelos-led PASOK, ND's coalition partner, won only 13 seats from 33 won in 2012. However, Stavros Theodorakis-led To Potami, despite being a new party, managed to win 17 seats polling 6.05% votes.
Notable absentee from the Parliament was George Papandreou, former Prime Minister and former Chairman of PASOK. This was the first time since 1923 that a member of the Papandreou family was not represented in Parliament.
The number of Members of Parliament elected for the first time were 88 from SYRIZIA, New Democracy-14, Golden Dawn-5, To Potami-14, KKE-5, ANEL-6, PASOK-3.
Party-wise results in 2015
Party: SYRIZIA
Leader: Alexis Tsipras; representing Athens A
Seats won in 2015: 149
Seat won in 2012: 71
Popular vote: 2,246,064
Percentage polled: 36.34%
Party: New Democracy (ND)
Leader: Antonis Samaras; representing Messenia
Seats won in 2015: 76
Seat won in 2012: 129
Popular vote: 1,718,815
Percentage polled: 27.81%
Party: Golden Dawn (XA)
Leader: Nikolaos Michaloliakos ; representing Athens A
Seats won in 2015: 17
Seat won in 2012: 18
Popular vote: 388,447
Percentage polled: 6.28%
Party: The River (To Potami)
Leader: Stavros Theodorakis ; representing Chania
Seats won in 2015: 17
Seat won in 2012: Did not stand
Popular vote: 373,916
Percentage polled: 6.05%
Party: Communist Party of Greece (KKE)
Leader: Dimitris Koutsoumpas; representing Athens B
Seats won in 2015: 15
Seat won in 2012: 12
Popular vote: 338,138
Percentage polled: 5.47%
Party: Independent Greeks (ANEL)
Leader: Panos Kammenos ; representing Athens B
Seats won in 2015: 13
Seat won in 2012: 20
Popular vote: 293,406
Percentage polled: 4.8%
Party: Panhellenic Socialist Movement (PASOK)
Leader: Evangelos Venizilos ; representing Thessaloniki A
Seats won in 2015: 13
Seat won in 2012: 33
Popular vote: 289,482
Percentage polled: 4.7%
Region-wise vote share between the two top parties; SYRIZIA & ND
The regions where SYRIZIA got a higher vote share over ND were:
Achaea (43.06%), Aetolia-Akarnania (36.53%), Arta (44.14%), Athens A (33.61%), Athens B (37.08%), Attica (37.08%), Boeotia (41.55%), Cephalonia (38.25%), Chalkidiki (33.51%), Chania (43.10%), Corfu (44.92%), Corinthia (36.77%), Cyclades (35.12%), Dodecanese (33.26%), Elis (37.93%), Euboea (40.51%), Evrytania (37.13%), Florina (36.31%), Imathia (33.94%), Ioannina (39.57%), Heraklion (47.85%), Karditsa (38.91%), Kavala (31.27%), Kozani (33.11%), Larissa (36.14%), Lasithi (43.50%), Lefkada (36.00), Lemnos (32.94%), Magnesia (40.28%), Naxos (35.12%), Phocis (34.77%), Phthiotis (35.71%), Piraeus A (34.40%), Piraeus B (42.07%), Preveza (37.94%), Rethymno (39.55%), Rhodope (48.45%), Samos (36.17%), Thessaloniki A (34.12%), Thessaloniki B (31.61%), Trikala (36.16%), Xanthi (45.40%), Zakynthos (42.99%).
The regions where ND got a higher vote share over SYRIZIA were:
Argolida (33.76%), Arkadia (36.13%), Chios (38.89%), Drama (34.51%), Evros (37.08%), Kastoria (38.78%), Laconia (35.79%), Messenia (37.96%), Pieria (34.08%), Serres (37.44%), Thesprotia (37.61%).
Source : 
http://en.wikipedia.org/wiki/Greek_legislative_election,_2015
http://en.wikipedia.org/wiki/List_of_members_of_the_Hellenic_Parliament,_2015–
http://www.economist.com/greekgraphs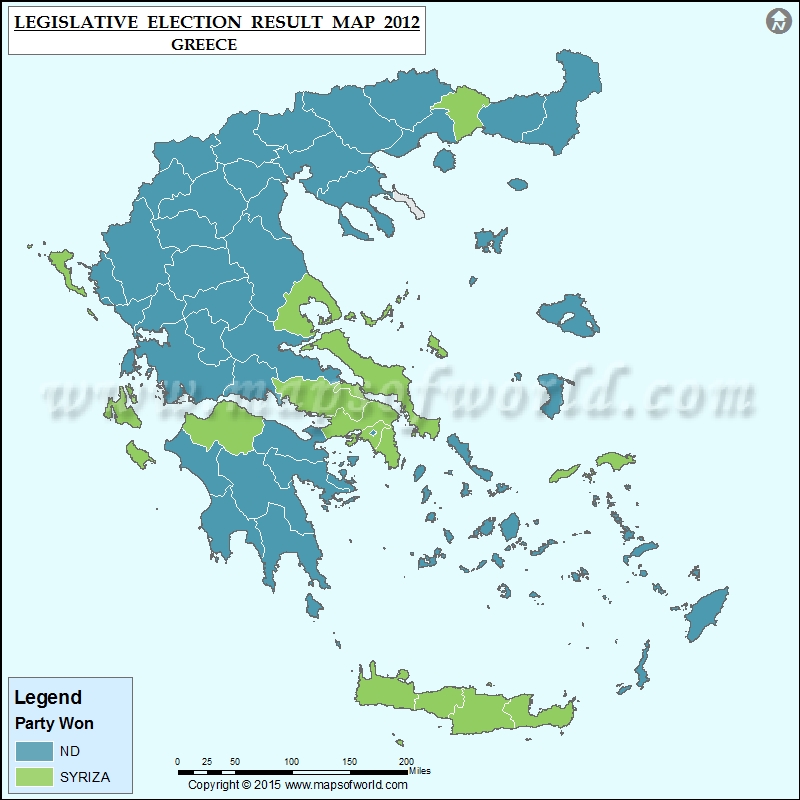 Description : Greece Election Results 2012 Map
| S. No | Political party | Party Leader(s) | Votes | %of Votes | Seats | Seats gain/loss |
| --- | --- | --- | --- | --- | --- | --- |
| 1 | New Democracy (ND) | Antonis Samaras | 1825497 | 29.66 | 129 | 21 |
| 2 | Syriza Unionist Social Front (SYRIZA) | Alexis Tsipras | 1655022 | 26.89 | 71 | 19 |
| 3 | Panhellenic Socialist Movement (PASOK) | Evangelos Venizelos | 756024 | 12.28 | 33 | -8 |
| 4 | Independent Greeks (ANEL) | Panos Kammenos | 462406 | 7.51 | 20 | -13 |
| 5 | Golden Dawn (XA) | Nikolaos Michaloliakos | 426025 | 6.92 | 18 | -3 |
| 6 | Democratic Left (DIMAR) | Fotis Kouvelis | 384986 | 6.25 | 17 | -2 |
| 7 | Communist Party of Greece (KKE) | Aleka Papariga | 277227 | 4.5 | 12 | -14 |
| 8 | Recreate Greece – Action – Liberal Alliance (DX-DRASI-FS) | T. Tzimeros / S. Manos / G. Vallianatos | 98140 | 1.59 | 0 | – |
| 9 | Popular Orthodox Rally (LAOS) | Georgios Karatzaferis | 97099 | 1.58 | 0 | – |
| 10 | Ecologist Greens (OP) | Six-member committee | 54408 | 0.88 | 0 | – |
| 11 | I Don't Pay Movement | Vasilis Papadopoulos | 23699 | 0.39 | 0 | – |
| 12 | Anticapitalist Left Cooperation for the Overthrow (ANTARSYA) | 21-member committee | 20416 | 0.33 | 0 | – |
| 13 | Society: Political Party of the Successors of Kapodistria | Michail Iliadis | 17770 | 0.29 | 0 | – |
| 14 | Union of Centrists (EK) | Vassilis Leventis | 17145 | 0.28 | 0 | – |
| 15 | Pirate Party of Greece (KPE) | I. Panagopoulos | 14170 | 0.23 | 0 | – |
| 16 | Panathinaikos Movement (PANKI) | Yiorgos Betsikas | 12459 | 0.2 | 0 | – |
| 17 | Communist (Marxist-Leninist) / Marxist-Leninist Communist | Four-member committee | 7592 | 0.12 | 0 | – |
| 18 | National Hope (EE) | Yiorgios Papadopoulos | 4290 | 0.07 | 0 | – |
| 19 | Liberal Party (LIBERTAS) | Manolis Kaligiannis | 623 | 0.01 | 0 | – |
| 20 | Independent candidates | NA | 385 | 0 | 0 | – |
| 21 | National Resistance Movement (KEAN) | Ippokratis Savvouras | 81 | 0 | 0 | – |
| 22 | Panagrarian Labour Movement of Greece (PAEKE) | Miltiadis Tzalazidis | 0 | 0 | 0 | – |
| S. No | 2012 Election Result Summary | | |
| --- | --- | --- | --- |
| 1 | Valid votes | 6155464 | 99.01 |
| 2 | Invalid votes | 35961 | 0.58 |
| 3 | Blank votes | 25373 | 0.41 |
| 4 | Totals | 6216798 | 100 |
| 5 | Total electorate and voter turnout | 9947876 | 62.49 |