Peru Map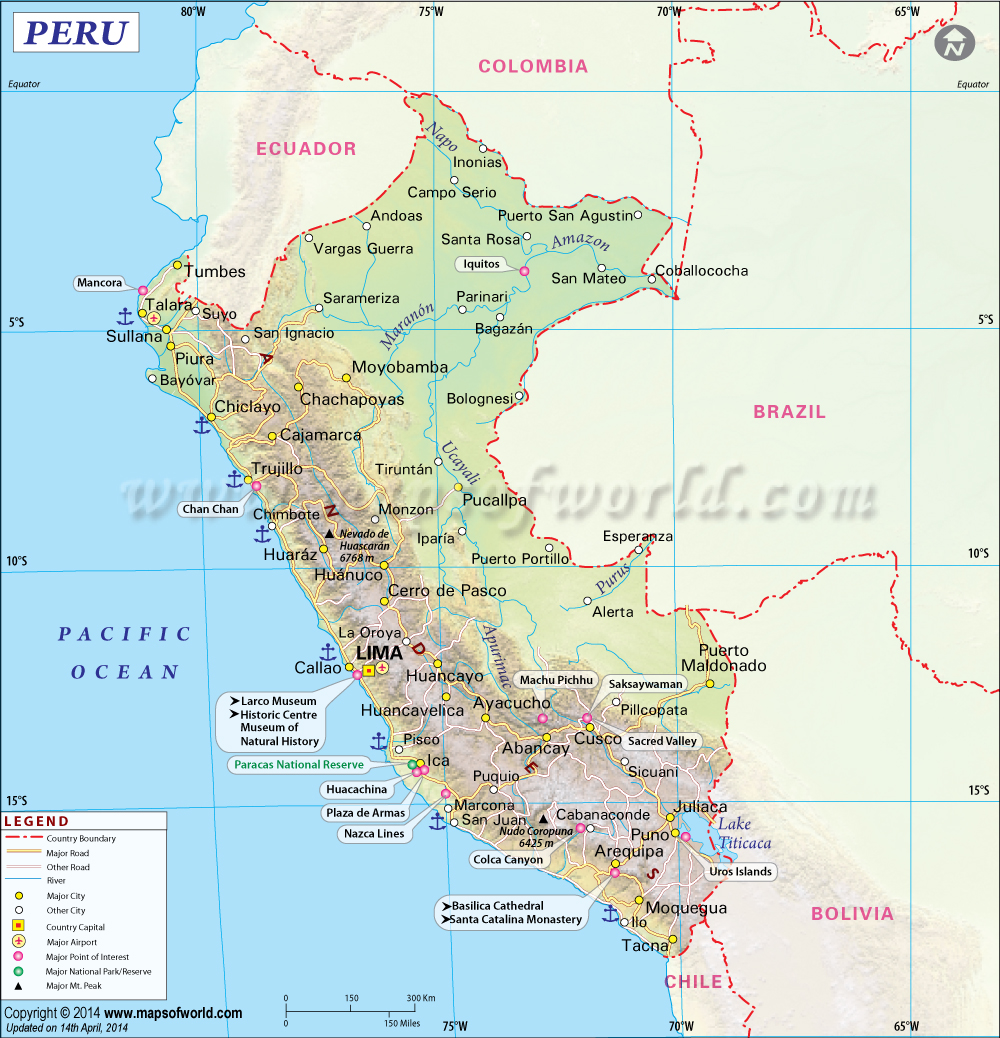 About Peru
Explore this Peru map to learn everything you want to know about this country. Learn about Peru location on the world map, official symbol, flag, geography, climate, postal/area/zip codes, time zones, etc. Check out Peru history, significant states, provinces/districts, & cities, most popular travel destinations and attractions, the capital city's location, facts and trivia, and many more.
| | |
| --- | --- |
| Full name | Republic of Peru |
| Capital City | Lima |
| Language | Quechua, Spanish, Aymara |
| Currency | Nuevo Sol |
| Religion | Roman Catholic, Protestant |
| National Anthem | "Somos libres, seamoslo siempre" that means "We are free, let us remain so forever". |
| Newspaper | Aja, Arequipa al Dia, Business News Americas, Business Peru, Caretas, Correo, Diario Correo, El Bocon, El Chino, El Comercio, El Diario de Cusco, El Peruano etc. |
| Places to Visit | Arequipa, Cuzco, Machu Picchu, Manu National Park, Nazca Lines and many more attractive places are there in Peru. |
| Transport | Airways: LAN Peru, Aero Condor Peru, Taca, Star Peru, and Tans Peru airlines offer frequent flights between capital cities. |
| Shopping | Local handicrafts like alpaca woolen sweaters, carpets made of alpaca and llama, weaving, Indian masks, jewelry and so on are found in this country. Besides that Ceramic works, silversmiths' work, leather works, woodcarvings, straw weaving etc are also found here in cheap price. |
Various ethnicities reside in Peru. Visit this country and enjoy yourself. You will get to see many interesting things here.
Location of Peru: Republic of Peru is located in the western region of South America. The neighboring countries that share their borders are Ecuador and Colombia in the northern side, Bolivia in the southeastern region, Chile in the southern region and Brazil in the eastern side. Peru is also surrounded by the Pacific Ocean on the western region.
Physical Map of Peru : In the surface of Peru, you will find lowlands, highlands, uplands and plateaus. Coastal plains cover the western region of the country. The Andes mountain range covers the central regions of Per and the eastern zone is characterized with Amazon Basin forest and lowlands. The highest peak of the mountain is the Nevado Huascaran that rises 6,768 meters above the sea level. The Lago Titicaca Lake and Amazon River also flow in this country.
Climate of Peru : The climate of Peru swings between tropical and subtropical. The eastern region of the country is known for tropical climate and the western zone is known for arid weather conditions. The mountainous regions are colder than the other places.
The summer months are January, February and March. During this period the temperature remains above 20°C. the summer months are warm and wet. During the period between December and May, the weather becomes very pleasing. So this is a favorite time to the tourists.
Flora and Fauna of Peru :
•  Flora : The vegetation of Peru is diverse with various unique species of trees. If you go towards the coastal region, you will find sparse xerophytes, algarroba, cactus, palm and so on. Pepper trees and several species of eucalyptus also grow in large quantity in the forests of Peru. Some native trees such as wild rubber tree, arsaparilla, barbasco, mahogany, cinchona, ipecac, vanilla, coca, leche caspi, curare etc are also found in this country.
•  Fauna : The animal kingdom of Peru is also rich and it is have many unqiue species. Anchoveta, whale, tuna, swordfish, marlin etc are seen in the water bodies of Peru. Except these, ducks, condor, some species of wild fowl can also be found here. In the mountainous regions, you will find lions that are commonly known as Puma in Peru. Some other animals are alpaca, guanaco, huarizo and so on.
People of Peru : The total population of the Republic of Peru is almost 27,219,264. The Amerindian group forms the majority of this huge population. The minorities are mestizo, white, black, Chinese and Japanese. There are two official languagew of the country, i.e. Spanish and Quechua. However, Aymara, some Amazonian languages are also spoken widely in various corners of the country.
Art, Culture and Music of Peru :
•  Art : Sculpting and paintimng are two very important sections of Peruvian artifacts. Besides that pottery, jewelry, textiles, sculpture etc are also practiced in this country. Ceramic works, woodcarving, silversmiths' work, leather works, straw weaving, textile work etc are also very popular in this country.
•  Culture : In the presence of various ethnic groups, the Republic of Peru has developed a rich and diverse cultural atmosphere. Music and dance are considered as two aspects of Peruvian culture.
•  Music : The music of Peru is very much influenced by the Andean music. The folk music of Peru is very popular and so is the modern Peruvian music. Some Latin music like Salsa and Merengue are also very famous.
Flag of Peru: The flag of the Republic of Peru is simple and significant. It features three vertical bands, which are of same size. The bands in the hoist side and in the fly side are colored in red. The band that is in the middle is white. The white band bears the coat of arms in the center. In the coat of arms, you can see vicuna, featured in a shield and the cinchona tree. The shield also bears a cornucopia colored in yellow, which is pouring Gold coins. A green wreath surrounds all these things.
Economy of Peru : The mineral sources of Peru are abundant. Peru depends on it economically. The agriculture is also developed in this country/ the primary agricultural products are coffee, sugarcane, rice, cotton, corn, plantains, grapes, potatoes, oranges, coca and so on. Some of the fast growing industries are steel industry, metal fabrication industry; mining industry; petroleum industry, fish processing industry, textile industry, natural gas industry etc. The products that are exported to the foreign countries are Gold, zinc, crude petroleum, copper, petroleum products, coffee etc. US, Chile, China, Canada and Switzerland are the primary export partners of Peru.