Dutch Election Results 2017 & 2012 Map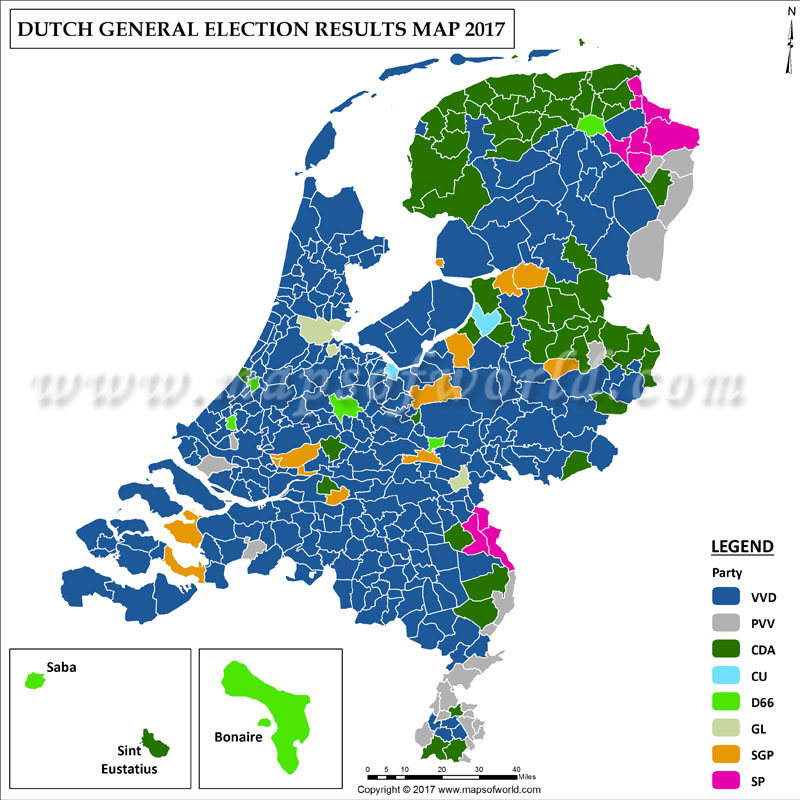 Dutch Election: PM Rutte's VVD Party Leads
As per the exit polls, Dutch Prime Minister Mark Rutte's centre-right VVD Party won the highest number of seats in parliamentary elections.
10.9% votes were counted early on Thursday, and the VVD had polled 17.8%.
81% of voter participation in the general election was the highest in three decades.
The three parties that are projected to win 19 seats each, include Geert Wilders' anti-immigration Freedom Party (PVV), the D66 party and the Christian Democrats.
Wilders' anti-immigration Freedom Party was leading in opinion polls but its support appeared to fall in recent days.
General elections were held in the Netherlands on Wednesday 15 March 2017 to elect all 150 members of the House of Representatives.
Dutch General Election Results 2017

Party
Leader
%
Seats
±
VVD
Mark Rutte
21.2
33
-8
PVV
Geert Wilders
13.1
20
5
CDA
Sybrand van Haersma Buma
12.4
19
6
D66
Alexander Pechtold
12.1
19
7
SP
Emile Roemer
9.1
14
-1
GL
Jesse Klaver
9
14
10
PvdA
Lodewijk Asscher
5.7
9
-29
CU
Gert-Jan Segers
3.4
5
0
PvdD
Marianne Thieme
3.2
5
3
50PLUS
Henk Krol
3.1
4
2
SGP
Kees van der Staaij
2.1
3
0
DENK (Dutch political party)
Tunahan Kuzu
2.1
3
3
Forum voor Democratie
Thierry Baudet
1.8
2
2
Dutch Election 2017 Participating parties & Candidates

List
Party
Acronym
Candidate
1
People's Party for Freedom and Democracy
VVD
Mark Rutte
2
Labour Party
PvdA
Lodewijk Asscher
3
Party for Freedom
PVV
Geert Wilders
4
Socialist Party
SP
Emile Roemer
5
Christian Democratic Appeal
CDA
Sybrand van Haersma Buma
6
Democrats 66
D66
Alexander Pechtold
7
Christian Union
CU
Gert-Jan Segers
8
GroenLinks
GL
Jesse Klaver
9
Reformed Political Party
SGP
Kees van der Staaij
10
Party for the Animals
PvdD
Marianne Thieme
11
50PLUS
50+
Henk Krol
12
Entrepreneurs Party
OP
Hero Brinkman
13
VoorNederland
VNL
Jan Roos
14
Denk
DENK
Tunahan Kuzu
15
Nieuwe Wegen
NiWe
Jacques Monasch
16
Forum voor Democratie
FvD
Thierry Baudet
17
The Civil Movement
DBB
Ad Vlems
18
Free Thinking Party
VP
Norbert Klein
19
GeenPeil
GP
Jan Dijkgraaf
20
Pirate Party
PP
Ancilla van de Leest
21
Artikel 1
A1
Sylvana Simons
22
Niet Stemmers
NS
Peter Plasman
23
Libertarian Party
LP
Robert Valentine
24
Lokaal in de Kamer
LidK[11]
Jan Heijman
25
Jezus Leeft
JL
Florens van der Spek
26
StemNL
SNL
Mario van den Eijnde
27
Party for Human and Spirit / Basisinkomen Partij / V-R
MenS-BIP
Tara-Joëlle Fonk
28
Vrije Democratische Partij
VDP
Burhan Gökalp
Dutch Election Results 2012 Map

Description :Here's a map of the 2012 election results, where Rutte's Liberal Party (blue) received the most votes and the Labor Party (red) won most of the large cities.