Brazil Map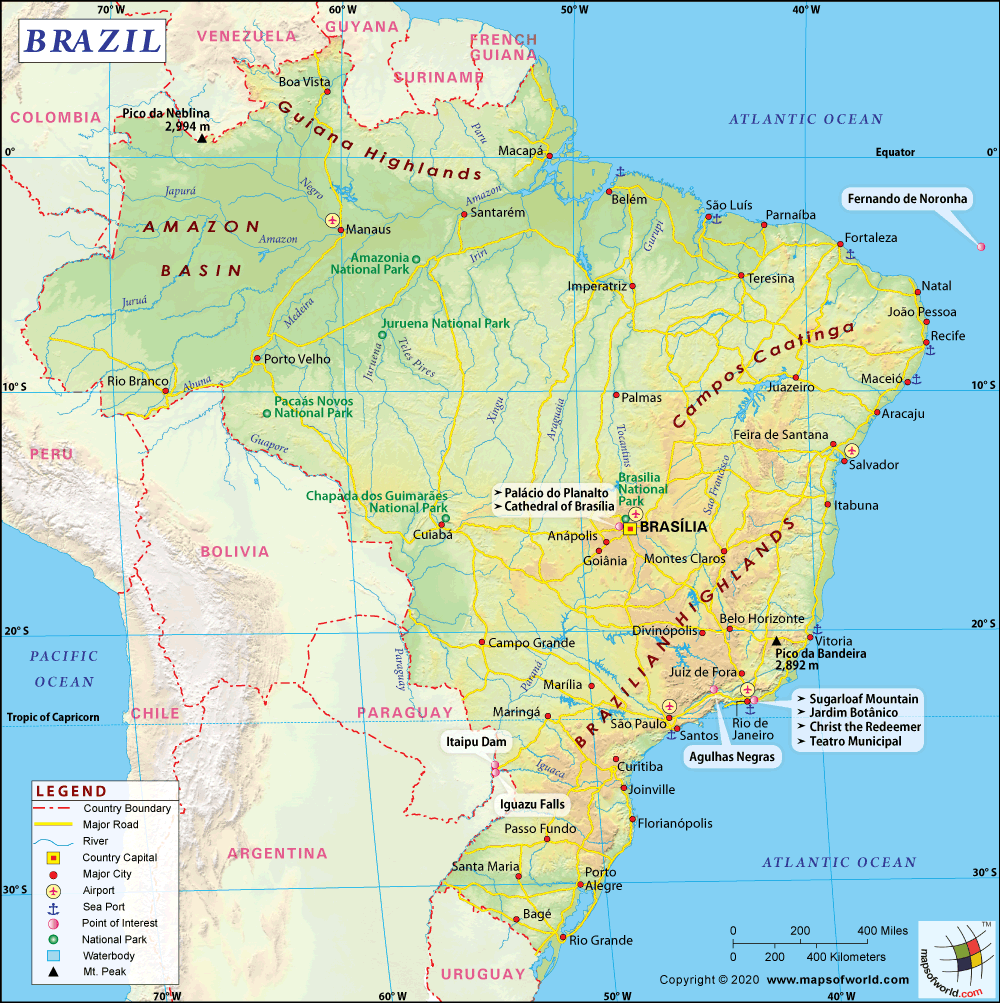 About Brazil
Explore this Brazil map to learn everything you want to know about this country. Learn about Brazil location on the world map, official symbol, flag, geography, climate, postal/area/zip codes, time zones, etc. Check out Brazil history, significant states, provinces/districts, & cities, most popular travel destinations and attractions, the capital city's location, facts and trivia, and many more.
| | |
| --- | --- |
| Official Name | Federative Republic of Brazil |
| Short form/ Abbreviation | Brazil / BR |
| Area | 8,515,767 sq Km |
| Population | 201,032,714 |
| Capital | Brasilia |
| Language(s) | Portuguese |
| Religion(s) | Christianity |
| Currency | Brazilian Real |
| National Income | USD 11,420 (2011) |
| GDP | USD 2.396 trillion |
| Independence Day | Declared – 7th September 1822, Recognized – 29th August 1825 |
| National Emblem | A star with a blue circle in the center, in which the Southern Cross is shown surrounded by 27 stars. Coffee and tobacco plants are shown on either side. |
| National Anthem | "Ordem e Progresso" (Order and progress) |
| National Animal | Jaguar |
| National Bird | Rufous-bellied Thrush |
| National Flower | Ipê-amarelo / Tecoma chrysostricha |
| Literacy | 90.4% (2011 estimate) |
| Time Zone(s) | Two time zones :BRT (UTC−2 to −4) BRST (UTC−2 to −4) |
| Climate | Mostly Tropical |
Top Ten Brazilian Cities (by population

Top Ten Brazilian Museums

Instituto de Arte
Contemporânea Inhotim,
Brumadinho (Near
Belo Horizonte)
Museu Imperial, Rio de Janeiro
Museu Oscar Niemeyer, Curitiba
Museu de Arte de São Paulo (MASP), São Paulo
Museu Aleijadinho, Ouro Preto
Museu Histórico de Santa Catarina, Florianópolis
Museu do Oratório, Ouro Preto
Museu do Arte Sacra da Bahia, Salvador
Pinacoteca Do Estado, São Paulo
Museu Histórico Nacional, Rio de Janeiro
Top Ten Brazilian Tourist Spots:

Rio de Janeiro
Foz do Iguaçu
São Paulo
Salvador
Balneário Camboriú
Fortaleza
Búzios
Manaus

Top Ten Brazilian Landmarks:

Christ the Redeemer, Rio de Janeiro
Amazon Rainforest
Brazilian Carnival, Rio de Janeiro
Copacabana Beach, Rio de Janeiro
Fernando de Noronha Archipelago
Iguazu Falls
Ipanema Beach
Sanctuary of Bom Jesus do Congonhas, Congonhas
Sugarloaf Mountain, Rio de Janeiro
Teatro Amazonas, Manaus
Top Ten Brazilian Dishes :

Cuscuz
Barreado
Tacacá
Pato no Tucupi
Buchada
Moqueca capixaba
Acarajé
Tutu à mineira
Canjica
Brigadeiro

Top Ten Brazilian Drinks:

Caipirinha
Batidas
Meia de seda
Aluá
Cachaça pura
Porradinha
Submarino
Guaraná
Garapa
Capeta
Top Ten Brazilian Brands:

Banco Itaú
Bradesco
Banco do Brasil
Petrobras
Skol
Natura Cosméticos
Brahma
Vale
Antarctica
Vivo

Top Ten Brazilian Shopping destinations:

Shopping Aricanduva, São Paulo
Barra Shopping, Rio de Janeiro
Norte Shopping, Rio de Janeiro
Shopping Iguatemi São Paulo, São Paulo
Conjunto Nacional, Distrito Federal
BH Shopping, Minas Gerais
Midway Mall, Rio Grande do Norte
Daslu, São Paulo
Shopping Cidade Jardim, São Paulo
Shopping Crystal, Parana
Geography
Physical Geography
Location
Brazil is located on the continent of South America. It has the Atlantic Ocean to its east and shares its border on the north with Venezuela, Guyana, Suriname and French Guiana and on the northwest with Colombia. Brazil is bounded by Bolivia and Peru on the west and Argentina and Paraguay on the southwest while Uruguay is its neighbour to the South. An interesting feature of this country is that it borders all other South American countries except Ecuador and Chile.
The geographic co-ordinates for Brazil are 15 degrees 47 minutes South and 42 degrees and 52 minutes West. It ranks fifth in terms of size and population globally. Brazil has a coastline of 7,491 km making it home to some of the most beautiful and pristine beaches of the world.
Brazil is divided to three time zones. BRT – Brasilia Official Time (UTC -03) is the main time zone and corresponds to the time in Brasilia; Brasilia time +1 (UTC-02) is followed by a few islands on the east Atlantic coast; Brasilia time -1 (UTC-04) is followed by the states of  Amazonas, Mato Grosso, Rondônia, Mato Grosso do Sul, Roraima and Acre.
Daylight Saving Time in Brazil starts on the third Sunday of October and ends on the third Sunday of February. However, when the Carnival celebrations fall on the third Sunday of February, DST's ends on the following Sunday. It is followed by the states of Southern, South-East and Central-western Brazil. The clock is moved forward by one hour between the start and end dates, shifting Brasília Official Time from UTC-03 to UTC-02.
Brazil Geography: Click to read more.
Physiography
Area:
The total area of Brazil is 8,515,767 sq. km, out of which 0.65% is occupied by water bodies, that is 55,455 sq. km. It is the largest country in both South America and Latin America.
Landforms:
The topography of Brazil is quite diverse, ranging from hills and mountains to plains and scrublands. The elevation of the terrain in Brazil lies mostly between 200 meters(660 ft) and 800 meters ( 2,600 ft). The northwestern parts consist of broad terrain with low rounded hills. On the contrary, the south eastern parts are more rugged, with high mountain ranges including the Mantiqueira and the Espinhaço mountains and the Serra do Mar. Pico da Neblina is the highest point in Brazil at 2,994 metres (9,823 ft), and the lowest is the Atlantic Ocean.
Brazil has an extensive network of rivers with eight major drainage basins.Major rivers are the Amazon River, the Paraná and its major tributary the Iguaçu, the São Francisco, Negro, Madeira, Xingu and Tapajós rivers.
Climate
Brazilians experience mostly tropical climate, even though varied weather conditions are noted across the topography. There are five major climatic subtypes in Brazil : equatorial,semiarid, tropical, temperate, highland tropical and subtropical.
Northern Brazil is climatically equatorial. Though there is rainfall throughout the year, there are variations in the period of the year when it is maximum. Rainfall is seasonal and very savannah-like in Central  Brazil. In the interior northeast, the rainfall is more severe. However, the semiarid region experiences less than 800 millimeters of rain, sometimes leading to extended periods of draught. Southern Brazil enjoys more temperate climatic conditions – cool winters and even occasional snowfall.
Brazil Climate: Click to read more.
Hydrology
Brazil has a complex and extensive network of rivers. Brazilian rivers empty mostly into two basins – the Amazon Basin in the south and the Orinoco River system, in Venezuela in the north. One of the world's densest river systems exists in Brazil, with 8 major drainage basins all of which flow into the Atlantic. Brazil is also home to the Amazon, which is the world's second longest river and also the largest in terms of water volume. Other major rivers include the Paraná, Iguaçu (which includes the Iguazu Falls), the Negro, São Francisco, Xingu, Madeira and Tapajós.
Population
The population of Brazil, as of 2012, was approximately 199 million. The ratio of males : females is 0.95 : 1 and 83.5% of the population is described as urban. Brazil experienced a surge in population between 1940 and 1970 due to a decline in the mortality rate. As of 2007, the life expectancy recorded was 72.6 years. The illiteracy rate in 2008 was 11.48% and among the youth 1.74%. The population is skewed in distribution with high concentration in the Southeastern and Northwestern regions whereas the Center-West and Northern regions are comparativelysparsely populated. Brazil is the world's fifth most populated country.
The infant mortality rate is around 20.5 deaths / 1000 live births, out of which male figures are 23.9 deaths /1000 live births and female 16.9 deaths / 1000 live births.
According to 2012 census data, the age structure for Brazil shows that the age group 0-14 years contributes to 24.7% of the population, 16.8% of the population lies between 15-24 years, the highest concentration of the population lies in the 25-54 years age bracket, while the population consists of 8% in 55-64 years and 7.1% in 65 years and above.
As of 2012, 87% of the population is considered urban.
Brazil Population : Click to know more.
Brazil Population Density : Click to know more.
Social Attributes
Christianity is the predominant religion practiced in Brazil, with 73.6% being Roman Catholics and 15.4% Protestants. Spiritualists constitute 1.3% of the population, while Bantu/ Voodoo constitute 0.3%. 7.4% of the population do not practice any religion as of 2000.
The official and most widely spoken language of Brazil is Portuguese. Other languages include Spanish, German, English, Italian etc.
The proportion of ethnic groups as of 2012 is : white 53.7%, mulatto (mixed white and black) 38.5%, black 6.2%, other (includes Japanese, Arab, Amerindian) 0.9%, unspecified 0.7%.
Culture
Food
There is no such single Brazilian national cuisine, however there is a multitude of diverse cuisines enjoyed in Brazil. Brazilian cuisine has European and African influences. Each region is unique in its cuisine, a reflection of the diversity of origin of the population inhabiting them.
The national beverage of Brazil is coffee.
Brazilian Food : Click to know more.
Music
Brazilian music like its cuisine, finds inspiration and influences from African, European and Amerindian forms. The music is very rich in regional strains. Over the years, Brazil developed unique music that has come to be associated with the country's culture. Some examples include samba, MPB, bossa nova, RAP, sertanejo, Brazilian rock, pagode, tropicalia, choro, frevo, forró, axé, brega, maracatu and others. Of these, samba is particularly significant due to its popularity around the globe.
Art and Painting
Due to colonization by Portugal, Brazilian art dates back to as recent as the 16th century. Baroque has been a constant influence on Brazilian art throughout. The 19th century saw Neoclassicism, Romanticism and Realism surge as influences. Major artists from this time period include Joachim Lebreton, Victor Meirelles and Pedro Americo. In the 20th century, Modern and Contemporary forms took center stage with popular artists in Anita Malfatti, Tarsila do Amaral, Emiliano di Cavalcanti and Vincent de Rego Monteiro.
Brazilian Art : Click to know more.
Sculpture
Brazilian sculpture finds its roots in the late 16th century and is highly influenced by the Baroque movement. The various categories in the evolution of Brazilian sculpture are – Baroque, Modern, and Contemporary. Some notable works are Agostinho de Jesus, Christ bearing the cross, etc. The giant statue of Christ the Redeemer overlooking the landscape of Rio de Janeiro has become an identifier for the nation globally.
Design and Architecture
The most common influences on Brazilian architecture are colonial and modern. The colonial architectural structures reflect on the yesteryears of Portuguese rule on Brazil. However, Modern architecture which came into being post-World War II is what is more prevalent in Brazil. This form of architecture sees practicality and function take precedence over art and form. Some of the notable monuments are: The National Congress of Brazil and the Palacio da Alvorada by Oscar Niemeyer, and Brazil's Civic Square by Burle Max, amongst others.
Literature
Brazilian literature is mostly written in the Portuguese language. The literary period is divided into the following eras – Colonial period, Romanticism, Realism (most important writer of this era was Machado de Assis), Pre-Modernism (with the works of Euclides de Cunha finding immense popularity), Modernism (notable writers being Mario de Andrade and Oswald de Andrade), Post-Modernism and Contemporary.
Cinema
Cinema in Brazil has had several ups and downs due to the dependency on State funds allocated for the same. However, over the years Brazilian cinema has been evolving and is representative of the culture and lifestyle of the nation. Major production houses are Atlantida Cinematografica and Cinematografica Vera Cruz.
Sports
Football is the major and most popular sport played and watched in Brazil. The Brazilian football team is widely considered to be one of the best in the world. The Brazilian National football team has won the FIFA World Cup a record 5 times in 1958, 1962, 1974, 1994 and 2002 and is the only nation to have succeeded in qualifying for every FIFA World Cup ever held. They hosted the FIFA World Cup in 1950 and is set to host the 2014 FIFA World Cup again, making it the only South American country to do so. Noteworthy football players are Garrincha, Ronaldo, Roberto Carlos, Romario, Ronaldinho and Kaka in the men's division of the game and Marta in the female.The former Brazilian football team captain Pele (Edson Arantes do Nascimento) is considered a national hero, and is regarded with great affection and reverence in Brazil.
Other popular sports are Capoeira, Brazilian Jiu-Jitsu, Vale Tudo and Mixed Martial Arts.
Brazil Sports : Click to know more.
Economy
The Brazilian fiscal year corresponds with the calendar year. Brazil ranks the sixth in the world in terms of GDP and seventh in terms of purchasing power. Brazil is primarily an inward-oriented economy. The service sector contributes the most to the Brazilian GDP at 67%, followed by the industrial and agricultural sectors at 27.5% and 5.5% respectively.
The major agricultural produce of Brazil includes coffee, corn, sugarcane, wheat, rice and soybeans. Brazil also has the world's largest cattle herd in the world with approximately 198 million heads.
The industries of Brazil are varied and diverse with automobiles, petrochemicals, steel, aircraft, computers and consumer durables taking precedence. Banking and financial services also contribute significantly to Brazilian economy.
Resources
The mineral resources of Brazil are extensive. The large iron and manganese reserves act as important sources of raw materials which are exported. Other resources include nickel, tin, chromite, bauxite, uranium, copper, lead, tungsten, zinc, copper, gold, etc.
Brazil Natural Resourses : Click to know more.
International Trade
Total exports for Brazil were estimated to be $256 million as of 2012. The main goods that were exported are transport equipment, iron ore, footwear, soybeans, coffee and autos. Brazil's export partners are mainly China, U.S., Netherlands and Argentina.
Total imports were estimated to be $238.8 billion as of 2012, with the import goods being machinery, transport and electrical equipment, oil, chemical products, electronics and automotive parts. Goods are mainly imported from China, U.S., Argentina, Germany and South Korea.
Travel and Tourism
Being the culturally rich and naturally abundant nation that Brazil is, it is no surprise that tourism accounts for a major source of income here. According to 2010, Brazil had 5.1 million visitors accounting for a revenue of US$5.9 billion. There were a record 5.4 million visitors and US$ 6.775 million in 2011.
The major tourist spots in Brazil are its natural areas like the Amazon Rainforest, the beaches and dunes particularly in Rio de Janeiro and Santa Caterina, whereas Minas Gerais attracts cultural and historic tourism.
The most visited destinations in Brazil are Rio de Janeiro, Sao, Paulo, Florianopolis, Salvador, Fortaleza, Manaus.
Brazil Travel guide : Click to know more.
Famous Landmarks in Brazil: Click to view more.
Transport and Communication
Roadways
The total roads in Brazil amount to 1,580,964 km out of which 212,798 km are paved and 1,368,166 km are unpaved (2010). The country has an extensive highway system which are used for transport, freight, federal and defence purposes.
Railroads
Brazil has a total of 27,882 km of railway tracks and operates on four railway gauges: Broad, narrow, dual and standard. The railways are nationalized under Rede Ferroviária Federal, Sociedade Anônima ( RFFSA).
Brazil Rail Map : Click to view.
Airways
Brazil has a total of 4,000 airports including ones with paved and unpaved runways. Most international flights have to be routed through Guarulhos International Airport in São Paulo or Galeão International Airport in Rio de Janeiro. The national airlines of Brazil include Azul Linhas Aéreas Brasileiras, Gol Transportes Aéreos, Avianca and TAM airlines.
Brazil Airports : Click to find more.
Waterways
As of 2008, Brazil had a 50,000 km of navigable of waterways. The major seaports on the Atlantic Ocean are in Fortaleza, Recife, Illheus, Rio de Janeiro, Rio Grande, Imbituba, Salvador, Sanots, Porto Alegre, and Natal. Those on the Amazon river are Belem and Manaus; while the Paraguay river is home to Corumba – the international waterway.
Satellites
The Brazilian television network has grown steadily to become one of the most extensive and productive in the world.
Telephone/ Mobile network
The country code for Brazil is 55.
Environmental Geography
Biodiversity
Housing most of the Amazon Basin which is home to 1/10th of the world's species, Brazilian biodiversity is considered the greatest on the planet. It has 55,000 species of plants – the most in the world, 3,000 species of freshwater fish, over 689 species of mammals, 1,832 species of birds, over 70,000 species of insects and 744 reptilian species.
The wild Brazilian canines include the maned wolf,  hoary fox, bush dog, crab-eating fox, short-eared dog and pampas fox. The feline varieties found in Brazil are the jaguar, the margay, the puma, the jaguarundi, and the oncilla. Other  animals include the giant anteater, several varieties of armadillos,giant river otter, coati, peccaries, tapir, marsh deer, Pampas deer, and the world's largest rodent – the capybara. There are around 75 species of primates, including the howler monkey, the squirrel monkey, the capuchin monkey, the tamarin, and the marmoset.
The Pau-Brasil tree is native to Brazil as are a lot of species of cattleyas and laelias.
Brazil Biodiversity : Click to read and view map.
National Parks
Brazil has 67 national parks, out of which notable ones are the Tucumacque national park, Iguaçú National Park.The two most-visited national parks in Brazil are Tijuca National Park and Iguaçú National Park.
History
The history of Brazil is said to have dated back to as early as 10,000 years ago. There have been traces and evidence of pottery that was 8,000 years old. Due to the natural barriers caused by the Andes and the mountain ranges of northern South America, a lot of cultural differences arose among the tribes of this region. Also these tribes did not maintain any monumental or written records. Hence, the history of Brazil can be traced back to 1500 when the Portuguese arrived.
In 1500, the Portuguese fleet arrived and claimed Brazil. However, they did not show much interest in this rather culturally backward nation as they were getting enough revenue from other colonies in places such as India, China and Indonesia. Later however, they gained control and took over the export of brasilwood which turned out to be highly profitable.
In the 1600s, sugarcane plantations on the northeast coast became the major source of revenue for the Brazilian economy. Black slaves from Africa were imported to work on these plantations as the Brazilian natives were found unsuitable for labor work. Seeing the vast untapped resources, several European forces also tried to establish themselves over Brazil, the most notable being France and the Netherlands. However, they were all unsuccessful.
During the 1800s, Brazil was ruled as a Monarchy by Dom Pedro I and Pedro II till a coup d'etat was staged against them and the Republic of Brazil was established.
Between 1893 and 1926, several military and civilian movements shook the nation which was now functioning as a republic.
In the 1950s, Brazil joined forces with the United Nations peacemaking efforts.
In the period between the 1960s and 1980s, Brazil saw a rise in internal military disturbances, which later led to a military dictatorship in which thousands of Brazilians were tortured and killed.
Post 1985, the dictatorship was overruled and democracy was re-established.
In 2010, Dilma Roussef was elected President, making her the first woman to hold this office.
State and Polity
The federal government of Brazil is the official governing body of Brazil. Brazil is a federal presidential constitutional republic with three independent branches – executive, legislative and judicial. Executive power is headed by the President, advised by a cabinet. The seat of the federal government is in Brasilia.
Dilma Roussef is the current President of Brazil, the first woman to hold this office.
Defense
The Ministry of Defense of Brazil or the Ministerio da Defasa is the organization responsible for managing the military of Brazil, headed and managed by the Minister of Defence. The Ministry of Defense has three major components under its command structure – the Air Force Command, the Army Command and the Navy Command. Other agencies operated by the Ministry of Defense are the Infraero, National Civil Aviation Agency, and the Superior War School.
Human Development Index (HDI)
As per the United Nations Development Programme (UNDP), Brazil is ranked 85th in the world with an HDI of 0.730 in 2012.
Health
The life expectancy of a Brazilian is 73.8 years.The expenditure on health care was 8.9% of the gross domestic product (GDP) as per last figures in 2009.
Education
Any person above the age of 15 who can read and write is considered literate. The literacy rate of Brazil was 98.69 (2009). The expenditure on education 5% of GDP in as per last figures in 2007.
Per Capita National Income
The Gross National Income per capita in Brazil in 2012 in purchasing power parity terms was USD 10,152.