How deep is the Pacific Ocean?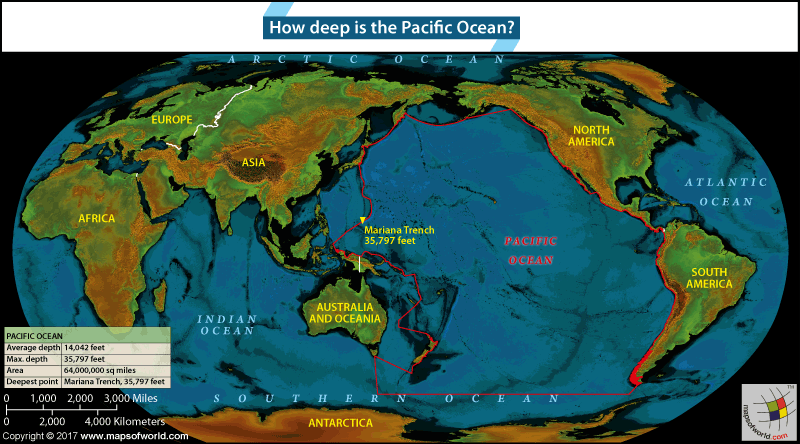 Average Depth of Pacific Ocean
The average depth of the Pacific Ocean is 14,042 feet (4,280 meters) and the maximum depth is 35,797 feet (10,911 meters). Check the Pacific Ocean on a Map to learn more.
The Pacific Ocean is not only the largest ocean in the world, but is also the deepest. The Mariana Trench, which is located in the western Pacific is the deepest point in the world at 35,797 feet (10,911 meters). The Pacific Ocean has a surface area of roughly 64,000,000 square miles.
The Americas are located to the east of the Pacific Ocean, while Australia and Asia are to its south. The extent of the Pacific Ocean is from the Arctic Ocean in the north to the Southern Ocean in the south.
Subdivided by the Equator into the North Pacific Ocean and the South Pacific Ocean, it covers around one-third of the total surface area of the earth and approximately 46 percent of the water's surface.
The Pacific Ocean is home to around 25,000 islands, which are divided into three main groups; Polynesia, Micronesia, and Melanesia. Among these, the largest is Polynesia, which extends from Hawaii to New Zealand. It is also estimated that nearly 75 percent of the volcanoes on earth are located in the Pacific Ocean. One of the biggest natural attractions in the world, the Great Barrier Reef, is also situated in the Pacific Ocean. It is situated in the Coral Sea, off the coast of the Australian state of Queensland.
The temperature of the Ocean varies greatly. Temperatures near the equator are around 86°F, while the waters at the poles are as low as 29.5°F.
Related Links:
Related Maps and Info: