Is Russia in Europe or in Asia?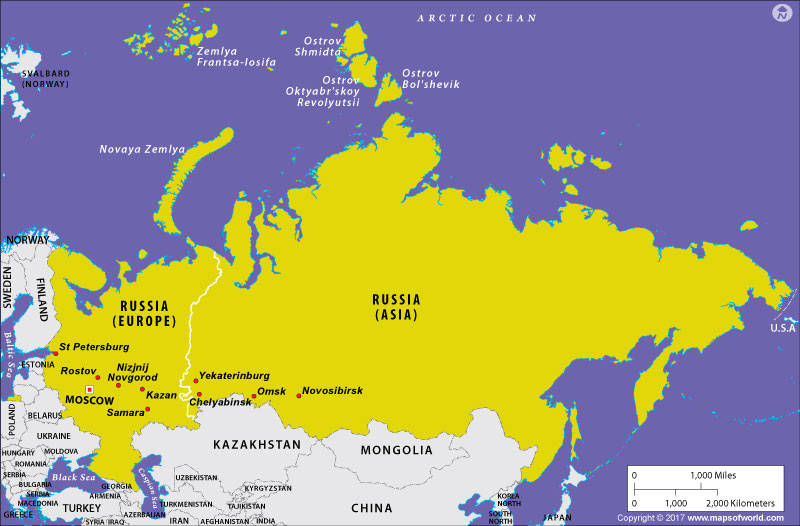 Russia is the largest country in the world by area. It stretches from Eastern Europe to the North Pacific region covering an area of 6.59 million square miles. Geographically, nearly 75 percent of Russia lies in the continent of Asia while the rest is in Europe. Despite this, Russia is considered a European nation and is part of numerous European organizations and associations such as the Council of Europe, the Organization for Security and Co-operation in Europe, and the Eurasian Economic Union.
When it comes to deciding Russia's continental identity, here are a few points to be considered –
Despite 75 percent of Russia is in Asia, almost 77 percent of the country's population lives in European Russia. The large parts of Russia that lie in Asia make up Siberia – the severely cold and uninhabited region of the country.
The capital city of Russia, Moscow, the second most populous city in the country, St Petersburg, and most of the important cities of the Russian Federation are all located in Europe. After Istanbul, Moscow is also the most populated city in Europe with a population of 11.9 million people. This makes the economy of the country largely European.
Historically, Russia has always been counted among the European nations. The Franco-Russian Alliance (1894) and the Triple Entente (1907) are evidence that historically Russia has been an integral part of European politics.
Russia aligns closely with European nations in terms of religion and culture. Most of Russia follows Orthodox Christianity – a legacy passed on from the Byzantine Empire centered on Rome. The cuisine and culinary customs of Russia closely resemble that of France and other European nations.
The Cyrillic script in which the Russian language is written finds its origins in 9th century Bulgaria and is in vogue in southeastern Europe.
Ethnically, most Russians are Europeans. Russians are predominantly descendants of Slavic people who are white Europeans.
Modern-day Russian Federation finds its origins in the Grand Duchy of Muscovy (with its capital in Moscow). Muscovy is located in Europe.
Though geographically Russia is spread across Asia and Europe, the Russian Federation is closely aligned with Europe in its sociocultural outlook.
Related Links:
Related Maps and Articles: