South Korea Map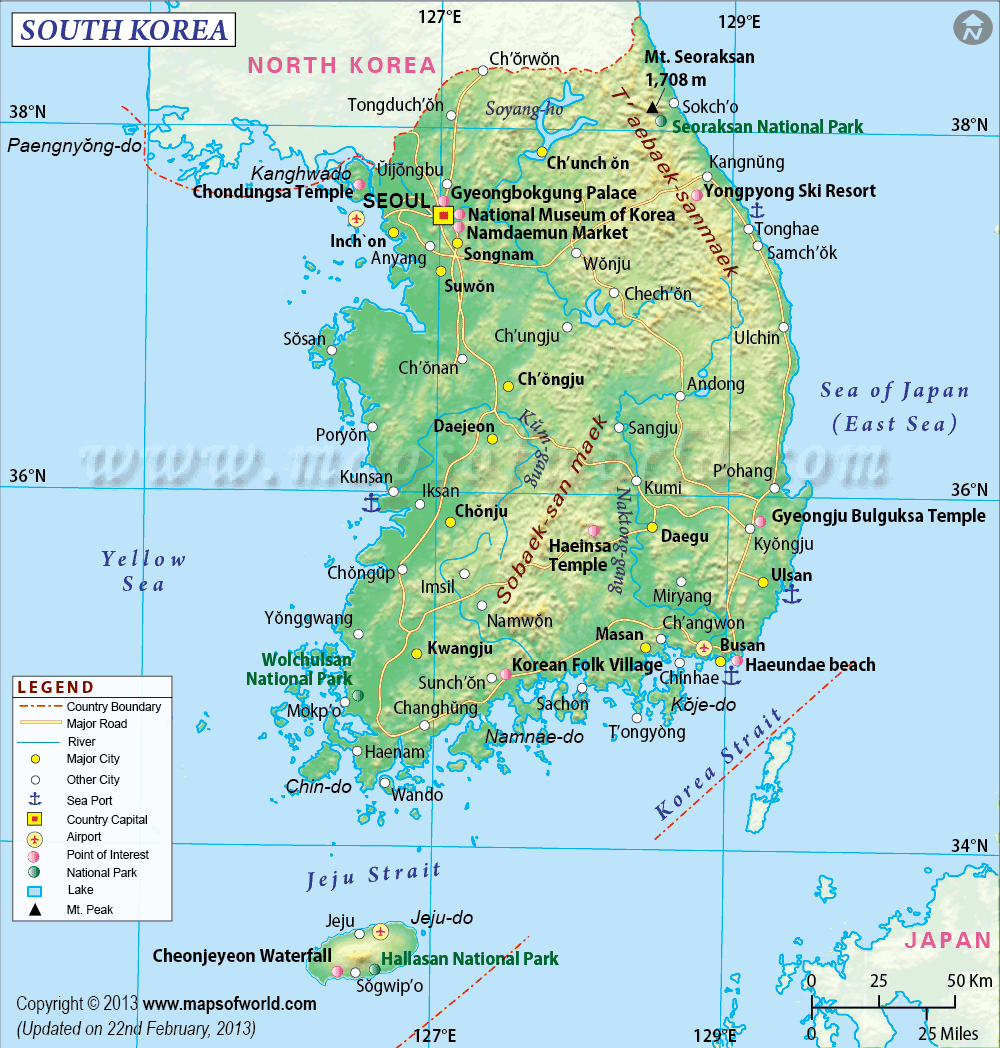 About South Korea
Explore this South Korea map to learn everything you want to know about this country. Learn about South Korea location on the world map, official symbol, flag, geography, climate, postal/area/zip codes, time zones, etc. Check out South Korea history, significant states, provinces/districts, & cities, most popular travel destinations and attractions, the capital city's location, facts and trivia, and many more.
Official Name
Republic of Korea
Short form
South Korea
Independence Day
August 15, 1945
Capital
Seoul
Currency
South Korean Won (Symbol-₩ or KRW)
Language
Korean
Population
50,219,669 (2013 estimate)
Area
100,032 sq km
Religion(s)
Buddhists and Christians
National Income
$1.549 trillion PPP (2012 estimate)
GDP
$ 1.217 trillion
National Flag
Taegeukgi
National Emblem
Taeguk Symbol
National Anthem
Benefit Broadly the Human World
National Animal
Tiger
National Bird
Korean Magpie
National Flower
Mugunghwa (also known as Rose of Sharon)
(Botanical name-Hibiscus syriacus)
Literacy
99.90%
Time Zone
Korean Standard Time (UTC +9:00)
Climate
Humid continental and sub-tropical
Top Ten South Korean Cities

Incheon
Daegu
Busan
Daejeon
Gwangju
Suwon-si
Goyang-si
Seongnam-si
Ulsan

Top Ten South Korean Museums

Buyeo National Museum, Buyeo
Daegu National Museum, Daegu
National Museum of Contemporary Art, Gwacheon
National Folk Museum of Korea, Jongno-gu
National Science Museum, Daejeon
National Palace Museum of South Korea
Pulmuone Kimchi museum
CheongGyeCheon Museum, Seoul
Leeum Samsung Museum of Art, Seoul
Cheongwadae Sarangchae
Top Ten South Korean Tourist Spots

The Jeju Island
Seoul City
The Haeundae Beach
The Seoraksan National Park
Gyeongju City
Manjang cavern
Hahoe Folk Village
King Munmu's Underwater Tomb
Demilitarised Zone
Jeollanam

Top Ten South Korean Landmarks

Changdeokgung Palace, Jongno-gu, Seoul
Haeinsa temple, South Gyeongsang Province
Kyongbok Palace, Jongno-gu, Seoul
Mt. Sorak or Mt. Seorak
Popchusa Temple, Boeun City, Chungcheongbuk do
Insadong Shopping Street
Incheon
Jeollabuk-do
Gangwan-do
Incheon-gwangyeok-si
Top Ten South Korean Dishes

Tteokbokki
Bibimbap
Kimchi
Samgyetang
Korean BBQ
Soondubu Jiggae
Seolleongtang – Ox Bone Soup
Ddukbokkie
Dakjuk – Chicken Porridge
Hoeddeok

Top Ten South Korean Drinks

Soju
Baekseju
Cheongju
Yakju
Munbaeju
Milkis
Makgeolli
Yuju
Insamju
Chuseongju
Top Ten South Korean Brands

Kia Motors
LG electronics
Samsung Electronics
Hyundai motors
CT&T United
SK Hynix
87MM
Lotte
Samsung Life Insurance
Daewoo

Top Ten South Korean Shopping Centers

I'Park Mall, Yongsan Station
Central City Mall
ETLAND Electronics
Garden 5
Doota Fashion Mall
COEX Mall
Lotte Premium Outlets
Rodeo outlet
Hyundai Department Store
Shingsegae Department Store
Geography
Physical Geography
Location
South Korea is located in the southern area of the Korean peninsula, which also lends it its name. This peninsula extends southwards from the Asian mainland by 1100 km. South Korea is surrounded by the Yellow Sea in the west and the Sea of Japan in the East.
South Korea is located between latitudes 37°33′North, and longitudes 126°58′East. The time zone of South Korea is UTC +9:00.
Physiography
The total area of South Korea, including all of its islands is 100,032 sq kms (396,922. 57 sq mi). South Korea can be divided into four regions – a range of high mountains and narrow coastal plains in the East; broad coastal plains and river basins in the West, mountains and valleys in the Southwest, and the broad basin of the Nakdong River in the Southeast.
The South Korean terrain is covered with mountains, most of which is not arable. A meager 30% of the total land area is covered by lowlands, mostly in the West and the Southwest. The country is primarily made up of islands, around 3,000 of which (mostly inhabited and small in area), lie off the country's western and southeastern coasts. The largest island is Jeju-do, with an area of 1,845 sq km which is situated about 100 m off the southern South Korean coast.
Climate
South Korea experiences a humid continental and humid sub-tropical climate, and is heavily influenced by the East Asian monsoon. Winters are terribly cold here, with the mercury dropping to a minimum of -20°C. the capital city of Seoul, experiences a January temperature is -7°C to 1°C and an august temperature of 22°C to 30°C. summers are hot and humid with temperatures exceeding 30°C in most areas of the country.
The seasons of South Korea are divided into – Summer, Winter, Spring and Autumn. Summer lasts between mid-May to early September; Winters last from mid-November to mid-March. Spring lasts between late March and early May, and Autumn is between mid-September and early November.
There is heavy precipitation in the short rainy season, locally called as jangma, which lasts from June till the end of July. The southern coast experiences typhoons in the late summers which brings about strong winds and heavy rains.
Hydrology
The land of South Korea is dominated by mountain ranges and does not boast of extensive plains. However, the coastal areas and river banks are full of lowlands. The Han River plain and Pyeongtaek plain around Seoul, the Geum River basin, the Nakdong River basin, and the Yeongsan and Honam River plains are among the most important lowlands of the country.
Running a length of 521 km, the Nakdong River is the longest in South Korea. Other major rivers include the Han River and the Geum River. The Imjin River is an important one, as it runs through both North and South Korea, forming an estuary with the Han River. These rivers flow from East to West or North to South, and empty into the Korea Strait or the Yellow Sea.
Demography
Population
South Korea is a highly populous country, having a population density of 487 per sq km, which is more than ten times the global average. The total population of South Korea is about 50 million.
The sex ratio of the population at birth is 1.07 male/female; under 15 years is 1.09 male/female; between the ages of 15-24 years is 1.04 male/female; and for 65 years and above, it is 0.69 male/female. The total population maintains a sex ratio of 1.0 male/female.
The life expectancy of the total population was observed to be 79.3 years, with that of males being 76.1 years and females 82.7 years. According to 2013 statistics, the birth rate was 8.6 and the death rate was 5.3. The infant mortality rate for the period between 2005-2010 was 3.8.
The South Korean population showed a healthy growth, as soon as the republic was established in 1948. However, with the changes in the economy, this rate showed a dramatic decline in growth. Between 1949 and 1955, the growth of population was slow, which accelerated between 1955-66, only to slow down again between 1966-85.
South Korea has one of the most dense populations in the world, and its population density is expected to reach 530 people per sq km by 2023.
Social Attributes
According to studies conducted in 2005, half of the population of South Korea did not express any religious preference. Among the rest, most were Christians and Buddhists. In 2007, 29.2% of the population were Christians, and 22.8% Buddhists. Other minor religions include Islam, Jeungsanism, Cheondoism, Wonbuddhism etc.
The official language of South Korea is Korean. South Korea boasts of a high level of societal homogeneity, with more than 99.9% of its population having Korean ethnicity. The Koreans have named their society Dan-il minjok guk ga, which can be translated into "the single race society."
Culture
Food
Korean cuisine is also called hanguk yori or hansik. This cuisine is based on rice, noodles, tofu, meat, fish and vegetables. The accompaniment of side dishes called banchan, is a distinct feature of traditional Korean meals. Certain dishes like the spicy Kimchi and bibimbap have also become globally popular.
Music
Traditional Korean music contains strains of Folk and Classical music, and there are three types of traditional music in Korea – hyangak, aak and dangak. More modernly however, contemporary Korean music has taken over the rest of Asia and the world in a cultural wave commonly dubbed as the "Korean Wave." K-pop or the popular Korean music features different genres like Trot, Rock, Folk, Hip Hop and idol groups.
Art
Korean art is inclusive of traditional art forms such as calligraphy, music, painting and pottery. Korean calligraphy is an intricate process involving brush strokes which are considered unique to an artist's personality. Calligraphy is done on both fabric and paper, which result in appealing decorative wall art and costumes.
Design and Architecture
Korean architecture in the 1950s was heavily influenced by American structures. These structures were raised quickly and the design was simplistic for pragmatic use. Not much creativity was displayed.
After winning the 1986 Asian Games and 1988 Olympic Games, there was a spurt in new construction activity. As part of marketing efforts before the games, the country underwent an architectural makeover, with structures now focusing on design and visual appeal. Now, South Korea has expanded from its previous outlook and is home to several high-rise buildings and lavish stadiums.
Literature
Korean Literature is dominated by serious literature from other languages, which is translated into Korean by the Korea Literature Translation Institute. There are also various mass media books which have attained popularity.
Fashion
Fashion in South Korea was neat and simple before the Korean war. However, in recent times South Korean fashion has evolved and is widely recognized globally. Some notable designers are Lee Shin Woo, Andre Kim, Lie Sang-Bong and Lee Suk Tae.
Sports
South Korean sports are majorly of two kinds, traditional and popular. Traditional sports include kite flying, bull fighting and Korean wrestling. Martial arts such as Taekwondo, Taekkyon and Hapkido are some martial arts originating from Korea. Among the popular sports, Football, Baseball and Golf are predominant. Table Tennis and Scuba Diving are also rather popular.
Famous People
Famous people from South Korea include Psy, Steven Yeung, G Dragon, Lee Min-Ho, Hines Ward etc. Psy is credited with having the most hits on YouTube for the video of his song Gangnam Style.
Economy
South Korea is one of the most wealthy nations in the world. It is a member of the Organization for Economic Co-operation and Development (OECD), and is one of the major economies of the G-20. Based on the GDP, South Korea ranks 15th in the world. Been through a period of remarkable progress between the 1960s and 1990s, South Korea is one of the most developed economies in the world today.
Fiscal Year
South Korea follows the calendar year as its Fiscal Year. Primary activities of South Korea include ship-building, automobile industry, mining and construction. Other activities include armaments industry.
Resources
South Korea is not abundant in mineral resources. Important reserves include Anthracite Coal, Graphite, Iron Ore, Silver, Gold, Tungsten, Zinc and Lead. Its deposits of Graphite and Tungsten are among the largest in the world. Thermal Electric Power is one of the major energy resources of the country. This accounts for more than half of the electric power produced in the country. Nuclear Power has also gained prominence recently.
International Trade
Exports in South Korea account to about $548 million. The major exported goods are semiconductors, motor vehicles, computers, steel, ships and petrochemicals. The South Korean Imports industry is worth $520 million, and the major imports goods are machinery, electronics, oil, organic chemicals etc.
Travel and Tourism
The estimated number of tourists who visited South Korea in 2012, is about 1.1 million, making it the 20th most visited countries in the world. The recent popularity of the "Korean Wave" has increased the influx of tourists manifold. The most-visited tourist places is Seoul, Seorak-san National Park, the historic city of Gyeongju and Jeju Island.
Transport and Communication
The total length of the road systems in South Korea is 86,989 km, out of which 1,996 km constitute of express highways and 12,447 km of national roads.
The railway network is managed by Korea Rail Network Authority. The country has high-speed train service, known as Saemaeul-ho and Mugunghwa-ho.
Korean Air was founded in 1962 and is privately owned. Another carrier, Asian Airlines was also established in 1988. The largest airport in Korea is the Incheon International Airport.
Satellites
The major television networks in South Korea are KBS, MBC and SBS.
Telephone/ Mobile network
There are three primary mobile service providers in South Korea – Korea Telecom, LG U plus and SK Telecom. These three mobile networks contribute to the major share of mobile phones in the South Korean market.
Settlements
South Korea has undergone tremendous urbanization since the 1960s. This has caused a decline in the population of rural areas. The urban areas however, have shown incredible growth and development. Seoul is the cultural and economic center. Other important cities are Anyang, Songnam, and Suwon.
Environmental Geography
Biodiversity
Owing to the long humid summers of South Korea, a large and varied vegetative growth is observed here. There are 4,500 known species of plants here. The once extensive forests have now been cut down due to the nation's increasing fuel needs. Deciduous and coniferous trees dominate the forest vegetation. Deciduous tree types include Oak, Maple and Birch; and coniferous tree types are Pine, Spruce and Yew.
Wildlife
Wildlife includes Deer, Tiger, Leopard, Lynx and Bear. Though abundant earlier, the population of these have severely depleted in recent times.
History
The history of South Korea can be traced back to 15 August 1948, when it was established. The Japanese occupation of Korea ended, when Japan was defeated in the WWII. Following this, Korea was divided into two nations to abide by a United Nations agreement. Under this agreement, North Korea was administered by the Soviet Union and South Korea by the United States.
Civilian rule began with what is called the First Republic, which started out democratic but later succumbed to autocracy. It was followed by the Second Republic, which was strongly democratic but was overthrown by an autocratic military regime within a year. The Third, Fourth and Fifth Republics though democratic, are considered to be a continuation of the military rule. The Sixth Republic eased the country into a liberal democracy.
State and Polity
South Korea is a liberal democracy. The Government is divided into three branches – executive, legislative and judiciary. The executive and legislative branches carry out functions at a national level, though there are few ministries in the executive branch which also function at local levels. The judicial branch carries out functions at both national and local levels.
Defense
The body called the Ministry of National Defense is responsible for the military forces of South Korea. The armed forces of South Korea are called Republic of Korea Armed Forces. These are divided into the ROK Army; the ROK Navy and the ROK Air Force. The President is the commander-in-chief of the armed forces.
Human Development Index (HDI)
Health
The life expectancy of a South Korean is 80.87 years. The life expectancy of males is 77.5 years and that of women is 84.5 years.
Education
South Korea enjoys a 99.9% adult literacy rate, with both male and female literacy rates being around 99.9%.
National Income
The gross national income of South Korea is 1.549 PPP trillion dollars.